10 Best Tools for a Social Media Director
As a social media director, you need access to tools and apps to be more effective at what you do. Investment in the right tools will make your company shine and you'll do a lot better job as a social media director.
The truth is: You can't work without tools. You need tools to create social media content, you need tools for publishing and scheduling, you need tools for analysis and reporting, and you need tools to communicate and collaborate with your team.
But what tools are right? What tools you should use to become a better social media director?
Finding the right tools isn't easy as it requires trial and error. You have to use a tool for a few good weeks to figure out if it's a good fit. If you're struggling to find the best tools for social media directors that will assist you, your team, and your company, you're at the right place.
This article covers the 10 best tools for social media directors. All the tools are categorized based on what they do, this will help you select the right tool based on what you intend to do with it.
1. Lumen5 for Video Creation
Social media marketing is incomplete without videos as it is rated the most favorite type of content on social networks. That's why businesses are now investing heavily in video marketing to extend their reach on social media platforms. In today's market, you can't afford to do social media marketing without videos. 
Lumen5 is the tool that every social media director should use. You can create videos with a few clicks with Lumen5. It lets you create videos from the text, a link, or from scratch using a template.
You can create videos for Facebook, Twitter, Instagram, Pinterest, YouTube, LinkedIn, and Snapchat. Choose a relevant video size, choose a theme, edit it with the drag-and-drop builder, and publish it.
Lumen5 has a database of photos, music, visuals, and themes that let you create videos even if you don't have anything to start with. You can use Lumen5 free as long as you want. The Pro plan is priced at $49 per month and Business plan with exclusive features will cost you $149 per month.
You can invite team members if you're using Team plan. This works best for social media directors as you can invite your social media team to Lumen5 where they can work together and collaborate on videos. You can monitor their progress anytime you want.
2. Canva for Graphic Designs
Creating videos isn't enough, you have to create persuasive images for social media. Images and photos are the second most favorite content type on social media. Canva is the best tool for image editing and creating new designs and graphics for social media.
Canva has a simple drag-and-drop design tool. You can choose designs from their collection to create stunning graphics for social media publishing. These designs can be customized by adding images, icons, shapes, illustrations, and backgrounds.
You can publish images to your social media accounts from within Canva by linking it to your accounts. It supports all the leading social networking websites including WordPress.
It comes with a team collaboration feature which makes communication among team members easier than ever. You can add your social media team and designers to Canva so they can collaborate on new social media posts.
You can use Canva at no cost for as long as you like. Switching to Canva for Work (Canva Pro) will cost you $12.95 per month and you'll be able to get access to all the features including team functionalities.
Canva Alternatives
You can try these Canva alternatives for graphic designing and photo editing:
3. CoSchedule for Content Organization
As a social media director, your team produces a lot of social media content which, of course, needs to be organized at a single place. Social Organizer by CoSchedule is a perfect tool to see how your team is performing.
The best thing about Social Organizer is its ability to visualize social media strategy. This is one of the handiest features for any social media director. You can see how your social media strategy and individual campaigns are performing.
Social Organizer helps you make your team productive by creating templates that minimize repetitive tasks. Templates show your team what it has to do which removes guesswork to a great extent.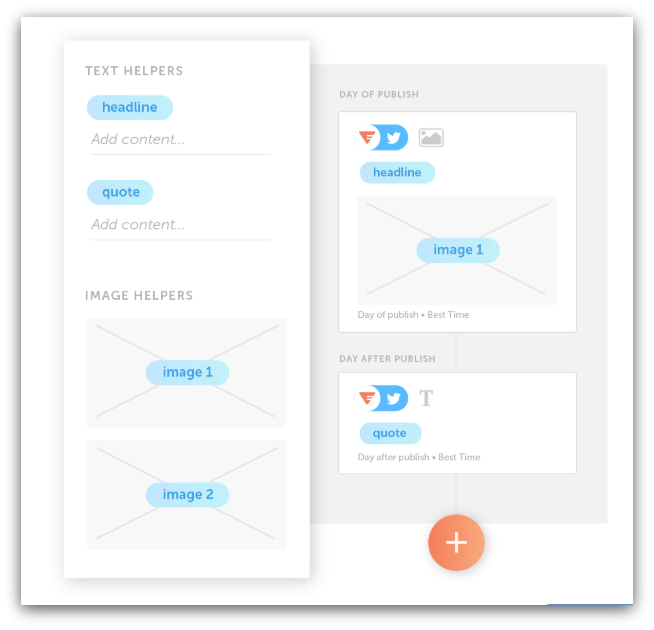 Social analytics provide you with actionable reports on performance, campaigns, and social strategy. This is a handy feature that will assist you in tweaking strategy and campaigns on time.
CoSchedule Alternatives
The biggest issue with CoSchedule is its price. It costs $80 per month for 3 users (additional users cost $19 per month). If you have a large social media team, the price might skyrocket.
If it doesn't suit your pocket, check out following CoSchedule alternatives:
4. SocialBakers for Social Intelligence
There isn't any better tool for a social media director than SocialBakers because it is a complete social media marketing suite that offers you with all of the following platforms:
Audiences and influencers to better understand your audience and create better buyer personas
Content intelligence to understand what content your audience is in love with
Social media management lets you manage all social media accounts from a single dashboard
Social media monitoring to actively monitor brand awareness and conversations across all social media platforms
Community management allows you to serve your ideal customers better by building relationships
SocialBakers offers you with several free tools including Personal Mapping Tool which helps you create buyer personas based on what you already know about your ideal customers.
Creating, updating, and managing buyer personas for your brand gets a whole lot easier with SocialBakers. It has all the tools to make social media work for your business.
SocialBakers Alternatives
If there is one thing that will stop you from using SocialBakers, its price. The starting price is $200 per month. If you can afford it, awesome. If you can't, choose an alternative from the list below:
5. Mention for Social Media Monitoring
Monitoring social media for brand mentions is one of the simplest yet effective techniques that a social media director can use to track social media performance. A decent social listening tool like Mention will help you monitor what customers are saying about your brand on social media channels.
Mention lets you monitor social media to improve brand awareness and reputation. You can find discussions, comments, complaints, and unlinked mentions of your brand with Mention. Join the conversation to better serve your customers on social media.
As a director, Mention offers you with two amazing tools that are sure to impress you. It has a brand analytics tool that includes sentiment analysis and competitor analysis. Mention also has a social competitive analysis tool that lets you see what your competitors are doing and how they're doing it.
Mention Alternatives
If Mention doesn't offer you what you're looking for, try one of the following alternatives for social listening:
6. Buffer for Scheduling
It's important to publish content on social media at the right time to improve engagement. This is where a social media scheduling tool will be of great help. Buffer is your best bet for social media scheduling, management, and team collaboration.
 Buffer isn't the only social media scheduling app but it is by far the simplest and most cost-effective. It has a browser extension, mobile app, and advanced social analytics. As a social media director, you can use analytics to find what types of posts work best and what schedule to set.
The best feature offered by Buffer is its design and image creation tool Pablo. You can convert any piece of text into a powerful image with Pablo which can be added to Buffer queue with one click.
Pablo works similar to Canva but it isn't as advanced. If you plan to use Buffer for scheduling, your team will love Pablo.
Buffer Alternatives
Buffer offers you with all the awesome features you need but if you're looking for an alternative, check out following scheduling tools:
7. Zapier for Integration
It's hard to do social media marketing without integration. And it's hard to manage integration without Zapier.
Zapier supports all the leading social networking sites and thousands of apps. You can connect social accounts with CRM, lead generation tools, email software, and several other types of tools and apps.
For instance, you can connect Facebook Pages with over 1500 apps for automation.
Zapier helps you automate workflows and make your teams more productive. By automating routine tasks, your team can focus on important social media tasks. This doesn't just save time but it improves productivity and channelizes resource allocation.
Zapier Alternatives
Here are a few Zapier alternatives that you can try:
8. Slack for Communication
Social media directors have to provide their employees with a platform where they can communicate and collaborate This is where Slack fits well. It is a great communication tool that is a must for any social media director.
Your team can create channels for different social media marketing campaigns, send messages, share files, and assign tasks. As a director, you can monitor the progress of tasks and projects without having to send emails to individual employees.
Slack has an amazing integration feature that lets you use it with other tools including Zapier. This helps you and your team to automate simple tasks.
 Slack Alternatives
If Slack isn't what you need, try one of these alternatives:
9. ZeroFOX for Security
ZeroFOX is one of the best tools that will protect your employees, social accounts, and will help build brand reputation. It helps your team identify fraudulent accounts that are involved in ruining your brand's image.
The fact is: Competitors do a lot of negative marketing. A simple social listening tool like Mention won't help you deal with negative social media marketing. You need a tool like ZeroFOX to protect social channels and accounts based on your own preferences and policies.
You'll be notified of risks. You can then take appropriate actions such as blocking a profile, removing content, and/or reporting it. This is one of the best tools to monitor and remove negative content from your brand social account pages and profiles.
You cannot stop others from posting content about your brand but you can monitor it to minimize its impact.
ZeroFOX Alternatives
It's hard to find a great tool like ZeroFOX but if you're interested in its alternatives, check out the following tools:
10. Social Report for Reporting
As a social media director, you need to deal with a lot of reports. Social Report helps you create social reports with a few mouse clicks. It is a multi-purpose tool that lets you do all of the following:
Analytics
Scheduling
Monitoring
Custom reporting
Integration
Team management
The core feature, however, is social analysis that works in three simple steps: Analyze, compare, and execute. All the other features are secondary in nature. Social Report is a powerful tool that will solve a lot of your issues. You can monitor social media performance hassle-free.
The custom reporting feature is one of the best features that lets you create your own report format. Add variables you want to track and save the report format. It will be automatically generated on the scheduled time in the future.
Social Report Alternatives
Interested in other social media reporting and analysis tools? Here are some of the best Social Report alternatives:
Get the Tools You Need to Succeed
These 10 best tools will help you become a better social media director. I understand that it won't be possible to start using all of these tools right away.
What you need to do is start with a couple of tools for now.
What tools do you need to buy for your team? It depends on what's the biggest social media marketing challenging you and your team is facing at the moment.
If it's related to content creation, use a tool like Lumen5 or Canva to create better content. If you're struggling with collaboration, using Slack or one of its alternatives is the way forward.
With enough of the right tools, you'll see your business grow faster with less of your time invested to making it do so. It doesn't get better than that.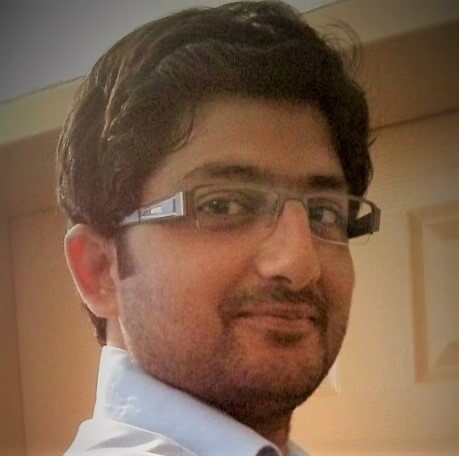 A seasoned freelance writer specializing in digital marketing having articles published on leading marketing blogs like TheNextWeb, Yahoo News, Jeff Bullas, Business2Community, and more. Twitter @sabihjavedd