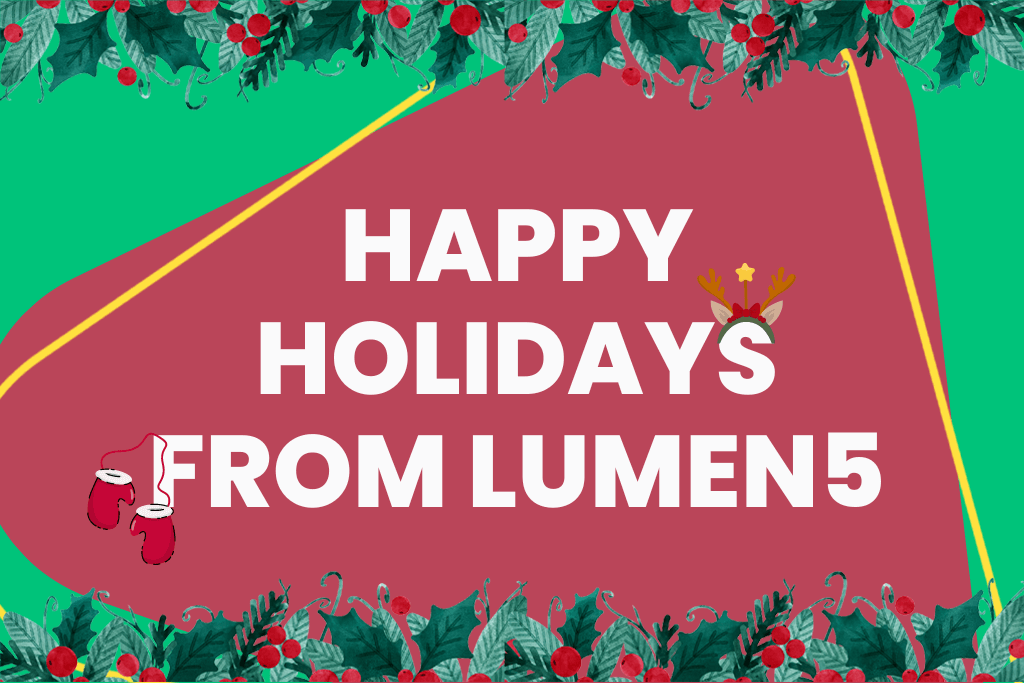 You know Dasher, Dancer, Prancer, and Vixen.. but do you know Dhaval, Mac, Joel, Azadeh, and Grace? Well you will! 🦌
As the holiday season rolls around, Lumen5-ers are making the most of the winter break and getting into the holiday spirit. We asked some Lumen5ers "What are you doing this holiday season?" and from baking cookies to feasting to hitting the slopes, they're enjoying all that the season has to offer in their own unique ways.
Here's a look at some of the fun festive activities they will be up to:
This is Dhaval.
I moved to Vancouver at the end of October and mostly stayed in my room all the time as I am not used to the cold. From where I'm from, it never snows and hardly goes below 10°C.
But when I heard my coworkers were planning a trip to Whistler, I jumped right in! I have always wanted to always try snowboarding – especially after seeing it in the movies!
Putting on a snowboard for the first time, sitting in a chairlift, going up the slope, I was excited! However, while coming down, I fell every time I tried to turn. It was funny because I saw little kids do it better than me. Nevertheless I did three rounds of "falling down the slope".
Once the adrenaline wore off the next day, my entire body was in pain. I took a day off from work, visited an RMT, got a massage, spent an hour in a hot tub – but nothing really helped. BUT I still and would do this all over again because I understand now why people like skiing/snowboarding so much here. I have started to get a taste for it. All the pain was totally worth it!!
This is Mac.
Growing up, one of my favourite holiday traditions was that we'd go back to my family farm in Saskatchewan and spend the holidays there. And every year, one of my uncles would dress up as Santa Claus, unknown to us.
As kids we'd run around the house looking for and chasing Santa, hoping to be the first one to "catch" him – it was crazy!
But after that was all done, we'd all sit on the stairs and wait to talk to Santa. This tradition has been going on for decades – from my dad to my generation to my cousin's kids!
But now to prepare for the holidays, we spend a whole afternoon assembling a Christmas Village collection at my parent's house. My parents have many little porcelain pieces and their collection has grown so big that these now expand on multiple surfaces around the house. Fake snow is everywhere!
We spend Christmas Eve opening gifts instead of on Christmas day where we have an early dinner! It's typically around 3 with the classic turkey and MANDATORY stuffing. And the rest of the night, we spend together as a family.
This is Joel.
It is claimed that Filipinos celebrates the longest Christmas season in the world, from the first "-ber" month to the first week of January. Which means that we also have begun decorating our house with the traditional "Parol" (star-shaped Christmas lantern made out of paper) and of course, the Christmas tree. I'm a little late this year, but all my decorations were up by November!
On Christmas Eve, we gather for the traditional "Noche Buena" or "Good Night". This is a very special night for Filipinos because it's a time when family and very close friends come together and enjoy a midnight feast with Spanish-influenced dishes like Queso de Bola (Ball of Cheese), Hamon (Ham) and hot cocoa. Sometimes "Lechon" (roasted pork) is served as well. It's a wonderful time filled with loved ones and great food!
More about Noche Buena:
In the Philippines, the Christmas Eve feast may begin as early as 10:00 p.m., although it is most often conducted around midnight on December 24. Celebrating this ancient custom dates back to the advent of Christianity more than three centuries ago, during the Spanish invasion. Despite its non-Filipino origins, Noche Buena has become a uniquely Filipino holiday tradition through centuries of adaptation and incorporation of new ideas and customs.
This is Azadeh.
In Iranian culture, we celebrate yalda night, shab-e yalda celebrated on the winter solstice. Since living away from my parents in Montreal, I celebrate the longest and darkest night of the year with friends and gather at my candlelit home.
We commemorate the final night of fall as the rebirth of the sun and the triumph of light over darkness since days get longer and nights are shorter in the winter. I set up a table with nuts, pastries, and fruits, in particular watermelon and pomegranate, since the red colour in these fruits symbolizes the crimson hues of dawn and the glow of life. We read poetry and drink chai, and genuinely enjoy the time we spend with each other.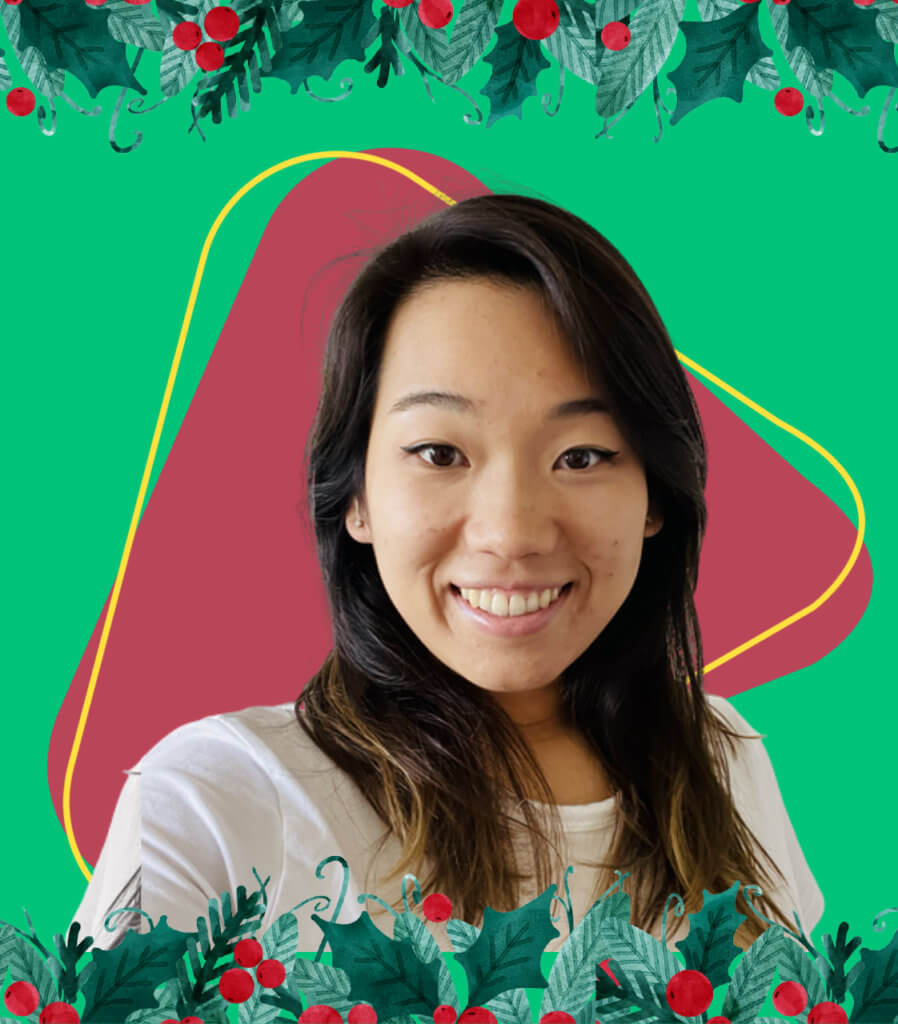 This is Grace.
My family doesn't really celebrate the holidays traditionally! We celebrate the winter solstice, and all the extended family will get together to do a big dinner. Usually, since it's so cold, we'll do hotpot at my maternal grandmother's house. That's usually super rowdy but lots of fun!
More about Winter Solstice:
The Winter Solstice in Cantonese is 過冬 (gwo3 dung1), which translates to "winter arrival." Usually falling between December 21 – 23, it's the shortest day of the year and the longest night. The Winter Solstice marks a turning point in the year—a time when yin (cold, dark) energy transitions to yang (light, positive) energy as the days begin to get longer again.
A more conventional "tradition" is on Christmas morning, it's a full house at grandma's! All the cousins, aunts, and uncles converge to open gifts. A new tradition my sister and I started was making stockings for each other – and each other's cats! 🐱
And these last few years I have brought sugar or ginger bread cookies and we decorated them together. One time we made a gingerbread PS1 console, haha. Closer to the end of the year, most of my friends and family get some time off, so we do smaller get-togethers too! They generally consist of lots of eating, seeing Christmas lights, and some karaoke!
---
What are the other Lumen5ers doing? Well, we at Lumen5 took a page from Buddy the Elf's book and thought the best way to spread holiday cheer, was to sing loud for everyone to hear. We wish you a happy holidays and the warmest of wishes this year!
---