An increasing number of marketers are becoming aware of video as a powerful content format; and are quickly hopping on the trend to give their audiences what they want with video. Perhaps the best part about video is that it not only creates brand awareness but it also converts. According to Adobe, shoppers that watch videos are 1.81 times more likely to make a purchase than non-video viewers.
Hence, many marketers have turned to Facebook video ads to boost brand awareness and drive sales. Facebook videos ads have indeed dominated the online video marketing world. With 8 billion video views per day, and an ever increasing number of advertisers using its ad platform, Facebook has changed the way companies advertise.
However, making it on Facebook with video is not as easy as it sounds. It's an already crowded space so you'll have to do a few things in order to stand out.
That's why we've put together this comprehensive guide for you on to how to effectively use video in Facebook marketing.
Let's get to it!
How to Stand Out on Facebook with Video
Here are some tips to maximize and improve your Facebook videos:
Go Live
Since its addition two years ago, influencers, brands, media companies, etc. have surfed the Facebook Live wave. They use this relatively new feature to connect with their audience instantly from anywhere and anytime.
Why should you go live?
Brands have found Facebook Live to be successful in changing their audience's perspective of their content and brand. In particular, they have found that people connect better with unfiltered and behind the scenes content, and feel more connected with 'real' people (versus a company entity).
Additionally, Facebook users, on average, watch live videos 3 times more than traditional videos on Facebook. It makes sense to present your content in a format that attracts the largest audience, right?
Ready to go live?
Once you go live, it's important to know what your audience wants to see and hear so you can create a livestream that offers value. Try to keep your Facebook Lives informative, brief and value-packed.
Create Different Videos for Instagram and Facebook
You don't wear the same clothes to work as you do on a fun night out right? Similarly, you shouldn't use the same videos for Facebook as you do for Instagram.
You should be aware of the features of each platform you choose to advertise on and create videos for. If you want your videos to be effective, you have to design your video to take advantage of a specific platform's popular features. That will help you maximize engagement on each platform.
For example, your Instagram video will be less text-laden (as Instagram is a visual platform) while you can get away with more text in your Facebook videos.
It's all about creating unique videos that play to the strengths of the intended platform.
Create a Compelling Montage
With only a few seconds to gain a viewers attention, you need to create a lively and meaningful video in the shortest possible time. A perfect tool to show your viewers a quick and informative story is via montages.
When you create your montage, it is vital that you use your most engaging and important frame as your thumbnail, as that will be the first thing viewers see before it autoplays. The thumbnail should be captivating enough to motivate them to click and watch the rest of your montage.
General rule of thumb for video thumbnails: They must be visually captivating, accurately encompass your message and have less than 20 percent text.
Create a Mini-Presentation
The aim of a mini-presentation is to create a value-packed overview of your business goals, values and methodology. It is a way for your audience to quickly and effectively get to know you and the value you have to offer. Think of it as a delicious sample which leaves them wanting more of you and your brand.
A mini-presentation could take the form of a brief screen recording that details a simple way to tackle an important problem you know your audience want to solve. This content is designed to hook and reel in viewers; and perhaps convince them to drop you their email and other contact information.
If the free content is good and solves their problem, they will be more motivated to purchase your paid content to delve deeper into your work.
Create Compelling Calls-to-Action (CTA)
What you want your viewer to do with the information you provide in your videos is equally as important as the video content itself. For example, if your aim is to get them to make a purchase, provide them with the means to do so.
A great video needs to have a call-to-action embedded within the video and in the post copy (more on this later). That could be in the form of a link to your website, a subscribe button or form or a direct link to an offer.
Note: You should only have one call-to-action per video, to avoid making things confusing for your audience.
How to Nail Facebook Video Advertising
Keep Videos Short and Sweet
How do you consume video on Facebook? Do you get bored easily and stop watching videos that take too long to get to the point? If yes, you're not alone. According to a Microsoft study, the average attention span has dropped from 12 seconds to 8 seconds since 2000.
Facebook conducted their own study and found that there was an exponential drop in the number of views early on in video ads that play in the News Feed.
Image credit: Facebook
The drop was more pronounced for Facebook and Instagram story ads.
Image credit: Facebook
What do these studies tell us? That we need to keep our Facebook ad videos short and sweet.
How Short is Short?
Facebook recommends keeping in-stream and News Feed video ads to 6-15 seconds as videos of that length have higher completion rates. That way, you can successfully share your entire message.
Facebook COO, Sheryl Sandberg, said Facebook is working with some advertisers to create 6-second snappy videos as those have "higher brand metrics across the board."
Again, keep Facebook video ads short and sweet, at 6-15 seconds.
Create Engaging Titles and Descriptions
Engaging video titles and descriptions (that use important keywords) serve two purposes: they let viewers know what they are about to watch and feed information to Facebook's targeting algorithms.
Choose a descriptive title to make your video easily searchable. Do some research and discover which keywords will improve engagement; and try to incorporate the ones that are most relevant to your video.
Get Your Brand in Early
A Facebook study found that 23 percent of consumers are more likely to remember which brand made a given ad if the brand were featured within the first 3 seconds of the video. In comparison, 13 percent of consumers were more likely to remember an ad if the brand were featured in the first 4 seconds.
Image credit: Facebook
Brand awareness is one of the main goals of video advertising campaigns so it is vital to get branding in as early as possible. Facebook's data shows how significant a 1 second drop is in aided recall (whether consumers remember your ad two days after seeing it).
Your Videos May Play With Sound Off
Majority of Facebook videos are played with the sound off: all Facebook videos auto-play with sound off by default. Additionally, all mobile viewers that have their phones set to silent or vibrate have sound off as their default setting with autoplay videos.
Facebook videos on desktop now autoplay with sound on but most viewers turn sound off in their settings.
Keeping this in mind, you have to create video ads that have the same impact with or without sound. Sure, audio adds a lot of value to a video, but you shouldn't rely on it to get your message across.
Lumen5 videos are great for this because by design they use text captions to tell your story.
For videos with speech, Facebook actually recommends adding captions: "Your videos should communicate your message even without audio. Don't rely on voiceovers or dialog to relay key information. Use captions and graphic overlays to make sure your message gets across with sound on or off."
Facebook also said that captioned video ads increased view time by 12 percent on average.
Alternatively, you can suggest to viewers to tap for sound with a pop-up. Yes, pop-ups can be annoying at times so you have to time it appropriately, in a non-disruptive way.
Hubspot does video captioning right:
What on 🌎 is happening with your recycling? #HappyEarthDay

Posted by HubSpot on Saturday, April 22, 2017
Go Square
Buffer found that square videos outperformed landscape videos in terms of engagement, views and reach, particularly on mobile. Square videos received 35 percent more views and 100 percent more engagement than landscape videos.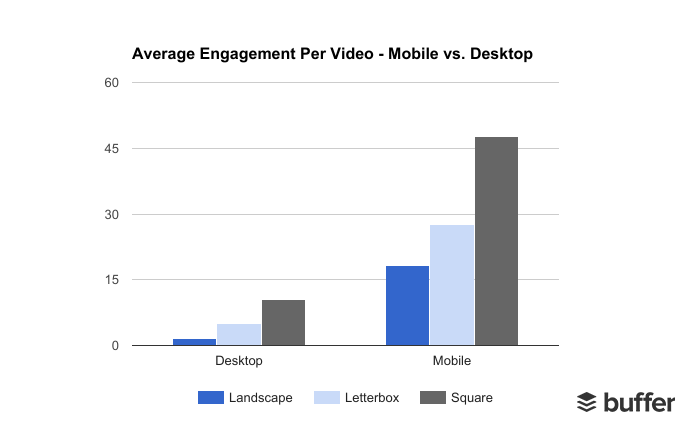 Image credit: Buffer
That's because square videos occupy 78 percent more screen space than landscape videos in the News Feed on the mobile app.
Remember that 95 percent of Facebook users now use mobile to access the site so a 1:1 ratio ensures that your videos occupy maximum screen space. That means better visuals to grab a viewer's attention and easier text to read. Not to mention, the bigger your video ad, the harder it is to ignore.
Add CTAs to Your Video
Adding a call-to-action to your video adds engagement and helps drive traffic to your website. It also helps to convert your viewers into customers.
Traditional CTAs are buttons to a subscription form or a website but they can also be a sentence that motivates viewers to take a specific action.
Facebook removed the call-to-action functionality for videos but there are several workarounds to add a CTA to your Facebook video ad:
During the video, you can add a call-to-action sentence as a text overlay. You can even add it in the middle of your video.
You can also add a text overlay or a static image of your CTA at the end of your video.
You can add a link to your website that invites viewers to find out more in your post copy.
Gary Vaynerchuk adds a share bear CTA at the end of most of his Facebook videos:
Create Your Video Ads with Mobile in Mind
As we mentioned earlier, the reason you should go square is because square videos perform better on mobile. Now, 95 percent of Facebook users use mobile to access the site while 65 percent of all Facebook video views come from mobile.
That means that keeping mobile users engaged should be at the forefront of your Facebook video marketing strategy. You have to always ask yourself whether the video content you're creating will look good on the small screen. Is it short enough (mobile users prefer shorter ads — 15-seconds on less)? Does it make sense without sound?
If you want to capture the larger mobile audience, you need to keep those questions in mind when creating your next Facebook video ad.
Use FB Live for Ads
As we mentioned earlier, Facebook Live is very popular these days with people watching live videos 3 times longer than pre-recorded videos. Facebook Live videos get 10 times more comments than regular videos so it's a great opportunity to put your brand out there.
When it comes to ads, you should also take advantage of the ability to take ad breaks while going live and play in-stream video ads for more revenue.
The 15-second ad breaks is a solid strategy to generate brand awareness. You just need to ensure that the Live video has an audience that will be interested in your ad.
Ad breaks are only available for Facebook pages that created 3-miunute videos which generated more than 30,000 1-minute views in the past two months. Their pages must have at least 10,000 followers to make them eligible for ad breaks.
So, if you decide to show your as during an ad break, you are guaranteed that audience size.
Additionally, if you go live yourself, you can promote your own live video stream.
Upload Your Videos Natively
Quintly found that Facebook native videos get 168 percent more interactions than third-party videos on Facebook. Videos from YouTube or Vimeo simply do not have the same impact on Facebook.
Facebook users and businesses have taken note of this trend: Quintly also found that 89 percent of all videos on Facebook are natively published.
The Facebook News Feed algorithm appears to give priority to native video but it also seems that people prefer to watch native videos on Facebook.
The benefits of posting native videos are further pronounced when it comes to video ads. Native video ads have increased reactions, shares and comments; but you can also target, optimize and analyze your ad in Business Manager for more precision since Facebook can process and recognize your video natively.
The Facebook News Feed algorithm will track and efficiently deliver your video with all the information it has available for it.
Pick a Good Thumbnail
Facebook, by default, has autoplay for all videos but many users choose to turn the feature off. If you want to persuade them to hit the play button, you're going to need an appealing thumbnail image for your video.
Facebook automatically provides 10 thumbnails from your video when you upload it. If none of them is suitable, you can upload your own thumbnail. Just make sure it doesn't have too much text (Facebook thumbnails that have over 20 percent text may have reduced delivery).
If your thumbnail has too much text, then your ad reach will be limited. You can check your image-to-text ratio before you publish your ad using Facebook's image text check tool.
Pick the Right Facebook Ad Objective
You need to have clear goals in mind when launching your Facebook video ad campaigns. Be it driving conversions, increasing web traffic or brand awareness, it's important to define a single objective per video campaign.
If you don't have a clear marketing objective, it will be hard to measure your success and how the campaign is working.
There are a lot marketing objective options in Facebook Ad Manager but some are more relevant to video campaigns.
If the objective is to get as many video views as possible, then optimize your campaign for video views.
If the objective is to get more users to remember your brand, then optimize your campaign for brand awareness.
Whereas, if your video ad is about driving traffic to your site, choose traffic as your objective.
If your objective is to drive sales, choose conversions as your objective.
If you're not sure why you're making a video ad, you need to take a step back and think about it before creating a campaign.
What are your Key Performance Indicators (KPIs)?
With an ad objective in mind, you need to select the right key performance indicators (KPIs) for your campaign so that you can accurately measure its success.
KPIs depend on your marketing objectives and some of them are unique to Facebook video ads. For example:
If your objective is video views, the KPIs you should track are 3, 10, or 30-second video views. If you have a shorter video that presents your brand message early on, then you should track 3-second video views as a KPI. On the other hand, if the value of your video is much later on, track 10 or 30-second video views.
If your objective is brand awareness, you should track ad recall lift which tells you how many people will remember your ad when asked about it two days after seeing it.
If your objective is to drive web traffic, then you should track clicks and the click through rate (CTR) for your ad. That metric lets you know how much traffic your video ad is generating and how effective it is at getting people to click on it.
If your objective is to drive sales, then you need to track conversions and the conversion rate (CVR) on your site with a Facebook Pixel. That lets you know how many sales your video ad generates and what percentage of users who saw your ad made a purchase.
Choose the Correct Facebook Video Ad Type Based on Your Objective
Facebook video ads are much more than just sponsored videos in the News Feed. Today, there are so many video ad formats that you can choose from to tell your story in the best way possible.
For example, you can post GIFs, vertical video ads, video carousel ads, Facebook Stories ads, collection ads, canvas ads, sponsored live videos, sponsored 360 videos or in-stream ads. That's a ton of options.
The type of video ad you choose depends on your marketing objective and the length of your video.
Let's look at some scenarios:
If your objective is video views, you could go with a short format like a GIF or a vertical video ad.
If brand awareness is your objective then video carousel ads and in-stream video ads are your best option.
Check out Pura Vida's video carousel ad:
If your objective is to generate engagement and discussion around your video ad, then a longer ad format like a sponsored live or a 360 video is your best bet.
If your objective is to drive conversions or sales, then collection video ads or canvas ads are perfect for that. You can show a video that highlights your products or services while showing clickable images of your products below.
Check out this collection video ad Sephora made:
Target Your Ad
In setting up a Facebook video ad, knowing your marketing objective and your KPIs are the first two steps. The next step is to improve your ad performance by using precise Facebook video ad targeting.
Targeting Facebook video ads is quite similar to targeting regular Facebook ads in the sense that you can use lookalike audiences and custom audiences (which are precise ways to get your videos in front of users that will actually view and appreciate them).
Facebook video ads however do have a specific targeting option that you can use. After you run a video ad, you will have the ability to create an engagement custom audience based on video views. That means that you can create custom audiences based on users who have viewed your video ads.
This lets you retarget your Facebook ads to users who have watched your video content before. You can also refine this custom audience further by narrowing down to how long users watched your previous video ads.
You can use this retargeting option to directly target users who have already engaged with your brand. It's effective because you already know they are willing to view your content.
Facebook Video Ad Specs
Ready to Nail Facebook Video Marketing?
Facebook video ads are highly effective, especially at spreading brand awareness. With new video monetization options to take advantage of and more opportunities to put video ads on Instagram and the Audience Network, companies can look past the News Feed when it comes to ad promotion.
And just when you think it can't get any better, there are more video ad formats in development: augmented reality ads and trailers for Facebook Watch shows.
It's indeed an exciting time to witness the endless possibilities and potential of video. Ride the wave!