As a marketing consultant, you need different types of tools and apps to get your work done on a day-to-day basis.
As a marketer who's working with companies including VaynerMedia and Webflow, I've seen first-hand how valuable these tools can be to create a successful marketing strategy.
According to Forrester Data, global spending on marketing automation tools is expected to exceed $25 billion by 2023. And 55% of marketers plan to invest more in technology for their marketing campaigns in the next year and coming years.
This reveals the importance of using tools to manage and grow your marketing consultancy business.
But what tools do you need exactly to stay on top of your marketing plan?
This article covers the best marketing consulting tools that you can use to manage and help grow a business.
Let's explore.
1. Lumen5 for Video Creation
A marketing consultant should know how to create videos for video marketing.
Why?
Because videos generate 12x more shares, are loved by viewers, and have the best ROI. They can easily be used for Facebook ads or LinkedIn ads. Moreover, they provide great organic reach as well.
If you want to become a successful marketing consultant, especially with social media marketing, you should know how to create stunning videos. But don't worry, this doesn't take years of experience. Lumen5 is the tool you need to create these videos with a few clicks.
Lumen5 lets you create videos from an article or a blog post. You just have to add a link to an article and Lumen5 will handle the rest. This makes it an easy-to-use digital marketing tool for content repurposing. You can convert blog posts to videos and share them on leading social networks and video streaming sites.
I've even converted a status post on LinkedIn into a video using Lumen5. It only took me several seconds.
Lumen5 comes with a massive library of video clips, images, and audio files that help you convert your boring videos into interesting and persuasive clips that will get the job done.
It's a video creation tool with a quick learning curve that you shouldn't miss if you want to impress your clients.
2. Proposify for Creating Proposals
A marketing consultant has to send a lot of proposals. Last year, when running an agency, I sent over a hundred proposals. In doing so, I tested many software tools to help ease the proposal sending process.
The time you spend on creating, revising, and managing proposals can be reduced significantly if the process is automated.
Proposify is an essential tool for a marketing consultant. It helps you create business proposals with a few clicks. It comes loaded with ready-to-use templates that save you a lot of time.
You can create your own template, save it, and use it as per need. This saves you from creating a new proposal from scratch each time. It has a drag-and-drop interface that makes it extremely easy-to-use. The next time you send a social media marketing proposal, you won't have to think twice. It'll be as easy as selecting a pre-made template.
Furthermore, it's a powerful tool that has a lot to offer you in terms of sending quotes, managing clients, handling invoices, signature tools, payment processing, reminders, CRM integration, and more.
Proposify Alternatives
Not impressed with Proposify? Try one of these alternatives:
3. Calendly for Appointment Scheduling
Let's face it, managing appointments is a challenging task, especially when you have to talk to new clients and update existing clients every week.
That's where Calendly comes to the rescue. It automates your meetings and appointments without you having to send several emails to your clients.
Calendly makes it stress-free to schedule meetings, calls, and appointments with your clients. Your clients can choose a preferred meeting time based on their schedule. It also has a Chrome extension where you can easily copy and paste your scheduling link on the go whether that's in a Facebook or LinkedIn chat.
Moreover, Calendly recently released a feature that allows you to auto-insert meeting times from your calendar directly into an email for people. In only a second, an email recipient can book a time with you just by clicking a time you've included. Take a look:
The power comes in the ease-of-use because Calendly work sin three simple steps:
Add your availability
Share Calendly link with your clients
They will select a suitable time
The best part: It integrates seamlessly with leading apps such as Zapier, Salesforce, Google and Outlook.
Calendly Alternatives
Here are a few other appointment scheduling tools that you'll find helpful:
4. Trello for Project Management
Managing projects and collaborating with your team and clients is one heck of a task that marketing consultants always struggle with.
An easy-to-use app like Trello is your best bet to manage projects with ease. if you're managing a team for social media marketing, then you'll need a central place to oversee their work. Trello can be that for you.
It comes with a smooth onboarding process that will help you (and your team) learn how to use it. You can create multiple projects, give names to your projects, invite clients, prioritize projects, define workflow, create cards, and add details (e.g. checklists, date, attachments, comments, etc.).
Trello has a web interface, mobile app, and a desktop application. You can use it for free. What else do you need?
Trello Alternatives
If you aren't impressed with Trello, which is highly unlikely, you can try these other project management tools:
5. Time Doctor for Time Tracking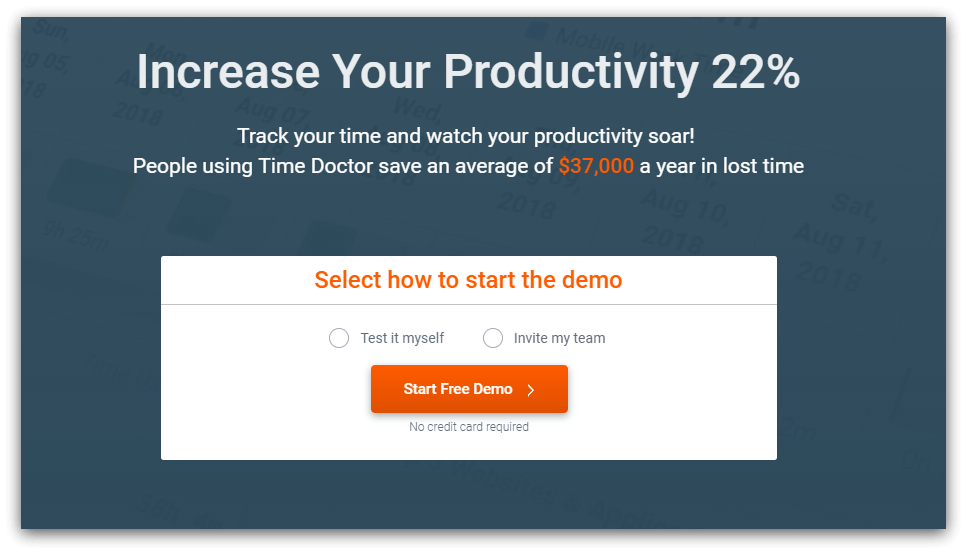 You need a time tracking tool to show your clients how much time you have spent on each task. A time tracking tool makes you more productive and helps manage time effectively.
Time Doctor is one of the best time tracking tools out there that works perfectly for marketing consultants.
Why?
Because it comes loaded with tons of features such as time tracking at task-level, screenshots, bill time to clients and projects, support for multiple devices, integration, reporting, and more.
What I personally like about Time Doctor is that it reminds you when you're not working. Alerts and nudges make you focus on marketing efforts instead of spending time on social media or other non-work activities.
You can satisfy your clients with reports that show how much time you have spent on their projects.
Time Doctor Alternatives
The following time tracking tools are top alternatives to Time Doctor:
6. Pipedrive for CRM
Managing sales and client relationship get overwhelming if you don't have the right tools. If you work with several clients simultaneously, using a CRM tool will help you manage sales. As a marketing consultant, you don't need a super powerful CRM such as Salesforce. You need something that's sleek, works seamlessly, and is affordable.
When it comes to CRM tools for marketing consultants, nothing works better than Pipedrive. It lets you manage the sales pipeline which makes it easier to focus on the right activities at the right time.
You can integrate your email marketing tool with Pipedrive to manage email campaigns. This lets you see what emails you have sent to a potential client, the current stage in the pipeline, and what you need to do next.
Pipedrive is a complete sales management tool that will help you generate more sales for your consultancy business. It integrates with all the leading marketing tools and apps - you just name it.
Here is the best part: It has a sophisticated sales forecasting and projection tool that makes planning a lot easier. You can peek into the future and see yourself what to expect a few months down the road.
Pipedrive Alternatives
Here are a few leading Pipedrive alternatives that will help you manage sales and CRM:
7. Canva for Designing
Exceptional copywriting skills are crucial. But as a marketing consultant, you know the importance of visual content as well. Now Media Group's Director Marketing, Jonathan Finegold states,
Design comes first. You can have the best text in the world, but if it's not designed well, then people won't read it whether that's on a Facebook ad or your blog featured image.
Some 32% of marketers say that visual content is the most important content type for their business. And when as much as 80% of marketers use visual content for social media marketing, you cannot go without it.
Canva helps you create and design visual content that you can use on your blog, client's blog, social networks, infographics, and pretty much for any marketing purpose.
There are several ways you can use Canva for your marketing consultation business:
Logo designing
Image creation for blog posts
Images for social media
Edit images
Create infographics
Design business cards
Create banners for PPC campaigns
Design newsletters
Create any custom-sized image from scratch
You can use free stock images to create personalized and professional images.
Canva is exceptionally easy-to-use. It has a simple drag-and-drop interface. There are several templates that simplify your design work. I recommend using Canva for Facebook ads, LinkedIn ads, and wherever you might need to look like an expert at creative work fast.
Canva Alternatives
Here are other leading designing apps that you can use if Canva fails to impress you:
8. SpyFu for Competitor Analysis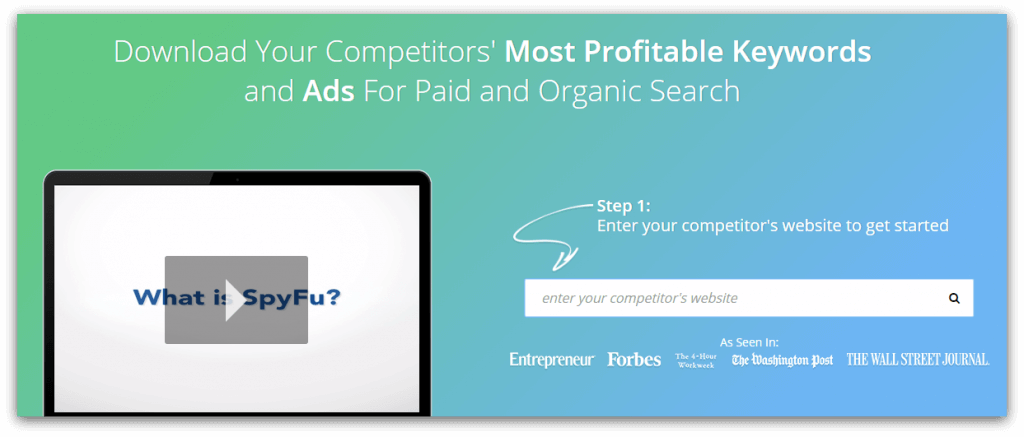 SpyFu is a great tool for marketers and marketing consultants. You can use it to analyze your competitors, see what they're doing, and how they're doing it.
And you can use SpyFu to find your clients' competitors.
It is a multi-purpose tool that lets you inspect backlinks of any website, keywords it is ranking for, and more.
You can also use it for keyword, PPC, and SEO research. For instance, if you need to see the keywords a website is bidding on for PPC, CPC, monthly cost, ad position, total ads, and monthly searches, SpyFu will share all these (and more) details.
SpyFu makes keyword research convenient. It is a must-have tool for any marketing consultant.
SpyFu Alternatives
The following competitor spying and analysis tools are best SpyFu alternatives:
9. User Testing for UX
User experience is all about testing and research. You need to get feedback from your target audience in order to better understand them, their needs, challenges, and interests. A tool like User Testing lets you do it hassle-free.
User Testing is a powerful platform that has several tools for marketers. The best thing it does is that it lets you collect feedback from customers or website visitors in as little as two hours. You can tweak your client's website based on the feedback.
If you're into conversion optimization, User Testing is your best bet. It will show you what element on your client website is ruining conversions.
Improving UX becomes easier since you get feedback from real customers. This frees your conversion optimization techniques from guesswork.
Need buyer personas created for a client? User Testing has got you covered. There is hardly anything that it won't do for you in terms of connecting you with your ideal customers.
You can share insights and reports with your clients, and show them what you're doing and why you're doing it.
User Testing Alternatives
Here is a list of other tools that you can use for research and data collection:
10. Ahrefs for Marketing and SEO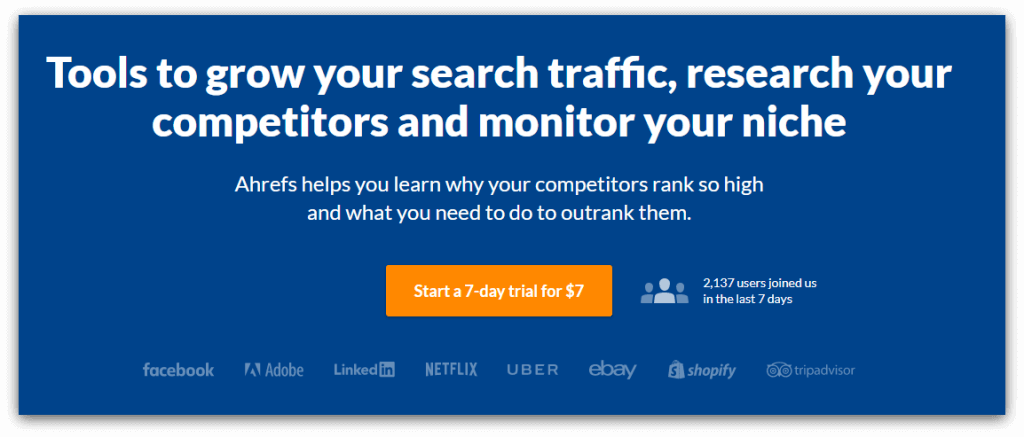 Ahrefs is an essential tool for marketing consultants. It is a complete marketing suite that has several marketing tools.
The core feature of Ahrefs is its powerful backlink analyzer. You can analyze backlinks of any URL, check its UR and DR, keywords it's ranking for, anchor texts, backlinks, and historical data.
The rank tracker tool helps you monitor the ranking of keywords that's something every marketing consultant needs. It helps you run search engine optimization campaigns and monitor their progress without getting lost. You can monitor the ranking of keywords, analyze backlinks, audit the website, and find linking opportunities with Ahrefs.
Content explorer is another powerful tool in content marketing. It lets you find the best performing content, backlinks it has acquired, social shares, and a lot of other important information that essentially helps you craft better content.
I spend, at least, an hour a day in Ahrefs. That's how much I love the product. It helped me take my SaaS project, Squibler from 0 - 10,000 visitors in just two months.
Ahrefs Alternatives
Not impressed with Ahrefs? Or, if you cannot afford it at the moment, try these alternatives:
11. Zapier for Integration
Zapier is a marketing consultant's best friend.
What you can do with Zapier is priceless and endless. It lets you connect and automate workflows and apps. You can integrate different marketing tools and apps via Zapier. It acts as a bridge between two apps.
The best thing about Zapier is that it works with almost every well-know app and tool. I've used Zapier to automate sales automation sequences with HubSpot and Airtable, help with new employee onboarding, and even new client onboarding using a combination of Slack and Gmail.
In short, it helps you save time by automating tasks that, otherwise, consume a lot of time. In fact, the 12 other tools covered in this post can be connected via Zapier.
For example, you can connect Trello with your CRM tool (Pipedrive) and assign deals to your teammates automatically.
Moreover, Zapier is easy-to-use. There isn't anything that you'll have to spend too much time learning. Their tutorials are great at explaining a lot of what they do.
Zapier Alternatives
You can use the following tools too for integration:
12. ContactPigeon for omnichannel marketing automation
ContactPigeon is an eCommerce marketing automation platform already trusted by 250+ brands in the US & Europe.
The platform allows you to create automation flows via email, push notification, SMS & onsite messages, to create a personalized and behavioral-driven customer journey, maximizing the chances to convert.
The tool also provides many functionalities like email marketing, push notification marketing, SMS marketing, dynamic segmentation, list building widgets, dynamic exit intent pop-ups, custom automations, landing page drag n drop builder & more.
ContactPigeon is an ideal solution for an eCommerce brand that wants to scale.
ContactPigeon Alternatives
If you don't need multichannel marketing yet and email marketing is a perfect fit for your brand, you can also try one of the following alternatives:
13. PayPal for Payment Processing
Nothing works better than PayPal for processing payments. It works in over 200 countries, clients trust it, and sending invoices is super-easy.
If you have a website, you can integrate PayPal seamlessly and your clients can pay you with a couple of clicks.
If you don't have a website, you can send invoices to your clients via PayPal.
It works both ways.
Your clients don't have to have a PayPal account, they can pay via credit or debit card. This makes PayPal a perfect payment processor for marketing consultants.
Since PayPal is a credible and renowned payment processor, it simplifies your job. You don't have to explain to your clients why you're using PayPal.
It is a top priority of people who work online. You won't face any issues as long as you're using PayPal.
PayPal Alternatives
If you don't like PayPal, try one of the following alternatives:
14. Xero for Accounting
As your marketing consultancy business grows, you'll need an accounting tool to manage cash flows, financial statements, taxes, and other accounting processes. Xero is the best accounting tool out there that you should use.
It is an all-in-one accounting tool that's perfect for small businesses. It helps you manage inventory, invoicing, payments, payroll, bank connections, bank reconciliation, expenses, and sales tax. It covers everything.
It can be integrated with over 700 tools such as CRM, payment processors, time tracking tools, etc. This lets you manage the finances of your entire business from a single dashboard.
It has a sleek dashboard that makes accounting fun and interesting. It requires minimal training. You'll be able to do pretty much everything yourself.
Xero Alternatives
Try these Xero alternatives for managing accounts of your marketing agency:
How to Leverage These Tools
All the tools in the world won't take you anywhere if you don't have the knowledge necessary to strategize around them.
Before you start exploring these awesome tools, it's a good idea to have your knowledge built in a solid base of strategic marketing. There are a few online courses that offer excellent marketing material for individuals wanting to boost their skillset.
OnDelta has a program that trains individuals to real-life jobs. This means that participants get to put into practice the concepts that they learn in theory.
While you learn about video marketing, for example, you can explore video marketing tools, such as Lumen5, and use them on your projects. This will prepare you for your challenges as a marketing consultant.
Time to Implement
These 14 tools are sure to help you offer higher-quality consulting services. If you want to stay relevant in online marketing, it's important you keep learning and adopting the next best tool to give you an edge. That's why you have these.
Keep in mind, having access to a tool isn't important. Instead, it's how you use it that's essential.
If you can strategize around the tools, then you'll get the most out of using them. The best way to do that is to understand how to connect them and leverage them for the right engagement.
As a marketing consultant, that starts with tactical playbooks and experimentation. Good luck.