Have you been brainstorming ways to pull your audience into your Instagram live stream without any noticeable results?
There's an easy-but-effective way.
Live streaming has become very popular in recent years, changing the way people interact on social media. For brands, it's a great way to step-up their social media marketing game to get their content out there and boost engagement.
Instagram stories are incredibly popular, this is no secret. What's more, with their increase in popularity, there are so many Instagram story tips out there. Still, there's no better tool to post on your Instagram story than the Instagram story creator that lumen5 developed recently.
But not only are Instagram stories popular. Today, Live stream is what brands and Instagrammers are putting efforts into.
Wondering how powerful brands use Instagram Live stream to get noticed and create hype? There use ingenious methods that put their brand in the spotlight---and we'll cover everything in this article.
But first, let's see what's the deal with Instagram Live streaming and why you should make the best out of it.
Understanding Instagram Live Stream
For those who are not familiar with Instagram live stream, let's just put it out there:
It's "the" thing.
Whether your purpose is to show off your brand, connect with followers or simply generate more leads, Instagram Live allows you to broadcast videos in real time. The platform sends your followers notifications you went live.
Aside from making your brand feel real, there's also a sense of urgency attached to it. Instagram Live videos are only available to viewers up to 24 hours. This means brands are able to play with ideas on how to get more people tuned in and act on the call to action. 
The other cool thing about Instagram Live is that, unlike Instagram Stories, where you have to go through a lengthy process to add a video link, Instagram Live makes video marketing easier. 
Here's how to get started with Instagram Live:
In your Instagram feed select the camera icon
Swipe left and choose Live > Start Live Video
Optional: Tap on the emoji icon and choose filters
Tap End to complete the stream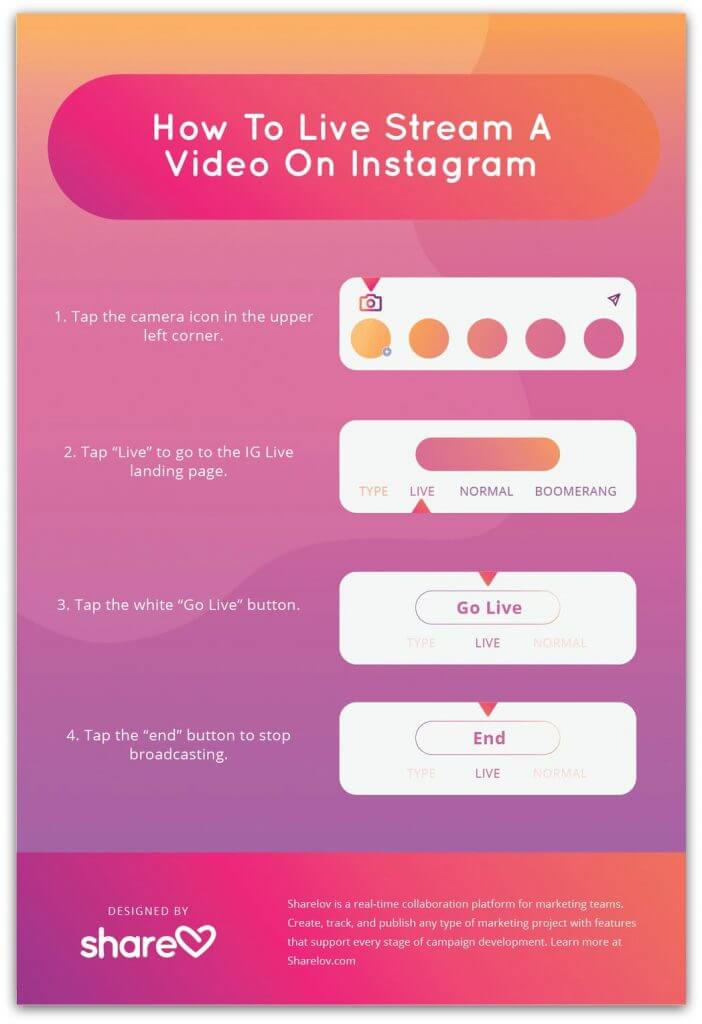 Here's the thing with Instagram Live videos:
You don't have to spend megabucks or make them fancy for video marketing success. You can create excellent videos if you plan well and get creative.
We've come up with a list of ten ways to help you tailor your brand's approach to Instagram Live and get it right.
9 Ways Brands Use to Master Instagram Live Stream
Looking to generate more buzz around your products or services while staying authentic and showing the human side of your brand?
Here's what Eva Chen, Instagram's Head of Fashion Partnerships has to say about it.
"I think there are a lot of different cool ways for people to use [Instagram] Live, it's just going to be what fits for your brand voice, what works for your brand voice, what will your followers be entertained by and what would they want to see most," she says.
Let's dive in.
#1. Make Big Announcements
Is something going on with your brand your followers need to know about right now?
Perhaps you decided to open a new location, expand your portfolio of services or you're planning an event they shouldn't miss. Whatever it is, you'll want your customers to know---the FOMO (the fear of missing out) feeling is real, especially when it comes to social media.
Use Instagram Live stream to tell juicy news and create hype around your brand.
#2. Promote New Product/Service Launch
With every new launch, we invest time, money and resources. We expect it to be a hit.
But every hit needs some pre-launch buzz.
Don't just make the product or service available for purchase. Go on and create an Instagram Live video to show it to your audience. It will get people excited about whatever you're introducing to the market.
Check out some tips:
Tell them its purpose and why they need to buy it.
Make sure you answer real-time comments during the stream and increase the trust around your brand.
Use the broadcast as a way of showing your followers you want to keep them in the loop with your brand, but that you also care about their opinions. Ask for feedback.
#3. Celebrate Milestones
Let's say you reached 10,000 sales on a new product or service your brand is offering and everybody in your company is celebrating. Why not do an Instagram Live stream and make your followers feel like they're there, enjoying with you?
Creating a sense of gratitude towards your audience is always good for your brand's image and customer relationships. You can record scenes from the company's party and mention you wouldn't have been able to achieve success without your followers' support.
#4. Create Pre-Sale Hype
Whenever your brand is having a sale, it's crucial to get the word out and making it sound like it's the bomb. After all, you want people to remember it, tell others and then make a purchase. It's like sending out newsletters, only in real-time.
Always mention in your Instagram live stream the accurate date and even highlight some of the top sale items. This way, you'll automatically get people interested and launch your sale with a bang.
#5. Reveal Behind the Scenes
We're curious beings and a bit of sneak-peaking never hurt anyone. On the contrary---its an ingenious way of using Instagram Live stream and growing closer to your followers. Putting your brand out there without the need to cosmeticize every aspect shows the human side of your business.
Feel free to joke, show the work process and give your audience a glimpse into what happens within the business on a daily basis, like Saturday Night Live does above.
#6. Schedule regular Q&A Sessions
The best way to build strong relationships with your customers is to lend an ear and try to solve their issues. If you have a website, you probably have a FAQ section. Plus, there's nothing wrong with lengthy, regular posts to answer questions. But getting the answer live from the brand itself is way better.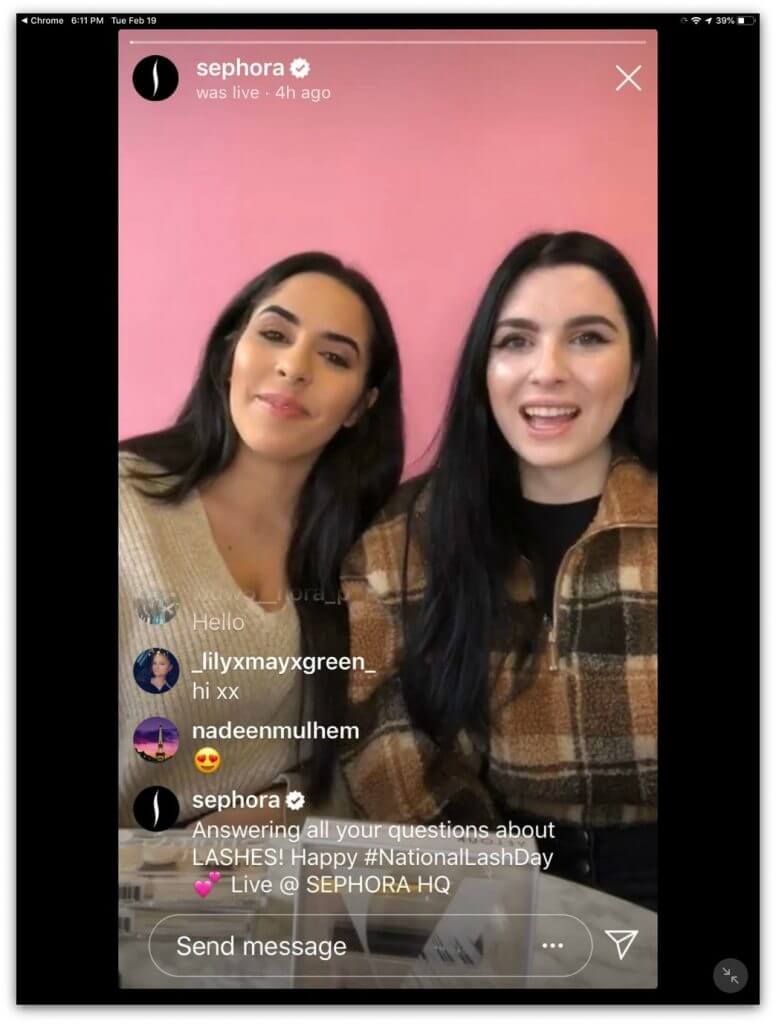 Use the Instagram Live stream to easily host Q&A sessions to:
Find out what are your customers' top concerns about your brand
Let them know this is their time to voice concerns
Get their feedback on your offers
Need help with creating engaging social media content? Sign up to Lumen5 and produce thumb-stopping video content in minutes.
#7. Provide Tutorials
One of the advantages of Instagram live streaming is you can use it as a how-to card. Tutorials are an excellent way to gain people on your side because they show your product/service does what it promises.
Let's say you're in the fitness industry. You could do an Instagram Live stream like the one above to show your audience how your brand works. Create tutorials for those who made purchases or for people who haven't decided yet to join you---teach your audience something useful and valuable.
#8. Show Your Humanitarian Side
Does your business support local charities or has its own mission to save a good cause? If so, be sure to talk about this on Instagram Live stream.
Showing you care about the world's problems helps to humanize your business even more and raise awareness.
Tip: Make sure you don't just talk about how your brand is saving the world. Try to get viewers involved as well.
#9. Get Influential Bloggers on Board
If you want your brand to be at the forefront of Instagram Live stream, you need influencers in your life.
"Partner with influencers who resonate with your audience and can provide insider tips as well as insights into their experience using your product. [...] Know your influencer and their audience well so that you can share content that offers value and gets followers eager to find out more about you—moving them along their customer journey from awareness to interest and consideration," says Adespresso.
Jeff Bullas recommends brands to "use tools like BuzzSumo and Followerwonk to determine the influential people in your space. [...] Send your product to as many bloggers, editors and writers as possible. The more you reach, the better your chances.
Other worthy Instagram video tools include Lumen5, Giphy and Quick. With that said, Lumen5 is primarily focused on Instagram Live. It's the best use in this case.
Useful Tips to Rock Instagram Live Streaming
Listen, we get it.
Going live on Instagram while hoping everything goes as planned can be intimidating.
But Instagram Live stream is a powerful tool to create a sense of community around your brand.
There's no reason why you shouldn't jump on the bandwagon.
With this in mind, we've put together a list of tips to help you nail it.
Before You Go Live
1. Know Your Purpose
Most brands go live to take advantage of premium visibility, build trust around their brand and meaningful connections with their followers.
2. Outline Your Talking Points
If you don't want to miss anything during the broadcast, have a plan. Whatever you do, make sure you have all your ducks in a row and stay on top of your message.
3. Test Sound and Video Quality Beforehand
The simplest way for things to go awfully wrong is if your audience can't hear or see you. You'll want to choose a soundproof background to minimize noise, work with professional gear and make sure the lighting is good.
4. Consider Cross-Promotion
Just going live without some hype is not going to get your much audience. Promote your Instagram Live stream on your other social media channels and have a schedule for your next live broadcasts.
While You're Live
It's not hard to make a mess out of your Instagram Live stream…if you let it.
So here are Sherlov's expert tips on how to make the most of your Instagram Live streams.
| | |
| --- | --- |
| TIP: | How-To: |
| 1. Pin the title of your Instagram Live stream | Type it into comments, then highlight the comment |
| 2. Remove trouble-making trolls | Mute them from the chat by clicking the "x" next to their name |
| 3. Encourage viewers to direct message you | If you can't get to everyone's questions, ask them to DM you |
| 4. Use Instagram Insights for max viewing potential | Plan your live streams for times when the most of your followers are online |
| 5. Keep track of your viewers' number | Take a screenshot after your broadcast to record the number of viewers |
| 6. Try to greet your followers by name | Remember the most active audience members and give them a special "hello" next time |
| 7. Make Space for Questions | Create breaks in your content for questions from the audience and create meaningful connections |
| 8. Promote your live broadcast on other channels | Use your other social media channels, plus your email list, to promote upcoming live streams |
After You Went Live
Here are a few tips to keep in mind once you finished your Instagram Live stream video:
Save it to your library so you can watch it later and see how you did.
Check your direct messages and take the time to answer all questions.
We all want our social media efforts to scale. That's why you should check out your analytics. How many views did your video have? Did you lose viewers at some point? Why do you think they left?
Instagram Live stream is a growing game and there are no one-size-fits-all tactics. You'll have to try out things, learn from mistakes and keep going.
Over to You
In this day and age, competition is harsh. Brands need to stay on top of trends while keeping their customers happy. It makes sense that more and more businesses turn to Instagram Live to make their account stand out, build meaningful relationships with their audience and consolidate trust in their brand.
Ready to tackle your first Instagram Live stream video? Remember, the key to nailing it is giving your audience a bold reason to follow you.