Reading Time:
10
minutes
Social marketing has been changing at a meteoric rate. As marketers, we cannot keep ourselves competitive in the industry if we sit back and do our jobs in the same way for a long time.
There is always a new trend, tool, or algorithm update that comes up and transform the way things are done. And if you are in the marketing field for at least five years, you can tell how these changes have been intensified lately.
Did you know that more than 70% of people think digital marketing has changed more in the past two years than it did over the previous fifty?
This piece of information reveals that, more than ever before, we need to keep learning on a constant basis.
Luckily, at the same pace that things change, more information is available out there. To that extent, there are many ways to keep yourself equipped with the most recent trends.
Besides learning from blog posts, you can watch webinars, try new software, read books, join groups, listen to podcasts, connect to industry leaders, and of course do online courses -- like the ones offered by Hootsuite Academy.
But the questions are: How exactly do these online courses work? And are they worth it?
Let's find out.
Hootsuite Academy Overview
If you are responsible for managing social media in a professional setting, you likely heard of Hootsuite. Hootsuite is the world's most widely used social media management tool.
There are more than 15 million users around the globe benefiting from this software.
And Hootsuite Academy is a set of courses created by Hootsuite to empower marketers to deal with the ever-changing development of the industry.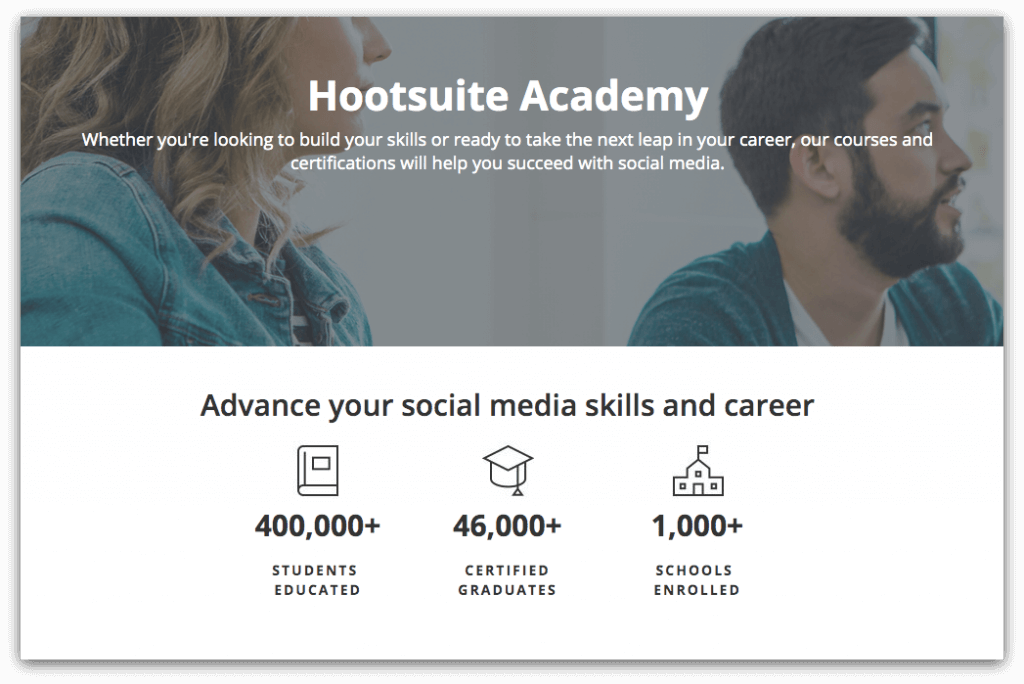 With social marketing being transformed at a fast pace and getting more complex, managing social media professionally is not as simple as it used to be years ago. Nowadays, you cannot just trust an inexperienced intern to handle it all.
Hootsuite Academy offers a number of short courses and certifications designed to boost your social media skills and credentials.
Some of the resources included on Hootsuite Academy' courses are:
How-to tutorials
On-demand video courseware
Industry and academic certifications
Customized team training for large enterprises
Hootsuite guarantees credible and always-up-to-date content by partnering with an external advisory board of industry experts. This board of subject matter experts reviews and contributes to the educational content.
More than 400,000 professionals from around the world have gone through Hootsuite Academy courses and are now certified.
The main topics discussed at Hootsuite Academy are related to leveraging social media to grow businesses, approaches to connect with customers, tactics to engage and recruit employees, and practices to boost productivity.
Hootsuite Academy Courses
Hootsuite Academy offers ten different courses directed to a variety of social media needs. They range from basic courses aiming to teach customers how to use the Hootsuite platform, to more complex courses designed to marketers in a niche, such as the healthcare industry. To that end, there is probably a course that can address your needs if your goal is to get specialized in social media management.
To help you to find that out, and to give you an idea of what you would gain from each course, let's go over the main aspects of each course:
The Hootsuite Platform Training is the most basic course that Hootsuite Academy offers. And as you might have figured by the name of the course, its purpose is to train Hootsuite users on the platform features and functionalities.
According to Hootsuite, this course will develop the set of skills you need to use the platform to its full potential and maximize your return on investment.
If you don't have experience in social media management and want to learn the main aspects, this course will be your starting point. Additionally, I recommend this course if you want to check out the main features that Hootsuite offers before you start using the platform.
Price: Free
Skill Level: Beginner
Course Duration: 2 hours and 30 minutes
This course is similar to the Hootsuite Platform Training, however, the Hootsuite Enterprise Training is dedicated to users on the Hootsuite's Enterprise plan.
This course is intended to educate users on the platform's main functionalities. According to Hootsuite Academy, you will master every aspect of social listening, paid social, competitor analysis, and scheduling after completing this course.
The Hootsuite Platform Training is relatively expensive, but the good news is that it is free for Enterprise plan users. And you probably won't need this course if you don't have access to the Enterprise plan.
I wish managers were allowed to do this course as a "test-drive" for free to evaluate the Hootsuite Enterprise plan functionalities before making a purchasing decision.
Price: $499 (Free for Enterprise plan users)
Skill Level: Intermediate
Course Duration: 4 hours and 20 minutes
This is a social media management training for beginners. This course is divided into six chapters that will teach you the main aspects of an efficient social marketing strategy. Some of the topics included in the curriculum are social media optimization, content marketing, basic strategic planning, and fundamentals of paid social.
Through an instructional design and assessment, this course teaches marketers practical skills they can implement immediately.
Important Note: This course is free, however, if you want to complete the exam to get your social marketing certification you will be charged $199 USD.
Price: Free
Skill Level: Beginner
Course Duration: 6 hours
Considering that half of generation Z and 42% of millennials say social media is the most relevant advertising channel, it is safe to say that this is a relevant course.
This course teaches marketers with at least some social media experience about all the paid social skills necessary to thrive in the modern marketing scenario. Within other topics, this course will teach you the best practices for targeting social advertisements and how to track the impact of your social ads.
Keep in mind that this course covers only Facebook, Instagram, Linkedin, and Twitter ads. These four platforms are an excellent way to start off, but if you are expecting to learn about Youtube ads, this course is not for you.
Price: $249
Skill Level: Intermediate
Course Duration: 4 hours and 30 minutes
Have you ever got yourself trying to measure the return you are having with all the effort you put on social media (with no success)?
That is a common challenge encountered by many social media managers around the world. Solving this issue and transforming it into opportunity is the goal of this course.
The Social ROI and Value Analysis includes a series of multimedia tutorials, webinars, and other resources covering everything from goal and KPI setting through to pulling data, to report it to senior leadership.
This course is worth it if you feel like your social media marketing efforts have been in vain, or if you are not sure how to track this ROI.
Price: $249
Skill Level: Advanced
Course Duration: 3 hours
This course gives you the expertise necessary to drive better sales results using social media.
The Social Selling Training program is organized into three elements:
Establishing a professional social media presence
Researching and planning your social selling activities
Prospecting and engaging on social media.
According to Hootsuite, this course's purpose is to make your business close more deals while saving time. Pretty attractive, right?
Price: $299
Skill Level: Beginner/Intermediate
Course Duration: 2 hours
This is the most complete, long, and advanced (and expensive) course in the Hootsuite Academy portfolio. The Advanced Social Media Strategy Training is a partnership between Hootsuite and Syracuse University's S.I. Newhouse School of Public Communications. This means that if you complete this course, you'll receive an academically recognized certification.
Some of the topics discussed in this course are:
Content strategy
Influencer marketing
Strategic planning
ROI tracking
Social media tools
The ASMS Training was designed to leaders, managers, and strategists looking to take more advanced actions on their social media strategy.
Note that this course is almost three times more expensive than the other ones, however, it is more than 10 times longer than all the other courses. In other words, it has the highest cost-benefit within all the options.
Price: $999
Skill Level: Advanced
Course Duration: Approximately 40 hours (8 lessons with an average completion time of 5 hours per lesson)
This course is targeted to healthcare professionals who are looking for an opportunity to use social media platforms to communicate their value and measure success. The Social for Healthcare Training is a partnership between Hootsuite and Mayo Clinic -- which is worldwide recognized as one of the top brands in the healthcare industry.
This course covers these topics:
Overview of Social Media In Health care
Social Media Platforms
Elements of A Social Media Account
Social Media Strategy and Tactics
Health care And Social Media In Practice
Social media skills have become a necessity for many health care professionals. This training program covers the needs of this specific niche that does not have many social media resources dedicated to its industry.
Price: $400
Skill Level: Advanced
Course Duration: 4 hours (7 modules that take approximately 30 minutes to complete plus the exam)
The Foundations of Social Advocacy Training is built upon the most recent studies and trends related to social media. This course's intent is to provide you with resources and knowledge you need to build your personal brand, share relevant content, and effectively engage your community.
Hootsuite Academy states that this course transforms trainees into respected and responsible social media influencers.
Price: $299
Skill Level: Beginner
Course Duration: 2 hours
The Social Selling for Financial Services Training is another course designed to serve a niche. The purpose of this course is to teach financial services sales professionals everything about social listening, and most importantly, how it can help financial service businesses.
Hootsuite Academy claims that by completing this course and understanding how to take advantage of social listening, these professionals will be able to develop richer relationships and better deals.
Price: $299
Skill Level: Intermediate
Course Duration: 2 hours
Is Hootsuite Academy for You?
I like the way that these Hootsuite Academy courses are divided into very specific topics and targets. This makes it easier for us, trainees, to choose only the ones that address our specific needs.
For this reason, once you decide that you want to make this investment, choosing which course to take is not a difficult decision. Instead, choosing if it is worth it to make this investment is the tough decision.
There are some things in stake to consider. Let's discuss:
1. Do you actually need the content?
If you are just starting in the social media marketing world, then you might find the content valuable. On the other hand, if you have a little experience with social management, the content of the majority of these courses to be repetitive.
2. Do you desire to see this certification stamped on your resume?
Let's be real. In the marketing field, certifications are not as valuable as real-world experiences. If you are still in college, or if you just graduated, a certification might be worth it as you probably did not come across many job opportunities yet. However, if you have some years on the road, these courses will not make a difference when you apply for a new job opportunity.
3. Do you value being listed in the "Hootsuite Certified Professionals Directory"?
The Hootsuite Certified Professionals Directory is a list with the names of all the people that passed the end-of-the-course exams. This is just a way to honor you and to prove to a potential employer that you successfully completed the course.
Note that every course has a different passing grade, but you are allowed to take the exam as many times as you need until you pass it.
4. Do you have the budget?
If you are considering any of the paid courses, you must take into account the course fee. Considering the volume and relevance of the courses, I find the courses to be costly.
5. Do you have the time availability to dedicate to the course?
Unless you are considering to take the Advanced Social Media Strategy Training, which takes approximately 40 hours to complete, this should not be a huge concern. You can complete most courses in a single day.
The Advanced Social Marketing Strategy training and certification has a one-year limit to be completed from the purchase date.
6. Are you thinking about using Hootsuite (or are you currently a user of the platform)?
If you have been using Hootsuite for at least one year, most courses are too basic for you.
If you are planning to start using the platform soon, it is a good idea to do one of the courses to maximize the platform's potential.
Now, if you don't use the platform, nor plan to use it, some content might be extra. That's because Hootsuite Academy's content is not completely neutral. It will always end by telling you how to apply the knowledge you just received using the Hootsuite platform.
7. How much experience do you have on social media marketing?
Note that the courses are specified by skill level. However, even the advanced courses might contain rudimentary information if you have practical experience.
I recommend going over the course curriculum -- available on Hootsuite Academy's website -- to ensure the content will be valuable to you. Some courses also offer the first couple of modules as a free sample. That can be a good way to test if your experience taught you more than the course will.
Pros and Cons
I am a big fan of pros-and-cons lists when it comes to decision-making. It is always helpful to understand what should be balanced. So, let's dive into this short list about the pros and cons of doing one of the courses offered by Hootsuite Academy:
Pros
Learn how to take full advantage of all Hootsuite functionalities if you already use one of their plans
Get access to case studies of other companies and learn from others mistakes and successes
Get introduced to other applications and understand how you should tailor messages to each platform
Be listed in the "Hootsuite Certified Professionals Directory"
Have an extra certification on your resume that shows proactivity
Cons
Financial investment dedicated to a short course
Limited access to a network of people to discuss material
Content can feel repetitive if you are a fast learner
Training will not give you the desired return if you don't apply your knowledge and practice on your own
If you don't have interest in using Hootsuite's product, you might encounter a lot of useless suggestions
Keep in mind, these are general statements about the courses. Of course, each specific course has its pros and cons -- such as price -- that should be considered separately.
For instance, Hootsuite Platform Training is free and takes less than 3 hours to be completed. Therefore, there is not much you can lose from doing it -- especially if you are just starting on social media management.
On the other hand, when it comes to the Advanced Social Media Strategy Training course, which costs $999 and lasts 40 days, there is certainly more at stake.
Time to Take Action
If you have the budget, time-availability, and will to learn go for it. After all, knowledge is never unveiling.
But don't forget that courses alone will not make you an expert. You have to practice your theoretical knowledge with hands-on experience.
In fact, experience can teach you everything that you would learn with any academic course. Check out the other online courses available at Preply for some alternative options.
The difference is: if you don't practice what you learn in theory you will forget it, while the knowledge you gain with practice is easy to retain.
Therefore, if you choose to dive into one of Hootsuite Academy's courses, keep in mind that it will just serve as a base for you to develop your knowledge.
The bottom line here is: never stop learning -- whether you prefer to do it through Hootsuite Academy, other theoretical methods, or experiential learning. Keep your curiosity alive!