Reading Time:
10
minutes
Do you need to increase your Facebook video views for marketing purposes? Recent studies suggest focusing your marketing strategy on Facebook is a good idea. According to Hootsuite, 2.2 billion people log on Facebook every month.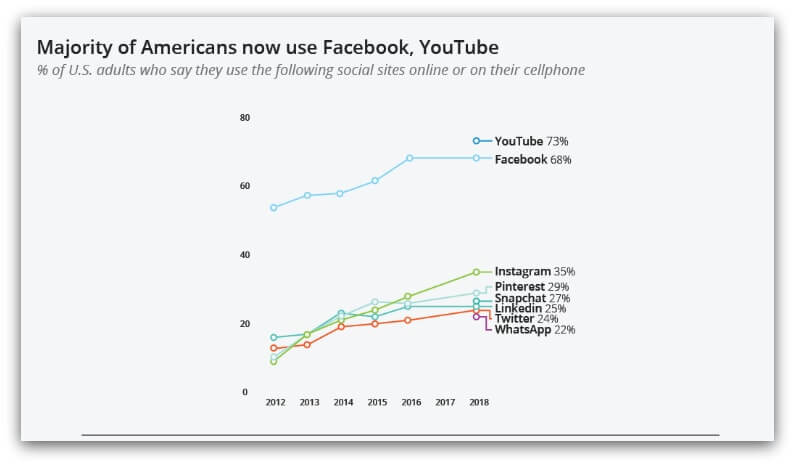 In fact, Facebook is the second most used platform to watch videos today, just second behind Youtube. So why is this good for your marketing strategy?
According to eMarketer, Facebook is the second platform in the world that delivers the best return on investment (ROI).
Being Facebook is one of the best platforms to invest, it is a good idea to launch your video marketing strategy there. Naturally, there are some tips that you can follow if you want to get the best result possible.
There are hundreds of millions of active users in this channel, which is why it has become a popular place for brand promotions. As a businessperson yourself, it is essential on your part to understand how the entire process for Facebook marketing works.
The first thing that you need to understand is organic views are difficult to increase these days. You need to exert more efforts in achieving this ultimate goal.
In this article, we are going to provide you with some tips and tricks on how you can increase the views for your Facebook videos.
Increase Facebook Video Views: What You Have to Know
Facebook marketing has become increasingly popular over the last years. Today, algorithms seem to be favoring videos overall, but not all the videos end up becoming good enough for people to watch.
Before we start making videos and uploading them on Facebook, we need to understand the different types of viewing experiences that Facebook provides.
Landscape Video Format
This format has an aspect ratio of 16:9 (full landscape) One of its main features is that it will turn full screen if you change the orientation of your mobile device.
Square Video Format
This is another format that is also popular on Facebook. One of its features is that the video won't change its size if you change the orientation of your mobile device.
Portrait Video Format
with an aspect ratio of 9:16, this is the ideal format for mobile devices. It's also used in platforms such as Snapchat. With this format, you don't have to change the orientation of your mobile device to get an immersive experience.
Tips on Getting More Facebook Video Views
There is no magic formula when it comes to increasing your Facebook video views. However, there are certain tips you can follow to increase the chances of generating more traffic on your site.
You can also read this guide if you want to use video to improve your Facebook marketing.
1. Be Consistent With Your Posts
Always make it a top priority to focus on your company's branding efforts. Be consistent with what you are going to post online because it will speak a lot about your firm. Do not risk mixing all types of content on your Facebook business page.
For example, if you want to use square videos for your content, then stick with that type for all the other posts. It is essential so that your target audience will remember your brand quickly.
2. Define the Best Type of Video According to Your Content Strategy
Not only does the format count. In video marketing, there are many different types of videos you can make according to your marketing goals. Depending on what you want to achieve, some videos will work better than others.
Getting a decent amount of Facebook video views is not impossible if you play your cards right. Remember that Facebook is the second largest video platform out there.
There are, in fact, 5 different types of videos designed for video marketing purposes. We have:
Educational videos
Inspirational videos
Entertaining videos
Animated videos
Brand videos
Also, remember that setting a clear video marketing strategy is essential. Once you have designed a solid strategy, you can choose the best type of video according to your goals and target audience.
According to Forbes, Facebook now dominates the world of video marketing. So, if there is a platform where setting a well-devised video marketing strategy is worth it, that is Facebook.
3. A Decent Video Resolution Means More Facebook Video Views
When it comes to getting more views, having a decent video resolution is important. Otherwise, users won't want to watch a video if it doesn't have a good resolution.
While Facebook supports resolution of up to 1080p, their help page suggests you use the following formats and sizes to get the best results possible
For videos, you should use the H.264 codec and the AAC codec for the audio.
The ideal format for Facebook videos is either MOV or MP4. Also, the best size you can use for this platform is 720p.
Also, the maximum frames per second facebook allows is 30. and the maximum duration of your video is 25 minutes.
4. Optimize Your Videos for No Sound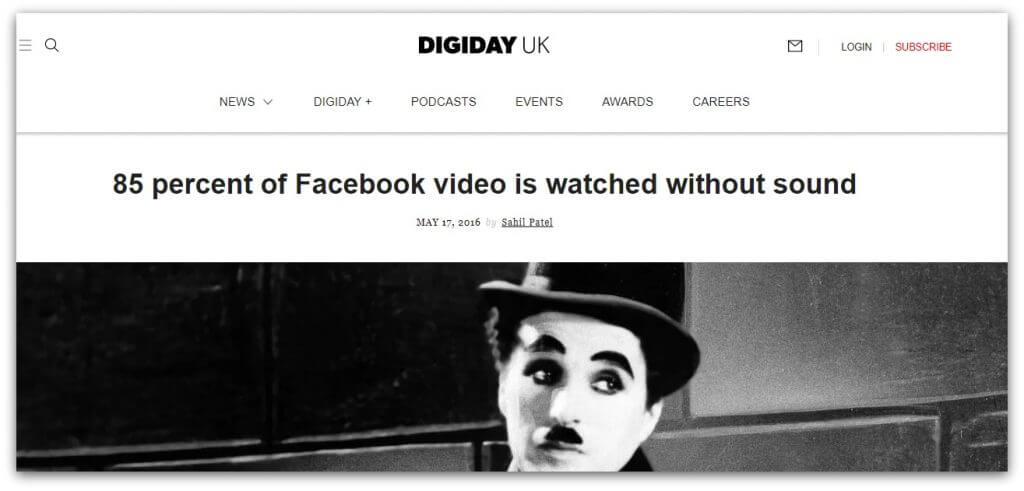 According to Digiday, around 85% of Facebook users prefer to watch videos without sound. As such, it is imperative on your part to use the silent playback feature.
All you have to do is to edit your videos in such a way that it will be easier for the viewers to understand what it aims to promote without the use of sound. An excellent way of doing this is to add more text to your video content. Captions will help a lot in portraying your message to the audience.
To that end, there are different ways to produce a video that makes people engage without the use of sound.
The best way to do this is by adding text. You can do it easily with video editors such as Lumen5.
Also, you have to choose the best visuals possible to make people want to keep watching.
Avoid complicated scripts that might make the viewer get lost throughout the video. Watching a video with no sound might make it easy for someone not to understand your message. So, make sure your video is easily understood without sound.
5. Choose A Thumbnail
Whether you like it, the truth is that people will click on your video based on the first photo that they see. For this reason, you have to make sure that all your video uploads have an engaging thumbnail.
Consider hiring a graphic designer to join your team so that a professional can be in charge of creating the best images for your content. Aside from this, you also need to start writing better captions for the posts.
If you want to make your thumbnail yourself, there are also some tips you can follow:
Use a Face
Using a friendly face can improve the chances that a person will want to watch a video. According to Psychology Today, we make a first impression within the first seconds of seeing someone's face. If it's a good impression, the chances that a person will watch your video increase exponentially.
Use a Picture That Conveys an Emotion
Once again, psychology becomes our ally. According to HubSpot, using emotions such as happiness, sadness, anger, or fear, is a proven way to elicit a response on the viewer.

Include Short but Powerful Text
When we make thumbnails, it becomes clear we don't have much space to add text. However, if you choose a few but powerful words, the chances that people will watch your video increase.
Choose a Picture That Is Related
One of the things that viewers dislike the most is clickbait. Do not add images that are not related to your content. Instead, you can choose an attractive picture that is related to your content so viewers know what to expect.
Include Your Logo
If you are creating branding videos, don't forget to include your logo so people can associate your brand to a certain kind of product. Creating an identity is an effective way to build trust with your target audience.
6. Include Text in Your Video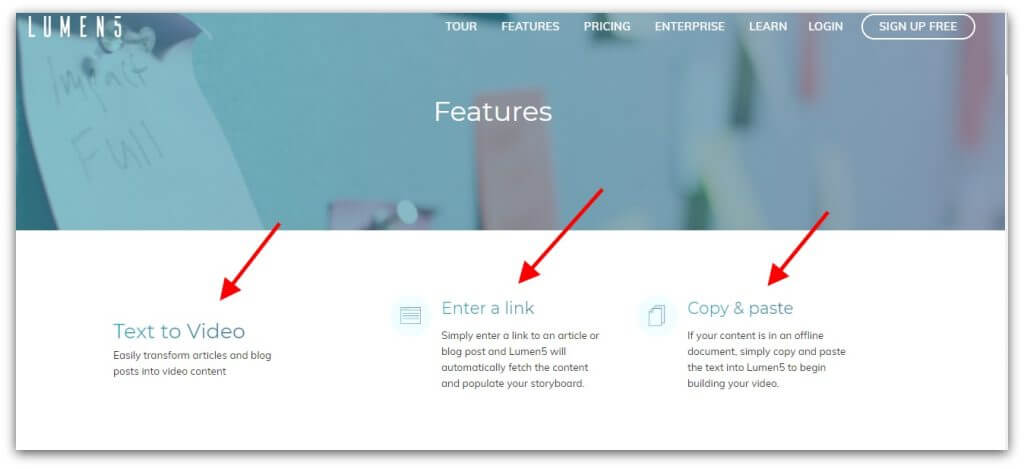 One of the best ways to catch people's attention is to include text. If you include a descriptive message at the beginning of the video, that's even better.
Including text boxes in your video is rather simple. You can use Lumen5 and paste any text into a box that will turn all the text into video with the use of artificial intelligence.
Naturally, using text in your video might become a problem instead of a solution if you don't do it correctly. So, there are some things you have to take into consideration before adding any text.
Size
You have to use the right size according to the format you are using. If the fonts are too small, people won't be able to read them, and if they are too big, people can't see what's going on behind.
Fonts
Choosing the right font is also a must. You have to choose one according to the content you are making. However, the most important thing is to consider readability. You want people to be able to read what you wrote.
Read Time
You have to be careful with this. You don't want people to have a hard time reading because the text is not on screen long enough. Also, don't leave them there for too long or it will become annoying.
7. Go for Square Format
Format 1:1 is the most popular to watch on Facebook in 2019. This format is bigger than the others and people will prefer to watch videos in this format. Also, due to the integration of Instagram with Facebook, this format has risen to the first place when it comes to popularity.
According to Wochit, square format showed a significant advantage over other aspect ratios.
8. Add the Title as a Frame
One of the most practical ways to let the users know what your video is about is using the title as a frame.
If you follow the previous tip an use a square format, adding the title as a frame becomes considerably easier.
Moreover, if you select a style and a font that is always consistent, people will be able to associate that to your brand, which is always a plus.
9. Add a Video Description
Adding a caption to your video is important. However, you don't want to describe the whole video with the caption. Instead, write one or two sentences where people can know what the video is about in a few words.
According to Buzzsumo, videos that had a word count of approximately 60 characters had a higher view rate. So, if you want to increase your facebook video views, keeping your description short will play an important role.
10. Catch People's Attention
If you want to increase your facebook video views, it is imperative that you catch people's attention within the first 3 seconds of video.
Sometimes, it can be difficult to catch people's attention quickly. Therefore, adding a textbox at the beginning might solve this problem.
According to SingleGrain, the impact of your video occurs within the first 10 seconds. After you catch people's attention, the best way to keep them hooked is to tell a good story.
A good way to tell a story is to include characters, plots, and anything that creates the feeling of a line of events so people want to watch until the end.
11. Upload Your Videos Directly on Facebook
One of the best ways to make sure you get as many facebook video views as possible is uploading your video directly on the platform. Avoid using links to other sites such as Youtube.
There are some things you have to take into consideration before uploading videos on any video platform. All the platforms are different. So, if you want to get the best results possible, you have to invest some time in making videos for each platform in particular.
Avoid using the same video and its characteristics and uploading it on different platforms at the same time. This will not work well.
12. Tag Relevant People or Pages
Another way to increase the possibility of getting more Facebook video views is to tag other pages or people.
You can tag another page that contributed to the video somehow. Just remember, always make sure that you keep all the tags relevant.
Other possible tags that you can include are people that inspired you to make the video. Also, you can tag someone that you just mentioned on your video or maybe someone you would like to work with.
Adding tags will increase your chances of getting more and more views on Facebook.
13. Call to Action
Calling to action is a way to increase traffic on your website. In fact, you don't always have to include buttons inviting viewers to subscribe.
Sometimes, a simple sentence might be enough. It is always a good idea to leave some information out of the video and invite the viewer to visit your site.
Moreover, there are different ways you can call to action in your video:
Ask a Question
Simply ask a question and encourage the viewers to join a conversation on your site.
Free Trial
If you are promoting a product, you can always offer a free trial so people get a taste of what your product does. This is a very popular option among big companies.
Watch Another Video
Another way to call to action is by inviting people to explore further on your material so they get to know your brand better.
Include a Poll
Inviting viewers to complete surveys and polls is a good way to increase traffic on your site.
14. Pay For Ads
Getting organic views on Facebook is starting to be challenging because of the recent updates introduced to its users. However, there is an effective way on how you can solve this problem.
What you need to do is to allocate a budget for digital advertising. Set aside a particular amount of money that will be used solely for promoting all the Facebook videos uploaded on your business page. You can always track the insights or statistics for each campaign that you set up.
According to Invespcro, the amount of money users spend on ads on Facebook have been increasing year after year in the last 5 years.
So, it might be more expensive to invest money in advertising, but it will be worth it.
Final Steps
Creating a solid strategy to launch on Facebook is not simple. However, if you analyze what the tendencies are and what people enjoy the most, you can get great results from Facebook.
In order to increase the number of Facebook video views, you can follow the tips mentioned above. Naturally, you have to analyze your target audience first to decide what tips are better under different circumstances.
One thing is certain, you can increase the traffic on your site, increase the conversion rates and get a great return on investment if you play your cards right with Facebook video. Good luck!