There are plenty of social media and content marketing conferences out there, with Content Marketing World being one of the biggest names in the space.
Now, Content Marketing World 2019 (or CMWorld 2019, as it's colloquially referred to) is upcoming, but ticket prices aren't cheap. If you're wondering whether it's worth your while to pay for a ticket to the event, read on to find out more.
The Lumen5 team attends many social media conferences - and we're no slouch when it comes to understanding what makes conferences rise to the top.
Content Marketing World: Dates, Events, Other Details
In this section, we discuss exactly what CMWorld is about, plus include a handy round-up of all the information you'll need to know about CMWorld 2019.
About CMWorld
For the uninitiated, CMWorld is an annual content marketing conference by Content Marketing Institute. This year's event is the 9th CMWorld, and it will host over 4,000 marketers from 60+ countries.
Topics-wise, CMWorld 2019 will expand on existing tracks such as demand generation and influencer marketing, and add in new tracks such as branded content.
CMWorld: Key Details
Dates: September 3rd (Tuesday) to September 6th (Friday)
Conference Location: Huntington Convention Center of Cleveland, 300 Lakeside Ave, Cleveland, OH 44113
Nearest Airport: Cleveland Hopkins International Airport
Dress Code: Business casual for all events, including the evening events.
Registration: Via CMWorld's website.
Number of speakers: 225. Keynote speakers include Mindy Kaling, Nilla Ali, Henry Rollins, Kathy Button Bell, Tamsen Webster, Joe Pulizzi, Robert Rose, and Scott Stratten.
Number of sessions and workshops: 120
How much does it cost to attend Content Marketing World?
Ticket prices for CMWorld 2019 range from $699 to $2,499. The different types of passes you may purchase include:
Summit or Industry Forum ($699 for online registration / $749 for on-site purchase)
Main Conference ($1,399 / $1,499)
Main Conference Plus ($1,899 / $1,999)
All-Access Pass ($2,399 / $2,499)
CMWorld 2019 Types of Passes
#1: Summit or Industry Forums ($699+)
Summit and Industry Forum passes clock in at the most affordable Content Marketing World passes. These passes allow you to attend hands-on sessions that are led by an instructor with guests presenting throughout the day.
Note that Industry Forums and Summits take place simultaneously, so if you purchase an Industry Forum pass, you'll only be able to participate in ONE Industry Forum of your choice. The same applies for the purchase of a Summit pass.
Attendance dates: 6th September 2019 (Friday)
#2: Main Conference ($1,399+)
With a Main Conference pass, you'll get access to a variety of keynote presentations, breakout sessions and master classes scheduled across three days. You'll also be able to attend CMWorld's evening networking events and morning sessions.
Attendance dates:
Evening networking events on 3rd and 4th September 2019 (Tuesday and Wednesday)
4th and 5th September 2019 (Wednesday to Thursday)
Morning sessions on 6th September 2019 (Friday)
#3: Main Conference Plus ($1,899+)
A Main Conference Plus pass gives you access to everything included in the Main Conference pass, and an additional selection (either a workshop, summit, industry forum, or post-show video access).
Attendance dates:
Evening networking events on 3rd and 4th September 2019 (Tuesday and Wednesday)
4th and 5th September 2019 (Wednesday to Thursday)
Morning sessions on 6th September 2019 (Friday)
CHOOSE FROM: Workshop on 3rd September 2019, or Forum/Summit on 6th September 2019, or Post-show video access
#4: All-Access Pass ($2,399+)
Finally, the highest-tiered All-Access Pass gives you access to all CMWorld 2019 events. This includes networking events, morning sessions, main conference events, your choice of workshop, and your choice of summit or industry forum.
You'll also get post-show video access, which consists of video, audio and slide capture for available sessions. The videos will be available to view approximately two weeks following the close of the conference, for up to one year.
Attendance dates:
Workshop on 3rd September 2019
Evening networking events on 3rd and 4th September 2019 (Tuesday and Wednesday)
4th and 5th September 2019 (Wednesday to Thursday)
Morning sessions on 6th September 2019 (Friday)
Forum/Summit on 6th September 2019
Additional costs for out-of-town participants
Assuming you're flying into Cleveland to attend Content Marketing World, you'll have to account for your plane ticket, accommodation, and other costs. Here's a rough breakdown:
Flight cost: ~$300 to $500.
Hotel cost: ~$150 to $210 per night.
To help defray participants' costs of accommodation, CMWorld has secured discounted room rates at hotels near the convention center.
You may book your stay at selected partners (Cleveland Marriott Downtown, DoubleTree by Hilton Cleveland, Hyatt Regency Cleveland, etc) using CMWorld's Hotel Reservation Site.
For those working with tight budgets, another workaround is to stay at an locally-owned Airbnb property. There are various properties located nearby Huntington Convention Center, and these will set you back by anywhere from $60 to $150 for a one night's stay.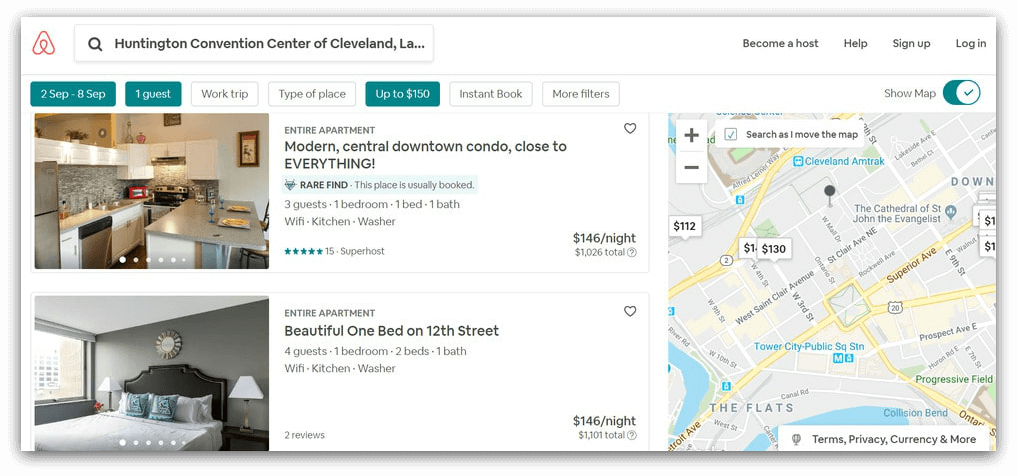 As for meals, if you're opting for the Main Conference, Main Conference Plus or All-Access Pass, these come with:
An opening night (3rd September) reception with light appetizers
Continental breakfast, lunch and a reception with light appetizers on 4th September
Continental breakfast and lunch on 5th September
Assuming you're arriving in town on 2nd September (Monday) and flying off on September 7th (Saturday), you'll be on your own for 13 or 14 meals. If we budget $30 per meal, this works out to $420 for food expenses.
Totalling up the costs, you can expect to spend anywhere between $1,020 to $1,970 per attendee who will be flying into Cleveland for a six day stint.
This doesn't include the price of your ticket, but if you'd like to save cost, you can always fly into Cleveland later and depart earlier, or register in larger groups. Groups of four enjoy 10% off the total ticket price, and the discounts get larger as your group becomes bigger.
Benefits of attending Content Marketing World
Attending conferences (especially ones as prestigious as CMWorld) doesn't come cheap - that much is obvious. That said, there are several benefits that you stand to gain from participating in these industry events.
First and foremost, by attending CMWorld, you'll get to improve your knowledge about all things content-related, and hone your marketing skills.
CMWorld's keynote presentations, breakout sessions and master classes deal with a wide range of topics, including demand generation, sound video marketing, ROI and measurement, useful tips for content creators, and more.
For more details about specific programs, head over to CMWorld 2019's Session Viewer, where you can filter sessions according to topics.
Next, CMWorld is also the perfect place to gain some inspiration. If you're stuck in a rut, and unsure about how to take your company's content strategy to the next level, you'll definitely benefit from hearing the personal anecdotes shared by CMWorld's extensive list of speakers.
Personally, we're the most excited about the programs involving Mindy Kaling, who's an Emmy-nominated writer, producer, New York Times best-selling author, director and actor.
Another speaker we'd look out for is Joe Pulizzi, who's the founder of Content Marketing Institute, winner of the 2014 John Caldwell Lifetime Achievement Award from the Content Council, and author of multiple books, including Epic Content Marketing: How to Tell a Different Story, Break through the Clutter, and Win More Customers by Marketing.
Last but not least, CMWorld 2019 gives you an excellent opportunity to network with like-minded professionals and connect with potential clients.
If your goal is simply to learn more about content marketing, you'll find value in chatting with your fellow attendees and getting feedback on your ideas and strategies. If you're hoping to generate leads from the event, that's possible too - we share some tips about doing this further on in this guide.
What people are saying about Content Marketing World
CMWorld is one of the best-rated events in the content marketing space, and attendees have great things to say about the conference. On its Facebook Page, CMWorld has a 4.8/5 rating, with both first-time attendees and veteran participants recommending the event.
CMWorld is also regularly featured on "best marketing conferences to attend" lists, including:
All in all, attendees agree that CMWorld is full of actionable insights and takeaways that they can use to refine their company's content strategy. As Marybeth Baxter, Digital Marketing Specialist at Beck's Hybrids shares:
"Four people from our marketing department attended and we all took different tracks and were able to compile all those notes to better identify where we excelled, where we needed help and what gaps existed.
What we learned and the insights we plan on implementing will take our content marketing strategies to a higher level. Getting to meet new people and further my working relationship through the fun at the Cheap Trick concert was invaluable. Thanks for a great event!"
How to get the most out of Content Marketing World
Since you're forking out upwards of a thousand dollars for your ticket, you'll definitely want to make the most out of CMWorld, and maximize the value you get from the event.
Here are a few tips to keep in mind:
Plan in advance - look at the CMWorld 2019's Session Viewer to determine which are the key events you don't want to miss out on.
Taking notes on your phone? Bring a portable charger so you won't run out of juice.
Bring name cards and network. Practice your elevator pitch, so that you can confidently and succinctly explain to other attendees what your company is about.
To go one step further, connect with other attendees in advance and set up meetings to pitch your product/service. To identify other attendees, browse the #CMworld hashtag on Twitter.
Check out the booths. Many booths offer freebies such as interactive content marketing assessments, and you can learn a lot by talking to the people running these booths, and asking them for recommendations.
Commit to paying attention at the conference (instead of checking and replying emails every five minutes). The speakers at CMWorld discuss plenty of interesting strategies and concepts, but you won't benefit from their expertise if your mind is constantly wandering.
Also: if time permits, get out of your hotel room, and check out the sights and sounds of Cleveland!
This city was named by National Geographic as one of the best places to visit in 2018, and it's got plenty of offer for visitors. Popular attractions include the Rock and Roll Hall of Fame and Museum, Playhouse Square Theater District, Great Lakes Science Center, Progressive Field and more.
A final word on Content Marketing World
All in all, we'd say that attending Content Marketing World is definitely worth it for social media marketers, content marketers, and business owners who are trying to up their content game.
Aside from gaining valuable insights about content marketing, you'll also come away inspired and ready to take your content strategy up a notch. For those who are working in content or digital agencies, you might also be able to connect with potential customers if you play your cards right.
If you'd like to attend Content Marketing World, but you think that you might have difficulty getting approval from your CMO, CFO, or direct superior, go ahead and download and use CMWorld's "Justify Your Trip" document. All you have to do is personalize the document by filling in the blank fields, then send it across to your superior.
We'll see you at CMWorld 2019, fingers crossed!