Canva pro is one of my favorite design tools.
If you're in the digital marketing and design space or if you own a business, you might already know what Canva is. It is a drag-and-drop design tool that lets you create pretty much any type of visual content with ease. If you haven't used Canva for work (Canva Pro), you need to read this detailed review to figure out what you're missing.
But why exactly you need a designing tool?
Here is why...
The importance of visual content has increased significantly in recent times. Think of business cards, banners, email templates, postcards, and logos that every business needs.
Social media platforms further increased the importance of visual content. As much as 80% of marketers use visual content in social media campaigns to engage with their audience. And 32% of marketers say that images are the single most important form of content they produce.
Why marketers are in love with images?
Because images work and deliver big time.
Research shows that it is 3x easier for people to follow visual instructions than written directions. Another study revealed that humans can remember up to 2000 images with 90% accuracy. This is because more than half of the human brain is somehow involved in processing visual cues.
Images are easier to remember, understand, and visually pleasing. That's what makes images the best content your business can produce.
And that's where Canva for work (Canva Pro) can help you. It can help you create any type of visual image for your business or marketing campaign.
Not sure how to use Canva for work (Canva Pro)? This review is for you.
It will cover everything you need to know about Canva for work, why it's my favorite tool, its features, how to get started, pros, cons, and pricing details.
What is Canva Pro?
Canva Pro is the premium plan of Canva that comes with additional features including unlimited storage for photos and assets. You can upload your own images and access millions of photos starting at $1 each. You'll also get exclusive access to 400,000 free photos, illustrations, and templates.
It can be used by teachers, businesses and marketers, students, designers, photographers, and nonprofits. No matter where you're coming from, Canva Pro is sure to surprise you.
For those who are new to Canva, it is a graphic design tool that lets you collaborate and create graphs and edit photos of any type and kind. It has several templates and a massive library of stock images, vectors, icons, designs, and photos that you can use to create any type of visual piece.
You can choose from a massive collection of designs including social media, presentation, flyer, poster, card, blog banner, presentation graphic, letterhead, magazine cover, certificate, resume, book cover, wallpaper, CD cover, brochure, postcard, and many others.

These designs are categorized based on how you intend to use Canva for work. For instance, if you're using it for marketing, you can choose designs from marketing category.
If you're using Canva for Work for education, you can choose relevant designs from the Education category.
It offers you with a wide range of templates, designs, illustrations, shapes, photos, and icons to choose from.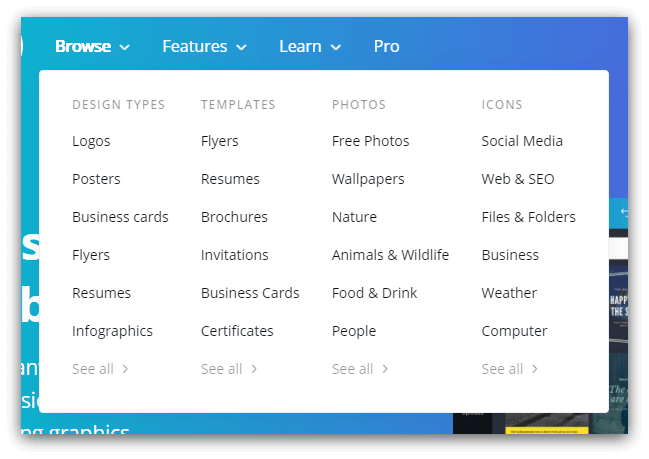 Your experience is customized based on the designs you have already created. You'll get relevant templates and designs that will make your work easier.
Alternative to Canva Pro:
The best alternative to Canva Pro would be to use a graphic design services company like Design Pickle. They provided unlimited graphic design requests at a fixed price. So whether you're working on real estate flyer designs on whipping a few images for your B2B software company ever week, they have you covered.
How to Use Canva for Work?
You can start using Canva for work or Canva free plan in less than 23 seconds. Yes, it's that simple. Here is a step-by-step guide to help you get started.
Step #1: Sign Up
Visit Canva.com and sign up with either Facebook, Google, or Email.
Allow permission or verify your email to finalize creating your account.
Step #2: Log in to Your Account
This is the screen you'll see after you'll log in to your account: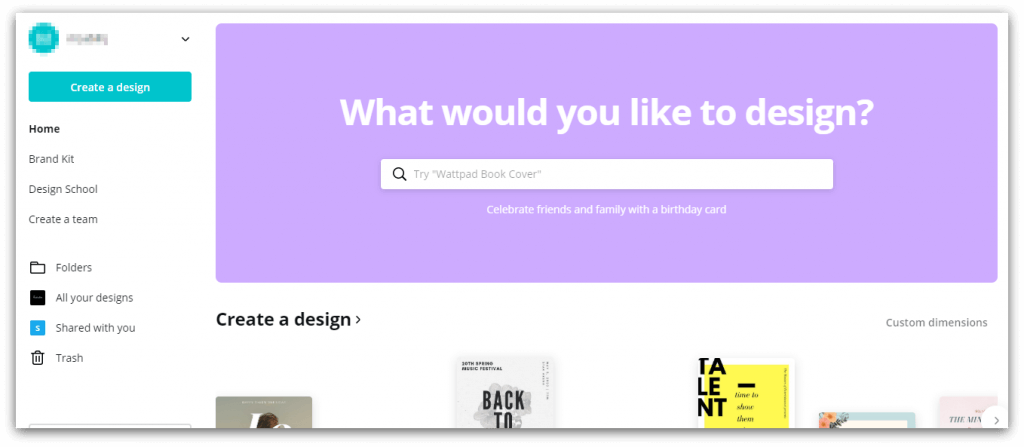 Use the search bar to create your first design or select a template from Create a design to start working on a design right away.
Step #3: Create Your First Design
Enter your preferred design type in the search bar:
As you'll type, Canva for work will suggest based on your search term. Select the most appropriate suggestion from the dropdown. The design tool will open in a new window.
Select any free template to load it into the canvas.
You can select, remove, or edit all the items individually. This provides you with a lot of freedom and flexibility.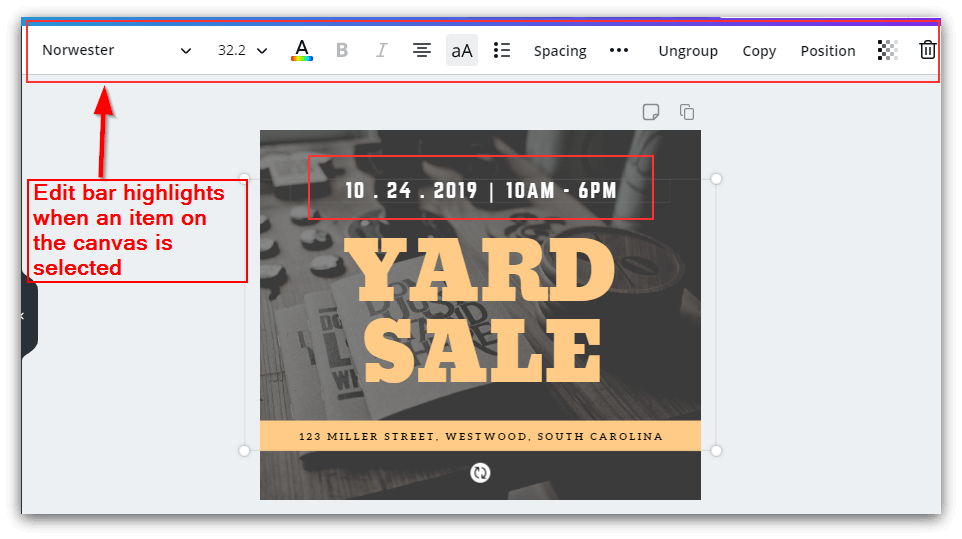 Tweak template as much as you like. Add elements, photos, graphics, text, background, upload images, add emojis, and more. Canva for work provides you with a lot of features when it comes to editing and tweaking a template.
Step #4: Publish or Download
Once you're done with the designing, you can download your design or publish it.
If you're interested in downloading it, click the download symbol in the top menu, select file format, and click Download.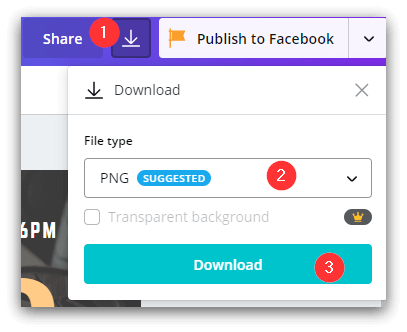 You can publish your design to Facebook, Twitter, Pinterest, website, and to several third-party sites. Click the arrow with Publish to Facebook (this might vary depending on how you signed up).
You'll be asked to link your social account or site that you're trying to publish to:
This is a very handy feature. If you use Canva for work to create social media posts, you can connect your accounts and directly publish to them instead of downloading and then uploading visuals to individual social accounts.
Step #5: Repeat
Now that you know how to use Canva for work, you're all set to create as many visuals as you like.
Canva for Work Pros
So what makes Canva Pro better than its counterparts? What are its pros? What are the features that users like?
I'll be honest here, I have been using Canva for Work for several years now and it has helped me create all types of graphics ranging from blog images to logos to social media pots to PDF covers and more. There are a lot of great things about Canva Pro that makes it one of the best design tools around.

The leading benefits are discussed below in detail.
Easy-to-Use
If there is one word that could best describe Canva for work, it's SIMPLICITY.
It is easy-to-use with simple user-interface that keeps everything organized and manageable. The design tool has a different UI that opens in a new window while your dashboard has a different UI where you can collaborate with your team, access old designs, manage and organize designs in folders, and access your brand kit.
You don't need training to get started. But if you do, you can learn everything about Canva in the Design School.
The onboarding sequence in the design interface offers a quick overview of how to start designing instantly.
You aren't left alone.
Multi-Purpose Tool
Canva for work is a multi-purpose design app that lets you edit photos, create graphics, create animated designs, share folders, and collaborate with your team.
There are several ways you can use Canva Pro to grow your business. For instance, you can integrate your social accounts and publish new designs right from Canva interface. Or, if you work as a marketing consultant and serve multiple clients, you can create a separate folder for each client for easy organization.
Canva for work is much more than a design tool, it is a design collaboration app with tons of resources.
Templates and Designs Database
Perhaps the best thing about Canva is its huge collection of ready-to-use resources which include templates, designs, icons, shapes, images, photos, symbols, backgrounds, and more.
There are more than 1.5 million images in the Canva database that you can use for free.
As a marketer or a business owner, the Canva library is more than enough to create a unique design every single day. There are enough templates to keep you busy for a few good months.
All the templates and designs are editable. You can customize them by editing all the elements on any given design.
Designers, on the other hand, are the ones who will need to upload their own images and photos for editing and tweaking. This is sort of an advanced feature that not just designers but anyone can use.
For instance, if you wish to edit a photo for social media posting, you can upload and edit it as per need.
Collaboration
You can create your team with Canva for work (Canva Pro) for enhanced communication and collaboration. You can share templates, designs, and folders with team members for their input.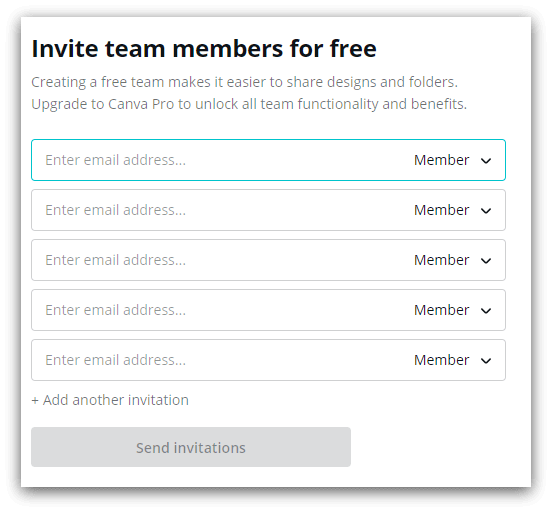 The team feature works best for businesses and marketers who wish to keep everyone onboard when developing new media for campaigns. You can create a folder for each campaign and add relevant team members such as content writers, social media assistants, strategists, designers, and editors so they all can collaborate on designs.
As a marketing consultant, you can add your clients so they can see what you and your team are doing.
This feature saves your team a lot of time. You don't have to send heavy attachments to multiple people after making tiny tweaks in the design.
Integration
Canva lets you integrate a lot of third-party sites such as social networking sites, WordPress, etc. You can use photos from your Instagram account, Facebook, Dropbox, Giphy, and other platforms.
Also, you can publish photos to several social networking websites and other third-party sites. You can avoid the pain of downloading, saving, and then uploading images to social networking sites.
This integration feature is amazing because it helps you save a lot of time if you're dealing with multiple folders, sites, social accounts, clients, and team members. If you don't want to invite all of them, simply send your graphic as an email when it is ready and relax.
Canva for Work Cons
Canva for work, despite all the benefits discussed above, have a few glitches. There are a few drawbacks that you have to deal with while you use it.
Poor Image Search
The search feature in the design interface isn't a friendly one. There isn't any filter option so it's a bit hard to find images that match your requirements.
Absence of search filter means you cannot find free images only. For instance, when you search for a car, most of the images you'll see aren't free. It gets frustrating when you see that most of the good images are paid ones.
What if you only need free images?
There isn't any feature for it yet.
This applies to all types of search within the Canva design interface. If you're searching for icons, templates, shapes, or anything else, you'll see mixed results.
Here is what you can do.
Search images off Canva and upload them to your account. This is a time-consuming process but it will ensure that you're dealing with free images that meet your requirements.
Not a Great Upload Feature
Editing uploaded items isn't flexible. When you upload an image to Canva, you get limited editing features which include filter, adjust, crop, flip, and a couple of others.
You cannot edit individual elements as you can do with built-in images and templates. So the only way to use an uploaded image is to use it as is.
The reason could be that Canva wants you to use their database where they have more control and flexibility.
No Videos
Videos are the next big thing on the internet. According to Cisco, videos will account for as much as 82% of all internet traffic by 2022.
Unfortunately, Canva for work doesn't deal with videos. It recently started providing animation and it now supports GIFs but if you're interested in creating and designing videos, Canva for Work won't help you.
Lumen5 is your best bet if you want to create professional videos for social media and marketing campaigns with a few mouse clicks. Give it a try.
Canva Pro Price
Canva Pro is priced at $12.95 per team member per month. If you pay annually, it reduces to $9.95 per month.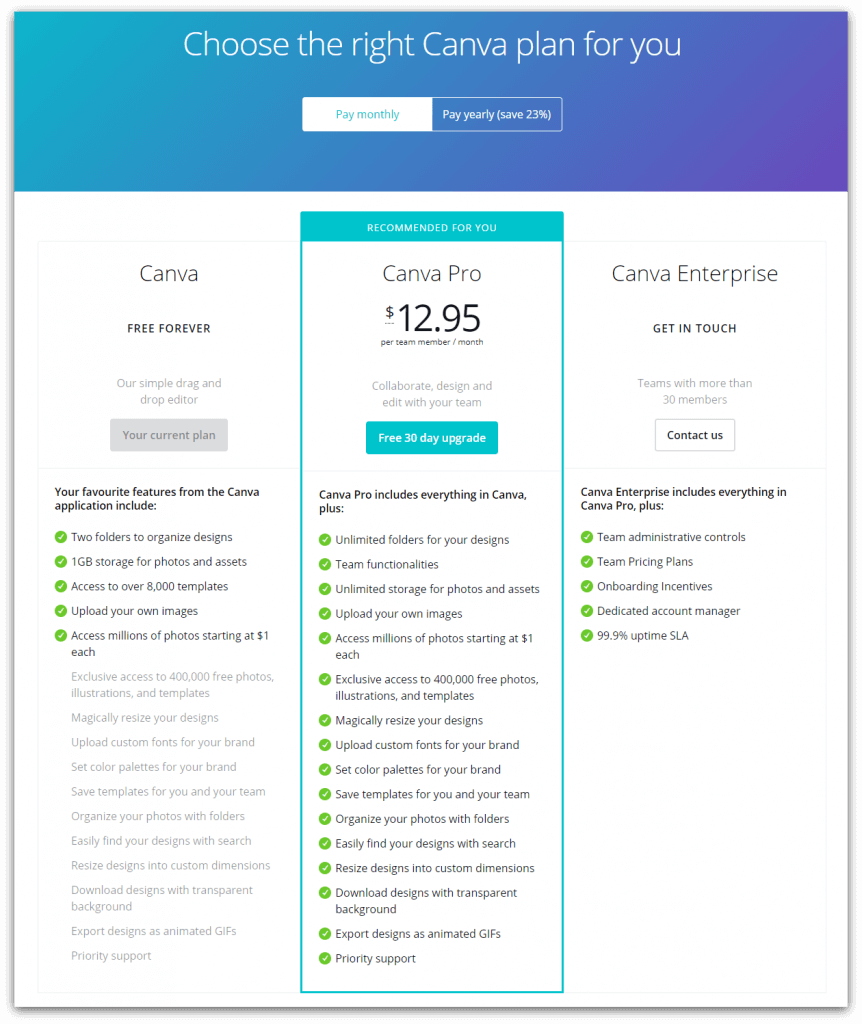 You can try Canva Pro for 30 days at no cost.
You get access to over 400K free photos, illustrations, and templates. Most of the photos that you have to pay for in the free plan are free for Canva Pro users.
Not interested in using the paid version? You can use Canva free plan which is free forever. You get restricted access to features but it offers you enough freedom to get the ball rolling.
Canva for Work Verdict
Canva for Work (Canva Pro) is a must-have tool that will help you with so many things.
If you're a marketer, entrepreneur, blogger, writer, teacher, student, designer, or anyone who has to deal with design and graphics at least once a day, you need to grab Canva for Work now.
If you're skeptical, I'd recommend using Canva for Work 30-days trial to explore it. Or, you can use its free version to test the waters.
The value you'll get with Canva for Work will make you fall in love with it.