In this day and age, if you want to grow your company's online presence, knowing social media optimization is like salt on fries.
Whether you want to strengthen your brand, generate leads or connect with your audience, you need to optimize your social media plan. Your internet search rankings depend on it.
This doesn't have to be complicated at all. You'll have to work with what you already have to make it better---and we're here to show you how to nail it. But first, let's see what's the deal with social media optimization and why you should make it a top priority in your business.
What does Social Media Optimization Even Mean?
Techopedia defines social media optimization (SMO) as the creation of content shared through social networks. It's considered an art form rather than being super technical.
Social media optimization refers to optimizing a website's content to encourage link sharing across social networking platforms. Without it, your brand not only has poor or no online visibility, but it also means you're minimizing your chances to convert leads and make money.
Why You Should Care About Social Media Optimization
It's 2019 and if you care about the success of your business, it's already on social media.
And it's a smart move.
After conducting a survey on social media trends, Sprout Social revealed 75% of people purchased something because they saw it on social media and 57% are more likely to buy from a brand they follow.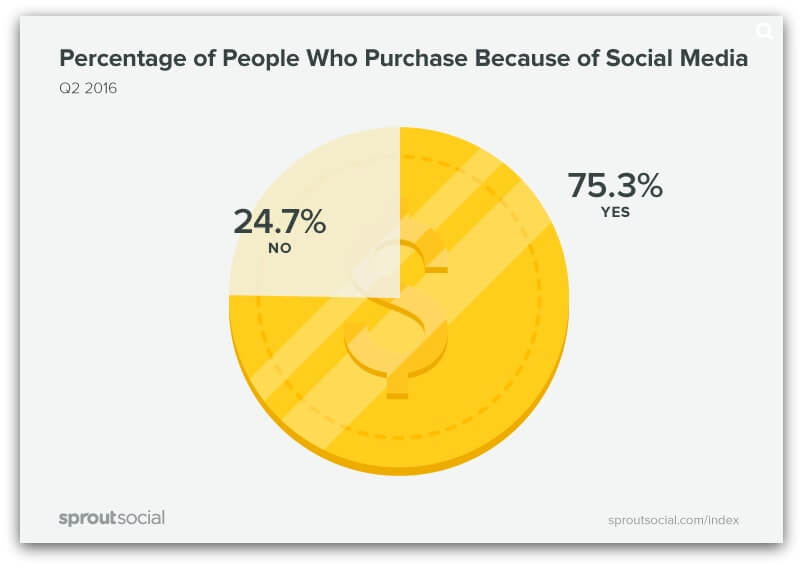 But posting content on social media channels for the sake of it is not gonna help.
According to research from AdWeek, 61% of consumers will unfollow brands because their content is no longer relevant and 20% will unfollow if the brand is sharing boring or repetitive content. Therefore, we need to measure our efforts and understand how well the content we share resonates with our target audience.
Here's why you should include social media optimization in your marketing plan:
It helps customers find your brand
It improves your ranking in search engines
It's an easy way to build and grow your customer base
It builds up connections with your target audience
It promotes your brand authority in a niche market
Whatever business you're trying to promote, make sure you first understand which social media channels work best for your business and which bring your company the most ROI.
Here are 11 social media optimization tips for boosting your website's ranking.
11 Tips for Social Media Optimization
There's a lot of data you can use to stay ahead of the game. So, make sure you follow these tips and you'll be just fine.
#1 Be Video Friendly
Videos are the present and the future. People love watching fresh visual content. That's why businesses are so focused on video marketing success: videos market their brand and engage their followers. But there's a science to posting videos that win people's hearts. You just have to come up with the right video ideas: once that's done, you're already halfway there.
Simply put, you'll need to:
Make sure you share high-quality videos related to what you do. High-quality videos = click-worthy videos. Sharing videos of puppies may be cute, but how is this helping your brand? Instead, you could showcase behind the scenes at work or show your product/service in use.
Evaluate if your videos are educating your readers and giving them useful information.
Make them short. Nobody has time to watch long videos.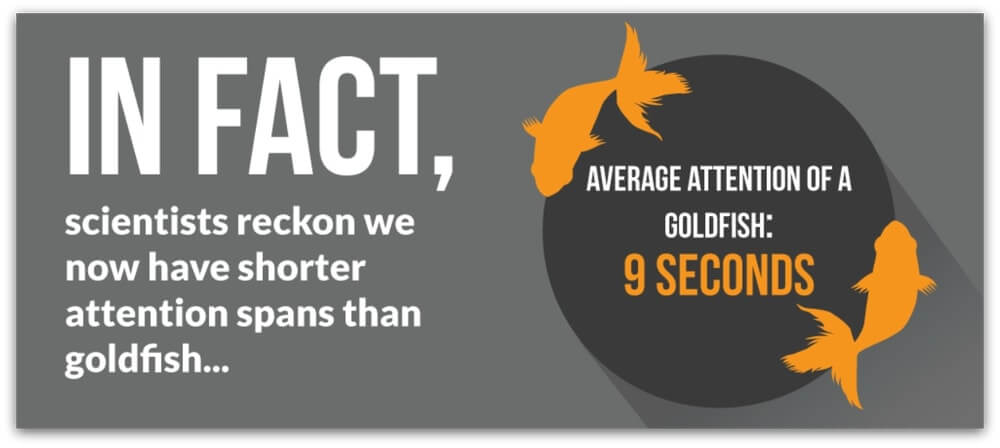 It is all about using time to your advantage when sharing video content that connects your audience with your brand. Lumen5 lets you create stellar videos in no time at all.
#2 Participate in Groups
Social media is not just about posting content and offers. In fact, it's about blending in and interacting with your community. If you're not doing it, it will hurt you in the end.
Participating in groups can help build rapport with the community, especially for local businesses. For example, in restaurant social media marketing, it would be smart to promote nearby concerts, plays, parades, etc. in hopes to be top of mind for those traveling to the area.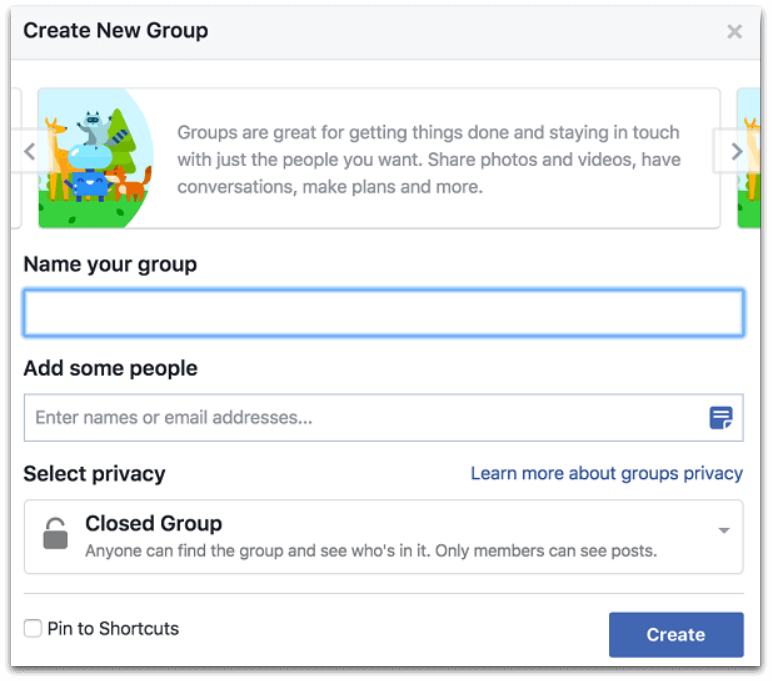 Here's how to target people to join your Facebook group:
Host a giveaway that people are interested in
Put backlinks to your social media profiles in guests posts
Make Quora posts and backlink them
Put backlinks into LinkedIn profiles
Put backlinks into your email signature
Send emails to those who may be interested
Above all, the more you actively engage with your audience (and with people in your community), the better off your social media optimization is going to be.
#3 Go for Influencer Marketing
If you haven't heard by now of influencer marketing, you need to keep a closer eye on social media trends. Influencer marketing is a powerful way to create buzz around your brand and build trust. As career coach Laura DeCarlo told Forbes, "Consumers trust peers first and consistently doubt companies. In short, when a company says it, it's marketing. But when a peer says it, it's believable. "
SocialMediaExaminer identifies potential Social Media influencers as:
Journalists
Bloggers and vloggers
Famous people
Experts/thought leaders from your niche
"Regular" people, such as regular social media users who are gaining online influence organically
Cecilia Harvey from Entrepreneur points out brand alignment is crucial when looking for influencers. Ask yourself:
Does the influencer represent your brand? For example, if you have a high-end luxury brand, does the influencer's image align with your brand?
Will your existing audience relate to the influencer?
Does the influencer's following align with the audience you want to target?
Does the influencer have a loyal following? Review the comments. Is there a significant number of comments for each post?
#4 Show People You Know Your Stuff
People are more likely to follow a company if they are considered the authority in their niche. Therefore, show people you're the expert and they'll come for more.
Start off by creating a company blog and focusing on how-to content related to your industry. For instance, let's say you're a moving company---you could produce blog articles that showcase the proper way of packing.
Don't fall into the trap of blog content that talks about your business without offering anything informative to the reader. Above all, you should be offering value. It's fine to showcase your business, but make sure it's not all about promotional material.
#5 Trust in the Power of Hashtags
Hashtags make it easier for your target demographic to find you. They create engagement and buzz around your brand. The key is to find the right hashtags that work for your industry and business profile.
Like with anything, there are some rules:
Add hashtags that are relevant to your industry. "It's not about getting seen by a lot of people, it's about getting seen by the right people," Hootsuite contributor Michael Aynsley says.
Using 1 – 2 hashtags on Twitter has shown to be more effective in terms of visibility
Facebook works best when using one custom hashtag and one popular hashtag
With Lumen5, videos you post to Instagram can use up to 25 hashtags at once. However, most people say the sweet spot on a post is 11
Pinterest can allow several hashtags, but one or two is a great start
So how many hashtags should you use?
Consider these two examples; which one is more clear and concise?

And the winner is: number two. With hashtags, the secret is they shouldn't affect the post's readability.
#6 Know What and How Often to Post
First things first: if you want your posts to engage, you need to have a clear idea of what content resonates with your audience. So, before gathering your teams and brainstorming ideas, research and measure what people want to see from you.
There are lots of myths going around about the frequency you should post with. For many businesses, the rule of thumb is daily posting, while others may be posting every now and then.
The key is to be persistent with your posts and find what works for your business.
A recent study by CoSchedule recommends the following:
| | |
| --- | --- |
| Facebook | 1 post per day |
| Twitter | 15 tweets per day |
| Pinterest | 11 pins per day |
| LinkedIn | 1 post per day |
| Instagram | 1 to 2 posts per day |
The worst thing that you can do is to post one week and then post a few months later. Ideally, try posting at least once per day to set a routine. Also, feel free to reshare past content that worked well.
#7 Use Powerful CTAs
A CTA, also known as a call to action directs users to the next step in their journey.
Yes, we need to be told what to do.
This can be anything from reading your blog, posting a comment, liking a post or even following your brand on other social media platforms.
Facebook's new CTA feature encourages audiences to interact with businesses. For digital marketing platform Mention, this is the best spot to place their CTA button, telling users to try out their app: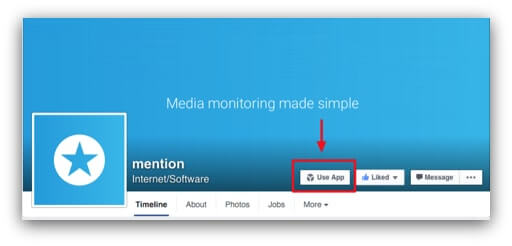 If you want people to furiously click your CTAs, make sure their copy and design draws them in.
#8 Constantly Update Your Profiles
Nothing ruins your social media optimization more than outdated social media profiles. Certainly, you don't want people wondering if your business still exists or calling the wrong number.
Always make sure:
Your username is your company name (to avoid confusion)
Your business logo is on every social media profile
All your company's information is one or max. two clicks away
The contact details are accurate and updated
Here's a handy list of questions to ask yourself:
Does your profile picture look professional?
Is your logo high-quality (not blurry) and the right size?
Is your company's description specific? (don't just say "We are a company devoted to a green future")
Are you generally using keywords and also in your About section? (in the above example, using keywords like "green energy", "energy saver", "green" makes it easier for people to find your company online).
#9 Give Incentives
Growing your follower base is the key to social media optimization, and offering incentives is the way to do it.
Think about hosting a giveaway or offer a discount code for liking a post or sharing it. When people share your post with others, your social page gets more viewers. This has been one of the major ways to bring attention to social pages.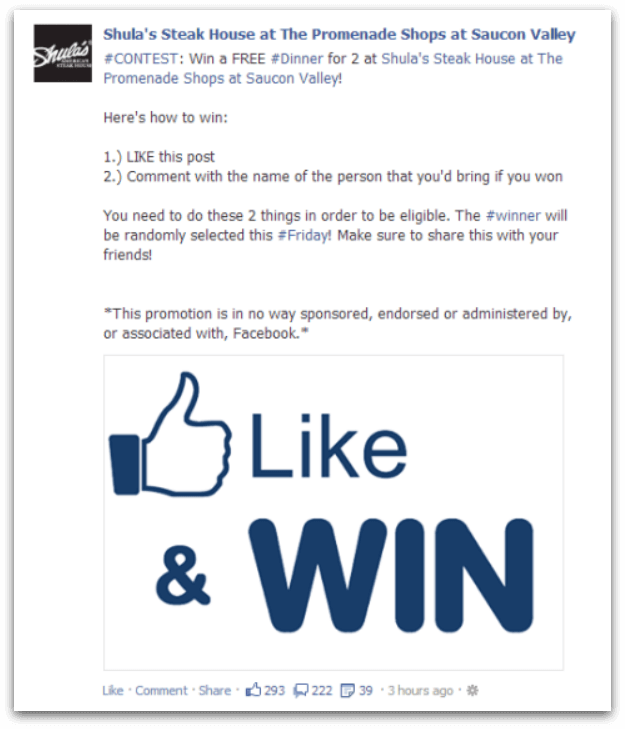 Most importantly, whatever you do, be creative and try to make your contests or promos short term. No one wants to wait for 6 months to find out if they have won or not.
#10 Be Keyword Friendly
Social media optimization is similar to search engine optimization (SEO). Hence, you'll want to use relevant keywords that define your business and help people find it easily.
You can put keywords into profiles, your bio and about sections and in your posts.
But here's the catch.
You want to do this in a natural, organic way. Otherwise, it'll look like you are keyword stuffing, which can negatively impact your entire SEO strategy.
#11 Have Quality Visual Content
No one is going to tune in if you post poor content. It has to be high-quality and visual as well. More and more people look at graphics before they read a post. HubSpot points out that when visual content is paired with written content, people retained 65% of the information three days later.
There are several tools you can use to create catchy visual content. Canva is a fab online tool for creating graphics and editing photos.
If you want to nail your visual content, take a look at these tips:
Be sure your logo is on all your graphics
Share content that aligns with your mission statement and showcases your brand voice
Use visual content to show off written content (e.g. infographics)
Share only relevant graphics and cite the authors if the case
Sounds pretty simple?
Maybe, but the key is to add value to your followers with every post you share.
Over to You
When dealing with social media optimization, it's important to follow the best practices. Also, there are several shabby optimization techniques that won't get you further, so stay away from that. The good news is that when you integrate these tips, success will come in an organic way.
At the same time, no one can put the same pen for all. Make sure you test and find out what best works for your business.