To say Instagram is famous would be an understatement. Instagram has over a billion monthly active users and 500+ million daily active story users.
Instagram Stories are short ephemeral videos or photos. If you have ever used Instagram, I'm sure you know what an Instagram Story is.
When used right, you can skyrocket brand awareness and engagement with Instagram Stories. Insider increased its followers on Instagram from 205K to 738K+ in less than 3 months. Insider generated 5.2 million views from Instagram Stories in a single month.
That's insane…
According to Brian DiFeo, Instagram Stories result in 2-3x more engagement than regular content on Instagram.
Not bad, right?
If you're interested in using Instagram Stories for your brand whether you're doing book advertising or marketing an ecommerce product, you need to understand and learn a lot of things about this eye-popping feature. Most importantly, you need to have a clear understanding of Instagram Story size.
You have to stick with an Instagram Story size that ensures your content looks exactly as you want it to and your photos and video have the right size and aspect ratio.
You cannot post any photo/video and expect it to drive engagement. That's now how it works, unfortunately. Keep reading to find everything about Instagram Story size, what works, and what doesn't work.
This article will cover 7 amazing tips and tricks to Instagram Story size for massive engagement.
What is Instagram Story?
It's important to understand what an Instagram Story is and what this feature is all about.
An Instagram Story allows Instagram users to share photos and videos that disappear after 24 hours. The Story content is visible for 24 hours only. The Stories content is different than other photos and videos that you post.
Stories content doesn't appear in your feed and isn't visible in your profile. This is what makes Instagram Stories unique. You can add Stories to your profile as highlights which don't vanish after 24 hours.
The ephemeral content is what makes Instagram Stories attractive and unique. The concept isn't new as it was introduced by Snapchat in 2013.
Nowadays, you can create your Instagram stories easily with the help of artificial intelligence. You can use Lumen5 for example, which has an Instagram story creator for you to upload stories that are perfect for the platform.
You can select from a variety of images and videos and the best part is that it is completely free.
Instagram Story Size Tips
Instagram Story size is something that you have to understand if you want to use ephemeral content for driving engagement and awareness. There are quite a few things you need to understand about Instagram Story size if you intend to create awesome Stories for your audience.
You can publish both photos and videos on Instagram Stories. It is essential to optimize your photos and videos for size to better connect with your audience.
1. Stick with 1080 Pixels by 1920 Pixels
You can share any sized Instagram Stories. It will be published no matter what's the size of your photo or video. It supports content having 1080x608px and 1080x1920px.
This means if your content for Instagram Stories has an aspect ratio between 1.91:1 and 9:16, it will be published. Anything above or below these ratios will have a hard time going live.
However, the recommended resolution for Instagram Stories is 1080 pixels wide and 1920 pixels high.
This is the recommended size. You can post smaller or larger photos/videos. If you'll publish content that's smaller than 1080x1920px, it will be shown as is by Instagram. It won't look nice though.
Here is an example:
Now this isn't something that your audience will like interacting with, right?
This is how the same image looks when its size is fixed:
Looks better.
If you take a photo from your smartphone or create a video, it will have (most likely) 1080x1920px because that's the default dimension for most smartphone cameras. You won't need much of tweaking in this case.
But images and photos taken from a smartphone aren't professional. You cannot use them on your business Instagram account. If you use a photo editor like Photoshop to improve photos, you'll need to adjust its size.
Same is the case for videos.
In any case, when you post an Instagram Story, it will be published irrespective of its size. Instagram will crop it or zoom it to fit better and that's where it will hurt your brand.
The only time when Instagram Stories won't mess with your photo and video size is when it has the optimal size (i.e. 1080x1920px).
Next time when you're posting something on Instagram Stories, don't ignore the size of the file.
2. Select Right Photo/Video File Size
The size of the photo and video needs to follow Instagram Stories size guidelines. The maximum photo size needs to be 30MB. Anything above 30MB won't be entertained.
The maximum video size needs to be 4GB for Instagram Stories videos.
You'll rarely have to face any issues in terms of image file size because 30MB is more than enough. However, it is recommended to have a file size of as low as possible. Large files need time to load which ruins UX.
When reducing image file size, ensure that you don't hurt image quality. You can easily spot low-quality photos, here is an example:
Don't do this to your photos.
If your photo size is over 30MB (which is highly unlikely), you can reduce image size with an online tool like Reduce Images or Compress Image.
You can use online tools like You Compress or Video Compressor by Wondershare to reduce video file size to match Instagram Stories size guidelines.
3. Video Length Should Be 15 Seconds
This one is tricky.
A video inside Instagram Story can only be 15 seconds long. Even if you publish long videos (more than 15 seconds), it will play for only 15 seconds only.
If your video is longer than 15 seconds, it will be segmented into multiple videos where each video will be 15 seconds long. A maximum of 4 videos can be used in Stories.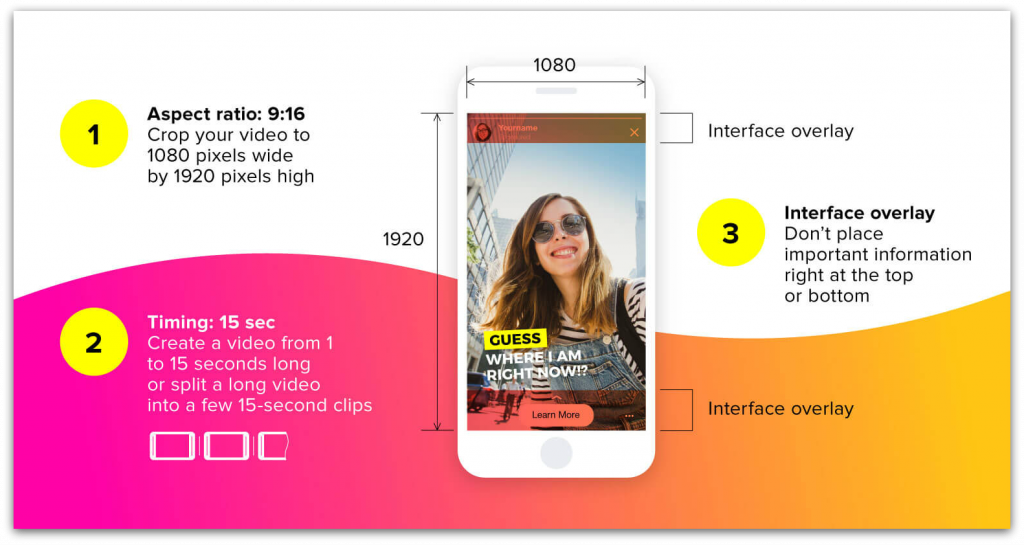 This means if you publish a one-minute long video as a Story, it will be converted into 4 Stories. Anything above a minute won't be shown at all. The maximum number of Instagram Stories videos that can be created from a single video is 4.
If you're using Instagram Story live, you can create 10 15-second Stories maximum.
You need to make sure that the message is conveyed in 15 seconds. It's hard to create a video that's exactly 15 seconds for Instagram Stories. You can use a tool like Lumen5 to create videos for Instagram Stories that are 15 seconds and have the right size (More on this later in the post).
4. Choose Right File Format
Imagine you have spent 2 days on a 15-second video for Instagram Stories. When you try publishing it, you realize that its format isn't supported.
An important dimension of Instagram Stories size requirement is file format.
The photo file format supported by Instagram Stories is PNG or JPG. If the image file is in another format, you can change it using an online tool like Online Convert.
The supported file formats for videos include MP4 and MOV. You can use Online Convert to change video format. The resolution should be minimum 720p. A video having 720p resolution is fairly decent quality and will load faster.
You can publish high-resolution videos but keep in mind that these high-resolution videos are large in size and will take time to load. This is something people don't like. Don't let users wait for your video to load.
The file formats supported by Instagram Stories are the most popular ones so it isn't really hard to create content in the appropriate format. If you'll try publishing a file in an unsupported format, it won't work.
It is essential to use the right file formats.
5. Use an Instagram Story Size Template
The easiest way to make your Instagram Stories stand out from the crowd and to avoid any size related issues, you can create a template.
Use the template to create a new story. This way you won't have to convert files every time before publishing a new story. You'll just have to create a template once with precision, rest will become straightforward.
There are multiple ways to create an Instagram Story size template.
Create a template manually in your favorite photo editing tool like Photoshop.
Create a video template using your video editing software.
The easiest way to create templates is to use tools that have created templates for Instagram Stories. The tool will handle everything and you won't have to worry about file formats, size, resolution, and other characteristics.
If you prefer creating your own content in a professional tool (e.g. Photoshop, Illustrator, Openshot, or Premiere Pro), you should create your own template based on Instagram Story size and stick with it. Set the dimension and aspect ratio of the template and use it every time when you have to create a new piece.
6. Ensure Your Story covers the Whole Screen
Check out the three different image sizes posted on Instagram and ask yourself: Which image looks better?
Of course, the one that covers the full screen.
Here is another example:
It clearly doesn't look pleasing.
Here is an image by Vogue that covers the full screen:
Looks awesome, right?
If you check Instagram Stories posted by leading brands and celebrities, you'll notice one thing: Their Stories cover the full screen.
Why?
Because it reduces friction and improves user focus. There isn't anything else on the screen so users only see what they're supposed to see – the Story.
By covering the full screen, you remove distractions.
Above all, full-screen Instagram Stories enhances the aesthetic. It looks better and professional. A Story that doesn't cover full screen gives an impression that:
Hey, I didn't bother to edit my Story to make it visually pleasing.
So how you'll make Stories cover the full screen?
Make sure all the images and videos are 1080x1920px (9:16). This is sure to cover the full screen.
7. Use a Tool for Instagram Stories Content Creation
When you use a tool or an app to create Instagram Stories, it works best because the resolution and aspect ratio is already set to match Instagram Story size requirements.
You have to create the content and publish it. There isn't any need to fix Story size as it will be managed by the tool you're using.
For instance, if you're creating an Instagram Stories video, you can use Lumen5 to create a perfect video that will cover the full screen.
Here is how it works.
Step #1: Choose Instagram Story template
When you log in to your Lumen5 account, select Instagram Story template.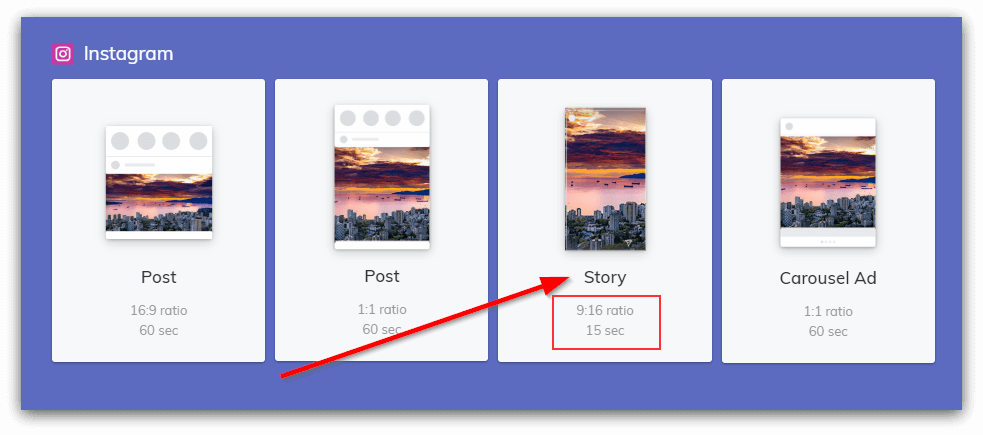 You can see that it has the recommended aspect ratio (9:16) and the duration is already set to 15 seconds.
Step #2: Choose a theme
Select a relevant theme for your video from the list.
Hover cursor to a theme to check the complete flow of the video. If you wish to create a video from scratch without a theme, click Skip.
Step #3: Customize the template
Lumen5 has a drag-and-drop editor that lets you create professional videos in no time.
Add elements to your video from the library, add CTAs and headings, add a soundtrack, and finalize your video.
Step #4: Share your video
You can publish your video on Instagram after you have finished editing it. Click Share on Instagram to publish it.
You have successfully published an Instagram Story video with perfect size, format, and length.
Similarly, you can use an appropriate design tool to create photos with appropriate Instagram Story size. A tool like Canva lets you create professional photos for Instagram Story with right resolution and format.
Tweak the image in Canva's drag-and-drop design tool and publish it directly on your Instagram account.
Tools like Lumen5 and Canva save you from worrying about Instagram Story size and other dimension related elements. You can focus on content which is more important than the size and format.
Publish Perfect Instagram Story Size Content
Now that you know everything about the size, format, dimension, and other basic requirements that will make your stories stand out from the crowd – it's time to get cracking.
Implement what you have learned. Stick with the rules and grow your business on Instagram like a pro.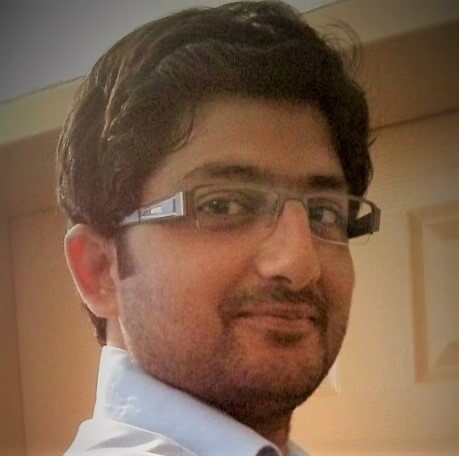 A seasoned freelance writer specializing in digital marketing having articles published on leading marketing blogs like TheNextWeb, Yahoo News, Jeff Bullas, Business2Community, and more. Twitter @sabihjavedd