We've all heard the adage that "hard work pays off". While this is true, when it comes to creating, and promoting your content on social media sites, you also need a lot of creativity and strategic thinking to help you maximize your potential. Social media, especially YouTube, Facebook and Instagram have huge potential in helping you find, connect, and build a loyal customer base.
There are a ton of tactics you can use to get more people clicking on your videos and links. We cover them all in this post.
How to Make Your YouTube Videos More Clickable
YouTube is no longer a channel that is dominated by funny cat videos. YouTube today is a popular channel for marketers who tap into its massive user base that is actively searching for and sharing video content online.
Let's quickly go over a few stats.
Generation X watches over 1.5 billion videos on YouTube daily, while an average viewer watches more than an hour of video daily on their mobile devices.
People watch 1 billion hours of video on YouTube, daily. That's way more than Netflix and Facebook put together.
Those are some crazy (awesome) stats right there. YouTube is indeed a powerful business tool...if used correctly.
Here are ways to make your YouTube videos more clickable to boost your brand and sales.
Understand YouTube's Search and Discovery Algorithm
YouTube has an algorithm which they call a "search and discovery system." The algorithm determines which videos are shown on the homepage, in search results, as suggested videos, trending streams, under the Subscriptions tab, and through notifications that users create.
The algorithm impacts both individual videos and entire YouTube channels.
Although YouTube's algorithm is complex, the most important thing to know is that it is based on 'Watch Time.' Watch Time is basically how much time people spend watching your videos.
According to YouTube, "each video uploaded — as well as every channel on YouTube — is 'ranked' by watch time."
The more relevant and engaging your video is, the more time people will spend watching it. The more people watch it, the higher your Watch Time minutes. Thus, YouTube's algorithm will prefer your videos and channel.
Channels can also earn Watch Time credits for referring viewers to other channels. So, the algorithm works two ways: It shows your videos to people who spend more time watching your video and people who spend more time watching videos on other channels that you refer them to.
Once you understand how YouTube's algorithm works, you can put together a more cohesive and effective strategy to get more video views and clicks.
Create Engaging and Quality Content
The key tactic to making your videos stand out is to make sure they're actually good. You can strategically add all the links you want to in YouTube's description section but no one will click on a link, much more watch the video, if your videos is poor quality or bland.
So, which video types perform well on YouTube?
An engaging and high performing video type on YouTube is the how-to video.
To make a good, engaging and relevant how-to video, you need find out what your ideal customers or clients want to know; and then create videos to meet that need.
Graham Cochrane, a YouTube creator, knows how to do that all too well. He has over 34 million YouTube views for how-to videos.
He finds inspiration for video ideas in the comments section of his social channels. He also asks his community what they would like him to make videos about.
The key thing to remember when creating and publishing video content on YouTube, and any platform, is consistency. You need to consistently create content that solves your ideal customer's or client's problems.
It's a solid strategy to developing a loyal community and to getting more views on YouTube.
Optimize Your Video Titles
Remember that YouTube is a search engine, which means that search engine optimization (SEO) matters.
As mentioned earlier YouTube's search and discovery algorithm takes several factors into account when selecting videos for search. That's why they provide several ways to optimize your channel and videos.
These options include video file names, titles, descriptions and tags. Make use of them and include as much relevant information as possible.
The first thing you need to do is identify which keywords you want your videos and channel to rank for. Cochrane discovers relevant keywords by typing in a potential keyword into the search bar to see what shows up in the autocomplete.
Alternatively, you can use keyword tools like Google Trends and Google AdWords Keyword Planner — both free. Relevance is extremely important. In fact, YouTube will penalize you for including keywords that aren't relevant to your video.
Keywords help to rank your videos in search results but to get more YouTube views, you need video titles and descriptions that appeal to viewers. In crafting titles and descriptions, you need to strike a balance between informative, accurate and captivating.
The recommended length for video titles is between 60-70 characters long. That's long enough to create a captivating title while also ensuring that it won't be cut short in search results.
Check out this video on how to create the best titles and tags for your videos using Google's Keyword Planner:
Use End Screens and Cards
Cards and end screens are YouTube promotional tools you can use to make your videos more clickable.
Cards are pop-ups that show up during the video while end screens are dedicated frames that you can place at the end of your videos to add calls-to-action.
You can use cards and end screens to direct people to another video or playlist. You can also create a poll card to ask viewers which content they'd like to see more of.
Here's how to add cards to your videos:
Here's how to add end screens to your videos:
You however first need to verify your YouTube account in order to access both features.
Add a Watermark to Your YouTube Videos
Watermarks work in getting video clicks and subscribers by promoting all your videos across your channel.
It is basically an image that you can set to appear in your videos. Most brands use their logos as their watermark while some use it as an opportunity to create a custom subscribe button. (When a viewer hovers their mouse over a watermark, it encourages them to subscribe.)
The downside, or upside — depending on which way you look at it — is that you can't pick which videos have a watermark. They appear in all your videos or none.
Here's how to add a watermark to your YouTube videos:
You need to verify your YouTube account in order to upload a watermark.
Create Captivating Thumbnail Images
A thumbnail is a video's preview image which make your videos more clickable as they give prospective viewers an idea of what your video is about.
YouTube automatically generates thumbnail images for you when you upload a video. You however don't need to use those if they aren't captivating or relevant.
You can create and upload your own custom thumbnail image. YouTube says that 90 percent of the top-performing videos on the platform use custom thumbnails. They say, "Thumbnails require an art director's eye for branding, and shouldn't be an afterthought."
They recommend that you start thinking about your thumbnail before you start creating your video. That strategy works because you can purposefully capture footage to create an eye-catching and relevant thumbnail image.
Here are a few tips on generating relevant and eye-catching thumbnails:
Use bright colored backgrounds
Use text overlays, reasonably
Add a small logo or watermark
Here's a more detailed video on how to create captivating thumbnails:
Note: You need to verify your YouTube account before you can create custom thumbnails.
Encourage Viewers to Subscribe
Retaining customers is one of the most powerful ways to grow your business and boost YouTube views. In fact, one of the easiest ways to make your videos clickable in YouTube is to encourage your current viewers to subscribe to your channel.
Simply because gaining subscribers will increase the number of views for each video you put out there.
The best way to get people to subscribe to your channel is to ask them to subscribe at the beginning and end of each video with the help of cards, end screens and watermarks. You can also include a link in your video description that makes it easy for viewers to subscribe to your channel.
You can even go one step further and ask them to turn on the notification bell after they click "Subscribe." That will ensure that they never miss your videos.
Enable Embedding
Imagine spending ages (well, in under 5 minutes with Lumen5) creating a quality, relevant and engaging video that your viewers want to share on their blogs and websites, but can't. Why? Because you forgot to enable embedding.
Enabling embedding is an effective way for your brand to reach new audiences and get more video clicks.
How do you know your video has embedding enabled? If a video has embedding enabled, when a user clicks "Share" under the video window, YouTube will show them the embed option.
Once they click on it, they will be able to copy the embed code and paste it on their website.
To enable embedding, head over to the video's edit page in the Creator Studio. Click on 'Advanced Settings' and scroll to 'Distribution options'. Ensure that "Allow Embedding" is ticked and you're good to go.
Create Playlists
YouTube said that "top-performing brands on YouTube build and promote twice as many playlists as the bottom 25%." Why? Because of autoplay.
You have to admit: it's hard to keep your attention away from videos you're enjoying when they just keep playing. Right?
Truth is that people would rather watch videos on autoplay than actively click "play" to watch another video. With autoplay, they essentially decide if the desire to actively click away from the video trumps the desire to keep watching your awesome videos continuously.
In that sense, playlists are a subtle yet powerful marketing tactic: If your content is good, viewers will often keep watching. Playlists also improve search engine ranking within YouTube as playlist titles are an additional opportunity to target keywords.
Here's how to create playlists on YouTube:
Optimize Your Channel
A good way to boost your brand and make your videos more clickable on YouTube is to optimize your channel.
All About Branding
You need to ensure that your YouTube branding is consistent with your website and other social channels. That means that you have to use the same logo, images and colors. The key branding items in YouTube are profile pictures and banners.
Your profile picture on YouTube should be at least 800 x 800 pixels and it should look good when displayed smaller.
Your banner size should be at least 2560 x 1440 pixels.
Here's a video on how to brand your YouTube videos:
Create a Captivating Channel Description
The channel description is what is shown in your channel's About tab. You only get 1,000 characters so you have to make it count.
A nice succinct description of your brand and the benefits of your products will suffice. You can also tell prospective viewers why they should watch your videos and subscribe to your channel.
Equally as important, add links to your other social channels, your site and a way to get in touch with you. The goal is to make it as simple as possible for users to find out more about your brand.
Don't forget to include your targeted keywords in your YouTube channel description. You can add Channel Keywords by heading over to Channel>Advanced. You can then input your keywords into the box that is titled "Channel Keywords."
Release a Trailer
You can also showcase your channel with a video trailer that spotlights your best content.
Since the trailer is shown to new users on your channel, you can use the opportunity to show viewers the kind of content you create; how your channel will help them; share related channels; and encourage them to subscribe to your channel.
Promote Your Videos on Other Social Channels
If you have existing audiences on your other social channels, let them know whenever you upload a new video on YouTube.
A good way to do this is to create a short teaser video. You can add the link to the video in your Instagram profile, as an example. You can schedule the teaser videos with social media scheduling tools to make things easier.
You can also embed your new YouTube videos on your website or your email marketing campaigns.
Remember, YouTube is a Community
It's important to remember that YouTube is as much of a social channel as it is a video search engine and a community.
Thus, to make your videos more clickable, you need to use YouTube like other social networks and actively engage your audience.
That means responding to comments, which will drive more people to comment (because they know that they will receive a response). To save time, you can respond to comments while browsing them for new video ideas.
Do you subscribe to other channels in your niche? If not, you should. Not only that, leave comments under videos of other channels in your niche.
If you genuinely engage with those channels, viewers will take notice and it will be much easier to establish your brand in a niche of passionate and loyal followers.
That's it for now on making your videos more clickable on YouTube.
Key points:
Create quality and engaging content that your audience will love
Optimize your content and channel
Promote your content via other social channels
Youtube is a community so you need to get in there and nurture relationships with members of your niche community
How to Make Your Facebook Videos More Clickable
We all know that organic reach on Facebook doesn't come easy.
With over 8 billion Facebook daily video views and over 2 billion users worldwide, there's a lot of content being created on the platform. However, even with all that content and users, only 30 percent of marketers think that their Facebook efforts are highly effective.
Perhaps the other 70 percent are not posting enough content. Or perhaps they are not giving Facebook enough thought, particularly Facebook's machine learning algorithm.
Facebook's machine learning algorithm, similar to the ones on other popular social media platforms, continues to improve user experience. A big part of improving user experience is to focus on video content (users favor it and are consuming it at unprecedented rates).
Video is indeed more important than ever before. And if algorithms are favoring it, then you should capitalize on it.
Let's go over how you can get more video views and improve your Facebook marketing. But first, let's go over the types of video posts on Facebook.
Facebook Video Types
You need to understand the different types of viewing experiences in Facebook in order to make your videos more clickable.
In particular, you need to understand how your video will look on different devices. How do different video sizes perform? Will viewers have to click on a particular video type to watch it full-screen?
Let's answer those questions now.
Landscape Newsfeed Video Post
The landscape newsfeed video post is the standard post for desktop and mobile viewing. It fits correctly in the right column of Facebook for ads.
It has an aspect ratio of 16:9 and will display full screen if you change the orientation of your device. It is basically the same size as a YouTube video.
Portrait Newsfeed Video Post
The portrait newsfeed video post is best for full-screen viewing. It has an aspect ratio of 9:16 and is placed in a square box.
The format is not a traditional video format but is gaining popularity because you don't have to turn your phone to watch it in full-screen.
However, it is not ideal if you are using it to advertise in the right-hand column. That's because the format won't display properly on desktop unless it is put in a canvas.
Square Newsfeed Video Post
The square newsfeed video post is becoming the most popular format because it doesn't change size depending on device orientation; and it also takes up more screen space, making it stand out in the newsfeed.
YouTube Link Post
Now, this is a format that Facebook's algorithm doesn't recognize as video.
It is a regular shared link; and Facebook presents it as a YouTube thumbnail in a cropped square box. The title and description are pulled from YouTube so you can't customize them.
If a viewer clicks the link on desktop, they are taken to YouTube in a new tab. On mobile, it is loaded in a Facebook frame.
Now that you know the video post types available to you, you are in a better position to choose the video types that would be most effective for your video marketing campaigns.
Let's get to how you can make your videos more clickable on Facebook.
How To Get More Facebook Video Views
Optimize for Silent Playback
Silent video watchers are dominating Facebook: 85 percent of video views on Facebook are without sound. You should therefore optimize your videos to play without sound since this is the way viewers are watching on Facebook.
Some videos don't require sound but you can optimize the ones that do by doing the following:
Plan ahead and create videos that work without sound. Present your message in the most visual format.
Add captions or subtitles. Facebook gives you the option to upload an .SRT file or generate captions with their editor. You can simply add subtitles when you are creating your videos (this is especially easy with Lumen5).
Add music. Why?? Because there are still viewers that will watch your videos with sound, so add some music that adds to your message.
Checkout this Buzzfeed video that works well without sound, and utilizes music well to add sound for users who prefer it:
Keep Your Captions Short
Keep your video captions short. Instead of describing the video in detail to viewers, simply let the video speak for itself.
Buzzsumo found that posts with an average character length of 61 had higher view rates. That's because short descriptions entice and encourage viewers to dive right into your video.
Check out the short and effective Facebook video captions that Redbull uses:
Image credit: Buzzsumo
Use Intro Text
Buzzfeed has had tremendous success with intro text. They use captivating intro text in the first 3 seconds of each video.
That's because Facebook users scroll through the newsfeed quickly. If you display engaging copy quickly and pair it with great visuals, you'll make your video more clickable.
Opt for the Square Video Format
Square video is now king. Since Facebook's integration with Instagram, square video is the most popular video format today.
It has a 1:1 ratio which takes up more space in the newsfeed. That means that viewers no longer need to flip their devices to find a comfortable viewing experience. That also means more video views.
All in all, if you want to make your Facebook videos more clickable, you need to think about your viewer. Think about how you can provide them with more value and give them an incentive to watch your content.
How to Make Your Instagram Videos More Clickable
To make your videos more clickable on Instagram and guarantee your video success, you first need to understand Instagram's algorithm.
Thankfully, it's no secret.
Instagram's Algorithm
Instagram's algorithm is basically a code that determines what users want to see and prioritizes those posts in their feeds.
It uses three factors to gauge what users want to see:
Interests: Instagram predicts the posts users want to see based on their past behavior with similar content.
Timeliness : Recent posts are given priority over older posts.
Relationship: When users regularly comment or tag other users in posts, they are put in the "friends and family" category.
Let's look at an example to see how those factors interplay. Animal lovers will more likely see posts of animals at the top of their feed instead of family photos of distant relatives they haven't spoken to in ages.
So how does Instagram know what people will like? It looks at their online history. Going back to our example, if a user keeps liking animal videos, the algorithm will figure that they want to see more animal videos.
The algorithm evaluates user behavior to determine what they want to see and then shows posts they are interested in at the top of their feeds.
Kevin Systrom, the co-founder of Instagram, said: "What this [the algorithm] is about is making sure that the 30 percent see is the best 30 percent possible."
That means that you have to optimize your videos to get into the top 30 percent. You simply need to convince the algorithm that your posts have the kind of content people are looking for on Instagram.
Now that you understand Instagram's algorithm, let's look at how you can get it to favor your video posts.
Get More Views for Instagram By Giving People What They Want
One of the best ways to crack the Instagram algorithm is to give people what they want. That means that you should post the type of content that your audience wants to see.
When you post what they want, you are guaranteed to get more video clicks. And the higher the engagement, the more Instagram will prioritize your posts at the top of their feeds.
How can you identify the type of content people like? You can look at your post history. Instagram insights will give you valuable information about the type of content your audience wants to see.
Give Your Videos a Professional Look
To make your videos more clickable, you need to give your videos a polished and professional look. You don't have to be a master editor to achieve this because there is user-friendly video software like Lumen5.
Don't Rely on Sound in Your Instagram Videos
Instagram videos need to be tapped to activate sound. Similar to Facebook videos, you need to add attention-grabbing elements early on so that viewers can enjoy it without sound. You can add captions, action and your logo.
There are many successful Instagram videos that have music or speaking but you shouldn't rely on sound as some people may not listen.
Post at Peak Times
If you post great content to your Instagram account and your audience isn't around to view it, what's the point?
Instagram's algorithm doesn't think there's a point to that either.
They will show your post to a small percentage of your followers; and if your post generates more engagement than your average post, then it will be prioritized higher in users' feeds. If it receives less engagement, then it will get lower priority.
So if you post when only a small percentage of your users are online, the algorithm won't work in your favor. On the other hand, if you post when majority of your users are online, the algorithm will work better in your favor.
Check your instagram analytics to see which posts have performed well over the past few months. If there is a block of time when you get the most engagement, then that means most of your followers are online at that time.
Alternatively, think about your target audience's mobile behavior. Are they busy mums that browse on their phone while waiting for their kids to hop in the car? Are they professionals that only check their Instagram feeds on the way to and from work?
Your audience's behaviors will determine your peak posting times.
If your business targets college students, the best time to post your videos would be in the middle of the day and late at night. If they are working professionals, you'd likely want to post in the evening. Your engagement metrics should confirm this as well.
Use Hashtags in Your Instagram Videos
Instagram, of all social networks, relies more heavily on hashtags. Many users use hashtags to browse content and users — in other words, it is the primary way that content is discovered.
When you use the right hashtags, you get more video views, more followers, likes, and increase your visibility and engagement with prospective customers. That means more leads for your business, and consequently, more sales.
To find hashtags for your Instagram videos, you need to research your competitors, their audience, and yours. There are many hashtag research tools you can use, like All Hashtag and Ritetag.
Your video content is where you put your creativity on display but don't be afraid to use popular hashtags to boost your video views.
You don't have to use many hashtags either. Take a page out of Nike's book and see how they use hashtags and prompt viewers to turn on sound: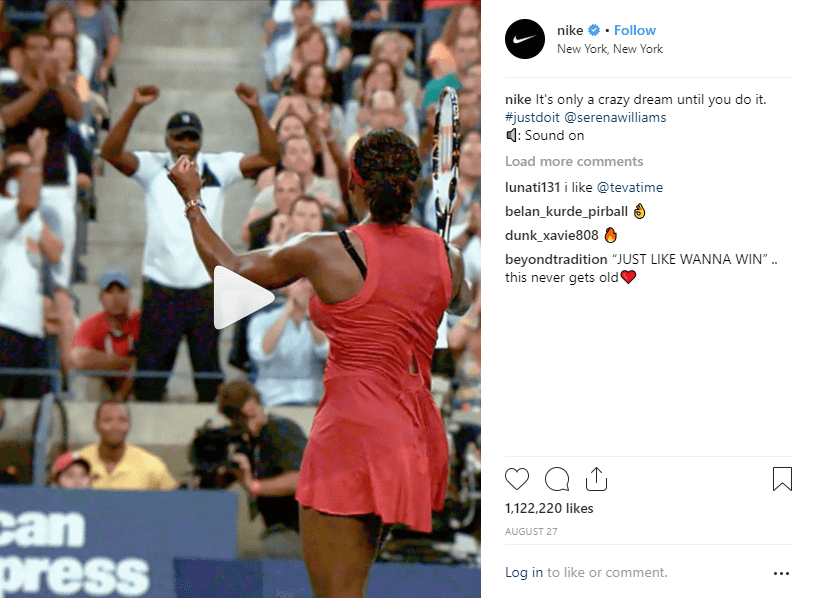 Go Behind the Scenes
What's great about social media is that you can give an exclusive, behind the scenes look at your brand and business. Fans love it.
You can increase your instagram video views by appealing to that desire in online users. If you are releasing a new product, let your audience know.
You can show your production process if you think it's aesthetically pleasing and will appeal to your audience.
Check out how New Belgium Brewing went behind the scenes to engage their audience:
Repost Your Videos
As much as it's important to post fresh content on your social channels, don't shy away from recycling and repurposing your video content. You can even take small snippets from longer videos (demos, how-tos, tutorials, etc.) and post them to instagram with relevant hashtags.
You can also repost a past video. In a few months, you'll get a new set of followers who haven't seen your past videos. So if there are videos that you think will be most helpful to reinforce a certain message or show your area of expertise, repost those videos for the new followers.
Post Instagram Stories
Just like Snapchat, Instagram Stories are disappearing photos and videos. They are so popular, that last year, Instagram added 300 more active daily users, thanks to Stories.
Instagram Stories is also a great way to connect with your followers and add links to your website, blog or online store.
Stories have the same algorithm as standard posts. However, due to the popularity of Instagram Stories and their engagement power, they'll help your overall rankings in the feed.
Use Live Video
Like Instagram Stories, live videos are another way to make your Instagram videos more clickable. The biggest benefit of live videos is that they show up first in the Stories feed. Your followers will also get a notification as soon as you go live.
If you are connecting well with your followers, then you will have a ton of topics to turn into a live video. You can also take a look at the comments section on the posts that have the highest engagement.
Post Human Content
People don't go on Instagram to receive sales pitches. They go on there to share photos, videos and chat with each other. That's what social media is all about.
If you post sales pitches, then you can expect low engagement and lose followers. That's bad for your brand.
Use Instagram to post video content that your audience would love even if it doesn't close a sale. It will boost your brand awareness: when people who follow you need a specific product or service that you're selling, they will remember your business.
This tactic will also increase your engagements which will influence the Instagram algorithm to push your content to the top or users' feeds.
Craft Effective and Engaging Video Descriptions
Descriptions are important for Instagram videos just like on other social media networks.
Post descriptions on Instagram are limited to 2,200 characters — that includes hashtags and tagged users. However, in the feed, only the first 120-140 characters are shown (it actually varies as Instagram truncates between words rather than a fixed character length).
That means that you have a lot of room to write but not enough room to grab a viewer's attention. So you can start the description with a couple of compelling sentences that aptly describe your video. Think of it as a blog post title or a tagline. The goal is to get users curious enough to watch the video and engage with you. Perhaps you can ask a question if your video answers it.
You can write hashtags after your video post description and then perhaps add a longer description below the fold.
How to Make Your LinkedIn Videos More Clickable
Have you noticed the rise of video on LinkedIn? With the introduction of LinkedIn native video last year, video engagement has skyrocketed on the platform with some great new added features.
LinkedIn native video is relatively new so there are a few tips that we would like to share to help you make your videos more clickable on the platform. (We'll add to these tips as LinkedIn adds new features and functionality to native video.)
Keep in mind that although you can add YouTube videos to your profile or feed, LinkedIn's algorithm prefers native video. That makes a lot of sense: social networks like Facebook and LinkedIn don't want to lose users to another social media platform.
Post Others
LinkedIn native videos are a good opportunity to mention prominent influencers in your field, to post video testimonials or record speakers at your main events.
They will be happy to be featured on LinkedIn as it's an opportunity to expand their professional presence. Not only that, your audience will find the content helpful and will see you as a thought leader in your industry or niche.
Make Your Videos Authentic
Instead of creating a video that's just covers your topic, how about you give your perspective on the topic? That is, if your perspective is unique and valuable.
There are many other ways to leverage LinkedIn native video. You can provide testimonials, special events, presentation segments, demonstrations, workplace culture tips, behind-the-scenes views, and authentic perspectives on business trends.
Keep Your Video Short
Even though you can create videos of up to 10 minutes, the shorter the video, the better.
Shorter videos perform better on all social media platforms. Think about creating short segments of learning or product demonstrations.
Add Text Descriptions
Add text with engaging commentary because some of your viewers will want to read that before or after watching your videos.
Add Hashtags
Hashtags are not only effective on Instagram. They are also effective with LinkedIn native video as they make your videos more discoverable on the platform.
Simply conduct hashtag research as you would on Instagram.
Share and Analyze
Your video needs to be viewed for at least 3 seconds in order for it to be considered a view by LinkedIn. The analytics will include views, shares and comments. LinkedIn also provides the top employers and geographies of your viewers.
Make use of that data to optimize your future LinkedIn native videos. Look for metrics that will help you to optimize views, clicks and engagement.
LinkedIn videos is still young but it has already established itself as a place for increasing engagement and brand awareness. Make the most of it!
Wrapping Up
You're creating videos because you want to provide your audience with relevant and valuable content in an engaging format. You want them to watch, like and share your videos, right?
Well, that takes consideration effort and creativity. Refer to this extensive guide on how to make your videos more clickable and shareable on your social channels whenever you feel you need a boost in your video marketing efforts.