Social media is king.
At the top reign the marketing tools, Hootsuite and Buffer.
Did you know that more than 90% of businesses in the US have social media marketing as part of their marketing strategy? And more and more are adopting video marketing to enable it.
But just because they're on social media doesn't mean that they're doing it right. There are a few simple things you can do to set your social media strategy apart from the crowd.
One of them is to use the right combination of social media tools to make the best out of your resources.
As a marketer, I know that handling all the tasks involved with social media management -- from creating new content to nurturing leads -- can become time-consuming and overwhelming.
That's why I'm thankful for the excellent social media management tools out there.
You probably heard of Hootsuite and Buffer. No doubt they are extraordinary tools. But the question here is: which one should you use?
Finding out which one is the best for you is a matter of understanding two simple things:
What exactly each tool offers (features)
How these features are delivered (tool usability and customer experience)
With that in mind, let's start the Hootsuite vs Buffer comparison by understanding what are the features that each platform offers:
Hootsuite vs Buffer: Features Comparison
First of all, I recommend you to identify what specifically you are looking for in a social media management platform.
That's because even though both platforms have the same ending goal -- to optimize your social media strategy -- they have different approaches to address different needs. Each tool has its particular features and, of course, different ways to deliver these features to the users.
So, ask yourself: What are the social media challenges I'm facing? And what features do I need to address these challenges?
Once you have this idea transparent in your mind, comparing these features will become more relevant. Let's dive into it:
Supported Social Networks
What are the social channels you need to communicate with your audience?
You must ensure that the social media management tool that you choose will support these channels:
Hootsuite
Hootsuite supports Facebook (profiles, pages, and groups), Twitter (personal and business), Instagram, Linkedin, Youtube, WordPress blogs, and Pinterest.
Besides these default social networks, Hootsuite allows you to customize your dashboard by adding different networks -- such as Foursquare, MySpace, Mixi, Tumblr, Google+ pages, Vimeo, MailChimp, and others.
Just keep in mind that each Hootsuite plan has a different limit of social networks that you can add to the dashboard. The professional plan, for example, has a limit of 10 social networks.
Buffer
The social networks supported by Buffer are Facebook (pages and groups), Twitter (personal and business profiles), Instagram, LinkedIn (profiles and pages), Google+, and Pinterest (available only on pro and business plans).
Buffer has a more limited network of social channels. However, if you are running a small business, you will likely be just fine with that.
Hootsuite vs Buffer
If you need to manage Youtube, WordPress, or other social networks, Hootsuite is your go-to option. If you just need the main channels, Buffer's cost-benefit will be higher.
Content Curation
The purpose of the content curation feature is to help you to stay engaged with less creative effort. This means that the feature gives you ideas of articles, posts, photos, or videos that your brand can share or engage. Let's see how this feature differs in Hootsuite and Buffer:
Hootsuite
Hootsuite allows you to create columns with hashtags and keyword searches in parallel with people you follow. This enables you to easily share or retweet posts you find with just a few clicks.
Hootsuite has a great extension -- the Hootlet -- which lets you share things as you come across them. So, if you are reading the news in the morning, and find an article that is relevant to your audience, you can schedule the link to be posted without leaving the article page.
Another handy content curation feature that Hootsuite's platform offers is a sidebar on your Google searches that shows tweets related to your latest searches.
Buffer
Buffer's content curation tool is called Content Inbox. The big plus here is that it lets you add RSS feed in the dashboard to find articles and then add them to your posts queue. But keep in mind that this convenient tool is available only for the Pro and for the Business plans.
However, if you are thinking about using the cheaper plans but still wants a content curation tool, you can use integrations such as Feedly -- an amazing RSS tool.
Another peculiarity is that when you're sharing an article on Twitter, Buffer will take the images from it and suggest them as possible images to add to your tweet. 
Buffer also includes an image creation tool, which they call Pablo. This tool is excellent for quick image development.
Hootsuite vs Buffer
If you want to keep an eye on trending topics and monitor your social searches, Hootsuite will serve you better. However, if you prioritize having an RSS feed in your social profiles to share links directly from websites, Buffer will better suit your needs.
Scheduling and Posting
This is the central piece of all the other features because after all, both Hootsuite and Buffer started as just social media scheduling and posting tools. Today, when it comes to posting, both tools work similarly. However, they have distinct approaches when it comes to scheduling. 
Let's compare:
Hootsuite
Hootsuite's free plan allows you to schedule 30 posts across all channels. This might be a lot for Instagram and Facebook, but not for Twitter. Also, note that this limit is for all channels, which means that if you schedule 10 posts for Twitter, you will have only 20 posts left for the other channels.
I prefer Hootsuite's scheduling approach for posts that don't have a specific time-frame to go live. That's because, unless you schedule posts manually, you cannot select the time that you want your posts to be published -- not even the order. Hootsuite's Autoscheduler will publish your posts according to what its system decides it is the best time.
Buffer
Buffer's free version allows you to schedule 10 posts per social channel. And because you have a separate limit for each channel, you end up with a bigger room to schedule all your posts. 
Buffer has a feature called Buffer Queue, which allows you to determinate the order in which posts will go live. All you have to do is select time slots that you would like your posts to be published, and as you add posts to the queue. Once you do that, your posts will be published on the time slots that you chose.
Hootsuite vs Buffer
Buffer's free plan has an advantage over Hootsuite's free plan if you are using more than two social media channels. Now, if you are looking for a social media management platform to schedule posts for just one or two platforms, Hootsuite will serve you better because you will end up with a bigger limit of posts to schedule.
In addition to the number of posts, you should also consider the order that the platform will deliver your posts. If your posts have to follow a chronological order, Buffer will suit you better. If the order of your posts does not matter, Hootsuite will do the work.
Analytics
One of the most important parts of your social media strategy is keeping track of successes and failures. With that said, having a robust social analytics feature on your social media management tool is crucial.
When examining Buffer vs Hootsuite, both tools offer excellent real-time analytics features if you are willing to pay for it. If not, there are a few options too. Let's explore:
Hootsuite
The analytics feature of Hootsuite's free plan allows you to do the basics: get an overview of engagement rates, see the number of posts you published, and monitor your followers' demographics.
If you need to create real-time reports, you can do that through Hootsuite's Professional plan (and up). These reports allow you to see more complex data about followers' demographics and which posts are getting more engagement. The Team plan offers a complete custom analytics feature.
Buffer
Buffer Publish Pro plan offers a 30-day post report history. However, this report has limited information.
Buffer Analyze is a complete package made for businesses that want the full history and data of social accounts. This plan includes:
insights on engagement;
individual post analytics;
hashtag performance;
audience demographics;
customized reports, and more.
Hootsuite vs Buffer
If you are looking for a free plan that includes analytics features, Hootsuite is your best option. In contrast, if you are willing to pay for the features, the Buffer Analyze plan includes many valuable functionalities.
Plans and Pricing
From basics to complex features; from free to high-priced; or from solo users to enterprise teams. There are many plans for you to choose from.
Let's compare the different plans offered by both tools:
Hootsuite
Hootsuite offers 5 different plans:
Free Plan
Professional Plan
Team Plan
Business Plan
Enterprise Plan
See prices and main features included in each plan below:
The Free Plan is not included in the comparison image above but it allows access to 3 social profiles, 30 scheduled messages, and 1 user.
Buffer
Buffer's plans are organized a little differently. That's because Buffer has three categories: Buffer Publish, Buffer Reply, and Buffer Analyze.
This means that you just pay for what you need.
Buffer Publish is a scheduling tool that enables you to create content, collaborate as a team, schedule, and publish content to your social media accounts. Here are the plans within Buffer Publish:
Buffer Publish also offers a Free Plan, which includes access to 3 social profiles, 10 scheduled messages per channel, and 1 user.
Buffer Reply is a lead nurturing tool that enables you to respond to social media conversations (from all platforms) within one single inbox. In other words, instead of hopping between social channels to answer inbox messages, you can engage with your audience just by using this tool.
Buffer Reply offers the Professional and the Business plans: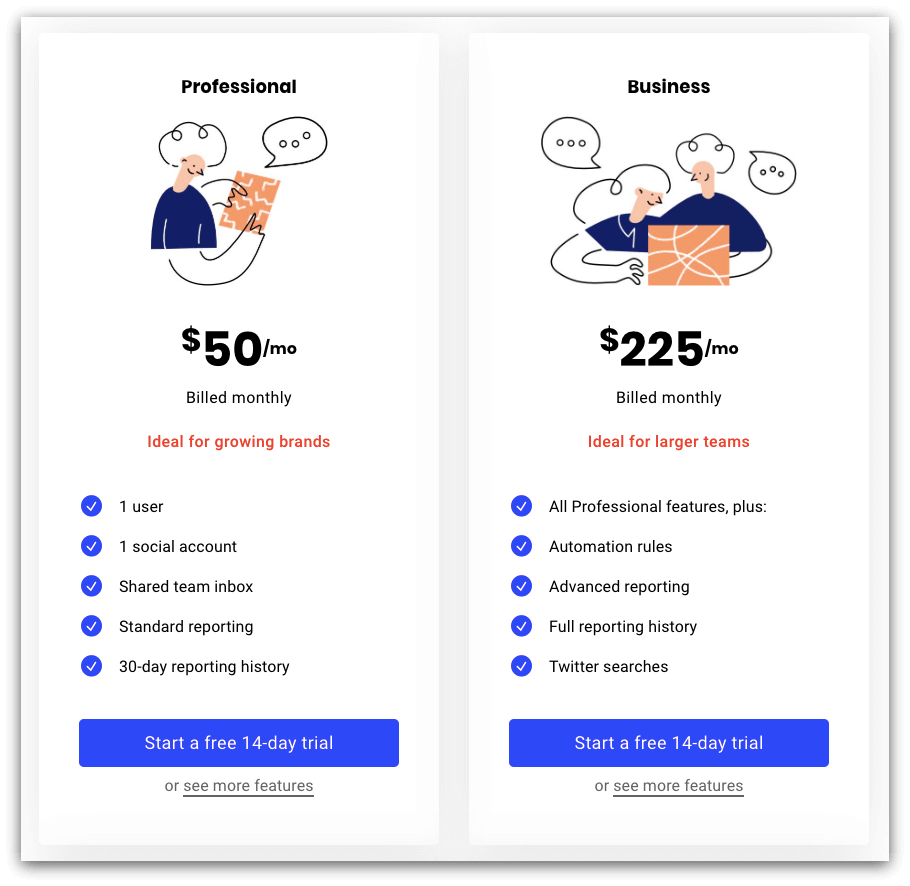 If you need to add another user, that would be extra $25 per month. And for additional social accounts, Buffer Reply charges extra $10 per month.
One of the Buffer Reply's functionalities that I find helpful is the ability social media managers have to assign team members to answer specific messages. I recommend this tool for larger companies that have a hard time keeping up with inbox engagement.
Buffer Analyze is a social media analytics tool. However, it is only available to Buffer Publish's customers who are subscribed to the Pro or to the Business plan. According to Buffer's team, the goal is to keep developing Buffer Analyze and in the future make it a standalone tool available to everyone.
Just like with Buffer Reply, you can have one additional social account for an extra $5 per month.
Hint: if you decide that you love one of these tools and want to use it for at list one entire year, I recommend you to go with the annual billing. You can save up to 20% by doing that.
Hootsuite vs Buffer
I know that when it comes to plans, it gets hard to compare Hootsuite vs Buffer since they have their plans completely differently organized.
So here is a hint: Just compare Hootsuite plans with Buffer Publish plans -- because most of the core features are under Buffer Publish.
If you feel like you also need a social inbox reply feature or an analytics feature (or both), then you just sum up Buffer Publish with Buffer Reply or Buffer Analyse.
Keep in mind that if you want a complete social inbox feature, you must consider Hootsuite's Team plan (cheapest Hootsuite's plan that offers this feature). And when we compare Buffer Publish (Premium) + Buffer Reply (Professional) to Hootsuite's Team plan, Buffer is more worth it when it comes to price.
However, if you want to take advantage of the other features included in the Hootsuite Team (or other) plan, it will also be a great option.
In addition, note that you can schedule 20 more posts with Hootsuite's Free Plan than with Buffer Publish's Free Plan.
Hootsuite vs Buffer: User Experience
Now that we know what Hootsuite and Buffer have to offer, it is time to understand how they offer it.
Compare the way each platform delivers its features is as important as comparing the features itself.
That's because you can have the best social media tool, with multiple features, but if you don't get adapted to the tool's user interface, your investment will go down the drain.
To understand how easy and pleasant it is to navigate features, we have to go over two aspects: user experience and customer support. So let's dive into it:
Dashboard Experience
Understanding dashboard experience is understanding how you will feel about using each platform, and how easy it will be to get things done.
I consider this aspect to be a huge player -- you will be navigating through the platform daily so it better be an enjoyable experience.
Hootsuite
Hootsuite's dashboard can be overwhelming at the beginning because there is too much information displayed on one single screen. However, once you learn where to find what you want, having everything on the same screen becomes an advantage.
Hootsuite's dashboard is divided into three sections: the main work section, the header, and the sidebar.
The main work section is where you will visualize content and do most of the work.
The sidebar is where you can access core functionalities, such as inbox, publisher, and analytics.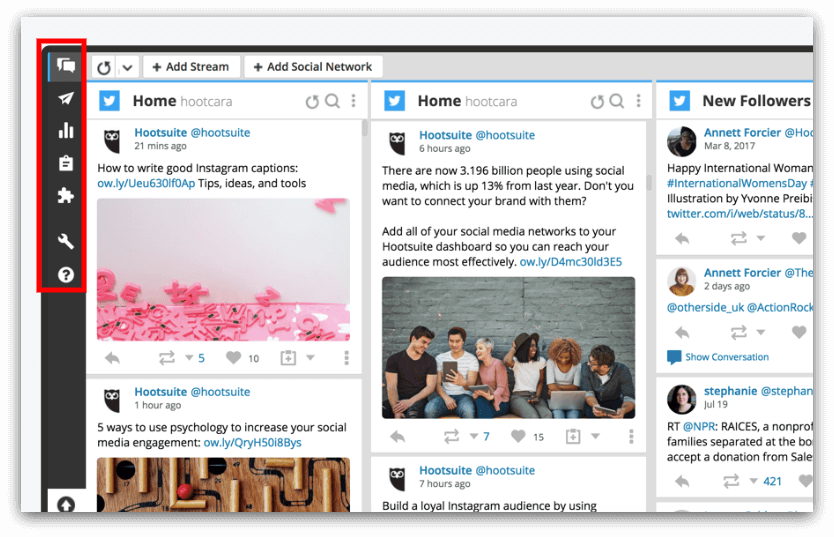 The header is where you will go if you want to create a new post, manage settings, or ask for help.
Hootsuite's main working section is composed of various tabs that contain multiple columns. These columns are highly customizable, which makes it excellent to address big team's specific needs.
Buffer
Buffer's dashboard is minimalist, clear, and visually pleasant. Its user interface is intuitive and easy-to-use, which creates the perfect scenario for new users.
The dashboard is distributed into four parts: social media channels, main box, tabs, and header.
The social media channels part is organized in a column on the left-hand side:
The main box part is the biggest section on the dashboard and consists of a list of posts that are ready to be published:
The tabs part -- Content, Analytics, Schedule, and Settings -- can be found on the top of the screen:
And the header part is just above the tabs. The header is where you will click to create a new post, to see your account details, or to ask for help:
Verdict: The user experience represents one of the biggest differences between Hootsuite and Buffer. Hootsuite is super capable (full of functionalities) but it can be relatively over-complex for beginners. On the other hand, Buffer offers fewer features but is intuitive and straightforward. Both platforms offer a mobile app and a browser extension.
Customer Support
The ultimate goal of adopting a social media management tool is to optimize your time. Therefore, the last thing you want to do is to spend hours trying to figure out how to do something within the tool.
If you are paying for the product you must be able to receive clear instructions on how to use the product effectively. For this reason, it is crucial to understand how Hootsuite's and Buffer's team treat and educate its customers.
Let's compare:
Hootsuite
There are multiple ways to get assistance from Hootsuite's team.
The first one is the Hootsuite Academy, which (within many other courses) includes a free Hootsuite Platform Training intended to educate users on how to use every functionality in the platform.
Additionally, Hootsuite's website has some blog posts under the "Resources" tab, that can be helpful in understanding the tool.
Besides these general training methods, you can always contact Hootsuite's team directly if you have any specific questions. You can do that through Hootsuite's platform itself, through their website, or their social media channels.
Buffer
Buffer is known for being highly attentive to its users. Customer support is one of the main differentiation aspects of this platform. In fact, offering awesome customer support is part of their vision: "to build a super-useful social media management tool with amazing support for everyone we come into contact with."
At Buffer, customer support agents are called happiness heroes. How cool is that?
Additionally, more than 60% of email inquiries sent to Buffer are replied within an hour. I tested it, and I got a reply in less than 40 minutes. This support adds much value to the platform.
Verdict: You will not suffer from a lack of support and information source, regardless of each tool you choose. Buffer wins the customer support battle simply because this is a huge part of the success of their operations. If you value exceptional customer service, Buffer is your go-to option. However, Hootsuite has fantastic customer support as well.
Which Tool Should You Choose?
Hootsuite favors functionalities over presentation. Hootsuite features make the platform go beyond the simple standard social media management tool. Regarding the more complete plans, Hootsuite has higher prices than Buffer. But Hootsuite might still be your best option if you work in a large organization with multiple teams.
Buffer is the best option for mid-size or small businesses, which have fewer needs to be addressed in social media marketing. The easy-to-use dashboard and courteous customer support team make Buffer's platform deliver the best user experience.
Different strokes for different folks.
Everything falls into what you are expecting from a social media management tool.
Also, there's nothing stopping you from using both. I have used Hootsuite alongside Buffer for a quite a bit of time. I used Hootsuite mainly for content curation and inbox management, and Buffer for bulk scheduling.
Remember that both Hootsuite and Buffer are exceptional platforms. The difference lies in which capabilities will contribute to your company's success.
Content Marketing Specialist @ Lumen5