Reading Time:
10
minutes
Freelance digital marketing is all about the online strategies we adopt to achieve our marketing goals. Whether it's brand engagement, getting new leads, improving customer value or growing the reputation of a brand, the number of large to small businesses hiring freelance digital marketing specialists is on the rise.
According to Upwork's 2018 Freelancing in America survey on more than 6,000 U.S. workers, "the freelance economy is booming, with 56.7 million Americans doing freelance work."
Not yet part of the freelance movement but thinking about it a lot lately?
Freelance digital marketing specialists help companies with their marketing efforts while working from home (wherever that may be). If it sounds like something you would do, this post is for you. I'm about to tell you everything you need to know about how to get started.
Let's dive in.
Is Freelance Digital Marketing for You?
Freelance digital marketing specialists deliver a tailored service to each client they work with.
And one thing's for sure:
You have to wear many hats.
Let's check out some of the pros and cons of working in this industry and get a better picture of what to expect.
The Pros
I'm not going to insist on the same old "You are your own boss" thing. Because every boss has its own boss---in this case, your potential clients. But there are many benefits to freelancing you don't get with a full-time job, I'll give you that.
You can decide your own schedule
You can choose where to work from
You determine how much you earn based on how many clients you work with
There are so many freelance digital marketing projects you can take on that getting bored is not even an option.
The Cons
Competition is fierce. Everybody wants to be a freelance digital marketing 'something' these days
Earning a stable income depends on many things. One month you may be making a five-figure paycheck, while next month can be slower
The freelance digital marketing industry is all about staying on top of trends. Constantly learning new tools and techniques can be overwhelming
This "being your own boss" thing means you're the one dealing with everything, from managing your freelancing business to keeping clients happy
It can be lonely out there. Many freelancers feel the need to socialize and miss the whole experience of working in a standard marketing company
Self-motivation is key. You have to be super organized and gracefully manage your time since there's no one else to push you from the back.
As you can see, entering the freelance digital marketing world is not as easy as ABC. But this is no news: the same goes for any other new career.
Hot Freelance Digital Marketing Jobs
Freelance digital marketing jobs are hip right now.
And there are several types within this industry. Below are the eight most popular ones and a short description of each.
#1 Digital Marketer
Let's call this one your typical digital marketing generalist.
Depending on your client, you could work on writing email newsletters, finding partnerships, managing Google ads, managing Facebook ads (PPC knowledge will help you), running digital marketing campaigns, etc.
"This (general digital marketer) is responsible for driving relevant consumers with the goal of improving brand recognition [and] trust and ultimately drive purchase intent," says Justin Emig, VP of Marketing & Innovation at Web Talent Marketing.
#2 Content Marketer Specialist
Content writing is the solid backbone of digital marketing.
In fact, many people start their freelance digital marketing career as content writers. As a content marketing specialist, you will be creating content following a marketing plan to ensure you increase traffic and Google rankings. Here's what you could be working on:
Blog posts
Ebooks
White papers
Book covers
Social media posts
Newsletters
A clear understanding of search engine optimization, as known as SEO, and content distribution channels is crucial if you want the right people to see your copywriting.
#3 SEO Specialist
According to SEO.com, "A SEO specialist researches and analyzes the trends and best practices online to develop and implement digital marketing strategies that improve search results. The overall goal is to increase the level of traffic to a website by using keywords and keyword topics to improve the user experience and meet search engine guidelines."
Here's a complete review from Wakefly.inc on what exactly SEO specialists do:
#4 Community Marketing Manager
More and more companies recognize the importance of building a strong, loyal community around their brand.
Getgist defines community marketing as "a way for brands to talk with their audience, human to human. Whether it's new customers, existing users, influencers, or even your own team, it's a community manager's job to make sure everyone is happy, creating spaces and building relationships from which we all benefit."
#5 Social Media Specialist
Social media specialists do whatever it takes to make sure a company's social media accounts stay relevant. Posting social media content regularly, running contests, collecting testimonials, analyzing data across platforms and creating content is all part of the job.
Here are 10 must-have skills for SEO specialists according to Medium: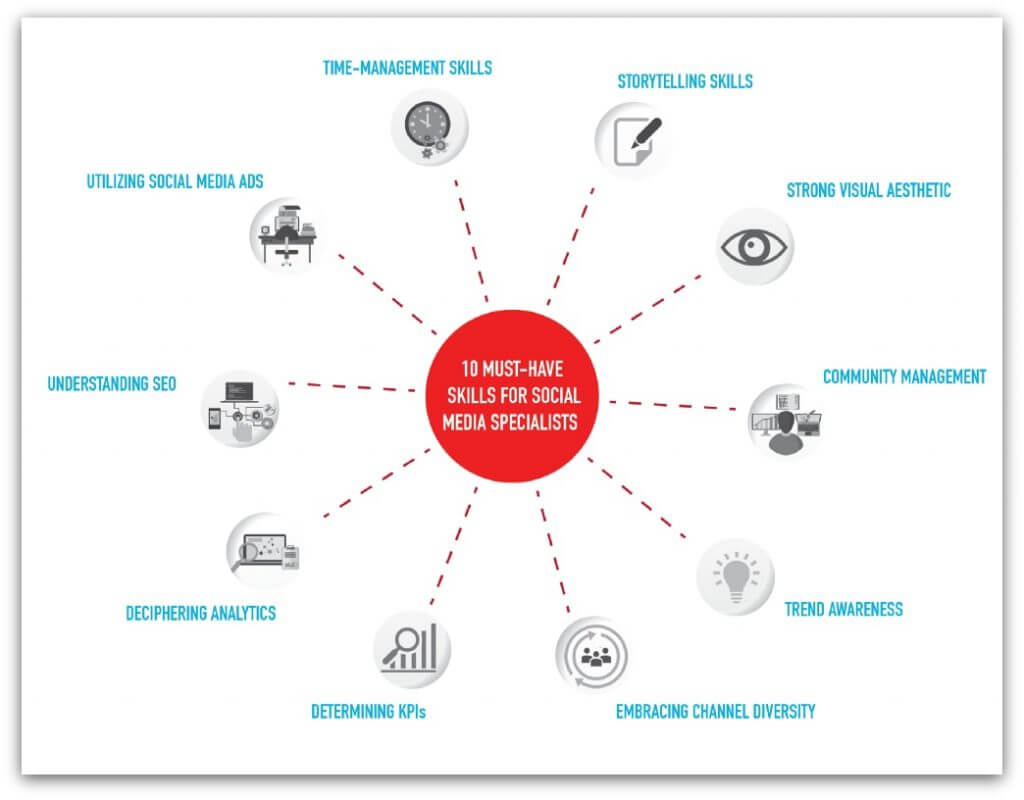 There are lots of tools to get familiar with if you want to be a social media marketing expert; Buffer and MailChimp are top two and we talk about them later on in this post.
#6 Search Engine Marketing Specialist
Back in the days, SEM marketing referred to a mix of SEO and paid search activities. Today, "SEM is the process of gaining website traffic by purchasing ads on search engines," according to Seach Engine Land.
Search engine marketing specialists use analytics to look at website traffic patterns and figure out what pay-per-click advertising strategies work best.
#7 Partner Marketing Manager
This is another role you could work on as a freelance digital marketing specialist.
Here's how a LinkedIn job ad for partner marketing manager looks like:
Partner marketing managers work with a lot of people on a daily basis, from art directors, sales agents, influencers, financial teams---so people skills are a must.
Moving on, let's see what it takes to hit the ground running as a freelance digital marketing specialist.
Getting Started with Freelance Digital Marketing
Getting started is always daunting.
I hear you.
The key to a flawless start is to have answers for the following questions:
What are your marketing strengths and what aspects can you improve?
What market do you want to target?
What services can you offer? Maybe book marketing services or blog content?
What are your goals?
How much do you want to earn?
With these questions in mind, it's time to make a plan. Count on the following tips to start on the right foot.
Tip #1: Hone Your Skills
Marketing is a complex, fast-paced industry.
And yet, you'd be surprised how many people think you can get into with no real marketing knowledge. One of the most important things freelance digital marketing specialists can do is to continuously improve their skillset.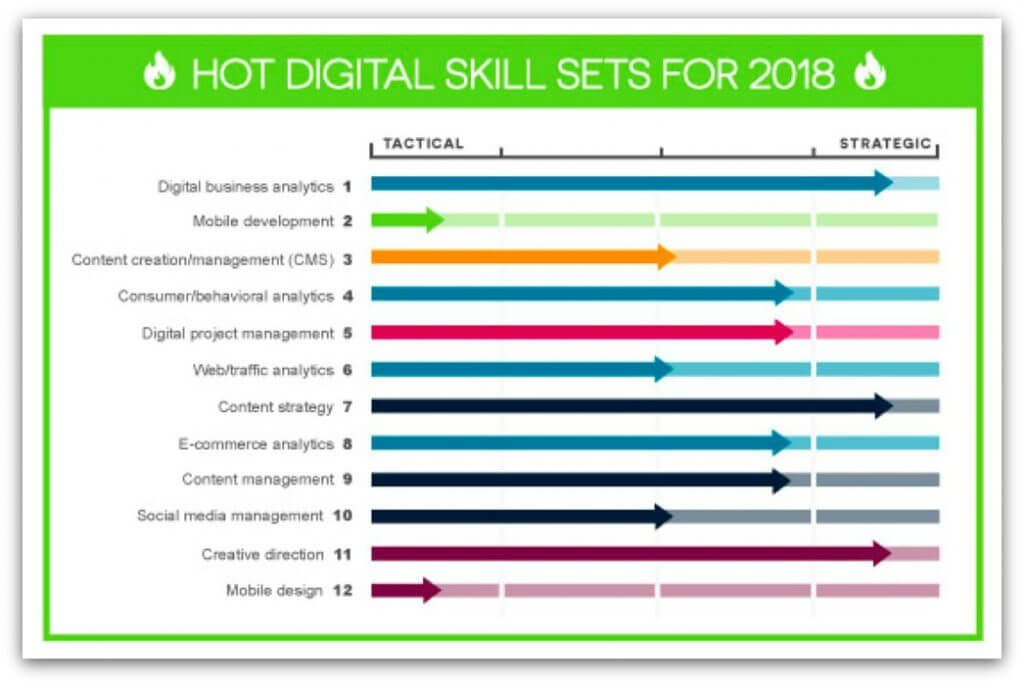 I wrote an entire post on this, but here's a recap:
Attend digital marketing workshops and conferences
Check out online tutorials, courses, and podcasts
Join relevant social media groups where professionals share their advice
Read and follow expert blogs on digital marketing
Find a mentor or coach
Keep in mind that not all sources of knowledge will add value to your skillset. There are hundreds of courses, blogs, and even coaches out there that are a scam.
You must look into credible and comprehensive courses that will make you prepared for any digital marketing job ahead. One course that offers excellent preparation is OnDelta.
This course not only teaches many concepts of digital marketing but also gives access to many successful professionals as coaches.
Having this type of course on your background will convey more trust within your future clients -- which leads me to the next tip:
Tip #2: Build Credibility
A big part of finding clients is showing them you're trustful and professional. Invest as much time as possible into this because it's going to pay off in the long run.
How can you build credibility when you just got started?
Build your online presence: create a professional website, grow your social media profiles and update your LinkedIn account
Start a network of people who can refer you. Consider doing volunteering work and in return, you'll get some nice referrals
Get a Gmail address with the domain name to look professional
Write informative blog posts to draw traffic and find new leads
Put together an ebook with helpful advice for those in your niche
Tip #3 Set up Your Rate
Here's a piece of advice:
If you don't want to struggle with a bank account that's running on fumes, don't underestimate your work's value.
That doesn't mean you should forget you're just learning the ropes. Don't be afraid to start from the bottom and consider doing some volunteering work. You can check on Glassdoor the average rates of freelance digital marketing specialists, depending on their niche.
How to charge clients:
Hourly: determine how many hours you want to work and how much you will get paid
Project/Milestone: freelance digital marketing specialists are used to charging fixed rates because they prefer getting paid for complete work and not for being "on the clock."
Retainer: each month the client pays you a set amount
Commission: get paid only if you meet certain conditions of your contract, such as getting a certain number of leads, etc. (I usually avoid it).
Tip #4: Learn to Pitch
We already know the competition is fierce within this industry, so learning to sell your skills and services is essential.
Talk about what you can do, not who you are. Your clients want to know the results you can get
Have a legal section in your contracts to make sure you get paid on time (plus, it makes you look more professional).
Explain the costs of your work. Always have a section where you break the price down so your clients can see where their money is going.
Showcase any additional costs that could appear on the way (like hiring more freelancers to work with you, etc.)
Clients are more likely to work with freelancers who give all the information up front than with those who aren't fully transparent.
Now let's check out some of the tools to help you level up as a freelance digital marketing specialist.
The Tools You Need
A big part of the freelance digital marketing world revolves around tools. Whether it's tech, productivity, marketing, organization, having the right tools on hand will make a difference---especially if you manage multiple clients.
Let's see our best picks.
Loom is a video and screen recording platform to use for meetings with clients or other team members. It's easy to use and it does what it says: it gets your message across through instantly shareable video.
This hip communication platform helps freelance digital marketing specialists collaborate across teams, departments, offices and countries. Communication happens in channels—a single place for messaging, tools and files.
Lumen5 is a video maker that uses AI to turn text into video marketing content in minutes. You just enter a blog post or RSS feed and Lumen5 will help you summarize your content while matching each scene with relevant videos and photos.
Here's a video Starbuck's created with Lumen5:
Lumen5 has a paid and free version as well.
With Calendly you can schedule meetings and forget about double bookings. Calendly connects with your calendar to automate appointment scheduling and you can integrate it with your current tools to boost productivity.
A stellar project management software where you can store your ideas and stay on top of your work. It lets you organize your projects on boards and use lists and cards to prioritize your projects in a fun way.
This time management software not just tracks time, but also shows you how you spend your time and provides tools to help you be more productive.
Canva is an online graphic design tool with tons of templates to choose from. What makes Canva unique is the super easy to use interface, even for freelance digital marketing specialists with no graphic design skills. There is a paid and free version.
Buffer is a popular social media scheduling tool. It allows you to manage your clients' social media channels and plan content. Buffer also has analytics you can use to see what works for your customers.
Most of us aren't happy to pay for good photography (oh, well), so having a platform with free beautiful images to download and use for any project is crucial.
One of the most popular email marketing tool on the market. MailChimp is an all-in-one marketing platform that helps users bring their brand to life, create integrated campaigns and turn data into insights. The pricing options are based on the size of your email list.
Feedly's promise is to cut through the noise and let users discover fresh, authoritative voices in their niche. It looks at topics and trends online, helping users get and share the latest information while arranging content into easy-to-read feeds.
Is there any freelance digital marketing specialist who hasn't heard about this one? (I hope not).
Google Analytics gives you the tools you need to better understand your customers, measures your advertising ROI as well as tracks your Flash, video, and social networking sites and applications.
Newoldstamp is email signature generator. It allows you to create professional signatures with promotional banners and call-to-actions.
B12.io and Webflow
B12.io is an ai website builder and Webflow is a dream for creating stunning websites. They both enable marketers to create flawless websites with using a single line of code. They're part of the new generation of website building tools made for people who want more flexibility than what Squarespace and Wix provides.
When it comes to getting things done, there are lots of tools freelance digital marketers use. Not all of them can be listed here. If they're looking to use something like a webinar software, it may require more in-depth research. These tools are meant to help them run marketing campaigns smoothly and make headway in this industry.
A Last Piece of Advice
The thing with new work paths is no one wants to feel like they've been thrown in the deep end.
And to be honest, marketing is not for the soft-hearted.
For freelancers, things can get even more challenging. One of the biggest problems freelance digital marketing specialists face is burnout. That's why managing your time and maintaining a healthy work/life balance is important.
Here are a few suggestions to avoid burnout:
Don't work around the clock. Newbies are tempted to work nonstop to build up client list and reputation---but everyone needs some time off.
Block time on your calendar for work. Clients may reach out to you at all times, so you should inform them you only answer emails/take calls during specific hours.
Hire someone to help you out. Whenever you feel overwhelmed, you can reach out to other freelancers to help with the workload.
Learn to say no. It can be hard to turn down a project, but once you established your credibility you should be able to reject those you don't want to take.
Over to You
Breaking into the world of freelance digital marketing is quite an experience, but the rewards are endless.
To sum it up, here's a pearl of wisdom from Fi Shailes, a digital marketing freelancer:
"You need to love digital marketing, be flexible, patient, and receptive to the different needs and wants of your client. You need to be reactive, proactive, and reliable. You need to be sure it's what you want, and you need to be confident that you can motivate yourself to get up early or stay up late to start or finish a job."