It's no secret that video is the new go-to medium for the marketing industry - sending the usage of free stock footage sites skyrocketing.
Over 51% of professional marketers agree that video provides the greatest ROI among all content types.
However, you can't create everything yourself, especially with limited time and resources. For example, if you're trying to make your social media videos clickable and searchable, you'll either have to outsource the work or look for stock video clips to make them more engaging and unique.
Nowadays, video marketing reaches almost 85% of internet users, generating a staggering 73% conversion rate.
There are countless stock footage options on the web, but a lot of them (especially the good ones) are secured behind hefty paywalls. For someone on a deadline and a limited budget, this is not ideal.
Luckily, there are several great free stock footage sites. However, it can be difficult to find specific video clips when you're limited to free content.
Imagine going through your video marketing calendar and you find the perfect clip for your project, there's a good chance the free version will be of lower quality, while HD versions will be behind a paywall.
Why Should You Use Stock Footage?
Over time, people have given stock footage a negative reputation. However, that's mostly because people don't often understand how stock footage is used.
Expanding your toolkit for video success is important for creating engaging videos and the proper use of stock footage is a part of it.
Your stock footage needs to resonate with your project whether video marketing campaign or presentation design. Moreover, it needs to look absolutely organic, and flow along with the rest of your content.
The following are some ways you can benefit from free stock footage:
Getting footage of things and places you can't possibly shoot yourself. For example, if you're based in the US and need a video clip of a traditional Japanese ritual, it'll be difficult to access such footage unless you visit Japan. No one has that kind of time, money, and/or effort to spare. Ergo, stock footage comes in handy.
Video storytelling is all about finding the right image or clip to start, transition, or end their videos with. There can either be from a lack of footage or ideas. Browsing through stock footage can not only provide a multitude of ideas but also open you up to brilliantly shot free stock footage.
With free stock footage, you don't have to hire photographers, videographers, and editors. You get a readymade clip to use - perfect for people on a tight budget and a deadline.
Using free stock footage can be a great way to connect with talented yet under-recognized videographers and filmmakers. You can contact them and hire them for more work at a much cheaper rate than career filmmakers.
The Legality of Free Stock Footage
There are several legal matters that surround stock footage. While you can use the free stuff as much you want, some content comes with certain rules from either the owner or the distributor.
Different free stock footage sites have different names for the legal bindings each clip has. Usually, you'll come across the terms 'royalty-free', 'rights-managed', and 'creative commons'.
Royalty-Free Footage
Royalty is the amount paid to the content creator every time that content is used anywhere. Royalty-free footage; however, can be used as many times as you want without having to pay royalties to the original creator.
Royalty-free content is usually purchased once and downloaded, after which you have free reign over it. However, in order to avoid similarity issues, it's best to opt for royalty-free footage that can only be purchased by one person (this can be relatively expensive).
Rights-Managed Footage
Rights-managed content is owned by a licensing firm and all such content comes with strict rules, regulations, and guidelines. You will most likely be limited by how, when, and where you use the footage.
However, because of these additional rules, there is a greater chance of exclusivity. You should only opt for rights-managed content when you're working on a high-profile project, have a good budget, and adhere to all guidelines.
Creative Commons
Creative Commons is an American non-profit organization that helps content creators copyright their work. A Creative Commons license lets the creator retain the content copyright while it is readily available to the general public.
The idea is to make content accessible to everyone while respecting creators' rights. Although, the usage of the content can be somewhat controlled by the creator through the seven different types of licenses.

CC0 Public Domain – This license basically lets your content be used freely without any withstanding rules or guidelines. You can do whatever you want with the footage or image, use it in any way, distribute it, modify it, etc. without needing to attribute it.
CC BY Attribution – This license lets you use, distribute, and edit the content however you please as long as you attribute it to the original creator.
CC BY-SA Attribution-ShareAlike – This license lets you use, distribute, and edit the content as long as you credit the original creator too with the exception that you need to share and submit any modifications to the creator and the licensing authority.

CC BY-ND Attribution-NoDerivatives – This license lets you use and distribute the content as you please as long as you credit the creator. However, you're not allowed to make any modifications or outstanding edits to the work.
CC BY-NC Attribution-NonCommercial – This license lets you use, distribute, and edit the content as long as you credit the original creator. However, you need to agree to not make any money off the content or any modified version of it.
CC BY-NC-SA Attribution-NonCommercial-ShareAlike – This license lets you use, distribute, and edit the content as long as you credit the original creator. However, you need to agree to not sell the content or any modified version of it. You are also required to share any of your modified work with the same license.
CC BY-NC-ND Attribution-NonCommercial-NoDerivatives – This license lets you use and distribute the content as long as you credit the original creator. However, you cannot make any modifications to the content and have to agree to not sell the content.
As a general rule of thumb, always opt for CC0 licensed content to prevent any outstanding issues. But if you can't find the footage you want in a CC0 license, opt for the differently licensed content, keeping in mind your content usage intentions.
The Don'ts of Using Free Stock Footage
Making a video is already fairly complicated, especially if you're not an actual filmmaker.
This goes without saying but one should always follow the best practices when using free stock footage. Thus, always avoid doing the following:
Don't ever violate licenses. You might think there will be no repercussions, but the online world is much more connected than you think. For example, if you modify content without permission and upload it, you will get a legal notice and Google will severely punish your website.
If you're ever unsure about the content license, try to find the original creator, owner, or licensing authority to ask their permission to use it. If you're unable to do so, look for alternate footage.
Don't ever use stock footage or images to create controversial or political content. This must be avoided, as it can lead to minor misdemeanors or even major legal usage issues.
If the stock content is modifiable, try not to use it as it is. Make some modifications of your own to make it stand out. Please note that some licenses require you to notify the owner and licensing party of all the changes made to the content.
Now that you know the ins and outs of stock footage, here is a list of free stock footage sites, each with its own specialties.
24 of the Best Free Stock Footage Sites on the Internet
Videezy is a well-known stock footage sharing community. It has hundreds of creators who are continually uploading and sharing free video footage, backgrounds, b-rolls, HD videos, etc. Some even share 4K variants of their videos.
Videezy has several video categories that range from nature to urban. There's an intelligent search option, as well as on-click previews. Most importantly, it's not limited to specific file sizes or video length, so there's a good chance that you'll find longer clips. You can also freely edit the videos.
According to the licenses, downloading any of the video footage is absolutely free for both commercial and personal use, but you must credit the original creator and at times, Videezy.
2. Pexels
Pexels is a massive repository of images and videos that are uploaded after a thorough examination and by abiding by certain rules and regulations. This ensures that all content on Pexels is of top quality.
The entire Pexel collection is free to access. It's licensed by Creative Commons with a CC0 license (public domain) which means you have free reign over the content. This allows you to download any image or video and consider it your own. Make any changes you want, use it commercially or personally, and credit the creator if you want, or don't.
You can find images and videos of nearly every category, with an option to display particular resolutions. The search function displays both direct and indirect results. You can preview the video clips by hovering on them.
Pexels is the first choice for free stock footage for anyone who doesn't want the hassle of licensing.
3. Videvo
Videvo is known as a gold mine for stock video. It has thousands of stock footage clips, shared by everyone from professional videographers to freelancers, and the general public. In addition to free stock videos, it has a wide range of music and sound effects, as well as motion graphics and transitional videos. In total, it has a depository of over 125,000 files.
The only thing you need to be wary of on Videvo are there three licenses. You need to understand each license before downloading a piece of content.
Videvo Attribution License: You can use the content as you wish, completely free of charge for as long as you want; only if you credit the original creator and Videvo in some instances.
Royalty-Free License: You have to pay an initial amount for the clip but once you do, you can use it unlimitedly, without having to pay royalties or give credit. However, you cannot redistribute or share the original file with anyone else. Edited versions may not be subject to such restrictions.
Creative Commons 3.0 Unported: Now known as the Creative Commons Attribution (CC BY) license, it requires that you attribute the original creator in any and all works developed with that piece of content. You also need to attribute the creator if you've shared or uploaded your creation on any distribution channel, or have made it downloadable.
You can find stock footage on practically anything on Videvo. The filtered search option makes finding specific videos even easier. Videvo makes a great stock footage site if you're well-versed with their licenses.
4. Pixabay
Pixabay has a massive gallery of free stock content. With 1.5 million different pieces of content, Pixabay's community has shared picture and videos of practically everything. HD and 4K videos are available, some even longer than 1 minute, and can be edited freely.
All of its content is categorically separated. The search function narrows down your searches and will show (paid) Shutterstock content too. Since all the stock footage on Pixabay has a Creative Commons CC0 license (public domain), any footage you download practically becomes yours to use and modify at will.
5. OrangeHD
OrangeHD is a relatively small source of free stock footage, with a limited library of videos. However, it has a collection of extremely engaging and high-quality HD videos which are best browsed through the site's blog.
Each video has a thorough description explaining the quality, size, duration, and method of shooting. All the footage on OrangeHD has a Creative Commons Attribution (CC BY) license, and the footage is only available for non-commercial purposes.

MotionElements has an extensive library where you can purchase stock footage. It also has a free section where you can find a ton of free stock footage. You are required to register and create an account first.
MotionElements has some limitations though. For example, you can only download up to 5 free videos per week and some of them are limited in usability and through licensing. However, if you buy the content, you can use it as many times are you want since it is royalty-free.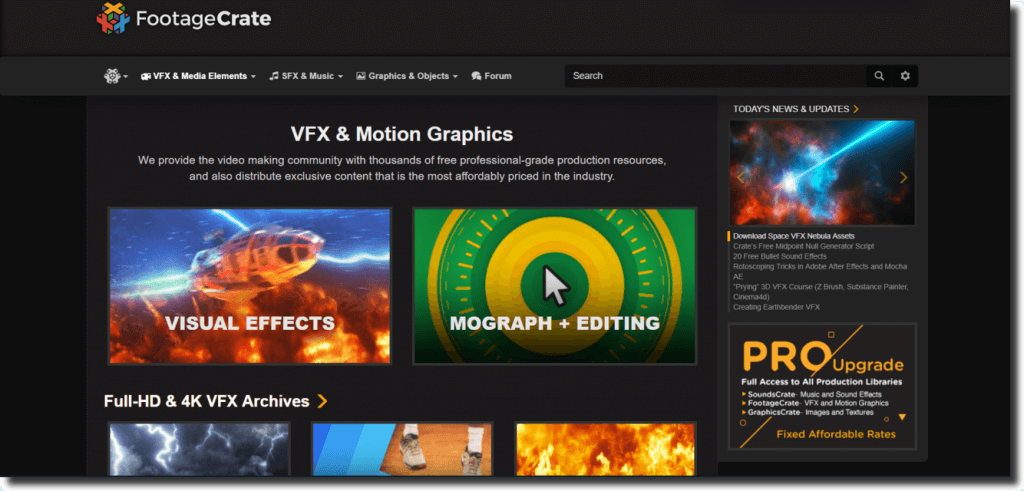 Footage Crate is actually a subset of Production Crate. It has lots of free stock footage, transitional videos, video textures, and after-effects spanning several categories.
In order to download videos, you need to set up an account, but with a free account, you can only download up to five videos per day. The paid membership unlocks unlimited downloads and the other half of the library. Using the footage requires no credit to the owner and can be modified and re-shared.
8. OpenFootage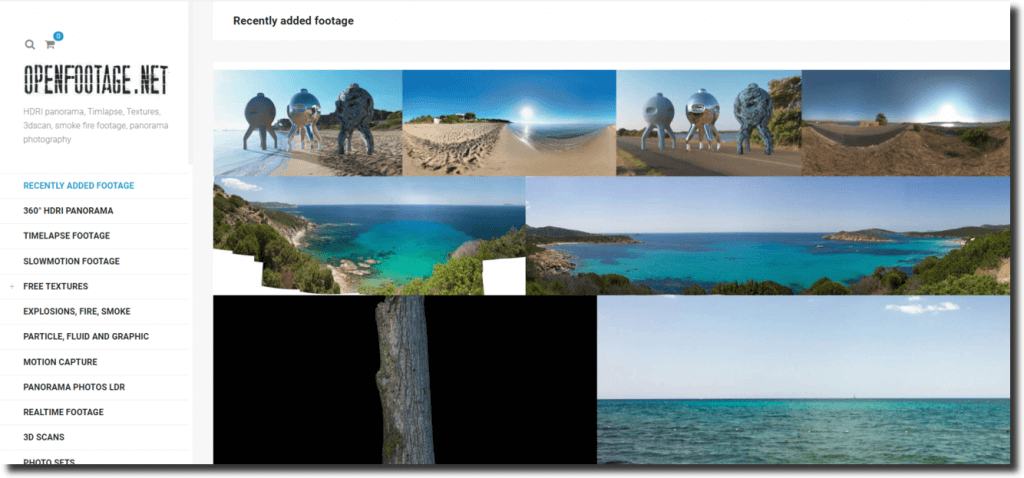 OpenFootage is an extremely diverse free stock footage site. It's one of the few sites where you will find fire clips, time-lapses, and panoramic video footage for free.
Since time-lapses and panoramic footage usually requires some sort of geo/location tag, each video has an extremely detailed description section, allowing you to find additional footage that aligns with the footage in question.
OpenFootage is run by 4 individuals who use similar cinematography for all their videos. This unifies the videos in terms of pattern, specifications, and style.
9. Dareful
Dareful is the brainchild of one individual, Joel Holland. This means that its library of free stock footage is fairly limited. However, all the footage is shot in 4K and with the same specifications.
The genre is mostly nature-based, with new videos popping up weekly. Since it's a one-man show, all videos require either attribution to Joel himself, or the site.
10. 123RF
123RF is one of the lesser-known sites but contains a massive store of free stock footage. With over 20 different categories ranging from urban to nature to sports. It also has a wide range of free stock photos, vectors, and audio files that are all attribution-free.
123RF's content collection exceeds 100 million files, which increases your chances of finding the right content.
11. Coverr
Coverr serves a niche in the free stock footage arena. It features videos that can be used as web page backgrounds. The videos fall in a wide range of genres and seven new videos are uploaded every Monday.
You can use the videos for personal and commercial use; credit and permission-free. However, you can't resell them or re-share on other sites.
12. Mixkit
Mixkit is a relatively new site that only uploads HD videos, with ten new videos weekly. The clips fall in various categories ranging from lifestyle to outdoor, to urban.
Since all of the videos are free, Mixkit has an ever-growing community that submits an increasing number of videos daily. All of the videos are attribution-free and can be modified.
13. XStockVideo

XStockVideo has over 600,000 members, each with access to hundreds of free videos. All of the free stock footage on the site is openly downloadable and can be used in educational, promotional, and even non-monetized YouTube videos.
You'll find unique science videos, animal videos, effect videos, etc. However, for commercial usage, you will need to purchase a commercial license.
14. CuteStockFootage
CuteStockFootage is a massive gallery for people looking to add smaller clips in their video projects. Almost all of the content is free to download and while licensing isn't mentioned, the terms and conditions of personal and commercial use are clearly specified for each video.
The site also features photos, fonts, textures, and audio clips that you can use in your projects. You are required to credit CuteStockFootage.
15. Vidsplay
Vidsplay features a huge gallery of free stock footage, with weekly additions. You can sift through the HD videos through category-searches and keywords.
You can edit the videos while crediting the original creator or Vidsplay. You can also purchase a no-credit license at a relatively low price.
16. Life of Vids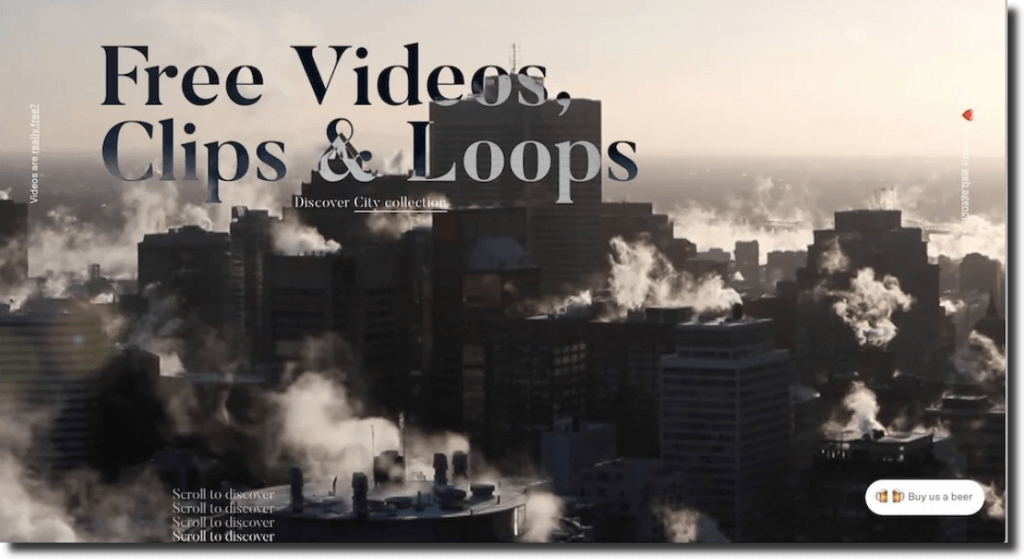 Life of Vids is a project by a Montreal-based digital agency, Leeroy. According to the site, there are no copyright restrictions for commercial or personal use of footage. Their number one rule is that you can only re-share 10 videos on other sites.
All the videos are hosted on Vimeo, on Leeroy's account. This site has several methods of thanking the creators other than crediting. For example, you can buy them a cup of coffee. It serves as a way to grow the creative community.
17. SplitShire
SplitShire started as a personal project by Daniel Nanescu, who wanted to share his art with the general public. Now, it's a site with hundreds of free stock videos, still mostly shot by the owner himself.
You can download, edit and use a limited number of videos on your projects, social media, etc. You can't create any controversial videos with the footage, and you can't resell or re-share the footage on other sites.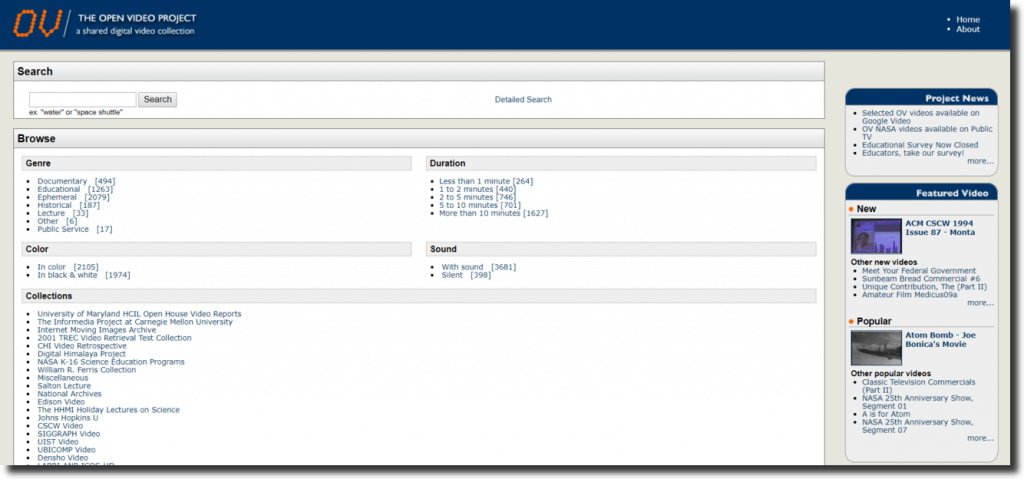 The Open Video Project was a platform for sharing videos and footage shot by the US government. The videos come from NASA, the Archives Administration, and the U.S. Records.
Despite the fact that government-shot videos are public property, no copyright permissions are obtained by the site, so it's advisable to use the videos for research and inspirational purposes only.
19. Monzoom
Monzoom is primarily a subscription-based site with thousands of stock videos. There is a free section where you can find hundreds of background and intro clips.
Monzoom is a great place to find attribution-free intros and backgrounds for your video projects, especially on a limited budget.
20. Clipstill
Clipstill is a site that specializes in cinemagraphs (still images with looping elements). The majority of the content is for sale, but there is a free section as well.
The site is updated with new content monthly. You can use the content in both commercial and personal projects but are required to provide attribution to the site.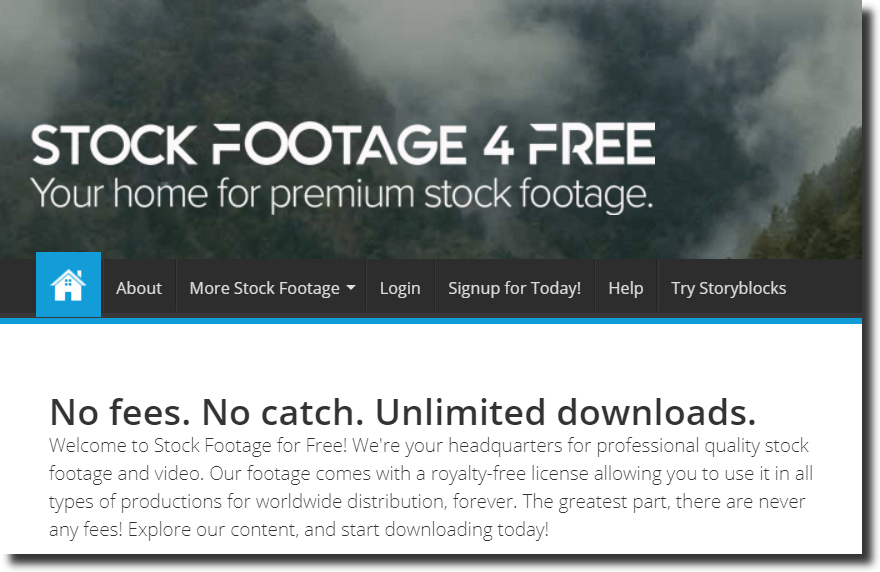 Stock Footage 4 Free is a completely free stock footage site. It has HD clips of sports, nature, transportation projects, etc.
The site does require you to create an account before you can download stock footage.
22. Mazwai
Mazwai is a site that focuses quality over quantity. This is why there are only about 250, very high-quality videos on the site. All of the videos are on display on the homepage.
The general duration of the videos ranges from 2 to 3 minutes. All of the videos are protected by a Creative Commons Attribution (CC BY) license which requires clear attribution to the original creator.
23. Clip Canvas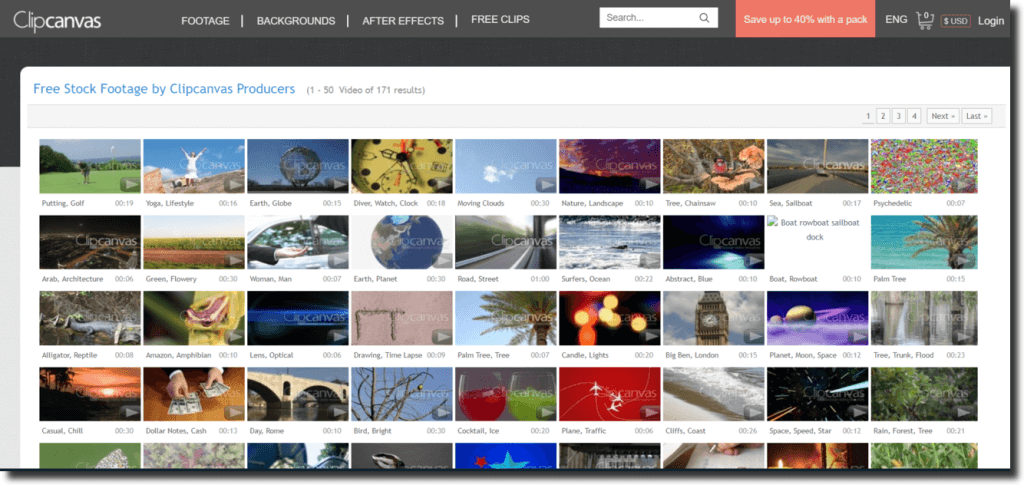 Clip Canvas is a commercial stock footage site with thousands of attribution-free clips for sale. It also has almost 200 free stock videos that you can download.
24. Pond5
Pond5 is well known in the video industry as it's one of the largest stock footage marketplaces. Pond5 is generally expensive but they have a free section where you will find public domain archival footage.
However, in order to browse it, you need to search for something and turn on the public domain filter, which will then displays all the free stock footage (over 1,000 videos).
Bottom Line
Nowadays, videos are the first step towards proper social media optimization. Which is why your business should be posting one video a day to stay relevant.
While free stuff is everyone's priority, it's important to know that at times, it just doesn't cut it. Free stock footage for your videos is often limited in quality or size, restricting you over their usage.
However, what you save by using free stock videos, can be redirected towards video generation sites such as Lumen5 that help you better design and launch your videos. In the end, it's all about your convenience.