Businesses cannot survive without marketing. According to Gartner, businesses (on average) spend 11% of their annual budget on marketing. This means a company with a revenue of $1 billion a year will spend $100 million on marketing.
That's a lot, right?
But even though this 11% figure is the standard, it varies greatly.
Some companies, like Salesforce, spend as much as 46% of their revenue on sales and marketing.
That's around $5 billion in 2018.
Yes, Salesforce spent $5 billion on sales and marketing in 2018.
The Bureau of Labor Statistics estimated average growth of 10% in advertising, promotions, and marketing manager posts between 2016 and 2026.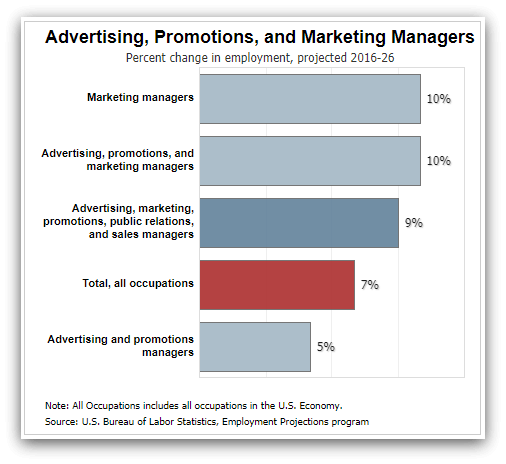 And this is the fastest growth rate among all occupations.
Considering these numbers, a marketing career is the best choice for you. As of now, there are more than 74K marketing jobs available on Indeed.
Out of these 74K+ jobs, more than 28K are entry level marketing jobs.
Furthermore, this is just one job search engine.
Not only is an entry level marketing job high in demand, but also, it is a highly lucrative career choice. The average annual salary for entry-level marketing jobs in the US is $43K+.
As you'll expand your skills with the passage of time, you'll be able to earn $105K+ a year when you'll switch to senior level marketing jobs.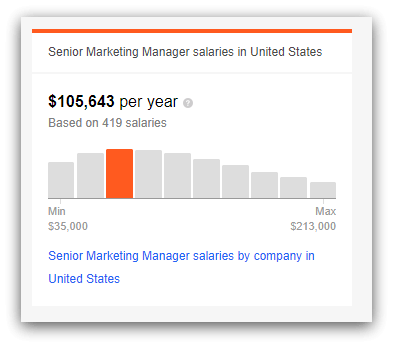 What's better than being part of a rapidly growing and high-paying industry?
Here is the best part: Growing in this gigantic industry is easy as well as fast. In addition, there are several fields that you can choose from to become a specialized marketer.
Yes, your first job matters and if you're all set to jump in, you can choose from the following best entry level marketing jobs to jumpstart your career:
1. Marketing Coordinator
This is a perfect entry level marketing job for you if you love quantitative research and crunching numbers is your thing. As a marketing coordinator, you'll be primarily involved in developing and executing marketing strategies.
You'll work with a marketing manager or a senior executive from the marketing department. Moreover, you'll be the bridge between senior marketing management and marketing staff, clients, and suppliers.
This means you'll get firsthand experience of understanding how 'marketing' actually works in a company.
Additionally, you'll get a chance to polish your communication skills, since it involves a lot of coordination.
The job descriptions vary but generally marketing coordinators get to do all of the following:
Developing marketing strategies
Marketing planning
Developing and managing marketing and advertising campaigns
Assisting the marketing manager
Developing, editing, finalizing, and monitoring marketing material
Generating marketing reports
Marketing data analysis
Coordinating with employees, clients, and suppliers
Marketing budget monitoring
Planning and arranging meetings
Communicating and coordinating with the sales team
According to Salary, the average salary of the marketing coordinator in the US is between $48 and $62:
There are over 13K entry level marketing coordinator jobs available on Indeed with an average salary of $43,452 per year.
Also, Glassdoor has 941 entry level marketing coordinator open jobs with an average salary between $17K and $100K.
Yes, it is a full-fledged marketing post and this is why chances of growing and becoming a marketing manager increase significantly.
2. Marketing Assistant
As a marketing assistant, your primary job will be to work with (and support/assist) the marketing manager and executives for strategy development. In other words, you'll be working alongside a marketing manager as an assistant.
It's fairly different from a marketing coordinator position which you act as a bridge between management and employees. In the case of a marketing assistant position, you work on strategy development and profit maximization.
Here are a few major tasks that you'll have to do as a marketing assistant:
Assist marketing manager
Monitor and improve marketing campaigns
Generate ideas
Support and assist the marketing team
Handle large marketing projects
Visit customers, clients, and suppliers
The average salary of a marketing assistant is $14.10 per hour, but it can be as high as $22.11 per hour. This salary greatly depends on your niche whether that's working in more traditional companies such as blue-collar maintenance and production or a fast-growing tech startup.
Indeed has 46K+ marketing assistant jobs available to choose from. This means marketing assistant positions are in higher demand when compared to marketing coordinator positions. In other words, you won't have to face high competition for a marketing assistant job.
This is an excellent role if you are not sure which marketing specialization to dive into. This job will allow you to explore areas of marketing and develop your interpersonal skills. The next step on the career of a marketing assistant might be a marketing representative role, a sales representative role, or some other entry-level marketing associate position.
3. Marketing Analyst
This is a technical and crucial position where you'll be involved in advanced data analysis and reporting, that will be used for decision-making. In a nutshell, it involves marketing research, data collection, data analysis, and then reporting the data in an easy-to-understand way.
As a marketing analyst, you'll track and analyze marketing campaigns, suggest improvements based on data, and track the performance of marketing campaigns using appropriate measures (ROI, conversion rate, etc.).
However, since all (or most of) marketing decisions are based on reports generated by a marketing analyst, this job comes with high responsibility.
Here is a list of major tasks that you will be performing as a marketing analyst:
Marketing research
Data collection from customers
Data analysis
Reporting
Competitor analysis
Market analysis
Decision-making assistance
Identification of new products, target markets, tactics, and sharing recommendations
With challenging job demands comes a lucrative salary. According to Indeed, the average salary of a marketing analyst is around $68K a year. However, there aren't too many entry-level jobs available in this category (4617 jobs).
Expect high competition since there are fewer jobs.
Marketing analyst jobs are challenging and technical. And this is one of the reasons why not too many marketers choose this field. Not everyone is technical.
4. Marketing Intern
A marketing intern position is a perfect entry-level job for anyone who is interested in entering the marketing industry. However, I'm not a big fan of this job as it's too basic in nature. You won't learn a lot of things from this job.
Moreover, many people will ask you to start for free, which I don't recommend either.
But here is a good thing: Getting a marketing intern job is the easiest of them all. This is the most entry-level position in the list.
If you're struggling to start your career in the marketing industry, and nobody seems to be interested in hiring you, try applying for marketing intern posts.
You'll get a chance.
Here is a list of tasks that you'll perform as an intern:
Research and analysis
Manage social media accounts
Handle marketing campaigns
Assist the marketing team with their daily tasks
Perform entry-level sales
Conduct basic market research and identify trending news and stories
Monitor social marketing metrics for performance analysis
Prepare presentations about the business development
Create and schedule social media content
The average marketing intern salary in the US is $11.71 per hour. The overall salary range from $7.25 to $19.92 per hour.
One positive point about a marketing intern position is that you'll get the chance to work with many experienced marketing professionals.
You'll find a lot of marketing intern jobs on Indeed and Glassdoor. There are over 13K jobs available on Indeed as of now.
The job of a marketing intern is simple and doesn't come with a lot of challenges. This gives you ample time to learn and improve your skills. It is recommended to choose your marketing field while working as an intern.
Specialization is essential for career growth.
5. Social Media Specialist
This job goes with many names such as social media strategist, social media coordinator, social media associate, etc.
Yes, it is an entry-level job in high demand. It is all about social media marketing. The common tasks and responsibilities include:
Develop, run, and manage social media campaigns
Conduct social media reports
Measure performance and suggest improvements
Track metrics such as engagement, brand awareness, social traffic, ROI, etc.
Keep up with the most recent and efficient social media tools
Monitor social media accounts, keeping them updated with relevant content
Ideate, develop, and publish social media content
Social listening
Develop content calendars for Facebook, Instagram, Linkedin, Youtube, Twitter, and others
Collaborate with marketing team
Seems like a dream job, right?
There are over 19K social media marketing entry level jobs on Indeed with an average salary of $13.90 per hour.
The average salary is higher than the average salary of marketing intern positions. Therefore, you should prefer social media specialist positions over marketing intern.
What's better than getting paid for managing social media accounts? Since it's a great job for any entry level graduate, expect fierce competition.
Want to improve your social media skills? Sign up to Lumen5 and unlock the power of creating social media videos in minutes.
6. Digital Marketing Assistant
This is not the same as marketing assistant positions. As a digital marketing assistant, you'll assist the CMO with digital marketing only. Thus, your interaction with traditional marketing (TV ads, billboards, radio, etc.) will be negligible.
Overall digital marketing spends in the US has increased dramatically in recent years and is expected to cross $129 billion by 2021. In fact, digital marketing spends have already surpassed traditional marketing spends in the US. For this reason, this is the best entry level job you can think of.
Your job will be challenging since you'll be managing digital marketing which is way different than traditional marketing. Here are a few major tasks that you'll have to perform:
Assist in the development and implementation of digital marketing strategy
Monitor traffic, leads, sales funnel, and ROI
Track and monitor performance metrics
Manage presence on all the marketing channels including blog, email marketing, YouTube, social media, and others
Manage the company's blog
Conduct analysis and reports
Communicate and collaborate with marketing teams
The average salary of a digital marketing assistant is higher than the salary of a marketing assistant ($63K+ per year). However, the number of jobs is minimal in this field. There are just over 1000 entry-level digital marketing assistant jobs on Indeed.
If you're well-prepared and have experience in digital marketing, this job is your best bet.
7. Content Marketing Specialist
This is a highly specialized entry-level job. It's strictly related to content marketing so you'll get a chance to grow in this field.
Content marketing specialists work closely with the content marketing team, CMO, and senior management. You'll be involved in strategy development for online content that your company will create, publish, and distribute.
It's a challenging, technical, and high-responsibility job. If you can handle it, your career growth will skyrocket in a few years.
Here are some of the tasks that you'll be doing as a content marketing specialist:
Develop a content marketing strategy
Execute and monitor content marketing strategy
Identify the right content type of different buyer personas
Develop the editorial calendar
Publish and manage content
Promote content
Track and monitor performance
Content marketing strategists have excellent compensation. The average salary you should expect is $23 per hour. It's more than any other entry level marketing job that we have discussed above.
Indeed has 2200+ open entry level jobs that you can choose from.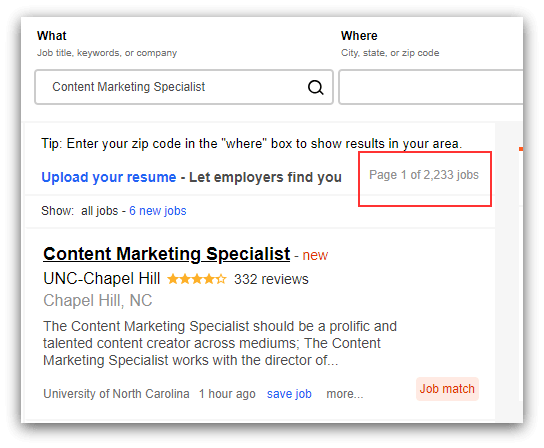 When applying, expect competition. You won't get a content marketing strategist job easily. So, do your homework.
Ask yourself: Are you really one of the best candidates for this job?
If the answer is a loud YES, go ahead.
8. SEO Specialist
A search engine optimization (SEO) specialist is another specialized entry-level job title that's perfect for those who have an interest in backlinks and search engine marketing. It is a technical and challenging job.
The chances of growth are exceptionally high because SEO is one industry that's not going anywhere for the next few good years. And since it is a technical job, its demand will continue to rise in the coming years.
The tasks include:
Devise and execute SEO strategy
Conduct regular website audit
Acquire new backlinks
Run website optimization
Handle technical SEO
Use analytics and SEO tools
Conduct analysis and reports
Track SEO performance
Collaborate with the content marketing team and other marketing teams
According to Indeed, the average salary of an SEO specialist is $52K+ per year and there are 700 open jobs available.
The jobs are limited for entry level because SEO involves risk and businesses don't trust SEO specialists easily. So it will be a bit challenging to get your first job, but if you have something to show your employer, you'll have your chance.
9. Public Relations Specialist
This job goes by multiple names such as public relations assistant, public relations coordinator, public relations trainee, public relations intern, and others.
Whatever you call it, this is a great starting job if you have an interest in public relations. You should have exceptional communication skills, you should be presentable, and you should be great at networking.
That's what this job is all about.
Here is what you should be doing as a PR specialist:
Assist in the execution of PR strategy
Network with all stakeholders
Write and distribute press releases
Handle media announcements
Prepare reports and analysis
The average salary is well over $74K a year and there are 2700+ jobs available on Indeed.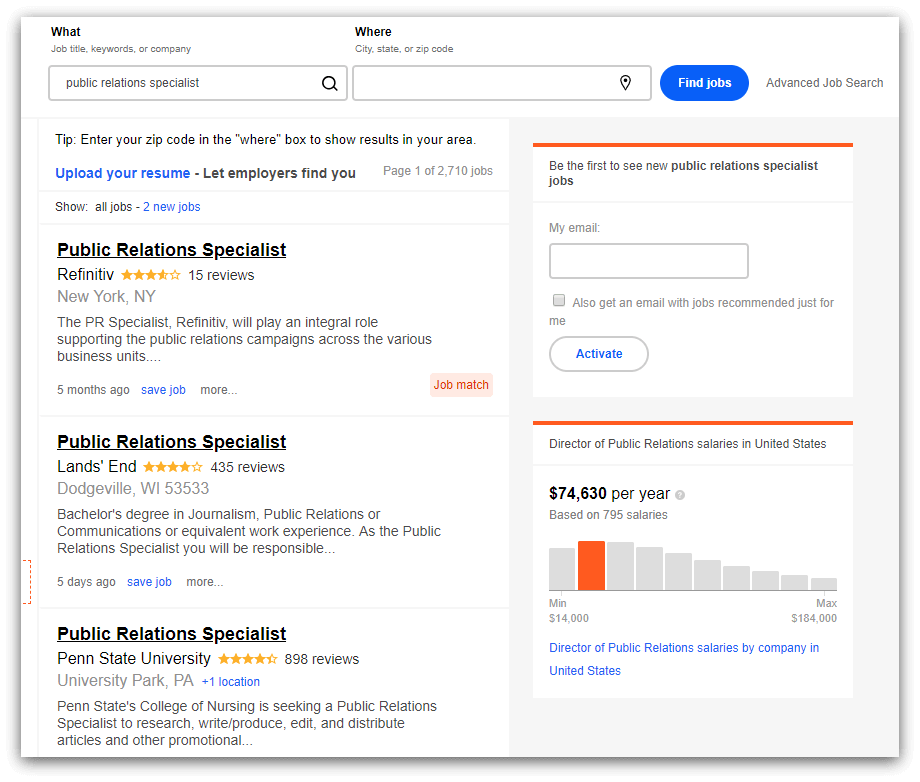 It's a high paying job because it isn't all about sitting in your office. It involves fieldwork.
10. Email Marketing Specialist
This is a specialized job that has a lot of growth potential. You'll get to learn a lot about personalization, copywriting, CRM, and landing pages while working as an email marketing specialist.
The tasks include:
Assist in email marketing strategy implementation
Handle email marketing software
Create and send newsletters
Segment users
Build and manage lists
Create and manage email campaigns
Conduct A/B testing
Conduct reports and analysis
It isn't a very highly paid job but it pays more than general-purpose marketing jobs. The average salary is $49K+ a year and there are over 5K jobs on Indeed.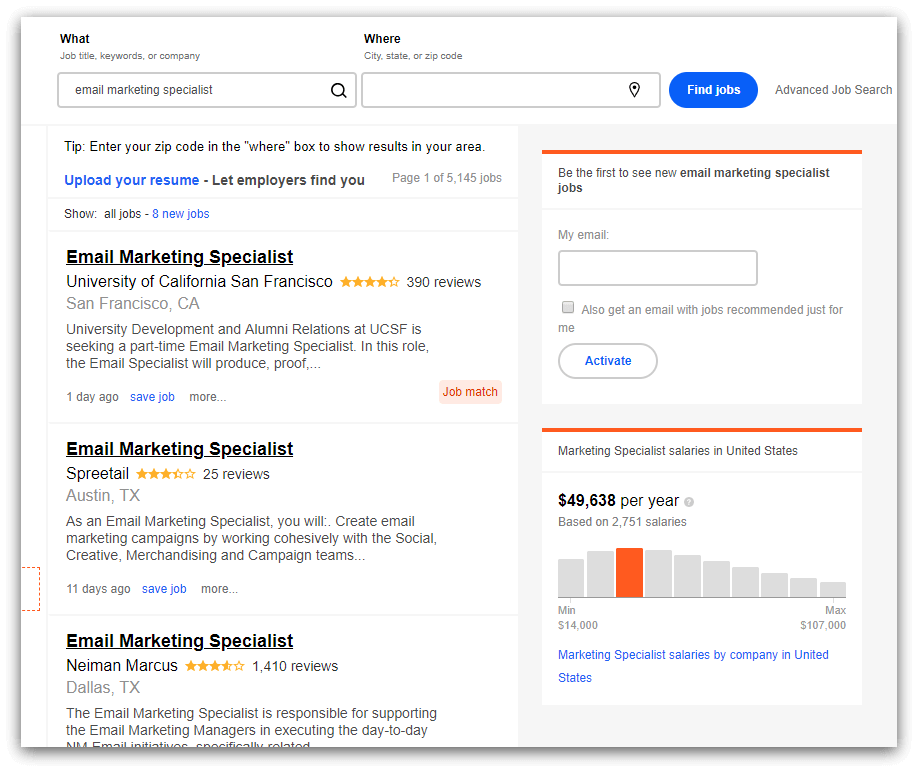 There are a lot of jobs available which means entry into this field is easier than most of the other specialized fields.
How to Get a Marketing Job
If you want to succeed in your marketing job, you must be fully prepared for it.
Unfortunately, a college degree not always make you feel ready to take on all the responsibilities of a full-time job. The competition is huge and if you want to land your much-dreamed job and thrive in it, you must go the extra mile.
These are some of the actions you can take to continuously improve your skillset:
Take online courses
Attend marketing conferences
Join relevant marketing community groups
Find a mentor or coach
One of the ways to check most of these actions at once is to participate in OnDelta's program. This is a program designed for people who want to boost their marketing knowledge to land an excellent marketing job.
OnDelta program is a three-month online course that teaches all about paid acquisition, product road mapping, marketing automation, social media, cohort analysis, coding, and more.
Besides the technical knowledge, OnDelta gives participants access to a network of marketing professionals that can act as mentors.
Take the Next Step
It's essential to understand your interest before you apply for any of these full-time marketing positions. Ask yourself what are you good at? Are you good at content, email, or coordination?
Your entry level marketing job will determine your future in this industry. Once you choose a field within the marketing industry, it gets really tough to change it.
So do your homework.
Don't follow the crowd.
Listen to your heart – and follow it.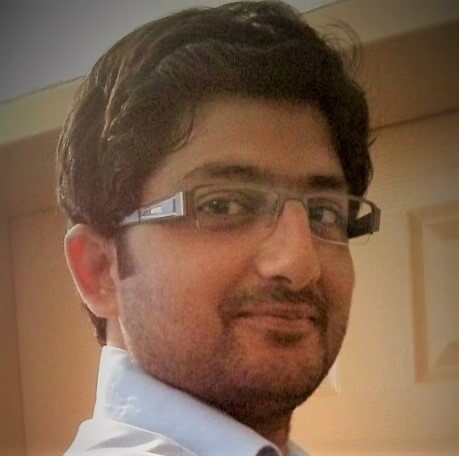 A seasoned freelance writer specializing in digital marketing having articles published on leading marketing blogs like TheNextWeb, Yahoo News, Jeff Bullas, Business2Community, and more. Twitter @sabihjavedd