Thinking about running a social media contest?
Excellent idea. Social media contests are the best way to generate brand awareness in an organic way. And it gets easy to do it if you choose the right contest software.
Contest software tools help you to prepare, organize, launch, analyze, and wrap up a contest on social media channels, such as Facebook and Instagram.  
If you never ran a contest before on your business page, you will be surprised by the results. Not only these contests will bring you tangible results such as engagement, but they will also make a positive impact on your customers' opinions about your products, brand image and even on their purchasing habits.
A study made with almost 1000 people revealed that 75% of social media contests participants have their purchasing habits influenced by these contests.
I mean, who doesn't appreciate the chance to win free stuff?
But the thing here is: if you do it right, the real winner of the contest will be your business.
Contests are wonderful opportunities for your business to:
Generate brand awareness;
Collect emails to your list;
Boost online engagement;
Learn about your audience;
Inspire virality;
And, of course, show your current customers some appreciation.
Regardless of what your end goal is, social media contests will always benefit your business in multiple ways.
And the best part is that there is a variety of awesome software available for you to run a successful contest with little effort:
6 Best Contest Software
Don't get fooled by the simplicity of a social media contest.
Yes -- it is an easy and fast way to stack up leads. But there are some important details that you must pay attention to if you want your contest to be a successful one.
If you have all your data organized, the end of the contest should be the best part. Because that's when you get to tell someone that he or she is the winner. However, that's not going to be a fun part if you have to dig into the data and make all the verifications all by yourself.
Trust me, I've been there. Luckily there are many awesome social media contest helpers that I can trust now.
Let me share my favorites with you:
1. Vyper (Lumen5 Recommended)
If you are looking for a complete set of features to create a high-converting contest, Vyper is your go-to option.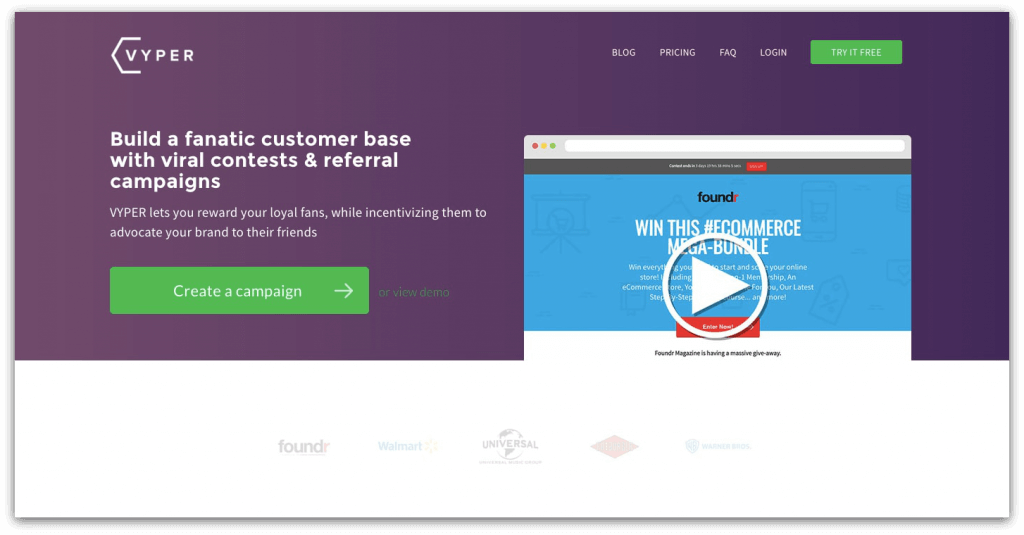 This tool has two strands that you can take advantage of: reward program and viral contest.
The reward program creates a loyalty cycle that gives points for referrals and purchases in your store. This functionality is one of the aspects that sets Vyper apart from the other contest software out there.
The viral contest category gives users all the key resources to create fervid giveaways through the power of viral referrals.
I've used their viral contest campaign functionality to host a giveaway in partnership with another brand. The result was fantastic and both brands got massive engagement.
However, this is just one of the ways to use this functionality. You can also set up a viral waitlist before you launch a product. Or even launch a cryptocurrency-related contest, if you're feeling bolder.
One of the things I love about Vyper is that it allows you to create stunning landing pages with little effort. No coding knowledge is necessary.
Another cool feature that Vyper offers is the "bonus entries", which allows you to add buttons such as "join our Facebook group". This means entrants can have extra chances to win if they decide to follow the CTA.
And different from most contest software, Vyper actually verifies the actions through API connections.
In addition to these features, Vyper also offers users the ability to:
customize everything
do CSV exporting
make translations
send emails without leaving the platform
make the winner draw
make CSS modifications, and more.
In short, Vyper is an outstanding viral marketing tool if you want to grow your customer base. 
Pricing:
Pro: $49 per month
Enterprise: $149 per month
Agencies: $299 per month
Note: You can try any Vyper plan for free. Payment is only required when you are ready to launch a campaign.
2. Rafflecopter
If you are looking for a super-easy-to-use contest software, Rafflecopter might be your best option.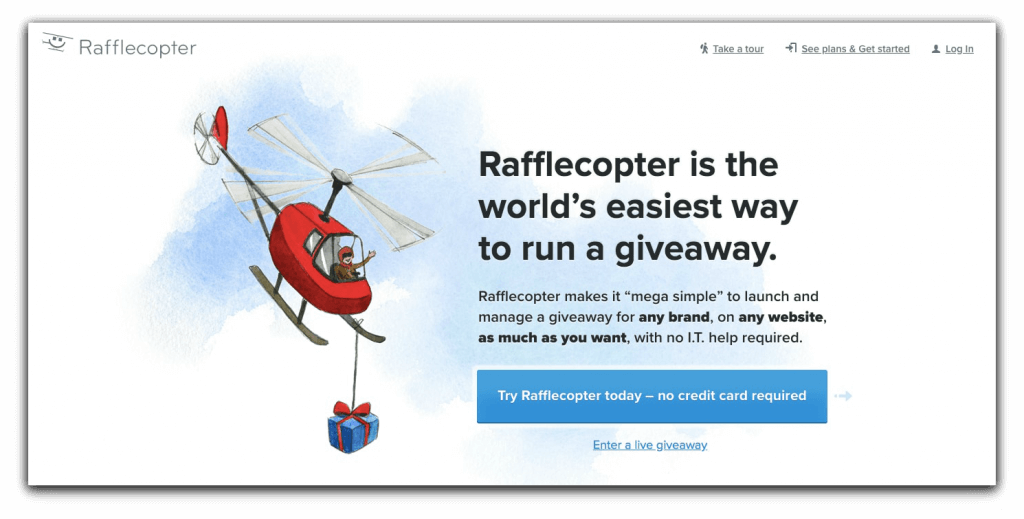 It takes less than 5 minutes to create a contest using Rafflecopter. That's because their user interface is based on simple copy-and-paste actions. They get it -- nowadays, it is hard to find time to learn how to use over-complex systems.
When it comes to branding customization, the software has satisfactory theme options for you to customize the look of your giveaway.
Rafflecopter doesn't have translations available for all languages like Vyper does. The languages available on Rafflecopter are Italian, Dutch, French, Spanish, Portuguese, and English.
But just like Vyper, Rafflecopter connects with the leading ESPs. This means you can integrate to MailChimp, for example, with one single click, and from there generate leads and grow your email list. 
Another aspect I like about Rafflecopter is its flexible billing system. You can use the software as much or as little as you need.
Besides these aspects, Rafflecopter also offers downloadable entry CSV. And with the Premium Plan, you have access to real-time analytics, white-labeled form, and refer-a-friend entry option.
Another cool aspect about Rafflecopter is the awesome customer support -- there is always someone available to talk to you and help to solve your problems. Moreover, if you try the product and don't get the results they promise, you can request your money back.
Pricing:
Basic: $13 per month
Grow: $43 per month
Premium: $84 per month
Note: Rafflecopter offers a free plan with unlimited simple giveaways, 1-click random features, entrant data export, and embeddable entry form.
3. ShortStack
Shortstack is an excellent contest software option for large businesses and enterprises.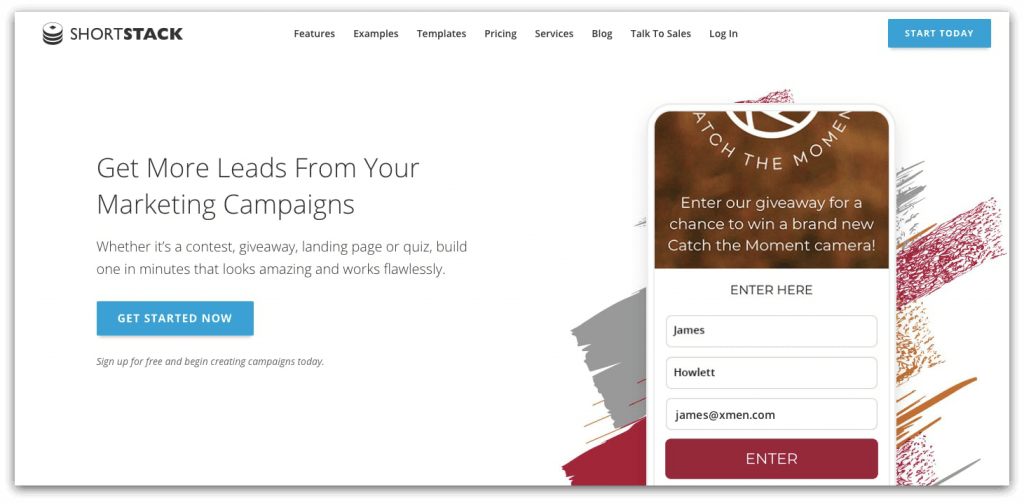 It offers marketing managers the ability to tag teammates and assign roles for specific campaigns. This functionality helps larger teams to communicate better, and consequently, work more efficiently.
If you have a small business, Shortstack has options for you as well. However, considering the pricing model and design features, I don't consider this software to be the best option for smaller brands with limited resources.
The templates offered by Shortstack doesn't have the best design. So you will probably need to make your own design. Additionally, the cheaper plans, directed to small businesses have many branding limitations.
Larger teams will certainly find more value in Shortstack.
One thing I enjoy on Shortstack is the control you have over the campaigns. You can run campaigns that show different content to people in different geographic regions, for example. Or you can choose to promote your sweepstakes with QR codes.
There are many types of campaigns you can create using Shortstack: sweepstakes, voting campaigns, photo contests, hashtag contests, refer-a-friend campaigns, video submission contests, essay contests, quizzes, coupon contests and more.
Of course, the campaign options you get access will depend on the plan you subscribe to. The free plan offers five campaign variations.
Shortstack also offers excellent customer support.
Furthermore, Shortstack has a comprehensive analytics feature that allows you to learn what campaigns generate more engagement, and understand where your traffic comes from. This feature can make a huge difference in the results of your campaigns.
Pricing:
Starter: $29 per month
Business:$99 per month
Agency: $199 per month
Brand: $499 per month
Note: Shortstack offers EITHER a Free Plan OR a 10-day free trial for any plan.
4. Woobox
Woobox is a great option for smaller businesses that want full capabilities on a contest software -- including pop-ups, landing pages, and email integration.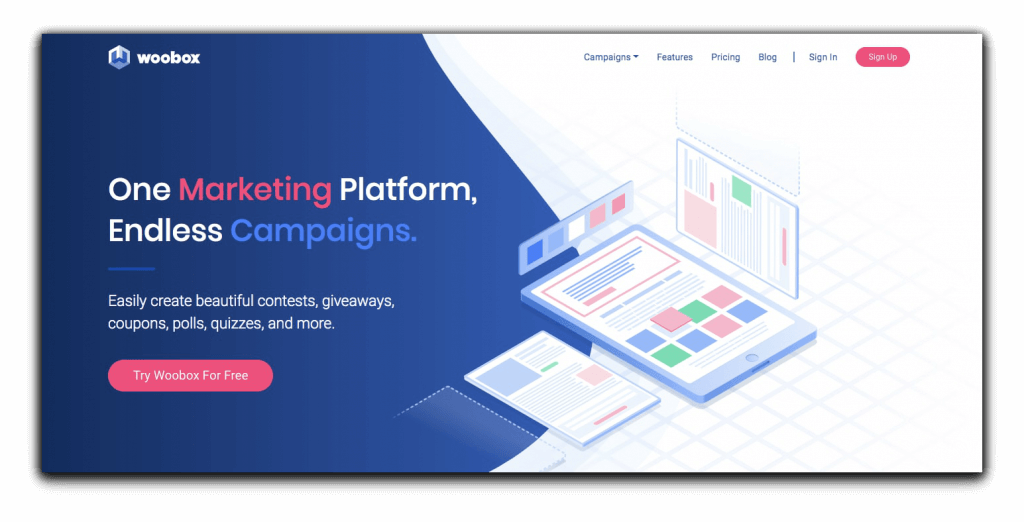 The reason why I recommend this software for smaller teams is the big number of features offered on the more basic plans. In fact, the basic plan offers almost every feature that the advanced plan offers -- except for coding customization and team access permission.
This fact creates an advantage for small organizations with limited resources dedicated to email marketing and social media marketing tools. Overall, I like how Woobox pricing and plans are organized.
Woobox's basic plan allows you to display your campaigns on your blog (with a WordPress plugin), on website pop-ups, on emails, social ads. The ability to run Facebook ads through the platform is a fantastic differential element in Woobox.
Another aspect to be highlighted is Woobox's wide selection of campaign types. You can create photo and video contest, pools, trivia and personality quizzes, brackets, forms, coupons, sweepstakes, and instant-wins campaigns. Also, most campaign types are optimized for mobile, which is crucial in this day and age.
While this software is filled with awesome features, its interface is not that easy to use. Even though they try to make it simple by having a variety of templates for you to choose from, it can get complex to navigate through the software.
Pricing:
Basic: $37 per month
Standard: $384 per year (equivalent to $32 per month)
Advanced: $1,188 per year (equivalent to $99 per month)
Power: $2,888 per year (equivalent to $249 per month)
There is also a free plan offering a maximum of 100 contest participants and limited features.
Note: The Basic and Standard plans offer exactly the same features and capabilities. The only difference between them is the billing period -- the Basic Plan is billed monthly and the Standard Plan is billed annually.
5. Wishpond
If you are looking for a platform that offers more than contest campaigns (and you have the resources to afford it), you should consider Wishpond.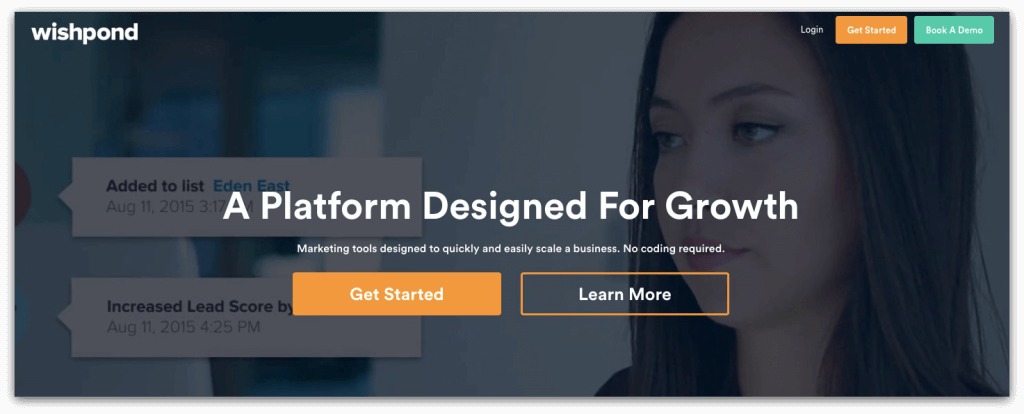 Wishpond is a growth marketing tool that divides its digital marketing services into four different categories:
Landing pages;
Pop-ups and forms;
Marketing automation;
And of course, contest and promos.
Most contest software listed in this article also offer similar landing-page-building and pop-ups functionality. What Wishpond does a bit different is marketing automation.
Their email integration is has a whole lot of features to facilitate lead nurturing -- you can send text messages, send segmented emails, forward hot leads to your sales team, and more.
Wishpond also has more than 300 integrations, including MailChimp, Zapier, Slack, and Salesforce.
When it comes to the contest category, they are also super competitive. They offer various types of contests for you to choose from: sweepstakes, photo and video contest, Instagram hashtag contest, coupons, referral contest, vote contest, leaderboard contest, and photo caption contest.
I love Wishpond's reporting function. There are a number of key filters and segmenting options available. You can segment by age, location, gender, and even see the top interests of people who had entered your contest.
Another awesome feature is the ability to create Facebook and Google ads from Wishpond's platform to promote your contest.
Wishpond's advanced features such as A/B testing, API access and white-labeling are only unlocked for the "Everything You Need" Plan.
Overall, this software has a very simple interface while offering many resources.
Pricing:
Starting Out: $588 billed annually ($49 per month)
Everything You Need: $1,188 billed annually ($99 per month)
Rapid Growth: $2,388 billed annually ($199 per month)
Note: Wishpond does not offer a monthly billing option. However, they offer a 14-day trial for you to test the plan out before you make this commitment.
6. Woorise
If you are looking to create viral giveaways, competitions and engaging forms including surveys, polls and quizzes consider using Woorise.
It offers beautiful pre-made and optimized templates for a quick start or you can easily create your own from a drag and drop interface in just a few clicks.
Woorise includes a Viral Share feature where you can reward users with Bonus Entries for referring their friends. Bonus entries are tracked via a unique URL given to a user who has entered your contest. After they enter, they get the link which they can copy or share it using social buttons for Facebook, Twitter, LinkedIn, Pinterest and Email.
Another cool aspect about Woorise is the ability to create Instant Win campaigns. Winners are picked automatically based on odds or randomly dates. You can also set to conditionally display a different thank you page and an email notification for winners and non-winners.
Adding entry methods is simple and quick to do with their drag and drop functionality. Select the type of entries you want – they offer a range of pre-build entry methods or you can create your own – and order them how you like.
Woorise offers a wide range of tools and features including:
CSV Export Data
Geo Targeting
Email Notifications
Any Language
Real Time Analytics
Facebook Page Install
1-Click pick Winners
Additionally you can choose from a wide range of integrations including all major email marketing apps and send your new leads straight to the tools you already use.
Woorise is more than a contest platform allowing you to create engaging marketing campaigns such as surveys, polls, quizzes, feedback and event registration forms or even checkout forms to securely accept payments using popular getaways.
Pricing:
Basic: €29 per month
Grow: €49 per month
Pro: €99 per month
Note: Woorise also offers a features rich Free plan with a limit of 500 entries per month.
How To Choose the Right Contest Software
With a vast array of contest software out there, selecting the right one for your business can seem like a daunting task. But it is worth it to take the time to analyze the functionalities to maximize your ROI.
So let me help you to choose the right contest software for your specific needs:
Step 1: Define Your End Goal
There is no doubt that a contest will bring you multiple benefits (probably much more than you're planning on). However, in order to define the type of contest campaign that you will run, you must determine your primary goal with the giveaway. So, be specific.
Let's say that your main goal is to increase the number of likes on your Facebook page by 15%. Then, you would be better off running a contest that does not require many actions to enter -- to attract more people. Choosing a contest software that supports Facebook ads is something else to consider in this case.
Step 2: Determine the Type of Contest You Want to Run
There are many contest categories that you can choose: photo and video contest, waitlist, Instagram story contest, hashtag contest, partnership giveaway, instant-win campaigns, pools, trivia and personality quizzes, brackets, forms, coupons, sweepstakes, and more.
Based on your end goal, choose the most appropriate contest type.
Then, you just need to make sure that the contest software you choose supports that type of contest.
If you decide that you want to launch a cryptocurrency contest, for example, you know you must go with Vyper. Or if you want to do an Instagram hashtag contest, you can eliminate Woobox.
Step 3: Match Your Must-Have Features with Your Budget
The first thought is always: the more features, the better. However, this decision must be based on the best fit.
You don't want to pay for features that you won't need. Or, choose a software that doesn't offer a specific feature that you'll need.
You must select the contest software with features that match your unique necessities.
For example, if you would appreciate having an analytics feature, for example, you can discard Rafflecopter's Basic and Grow plans.
Remember you must also consider the size of your company and of your audience. Shortstack and Wishpond suit bigger companies better, while Woobox fits smaller companies' needs better. Meanwhile, all company sizes can be benefited from Vyper and Rafflecopter.
Also, remember that the budget must be divided between the investment in the contest software and everything else that goes into the contest, including ads and the prize.
Hint: Prize matters a lot!
You must delight your customers with a valuable prize: a recently released product, an experience, or knowledge.
I personally love the idea of giving out eBooks. Offering an ebook in exchange for prospects' email addresses is an excellent way to ensure you will not end up getting disqualified leads.
For example, if Lumen5 decided to run a contest offering a trip to Paris, we would end up receiving more emails, but many of these leads would be disqualified. Instead, if we ran an instant-win contest offering an eBook about video marketing, we will certainly receive only qualified leads.
When it comes to leads you must value quality over quantity. So, make sure to offer something unique and relevant as a prize.
Furthermore, an eBook is an excellent way to give your brand some credibility or even to educate your customers about your products.
In the writing process, you should also use the mantra "quality over quantity".
Step 4: "Test-Drive" and Make Your Choice
Now that you made your research and know how to select the right contest software, you are ready to make your choice.
Keep in mind that all the tools listed here are excellent and will get the ball rolling for you. However, you must ensure to go with the best fit to maximize your return.
Also, most software has a free trial period or a free plan. There is no better way to find out if you like the contest software interface and if it supports your needs than trying it yourself. So make sure to take advantage of this before making the investment.
After that, just be ready to welcome new leads, likes, emails, or whatever your goal is.
And remember: the ultimate winner of your contest will always be your own business.
Ready, set, go!