Another ultimate guide, really?" Yes, but hear me out. I'm not sure how many more "definite guides" and "complete lists" the internet can put up with, but you're going to love this one because it's packed with advice from marketing managers who made it to the top.
Marketing managers are essential members of the marketing team. In this post, I'll walk you through what exactly they do on a daily basis and the perks of being one. Then we'll have a look at the skills you need in order to kickstart this career path and the right tools to nail it. I'll end with a few tips for how to reach success in this industry.
Without further mentions, let's dive in.
What Does a Marketing Manager Do?
According to Zip Recruiter, "On a daily basis, marketing managers oversee all marketing campaigns for their company or department. They brainstorm ideas for new campaigns, coordinating with the sales team and other departments to produce effective strategies. A marketing manager monitors current campaigns, ensuring staff meets deadlines and completes necessary tasks. To stay current on marketing trends, they also analyze data on a regular basis to evaluate the success of their marketing efforts and come up with new ideas to improve brand marketing and exposure."
In addition, they may:
Work with graphic designers to help with packaging ideas
Choose the right media outlets for their marketing purposes
Work hand in hand with the finance department to make sure they stick to the budget
Work closely with the sales team to collect relevant leads
Prepare sales and advertising contracts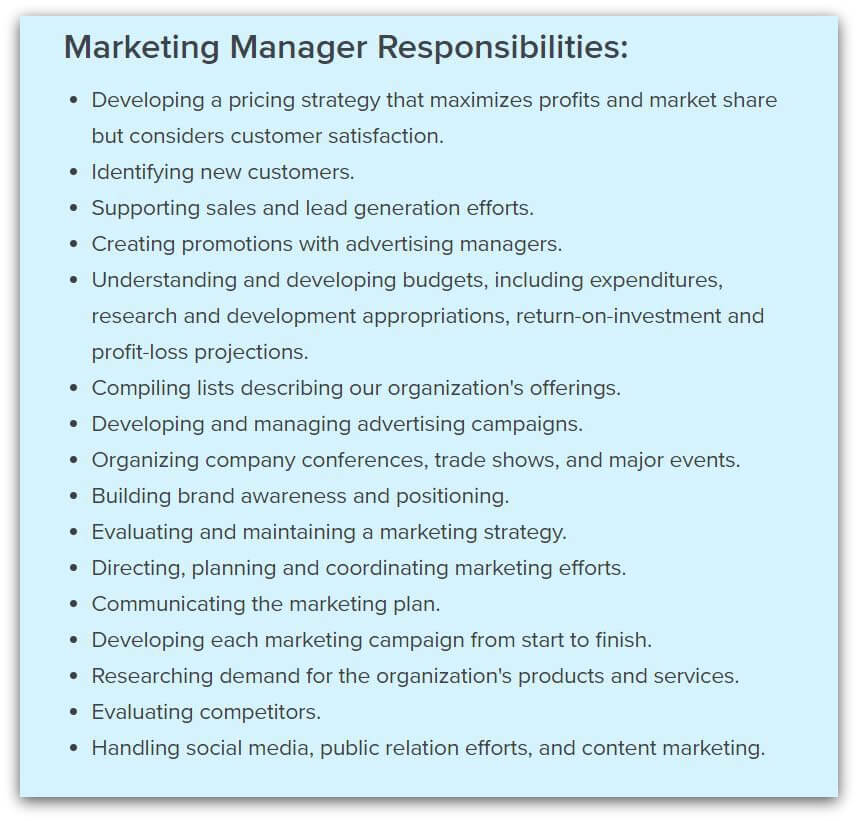 As you can see, marketing managers have a lot on their plates.
They focus their work on collaborating, outsourcing and managing and they should understand all aspects of marketing.
Why become a marketing manager?
For several reasons---I named five.
#1 Fab Job Outlook
Overall employment of marketing managers is projected to grow 10% from 2016 to 2026, faster than the average for all occupations, according to The Bureau of Labor Statistics. With companies looking to highlight their brands in a jammed market, the demand for talented marketing managers is on the rise.
#2 Nice Money
Marketing manager ranks No. 45 in U.S. News and World Report's list of The 100 Best Jobs and No. 14 in its list of Best-Paying Jobs.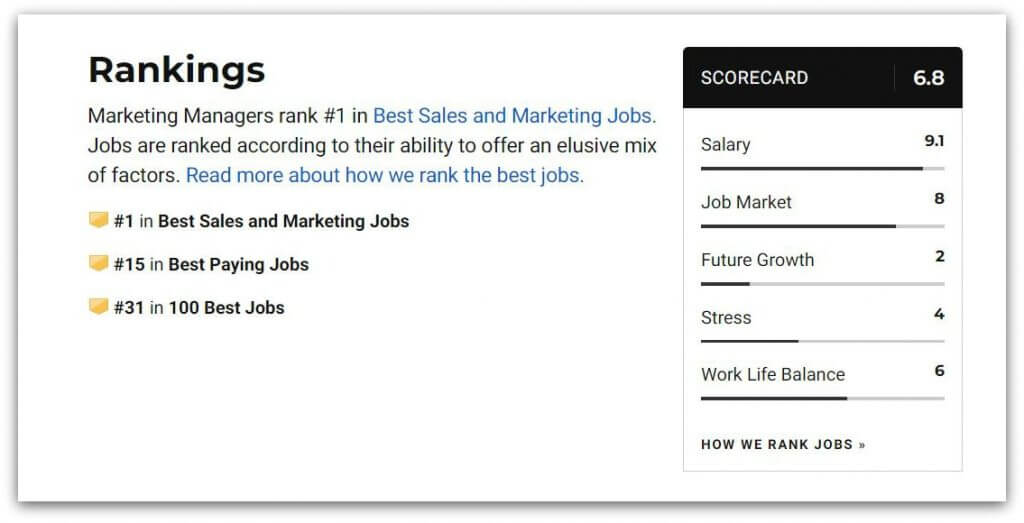 According to Glassdoor, the average marketing manager salary is $81,078 in the United States.
#3 Flexibility
A marketing manager is one of those lucky people who can choose to freelance or work part‐time---and all you need is an Internet connection. Finding remote marketing gigs has never been easier.
#4 Quick Career Progression
There are no cutting corners in marketing. Results are not just measurable, but also rewarding. As long as you meet your KPIs and do an excellent job overall, you can raise your salary and, why not, have a share in your company.
#5 Transferrable Skills
Here's the beauty of this career: marketing manager skills are useful for almost any related job. Transferable skills, according to HR Agency Robert Walters include:
Communication: understanding verbal instructions, empathy, speaking effectively, persuasiveness, assertiveness, information sharing, networking, customer focus
Planning and organization: goal setting, planning, managing work, managing others
Technology: computer literacy, experience with new technologies and marketing techniques
Initiative and enterprise: initiative, self-sufficiency, business acumen, creativity and innovation
Let's have a closer look at marketing management skills.
What Skills do Marketing Managers Have?
There are several skills marketing managers bring to the table. But the rule of thumb is they all must have a clear insight into the entire marketing landscape.
Generalist marketers (also called T-Shaped marketers) have the following set of skills, according to Ahrefs: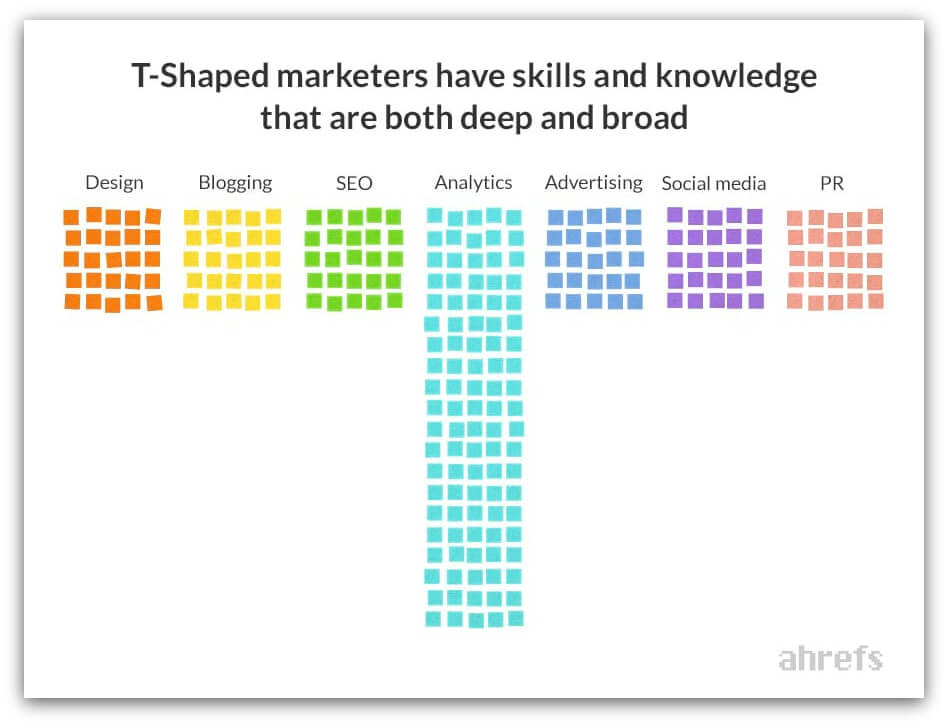 However, some skills are non‐negotiable. Here are ten of them:
#1 Ability to Execute
According to Kevan Lee, the Director of Marketing @ Buffer, the ability to execute projects is crucial.
"Has the person shown a history of executing well on a given strategy or project? Do they deliver on time? Do they deliver a high quality of work? At the marketing manager level, you're expected to drive results with some strategic support (from a marketing director, VP, or C‐level teammate, usually). Being able to execute on a plan is one of the most important things you can do."
#2 Empathy
Being a great marketing manager is all about how much empathy you have for others. A marketing manager must work well with others---whether it's your teammates or people from other departments.
"Empathy is important for the personal relationships you build with your teammates via 1:1s, coaching, mentoring, etc. There are lots of different interpersonal skills a marketing manager can have. If they don't have empathy, then the other skills won't really matter. Empathy for your teammates---seeing things from their perspective---is huge", says Kevan.
#3 Listening
Shalyn Dever, the CEO of Chatter Buzz won't hire any marketing manager who doesn't know how to listen to customers' needs.
"As digital marketers, our ability to promote our services through words, images, video and social media is essential. Digital marketing also provides an opportunity for its specialists to listen to various groups of people, from clients to consumers, in new ways. Through social media and analytical tools, we can listen to our consumers' thoughts on a product, relevant issue or our own services. When I hire a marketer, I'll see if they've sought to listen to consumer and client needs and create a solution from their own observations or insights."
#4 Fast Learner
Marketing is a fast-paced industry; you have to stay on top of the trends. Rod Austin, the Director of Marketing @ Pagely highlights:
"The digital marketing landscape evolves constantly, and hiring a person that can adapt to those changes (and industry changes) is critical, as that's not an easy skill to pick up later in life."
#5 Analytical
To truly have a firm grasp on how to channel marketing efforts, a marketing manager needs to run the numbers. For Eli Schwartz, the Director of Marketing @ SurveyMonkey, this is crucial.
"Any marketing manager that I hire needs to have a strong mix of creativity and analytical abilities. I need someone that can truly understand data and then use that knowledge to develop creative marketing strategies."
Rod backs Eli up:
"You want to find someone who makes marketing decisions based on measurable numbers, not intuition."
#6. Content Marketing
The ability to create and curate content is a must for any marketing manager. They need to know all about educating their audience through valuable content.
#7 Social Media Marketing
"A new digital marketing hire should be well-versed in paid social media advertising, especially through Facebook or a similar social platform that our company uses regularly. They need to be able to understand and implement Facebook analytics and insights, create "lookalike" and custom audiences, experiment and test creative campaign and images, and be secure in their knowledge of the overall social media landscape. There are many budget-saving opportunities within the social media advertising space, so we want to make sure that our digital marketing talent knows the ins and outs of this popular and easy-to-implement marketing space," says Miles Jennings, CEO @ Recruiter.com.
Need help with social media? Lumen5 empowers you to create thumb-stopping social media content within minutes. Sign up today.
#8 Sales
Here's what Mark Cenicola, the CEO of BannerView.com has to say about sales skills:
"We've hired many digital marketers over the years, both outsourced and in-house. What we've found is that people who have sold successfully are much better marketers. They know how to engage with people and turn them into sales opportunities. While your digital marketers may not be closing deals directly, they need to know how to sell or they'll be wasting your valuable marketing dollars without generating qualified lead opportunities for your sales team."
#9 Storytelling
We are wired to connect with powerful stories. According to One Spot's infographic on The Science of Storytelling, 92% of consumers want brands to make ads that feel like a story.
"Digital media is a copy- and visual-driven medium unlike any other before it. Our social heart is won over (or double clicked on) by copy that is relevant and visuals that pull on our emotional strings. The native understanding and ability to manipulate those two elements is critical in today's digital marketing landscape," says Alex Frias, CEO at Track Marketing Group.
#10 Design
You don't have to be graphic designers---but you need to have an eye for good, professional design. Tools like Canva are a huge help for non-designers as well as professionals who want to create beautiful layouts for their campaigns in no time.
In this day and age, catchy images, well‐designed graphics and compelling videos rock.
These skills will come in handy for any marketing manager who wants to deliver outstanding results.
How to Become a Marketing Manager
There are several steps to get started as a marketing manager. There's not one, linear way all marketing managers take.
If you're wondering what type of degrees you need to take, here's Dan McGaw's opinion---the CMO @ Effin Amazing:
Experience by far trumps education.
So instead of worrying that you spent precious years in vain, focus on getting some experience and building your credibility. And if you need to craft the perfect marketing manager resume, Novo has a brilliant resource to help you.
Here's how:
#1. Enroll in Online Courses
Make sure you pick a well-rounded education program that includes every marketing aspect from tools, SEO, content marketing, email marketing, and more. I picked some below, but your options are endless.
With online learning, you can be the master of your own education.
#2. Follow Top Marketing Blogs and Podcasts
To be a marketing manager who thrives in the marketing world, you'll have to prioritize continual learning. Reding related blogs and listening to podcasts with the best of the industry is not just convenient, but also free. Here is a list of marketing podcasts to listen to in 2019:
And some popular blogs to read and get juicy marketing insights from:
#3. Do Internships & Volunteer Work
When a company is looking to hire a marketing manager, they often want someone with experience.

Newbies, don't despair. Internships and volunteer work can all qualify as experience for a new position. If it worked for Dan McGaw, the CMO @ Effin Amazing, it will work for you.
"To become a marketing manager, the first place you should start is making sure you are marketing yourself correctly. This will not only give you relevant experience in marketing but will bolster you are someone who knows their shit. I would also recommend volunteering in marketing positions for non‐profits. I used this tactic to build my experience and others trust in my skills weeks."
#4. Start From the Bottom (and Work Your Way Up)
Sometimes, landing a top-paid marketing manager job right out of college can be impossible---even when you have experience under your belt. Many marketing managers started with lower, related positions, like marketing assistants or sales representatives. These jobs can help you get some of the precious skills you'll need moving forward.
#5. Join Marketing Associations
The benefits of joining marketing associations are endless.
For starters, you can stay on top of the current marketing trends. Second, it's a great way to network with other professionals in the industry.
Some of the most popular associations in the U.S.A.:
Whether you decide to work for a regular company or freelance, be consistent and don't just dip your toes in the water. We gathered some tips to make sure you're on the right track.
Tips to be a Successful Marketing Manager
Know Your Brands Inside-Out
If your plan is to turn yourself into a rockstar marketing manager, the following tips can help you out.
Here's some advice from John Lincoln, the co-founder and CEO of Ignite Visibility:
Know the company's mission statement and make sure to define all your initiatives with an eye towards fulfilling that mission.
Take a look at the brand's history. Which of its past marketing strategies has been successful? More importantly, which ones haven't been successful?
Know the company's sales cycle.
Look at the existing marketing channels the company is using. Where is the company lacking in getting out its marketing message?
Consider the tools you have available. How can you use those tools to help the brand achieve greater success?
Keep a 'Consumers Come First' Mentality
Another thing that Lincoln insists on is putting the target audience first. To do so, the marketing manager needs to know his/her customers.
What does your target audience want?
What are their struggles?
How can your product/service solve their problems?
Lincoln's pro-tip: "if you really want to know your customers, handle support calls for a little while. Jump on a support line and let callers tell you what's right and wrong with your company. It's possible you'll learn more by interacting with customers than with all the market research in the world."
Keep Your Eyes on the Competition
"One of the smartest things you can do as a marketing manager is to get to know those competitors very well," suggests Lincoln.
What are other companies doing that is working?
Are their strategies more successful than what your company is currently doing?
"Keep in mind you should try to understand everything your competitors are doing to close sales," adds Lincoln. This way you can learn how to do it better.
Test Everything
In the past years, we've seen many brands that had to recall some of their products for not complying with regulatory standards.
You don't want to go there. Marketing is all about testing.
Learn to Love Data
Times have changed. Thanks to the revolution in data mining and analysis, a marketing manager can better understand consumer behavior and insights and interpret the data to match the offer with the demand.
Whatever you do, make sure you use it wisely.
Focus on Brand Consistency
With branding, it's easy to slip into a different voice. It's a marketing manager's job to know every branding guideline and to make sure the rest of the team sticks to them. Brand inconsistency creates confusion among customers and ruins long-term branding plans. A great resource to learn more about branding is Vengage's article on branding statistics.
Stay True to Your Brand
A marketing manager makes a great brand ambassador. In other words, you should embody the ideals of a brand.
What does this mean?
Well, it means that if your brand is built on values like sustainable living, then you better recycle.
Trust in the Power of Feedback
There's nothing better than real customer feedback. As a brand grows, the feedback we receive shows if our marketing efforts are going in the right direction.
Marketing managers should be on top of a brand's online reviews, social media comments, and email customer surveys.
Keep Revisiting Customer Profiles
Just because your product/service is doing well on the market doesn't mean you should abandon the customer profile you once created. In fact, you should stay alert because customer profiles change as the business evolves.
Remember, you want your marketing plan to be current.
Best Tools for A Marketing Manager
Any marketing manager out there will tell you that tools play a huge role in performing this job. Since new tools and software are constantly being introduced to the landscape, they also need to stay on top of them.
"There's an app for that" is a marketing manager's favorite phrase.
Here's my selection of tools every marketing manager should be familiar with:
Audio Visual Design
Every marketing manager needs some basic design skills. What makes tools like Canva unique is its super easy to use interface, even for those with no graphic design knowledge.
But it's not just about creating beautiful photos. Video is the present and an important part of digital marketing.
Lumen5 is a video maker that uses AI to turn text into video marketing content in minutes. You just enter a blog post or RSS feed and Lumen5 will help you summarize the text while matching each scene with relevant videos and photos. Easy, peasy.
Analytics
We already talked about how analyzing and interpreting data is essential to a brand's success.
I can't see how a marketing manager can make it without Google Analytics. This platform gives you the tools you need to better understand your customers, measures your advertising ROI as well as tracks your Flash, video, and social networking sites and applications. It's definitely a 'must' tool to add to your collection.
Automation
Most marketing managers have a long to-do list. The answer to freeing up their time is marketing automation. Whether it's sending emails or scheduling lead nurturing campaigns, automation tools like HubSpot, ActiveCampaign, Zapier, InfusionSoft and Marketo (to name a few), help with executing marketing tasks in a more streamlined way.
Content Marketing Tools
There are several fab content marketing tools on the market. Take WordPress, for example. It offers a crowd of opportunities to reach the highest visibility for the site you're promoting. For editorial calendar planning, try out Trello. And for editing and proofreading your work, Grammarly is your best friend.
Let's check out the other tools a marketing manager can't live without.
SEO
Whether it's link building, keyword research, rank tracking, content optimization and backlink analysis, a marketing manager uses SEO tools. The most popular ones are:
Email Marketing
Mailchimp is the leader of email marketing software at this stage. It's an all-in-one marketing platform that helps users stay in touch with their audience, create integrated campaigns and turn data into insights.
Social Media Marketing
According to Ahrfs, "The most important social media marketing tool in your arsenal is your social media scheduling tool." Thanks to it, marketing managers can craft the perfect post for each social network and drive meaningful engagement and growth for their brand. The ones we recommend are:
The other types of social media marketing tools Ahrefs recommends are:
Social media influencer marketing (i.e. BuzzSumo)
Social media monitoring (i.e. Mention)
Social media ad management (i.e. Adespresso)
Social media analytics (i.e. BuzzSumo)
URL shortener tools (i.e. Rebrandly)
Social media amplification (i.e. Quuu)
We tried to make this guide helpful for anyone who's looking to get started as a marketing manager and test the waters.
Over to You
A marketing manager is the glue that holds the entire marketing team together. "In short, they must be part business analyst, part consumer analyst, part psychologist, part creative director, and part accountant."
If you think about it, it's a fun and rewarding job and you could be taking a product or service to a new level. Ready to jump on the bandwagon?