Become a Better Content Creator with These 12 Tools
A content creator is a special breed. It takes patience, energy, and focus to create that piece of content worth sharing on a blog, social media or in other formats. The good news is once the content is created, it is easy to repurpose it for other channels or into different types of media.
The problem is that many people are not sure what type of content they should be creating, what tools to use, and even where to start with the content creation process.
Here's where I can help –
There are many tools on the market that are meant to level-up your skills as a content creator. As a content creator, I've tried many of them and listed my favorite ones here.
Top 3 Creation Tools for a Content Creator
When it comes to content creation tools, you need to set the bar high. The reason is content is the baseline for your brand. In short, it's critical to define the perception of your product and service. This content often gets used for homepages, ads, and even blog post images.
1. Lumen5
Video content is something that is widely shared and easy to make with Lumen5. The Lumen5 content creator is considered one of the world's smartest video creators.
How does it work? You plug in text, then the Lumen5 AI will summarize the content, finding media for each section to create a video that's relevant to the content.
The features include:
Branding options allowing for logos to be uploaded and brand colors to be used in the video
Three aspect ratio choices to choose from so these can easily be shared on social media platforms
Three video resolutions to choose from
Hundreds of housands of images, video and audio files to choose from to insert into the video
There is a free option as well as several paid plans to choose from, all based on how many videos you plan on making.
Canva is a graphic design program. While you may be creating content, remember that having an eye-catching graphic is one of the ways to snag attention to showcase your message. And Canva makes this easy.
The features of this include:
Get access to thousands of free designs ready for you to plug your own pictures or logos into
Thousands of font choices
Ability to make numerous sizes based on where these will be used from the front cover of a book to a post on social media
Free images to use
They do offer a free version, though the paid version gives more access to their library of over 50,000 templates and other features like collaboration. Moreover, you can also print any of your designs on-demand.
3. Webflow
Webflow is the best tool for visual web design and you can pair it with hosting and a custom content management system. What I love about – it's perfect for content creators as you can build websites visually without using code. This includes adding features like payments and even a simple backend database in minutes.
No longer is website design a thing for just designers, now it's for content creators as well.
Top 3 Audio and Text Tools for a Content Creator
This is a tool that can be used anywhere, not just with your document software. It can be used while writing emails, posting to social media, writing a book, and even just typing out a tweet while online.
They have a Chrome extension that you can use with your web browser and it will look for any spelling or grammar mistakes that you make. While every content creator likes to think that they are doing it right, you would be surprised at just how many mistakes Grammarly may find when looking at your work. Even after seven years of writing, I still use it.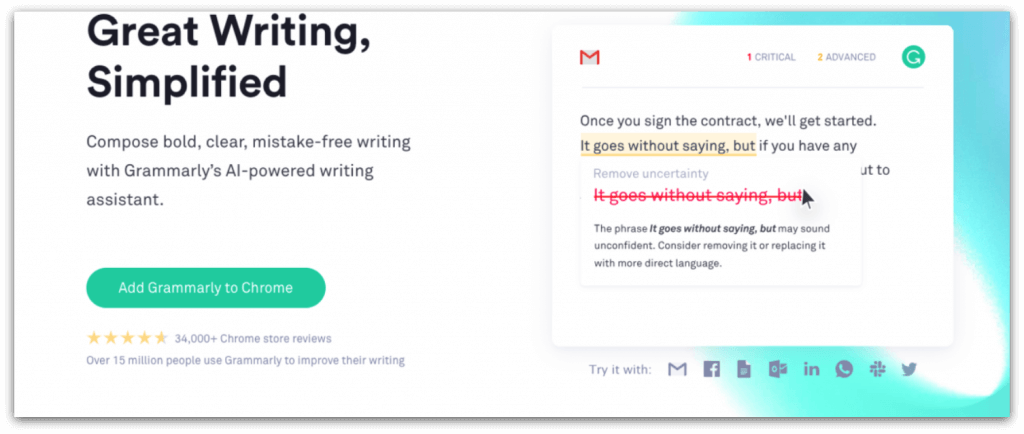 This is a free plugin and a must-have for every content creator, even those who feel that they are wordsmiths as everyone makes a mistake now and then.
I use Descript to turn all my audio recording into text. This is especially helpful when I'm interviewing people for blog posts or on podcasts and don't want to type on my laptop for hours. It only takes a few minutes to translate an hour of audio into text – that's impressive. Descript gives your hands a much-needed rest while automating your workflow.
Descript starts free for 30 minutes of audio translation, then works on a subscription. If you meet your subscription audio transcription cap, then you have to pay per a minute, which is still relatively inexpensive.
The biggest part of a blog or article is having an attention-grabbing headline. In fact, if the headline is not that great, don't expect people to read.
This is where CoSchedule can help! The Headline Analyzer tool looks at:
The headline type
The character count
The word count
Shows insights based on the words and keywords in the title
From this information, you have a better understanding of what is going to work and what is not going to work. It has easily become a go-to tool for content creators who want their work seen across the web.
Top 3 Organization Tools for a Content Creator
This is a project management program that allows you to keep things straight. Which, for those busy content creators out there, can be a great way to ensure that everything gets done!
Trello allows you to:
Organize boards however you want. For example: writing, editing, ideas, etc
You can invite other people to view the board such as those who may work with you, or even clients you may be working with
It is meant to increase productivity, since everything is right at your fingertips
Easy to use and straightforward
With Trello you are going to find that your time is well accounted for, and sometimes the biggest issue for content creators is that they find themselves getting distracted. It can also be a great way to list your ideas for future content and keep this well-organized.
Airtable is a free way to organize database records. I like to refer to it as Google Sheets on steroids. It works as a relational database as well where it can link related records and data enabling users to directly access the records in one database from another database and vice versa.
With Airtable, you can implement different types of records: texts, attachments, checkboxes, photos, long notes, barcodes, and more. Furthermore, Airtable allows users to share their records and databases with the other members of their team or organization.
If you're a content creator, you can use Airtable to manage your entire team and create a content calendar schedule as I do. It's well worth it to organize your thoughts and keep yourself in check.
Here's an example video production template using Airtable:
With hundreds of other templates to help you with content production, you already have a head start.
This is a web-based tool that is meant to ensure that what you write or what video your produce is SEO friendly and keyword optimized. Moreover, it's great for discovering backlinking opportunities. There is both a free trial and a paid version to get the most out of this tool.
I used this tool to learn that in B2C marketing, a template's page is often the best page to acquire new customers. Notice how with Wix and Canva, the template page is either the third or fourth most-visited page.
Wix
Canva
It's where visitors get the aha moment that says, "Hey, this can be easy." As a result, they click the template and plug it into your software to get started.
Top 3 Research Tools for a Content Creator
A big part of any content creation is ensuring that this content is something that is not only going to deliver value but can also be found. Buzzsumo is the online tool that helps you to do this!
There are several big brands that are using this tool, and it can be helpful to any content creator out there. With this tool you can:
See topics that have gone viral
See what topics people are sharing
See what topics people are talking about across the web
Ultimately help to plan your content strategy
When you know more about what content is being produced, you have a better idea of unanswered questions or even topics that you can expand upon for your readers.
This is a free tool that is perfect for the writer who may be suffering writers block to determine what they should be writing about! How does it work?
It allows you to enter in a keyword, hopefully one that is imperative to what you create content about, then suggests ideas related to this keyword. With these suggestions, you can easily start to write.
As a bonus, this tool also can analyze your headline, giving you definitive information about what you may be missing and why it is important to generate interest. Remember, you cannot underestimate the value of a gripping headline.
Almost everyone who is in the business of content creation has heard of Copyscape, as it has been around for years. This is a plagiarism checker that is thorough and effective.
For those who create content routinely, they will even find that it can tell you where the content may be being used that you have created. Allowing you to take control of just what is happening to your content.
This is a must-have for content creators that are outsourcing their content or even guest blogging at websites.
Additional Tips for Success as a Content Creator
Using the right tools can make all the difference when it comes to creating content. However, here are some additional tips that can help with having success when creating content:
Improve your copywriting by taking courses and reading books on copywriting, then most importantly, practicing.
Take time each day to produce content, even if you don't use it, practice makes perfect.
Be sure that you are paying attention to what is working in your field. What works now may not be what works six months from now.
Let your content show personal experience. This is something that most people are going to love, and it can help get your content seen by more people.
Content created should always be something that will be informative or entertaining.
Make it easy for your content to be shared via social media feeds, as this is where most people today build their audience.
Keywords and SEO are a must when it comes to creating content, be sure that you are up to date on the latest ways to use these.
Be sure to reference other credible sources, as this gives credibility to your writing.
Have a regular schedule for when you release new content to the market so that your readers are always tuning in.
Remember your purpose for content creation, as this is in many different fields including marketing.
Embrace the Journey
Content creation is a journey and it can be wonderful. When you add in the various tools out there, you can make the journey easier and make what you write really stand out to readers.