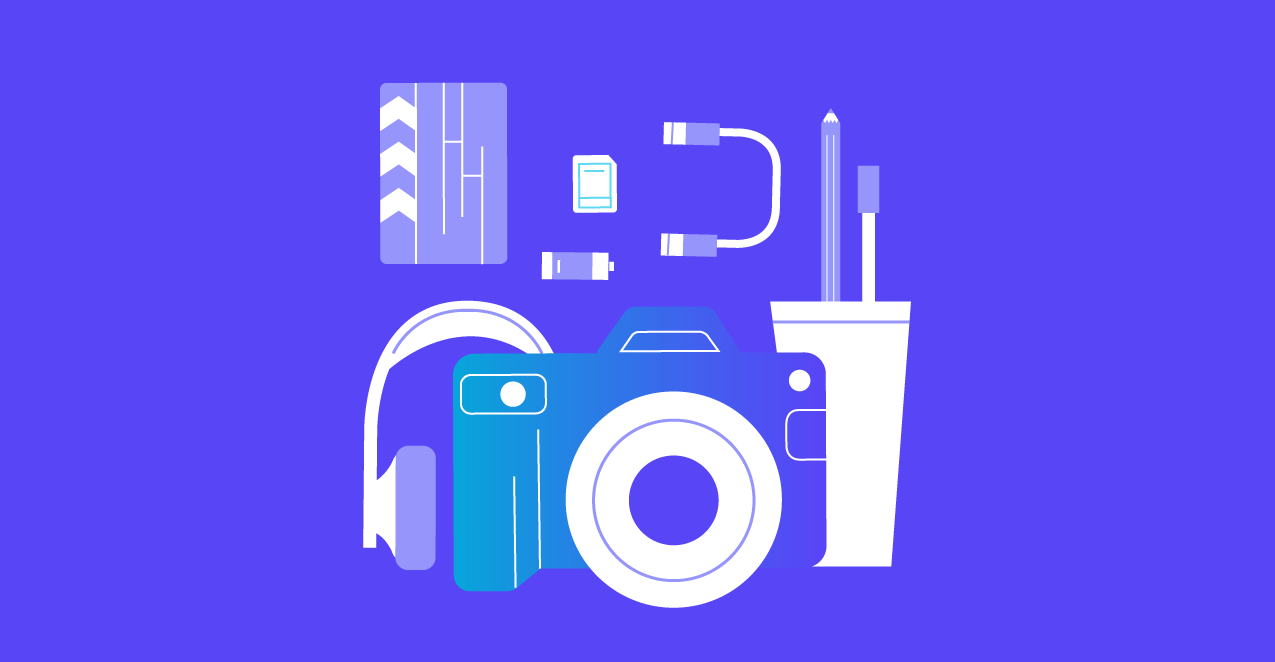 Over the past decade, video has exploded as a rich, multimedia marketing format that enables businesses, brands, and creatives to share their message and tell a story. 
Businesses across the globe utilize creative video marketing to help grow and expand their operations. In fact, according to our original research, a massive 85.5% of creators plan on using video in their business strategy, with social media videos, content marketing videos, and explainer videos being the most popular video types. 
We also found that video hits every spot on the marketing funnel — from increasing brand awareness at the top-of-the-funnel to lead generation at the middle stage and helping convert at the bottom of the funnel.  
The benefits of video for a business are well documented. The rich, multisensory medium helps create greater social engagement, improves conversion rates, and drives more traffic to your website by enhancing your search engine optimization efforts. 
Creating video content for a business or a one-off creative project shouldn't cost the earth. We believe that video creation should be simple, fast, and effective. That's why we created Lumen5. 
Lumen5 is an online video maker powered by AI and designed for businesses, brands, and creatives. We empower over 700,000 creators worldwide to create thumb-stopping video content for campaigns, projects, and internal communications — in under five minutes. We'll show you how. 
To create an engaging video in under five minutes, first, you need to sign up or log in to Lumen5.
Our Community Plan is completely free and will enable you to create three videos per month with a Lumen5 branded outro. Want your video content to be Lumen5 logo-free? Check out our Creator Plan to unlock ten videos per month and no watermark.
Step One: What type of video do you want to create?
Once you've signed in, you'll be presented with the video creation page. This is your jumping-off point. Select the template that matches your video idea.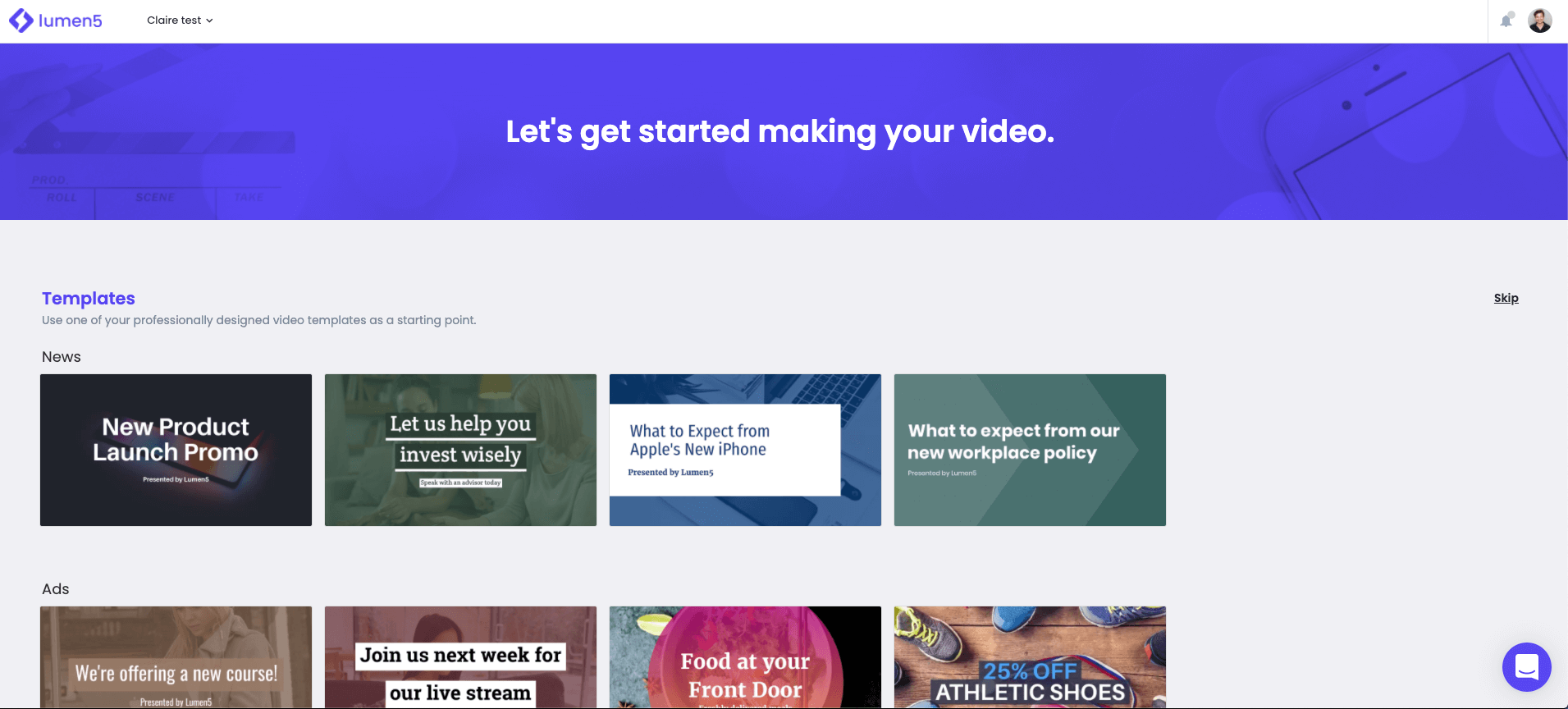 Not sure what you need to create? Don't want to use a template? No worries — just hit skip on the right-hand side of your screen; we'll select a template for you and take you to the next page. Note that once we've chosen your template for you, you can't change this once you're in the creator. 
Step Two: What format does your video need to be? 
Choose the format for your video. We've listed the more popular formats, so feel free to browse until you find the one you want.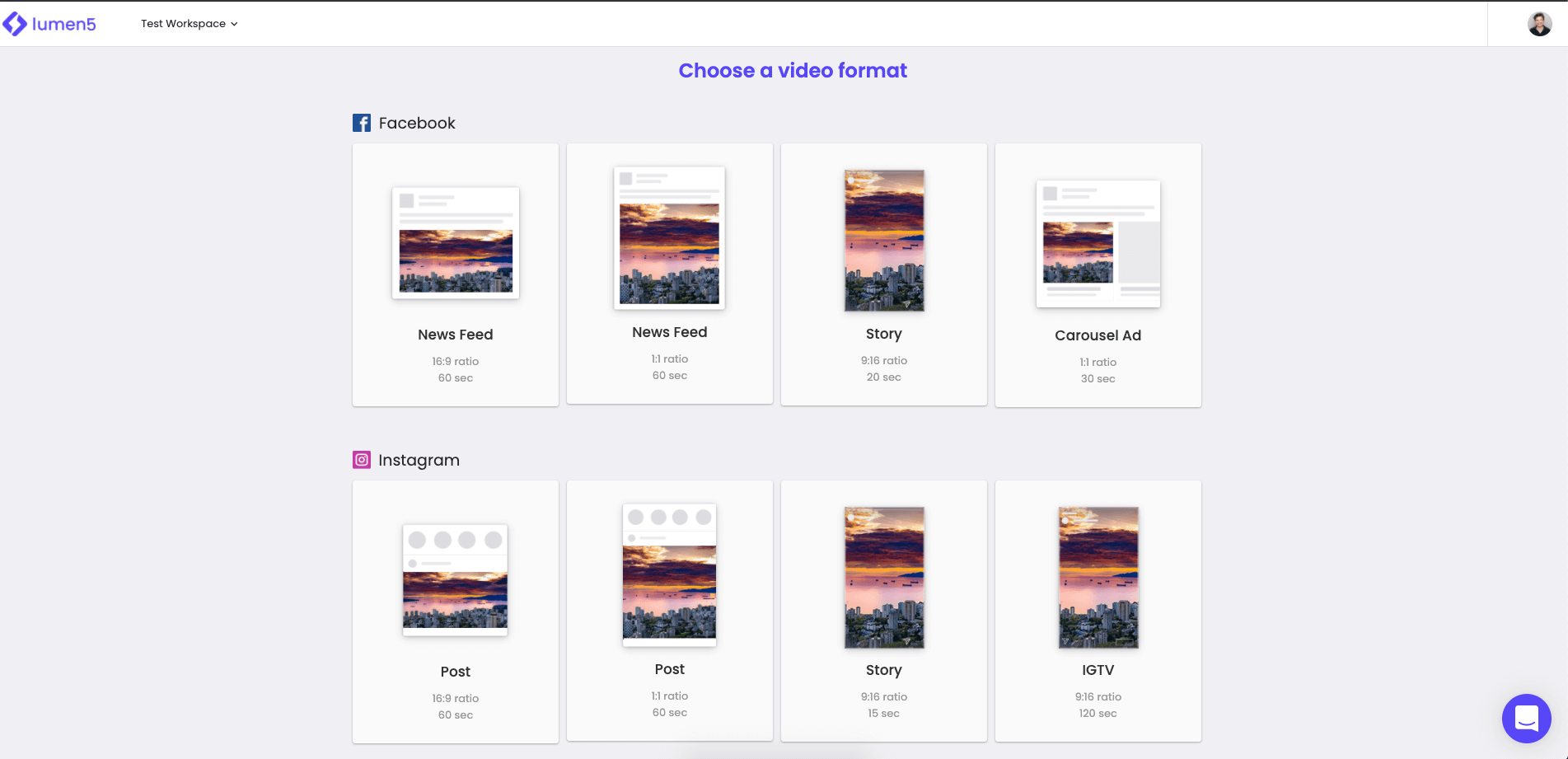 Step Three: Create your video
Welcome to the Creator page! You have a couple of options to choose from to kick-start the video creation process. You can either: 
Use a pre-existing URL, for example, a blog post or news article, and import the content into the application. 

Copy and paste your written content into the Story Tab to the left of the screen. 
Your content will appear in the Story Tab to the left of the screen. Feel free to edit this and remove any content that you don't need in your video.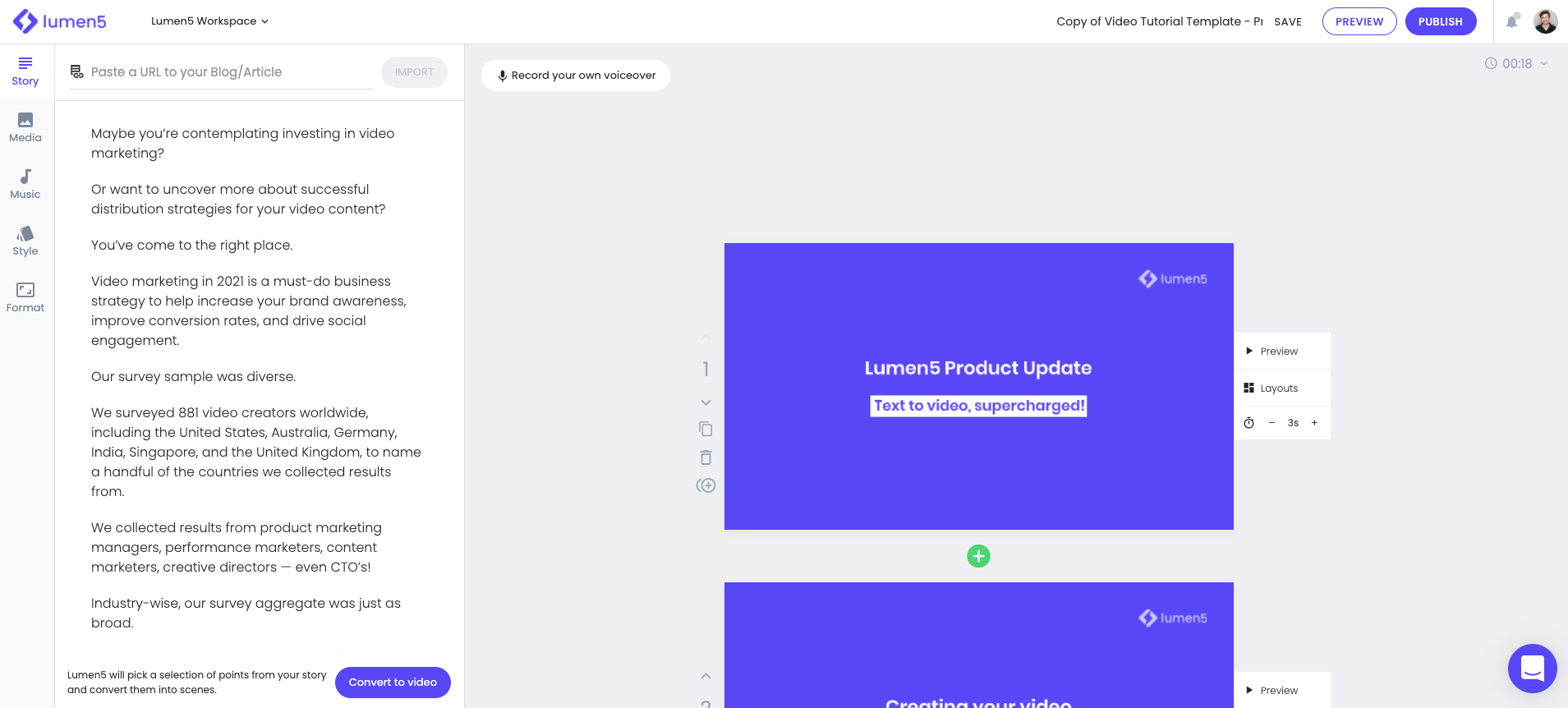 Click the "Convert to Video" button, and Lumen5 automatically provides a solid foundation for you to craft your video on. All you need to do is storyboard and edit the content. 
We've compiled many useful help center articles to support you in crafting the best video for your campaign or project.
If you have any questions, feel free to get in touch!