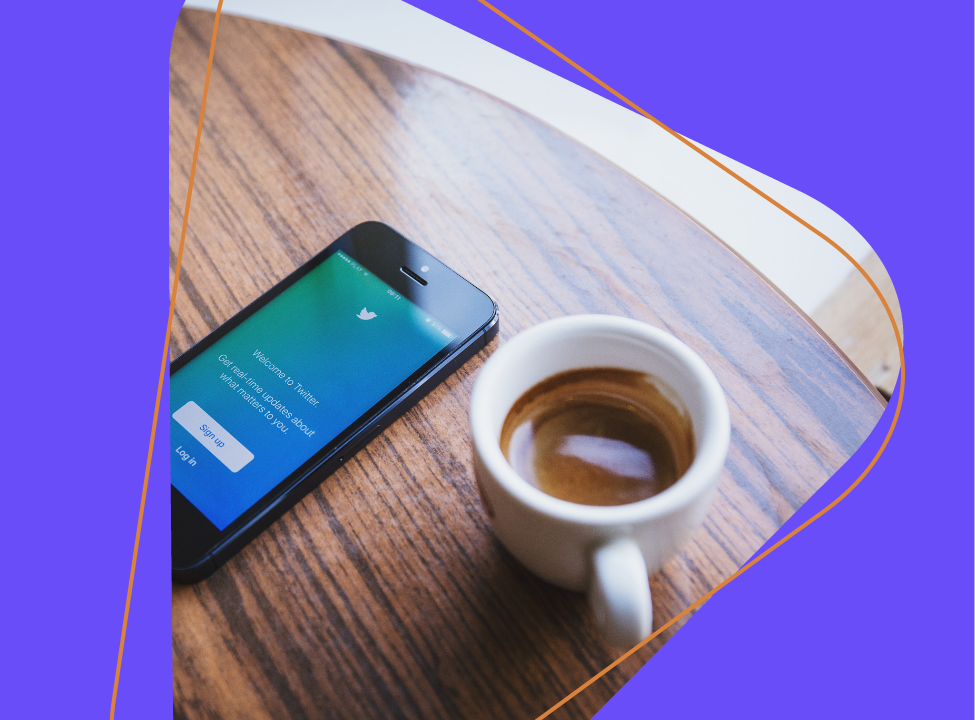 From time to time, we come across some highly creative gems on Twitter that we just can't resist downloading. Saving images is no problem. However, for videos, you may need a reliable twitter video downloader.
Similar to a YouTube downloader or Facebook video downloader, these tools help you download videos straight from your favorite social network
– Twitter.
Whatever the reason, being able to download videos with just a few simple clicks can be really helpful.
This is especially true for a content creator who might need new material every single day to bring their ideas to life.
While there are many tools that let you do that, not all of them are necessarily safe.
To help you out, I've compiled a list of the top free Twitter video downloader tools to try in 2021. I'll take you through all of them and discuss what makes them stand out.
Do note that most of them are almost identical i.e. they do the exact same thing: download Twitter videos. However, the more options you have as backup, the better.
Let's get to it.
Best Free Twitter Video Downloaders in 2021
Here are 15 tried-and-tested (and free) video grabber tools that you can use for Twitter:
1.     Twitter Video Downloader

Let's start the list off with a simple and straightforward tool, with an equally straightforward name – Twitter Video Downloader.
To download Twitter videos using this tool, simply follow these steps:
Copy the URL of the tweet or the video (you can either copy it from the address bar or from the share tweet options below)
Paste the video URL into the field on the main homepage, and click on the download button
The tool will then convert the tweet into the MP4 format, which you can save anywhere on your device.
In addition to videos, the tool also lets you download GIFs.
Twitter Video Downloader is completely safe and downloads videos directly from the Twitter CDN servers.
2.     SaveTweetVid

SaveTweetVid is another popular online video downloader that lets you save Twitter videos on your devices.
The tool should work for all devices, including desktop computers, smartphones, and tablets.
Like Twitter Video Downloader, this tool lets you download videos (as MP4s) and GIFs from Twitter.
Additionally, it lets you convert Twitter videos into MP3 files.
It also works the same way – just copy and paste the video URL into the field and viola – you're all set to download videos.
3.     Download-Twitter-Videos

Download-Twitter-Videos is another tool with a user-friendly interface.
You can open the tool on any web browser on your desktop, mobile phone, or tablet.
As for the video quality, you have the option of selecting between SD and HD (if available).
All in all, it's a solid online Twitter video downloader, and works just like any other video downloader.
4.     Jihosoft 4K Video Downloader

Jihosoft is a renowned provider of data recovery, management, utility, and multimedia tools.
One of their most popular products is the 4K Video Downloader, which lets you save and download Twitter videos.
It also lets you download YouTube videos, as well as, content from over 3,000 other websites/social media platforms.
You can download videos in various resolutions (up to 4K) and formats (MKV, MP4, AVI, etc.).
The free trial version is available for both Windows and Mac, which should be sufficient for most people. In case it's not enough, you can always consider purchasing it for $29.
5.     TWSaver

Next on our list of free Twitter Video Downloaders is TWSaver – a fast and reliable way to download clips.
The tool lets you download videos from Twitter in three resolutions, SD, HD, and UHD (if the option is available).
Simply copy the Tweet link of the video and paste it into the text box that says "Enter Twitter URL" on the homepage.
Once done, click "Download" and select the resolution that you want.
6.     GetMyTweet

GetMyTweet is yet another tool that allows you to convert videos on Twitter into MP4, MP3, and the x-mpegURL formats.
Like most Twitter video downloaders, GetMyTweet works on all devices.
Furthermore, all videos are extracted straight from Twitter's CDN servers, making this tool completely safe.
If you're not using Chrome, the download won't start on its own. For that, you'll need to right-click the button that says "Download Link," select "save as," and save the video in the location of your choice.
7.     GetfVid

GetfVid is a super-fast and lean tool that allows you to download videos from Twitter in a flash.
Additionally, it lets you download videos from Facebook, as well.
Apart from MP4 format, you can also convert videos into MP3 files.
Once you copy and paste the video URL into the given field, click on the download button.
You'll then see a preview of the video with another download button. Click on it to start downloading (again, if you're on another browser, you'll have to do the whole "save as" ritual).
8.     Twitter Video Downloader (Android)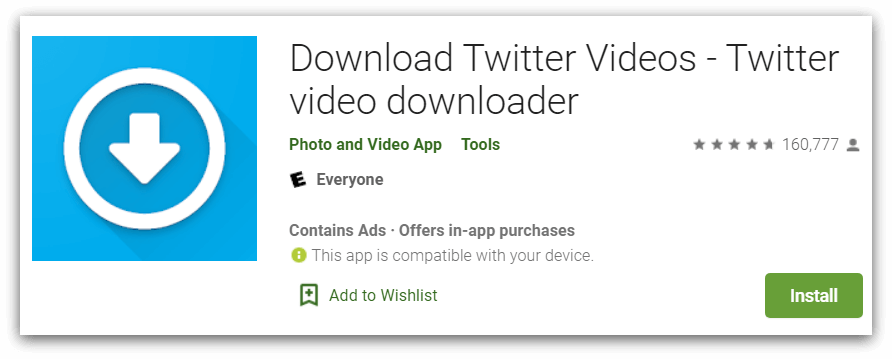 If you're an Android user, and would like to download Twitter videos directly to your mobile phone, this online tool is perfect for you.

The Twitter Video Downloader (for Android) lets you download your favorite videos in various formats (when available).
On top of that, the app comes with built-in sharing capabilities and a native video player.
The best part: it's super-lightweight (only 2.9 MB).
9.     Twitter Media Downloader

If you're a Google Chrome user, you should try out the Twitter Media Downloader extension (or plugin, if you will).
With the help of this tool, you can conveniently download videos without leaving the app/window.
The tool lets you download entire media libraries of accounts. Images and videos are collectively downloaded as one, compressed ZIP file.
10.  +Download 4 Instagram Twitter

If you regularly like to download videos from Twitter and Instagram, try the +Download 4 Instagram Twitter app (for Android).
The app (like the Twitter Video Downloader App) downloads video files directly to your device.
Besides Twitter and Instagram, the application can also download videos from Tumblr.
11.  MyMedia (For Transferring Files Directly to Your iPhone)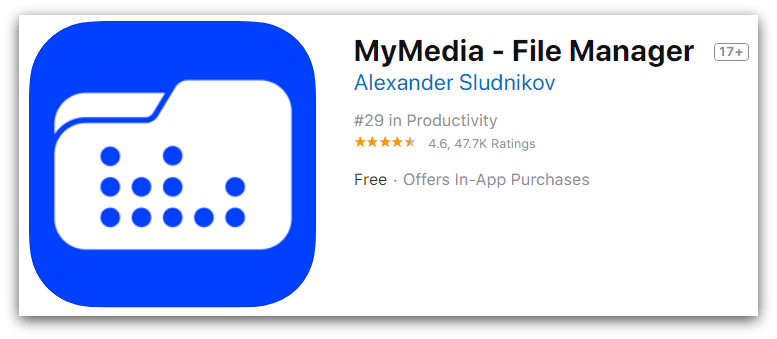 Unlike Android smartphones, downloading Twitter videos directly to your iPhone isn't so easy.
There aren't many apps that let you do that.
The only reliable option is MyMedia – a file manager that lets you handle files on your iPhone with ease.
An important thing to remember here is that MyMedia isn't a video downloader by itself. It only allows you to move your files to your camera roll/storage without any hassle.
To use this tool, download the video using any of the aforementioned Twitter video downloaders on Safari.
The files will be saved on the MyMedia app. From there, you can move the downloaded video to the camera roll.
12.  YBmate

YBmate is another decent alternative to the tools discussed above.
Copy and paste the tweet URL into the given field on the homepage and click "Convert."
With YBmate, you can download videos in 3 resolutions (320p, 480p, and 720p).
13.  KeepDownloading

KeepDownloading is an extensive video downloading tool that supports 7 different websites, including Twitter.
It works smoothly on both desktop and mobile devices.
14.  TWDOWN.net

TWDOWN.net – the Twitter alternative to FBDOWN.net – lets you download videos with just a few clicks.
In addition to MP4 files, you can also convert videos to MP3 files.
Other than that, there's no distinguishing feature of the tool.
15.  sssTwitter

In case none of the above tools work on your device (or are temporarily down), you can use sssTwitter.
The online tool works like all standard video downloaders, and is compatible with every device and browser.
Is it Safe to Download Videos from Twitter?
Here's the short answer: if you know what you're doing.
The first condition for downloading Twitter videos safely is using the right tools.
You can use any of the tools on this list to download video files without worrying about any sort of malware.
Other than that, make sure that you have the permission to download a video in the first place.
You should never download and use someone else's content without their permission.
The only way it's appropriate to download a video or a GIF from Twitter is if you have received explicit permission from the owner (or if the video is no one's property/is free to use).
Ending Note
With your favorite Twitter videos at your disposal, you can now start playing around with them.
Remember, to create awesome video assets, you can always use Lumen5.