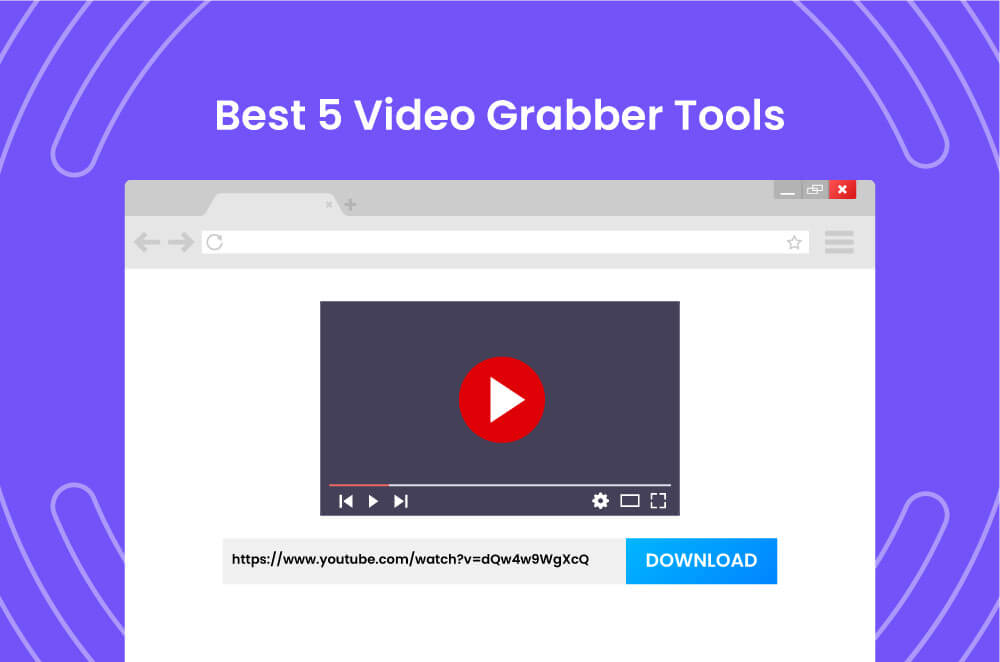 Here's the thing: you found a video online. It's so catchy, you can't stop watching it. On repeat, every day. Now you're thinking, "Oh boy, I really wanna re-watch it when I'm offline. What's the easiest way?" The answer is: you get yourself a video grabber tool.
Using video grabbers is not rocket science. You just have to enter the URL of the video and then download it directly to your device. Once saved, you can watch it anytime.
In this post, I share a comparison of five top video grabber tools that stand out from the crowd to make sure you make the best decision. Plus, I talk about the rise of online videos and why Youtube is such a big deal.
Ready? Steady? Let's go.
What to Look For In a Video Grabber Tool
Before I started downloading online videos, I wish someone had told me not all video grabbing tools are alike. Inspired by Eric Griffith's post for PC Magazine, I've put together a list with some crucial aspects all video grabbers should have:
Must work with YouTube, Facebook, and Vimeo
Have a user-friendly interface
Except for your email address, not collect personal data
No malware, please
Without further mentions, let's see our winners.
Top 5 Video Grabber Tools to Download Online Videos
Here's some word of advice on downloading online content:
Online videos are protected by copyright law. We don't encourage stealing, but we understand that sometimes, we need to have an online video just for ourselves (and not for dissemination). So be careful what and how you download.
Now let's dive in.

This is a multi-lingual top video grabber that does what it says using a simple interface: grabs videos up to 8K and downloads to a variety of formats.
How It Works:
Select a video, copy the video URL and click the Paste link button to get started. Then, choose to download the video or extract its audio. Finally, select the format and choose the resolution (up to 8K). You can download playlists up to 24 videos with the free version while the premium version lets you subscribe to channels.
Pros:
Frequently updated
Grabs entire playlists and channels
Clear download links on the website
Advanced subtitles download option
Multi-thread download technology for faster downloads
No ad traps
Extracts audio to MP3 format
Supports 360° videos
Downloads videos in 3D format
Supports sites such as YouTube, Vimeo, Facebook, and a few others
Cons:
Limits on playlist downloads
No mobile app
User Review:
"4K Video Downloader is at the top of the list whichever site I visit so I gave in and gave it a go. Not only does it allow 4k video downloads and 360-degree videos, but it also allows users to download videos from Vimeo, DailyMotion, and other popular websites. Another added benefit is that it is compatible with Windows, Mac, and Linux." – Arjun Yadav
Pricing: Free basic functions, Standalone License ($15) and Bundle License ($20).
#2. aTube Catcher

A free YouTube video grabber and converter you should keep on hand.
How It Works:
Downloading videos is a simple matter of copying and pasting the URL, choosing the format and clicking 'Download'.
Pros:
Supports several video sharing websites
Built-in screen/sound recorders for grabbing live streaming videos
Clipboard Monitoring function supports downloading multiple videos at once
Integrated burning software to create CDs, DVDs and Blu-ray discs from the downloaded videos
Includes an automatic updater
Excellent format support including WAV, PSP, MPG, VOB, OGG, 3GP, 3G2, MP3, MP2, WMA, WMV, GIF, FLAC, AVI, XVID, MP4, MOV, etc.
Multilanguage option
Cons:
Deceptive adware in the installer
Outdated interface
Only works on Windows
User Review:
"This is a great tool to use to download videos off YouTube so you can view them on your computer offline or on your phone at a later time. I made a playlist at home with my favorite songs and then was able to listen to these songs on my way to work. This tool not only works for songs from YouTube but also from many popular websites like MetaCafe and Dailymotion. " – Anthony Meyer
Pricing: Free

A free, friendly, multi-platform video grabber and converter for YouTube and many other sites.
How It Works:
Step 1: Install ClipGrab
Step 2: Copy the video link
Step 3: Insert the video link in ClipGrab
Step 4: Select download format and quality
Step 5: Grab that clip
Pros:
Supports major video websites
Allows downloading multiple videos simultaneously
Converts downloaded videos into various formats
Has a built-in search feature
Allows you to select the video quality (can download in HD)
It automatically detects links from clipboard
Clean user interface
Clipboard monitoring
Cons:
Bundles adware with the installer
User Review
"Okay, call me weird or whatever but I enjoy watching Super bowl ads when I'm bored. That's why I really wanted to download them from Youtube because that's where I mainly find them. I tried other downloaders but so far this is the one I like the most." – Katherine Valdez
Pricing: Free

The video grabber that lets you download files from a large variety of websites in no time.

How It Works:
You take the video URL, paste it into the app, and it will dig up for all the videos it can detect. You then select the videos you want to download. Boom—done.
Pros:
Supports the most popular streaming sites
Faster video downloads with multi-thread download technology
Multiple video quality (4K, HD included)
Allows downloading multiple videos simultaneously
Automatically detects and downloads files
Set bandwidth limitations
Auto-extract archives
Remote management feature to track downloads while away from the computer
Completes CAPTCHA forms for you
Intuitive and clean interface
Cons:
The installer has adware bundled with it. Select"Custom" installation to skip the adware
Consumes a lot of system resources
User Review:
"I download a ton of programs every week. I'm always looking for ways to increase productivity and get more out of my computer, so I try a lot of different programs. Keeping track of my downloads can be a problem because sometimes my browser hangs up, or the file goes missing, or a paused download refuses to resume. Having this download manager saves me from all of that with the added bonus of being able to set bandwidth limitations, something that is important on my internet plan as anything over a certain amount gets tethered." – Madison Santos
Pricing: Free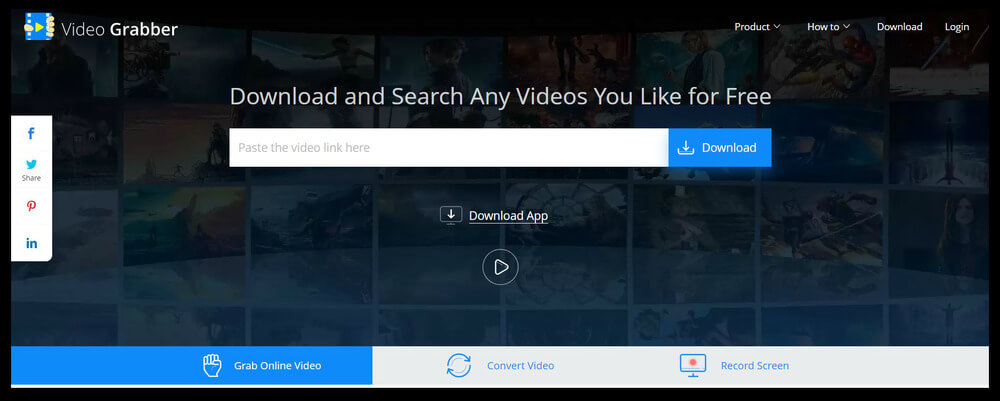 Simple video grabber tool to grab online videos, convert videos or record screen. You have two options: either use the online version or download the app.
How It Works:
Paste the link of the online video to the download bar and it will generate the download links.
Pros:
Useful "how-to" section
No ads
Converts video/audio files for Android, iPad, iPhone, PSP, etc.
Online platform and desktop application
Supports sites like YouTube, Vimeo, Dailymotion, Tubechop, etc
Cons:
Limited formats are available for download: MP4, FLV, 3GP, WMV, WEBM (no mp3)
Unable to download RTMP video and live streaming video
No 1080p or 4k Youtube video downloads
User Review:
" Videograbber.net is a great site for converting videos from Youtube, Facebook, and other places so they are downloadable to your computer or phone. The site also shows you how to get rid of black lines and things that you don't want on your videos." – Paige2
Pricing: Free
Conclusion
After checking out all five options, 4K Video Downloader was the clear winner. However, JDownloader, aTube Catcher and ClipGrab are also viable options. The only one that seems to score lower is VideoGrabber.
Now that you're armed with the proper data to make an informed decision about the best video grabber, let's talk about the rise of online video and how Youtube changed our lives.
Why Video Is the Most Engaging Type of Content
Hubspot's Research on "The Future of Content Marketing" invites us to take a trip down memory lane. "In the mid-'90s, access to the internet changed the way people sought and consumed information."
True story. We used to consume more text, radio and TV content back in the days.
The Internet changed the way people interacted with content. Even with endless options and attention spans shrinking, we pay the closest attention to video content.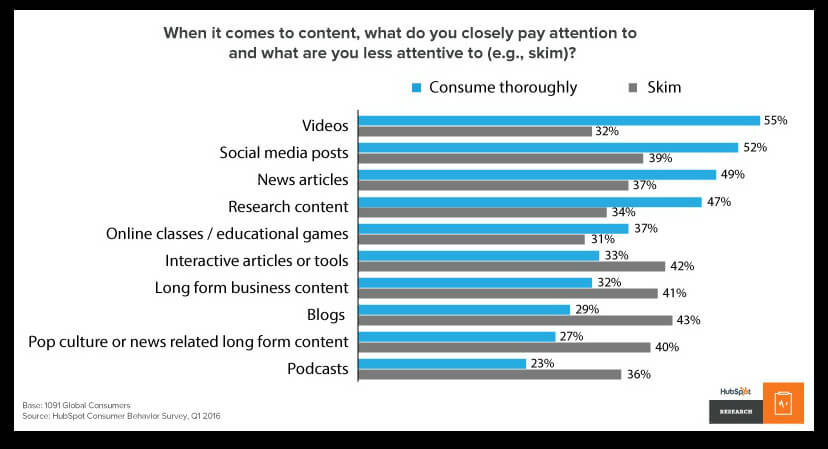 The same research shows that 45% of people watch an hour or more of video per day; plus, 43% of respondents want to see more video content creation moving forward.
According to Google, 50% of people aged 18-34 would stop what they're doing to watch a new video by their favorite YouTube creator.
That said, the volume of online video content is growing exponentially. According to Zipstrr, "video is at the top of the virtual food chain and here is why:
Video combines auditory & visual sense. Our brain loves video because it is programmed to retain visual content better than a page loaded with words.
Video encompasses all content types. A video can include text, music, photographs, links, and even podcasts, which makes video the king of all contents.
Marketers and consumers worship video. Videos make great storytellers. They make information more digestible and easier to understand."
The Rise of Youtube
Since we're talking about the supremacy of online videos, we can't just move forward without mentioning Youtube. As Kim Smith from Brandwatch puts is, "When YouTube first made its way onto the internet, few people realized how many hours of video we'd be watching years later."
"Launched in 2005, YouTube was synonymous with video content long before video marketing became a buzzword. In 2018, a whopping 1.8 billion people flocked to the platform each month," tells Farheen Gani from Zapier. Youtube is currently considered the most popular video hosting site. The reason is it offers some crucial features such as:
An easy-to-use interface
Compatibility with all types of browsers and players, such as Flash and HTML5
Compatibility with mobile devices
Basic analytics tools to measure the impact of your videos
SEO tools to make your videos search-engine friendly
The ability to embed your videos on external websites
Apart from these, what makes YouTube a big player is its relationship with Google, the platform's parent site. After Google purchased YouTube in 2006, it went from being a niche hosting site to a mainstream one. Plus, their search algorithms match each other so that Youtube videos receive first spots in Google search results.
To make sure you're all caught up, we've gathered the most up-to-date facts on Youtube to help you own your place on the platform.
12 Insightful and Fun YouTube Statistics For 2019
Whether you're simply using Youtube to watch your favorite videos, you wanna create your own channel or you're currently managing one: knowledge is power.
And if you're ever looking to create videos for social media that turn heads, Lumen5 is your platform.
Youtube User Stats
1. YouTube is the 2nd most popular social media platform with 1.9bn users.
2. In an average month, 8 out of 10 18-49 year-olds watch YouTube.
3. YouTube reaches more 18-49 year-olds than any broadcast or TV network on mobile.
4. 50% of American internet users aged 75 and overuse YouTube.
Youtube Usage Stats
5. YouTube is the world's second-largest search engine and second most visited site after Google.
6. 400 hours of video are uploaded to YouTube every minute.
7. People watch over 1 billion hours of YouTube videos a day, more than Netflix and Facebook video combined.
8. The first video to hit one million views was a Nike ad featuring Ronaldinho.
9. The most searched term on YouTube is 'despacito', followed by 'bts'.
10. The time people spend watching YouTube on their TV has more than doubled in the last year.
11. YouTube provides almost 50% of all on-demand music.
12. 70% of millennial YouTube users watched a video to learn how to do something new last year.
Over to You
If you need to capture and download online videos, it makes sense to research the right video grabber tool for the job. 
What's your favorite one?