Instagram is the social media bomb, no doubt about it. Keeping up with it can be a daunting job, even for top influencers. The key is to be aware of the ever-changing trends gaining steam. In 2016, the social media platform launched Instagram live video on Instagram Stories. And boy, it worked like magic.
It is no secret that Instagram stories have become trendy in recent years. Nowadays, you can create the perfect Instagram story with the help of artificial intelligence. You can use the Instagram story creator by lumen5, for example, which is completely free and designed to make the perfect video for Instagram stories.
However, broadcasting live has been gaining more and more popularity in recent years. Actually, Instagrammers and brands are now betting on this feature.
A 2017 survey from Livestream and New York Magazine on more than 1000 respondents revealed 80% would rather watch live video from a brand than read a blog, while 82% prefer live video from a brand to social posts.
Instagram Live allows users to post videos in real time. The process is super simple. When you begin streaming, Instagram notifies your followers so they can tune in, watch and leave comments.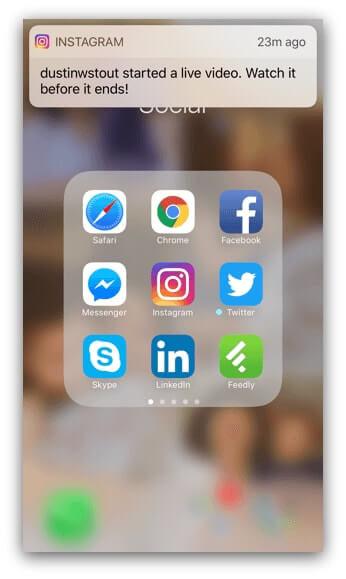 But there's a twist.
Different from Facebook Live, all Instagram live videos disappear from your profile after 24 hours (Houdini-style). Which means you're job is to make the most of them for the time given. You can record one hour long videos---but you already know that will hurt your video marketing success. Keep it short and sweet so your audience doesn't lose interest.
When used right, Instagram's live feature helps users to better engage with followers and promote their brand. Let's see what's in it for you.
The Benefits of Instagram Live Video
Whether you're an individual or a business building their brand, Instagram live allows you to create live broadcasts and connect with your audience in an engaging way.
It makes it easier than ever to interact with your followers, answering their questions and having one-on-one conversations. Hosts can also invite viewers and friends to join them in the broadcast.
And the list goes on:
#1 Transparency
It's game on. Show your followers the 'what you see is what you get' personality they enjoy.
Think about it.
In this day and age, people are constantly looking for authentic interactions. Showing a real part of you makes room for a more personal and honest connection with your followers.
#2 Creating a Sense of Urgency
With the 24-hour timeline, it's an easy performance you should totally take advantage of. Alerting followers you're live and enticing them to tune in boosts engagement.
Whatever you do---make it count.
#3 Better Tracking Your Performance
Everyone can see when someone joins an Instagram live stream and how many people are viewing it. Monitoring your Instagram live videos gives you the advantage to analyze your performance.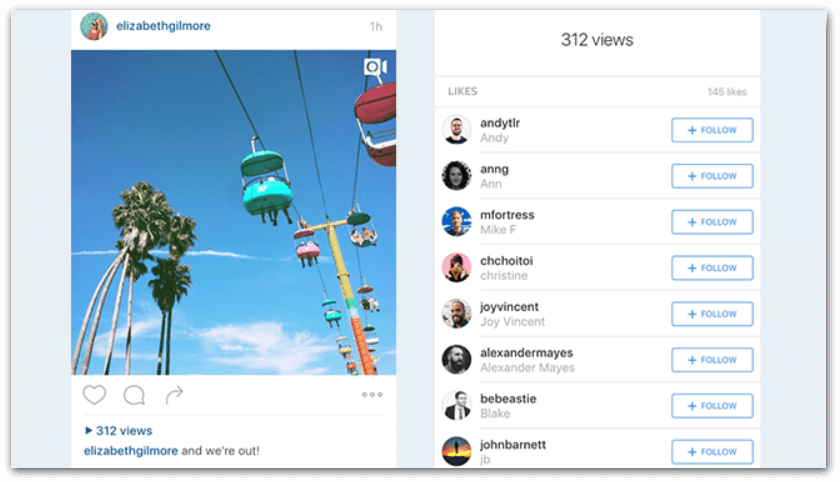 Depending on how big or small your audience, you can see what works and what can be improved. Running the numbers helps you get the best message out to your followers and produce click-worthy videos.
You can see the performance stats at the end of your live video. If you want to save it, you can take a screenshot.
How to Get The Most of Instagram Live Videos
Hosting a crowd-pleasing live video takes a lot of effort. If you want to nail it, you'll have to do it the professional way and give your audience a train of thought to follow.
Here are nine ways to use Instagram Live Videos to get more views.
#1. Promote Your Live Session Beforehand
To get the most out of your Instagram live videos, let your followers know the date and time of your broadcast live in advance. Make sure to write a post about the topic of your live video to create buzz around it.
This way you're maximizing your chances of increasing the number of viewers on board.
This way, when your followers see the "live" sign under your profile photo they will be more willing to join before you tap end.
#2. Stick to a Schedule
Here's the thing with Instagram live video: don't just dip your toe in the water. Yes, the fact that you can go live whenever you want it's great, but practicing social media scheduling is even better. Letting people know about your live broadcast plans will get them started and your views will start climbing.
#3. Give incentives
Followers love free stuff and live videos are perfect for creating some hype.
Here are a few ideas that always work:
A special discount code
Giveaways like products, samples of a new feature, experiences
Shocking or exciting news that could move followers
The chance to enter a contest for a nice prize
Incentives and prizes can go a long way into building your followers' list and promoting your brand.
#4. Rehearse
Instagram live videos can intimidate some users because there's no trial and error. You've got one chance to make it right. This doesn't mean you should be reading off cue cards. Just make sure you know your stuff and rehearse.
The more familiar you are with the video content, the better will turn out.
Once you feel confident about the upcoming live streaming, all you need to do is click the camera icon on your feed or swipe right. And you will be live.
#5. Have a Purpose and Deliver Value
Forget about random broadcasting if you want measurable results. To get more views on your live videos you need to come up with a solid plan.

Think about your purpose and why people should watch your video content. Sprout Social suggests the following ways to deliver value through Instagram Live:
Reveal new products: Build hype for a product release and introduce your latest work.
Q&A sessions: Be human and show followers you care by answering their questions and engaging with them directly.
Ask for feedback: Talk to your audience and find out what you could do better next time.
Provide authoritative tips: Show off your knowledge and insights like Men's Health did below:
Another way to deliver value to your Instagram followers is to post the-usual-but-effective videos. Lumen5's A.I. does it for you by repurposing your existing blog posts into videos for Instagram posts (in under five minutes). Here's how.
#6. Engage with Viewers
Whenever you do Instagram live videos, note the questions coming in. Afterward, you could write a post to respond and show viewers you pay attention to their requests. Or you could arrange a live Q&A session and answer them.
You can even make it a weekly session to make followers come back for more knowledge. Make the most of your live interactions---this is how you build long-term relationships with people who support you.
Keep in mind that if you're using an iPhone or Android, you can tap the button in the bottom right corner to add photos and videos from your camera roll to your live video.
#7. Go Behind the Scenes
Let your customers see the real you and the uniqueness in your brand. Businesses could use it as an opportunity to showcase how your products are made or to give viewers private tours. "The point is to get viewers to know your brand, meet you, get to know you and trust you," points out Monique Danao from SkedSocial.
There's a lot you could do if you are your brand. Let's say you're an author--why not show people how you prepare for a book signing? Give viewers images they've never seen and won't see again unless they come back.
#8. Make Instagram Live Your News Platform
The people of Instagram love to keep up with the latest trends. Using live videos to keep your followers on the loop is an effective way to win their time and attention.
You could even make it your brand-new newsletter.
Whether this means announcing new products or services or simply saying something interesting, make sure you share juicy tidbits that are only available on Instagram Live.
#9 Highlight the Urgency
Don't forget to take advantage of the limited life of Instagram live videos. It's time to make your viewers feel like they can't miss out.
According to Sprout Social, "a great way to boost your viewership is to promise one-time-only promotions while you're building hype for your stream. [...] Offering limited-time-only promo codes is a great way to boost urgency, but there are other options to try too. For instance, if you're working with an influencer, ask them to make a big announcement during a stream."
Additional Tips for Instagram Live Videos
While the above nine tips will definitely help you expand your portfolio of
viewers, don't forget the basics.
Let's dive in.
Make sure you're using the right hashtags. Incorrect hashtags can spell disaster for your Instagram account.
Write appealing video descriptions, but don't disclose too much.
Find out when it's the best time to start live video sessions.
Advertise your next Instagram live broadcast on your other social platforms.
Keep an eye on metrics. Monitor what works and what doesn't if you want to boost your followers' number over time.
Give people what they want. Research and find out the latest video trends to attract as many viewers as possible.
Don't sound too salesy. No viewer is interested in being sold to---they come for the content.
Suggest viewers during your live video to tag friends who may be interested in your content. This stuff is powerful.
After you finish the live session, make sure to tap "Share" on the bottom of the screen to make your video stay on the stories.
It's always a good idea to encourage your followers to share your live video with their friends through direct messages.
When appropriate, use the resources you have: hands-free rewind, face filters, and more.
If you don't want distractions while making your live video you can turn off commenting on your story settings or phone settings. You can also pin comments if you wish.
Don't be afraid to make people laugh. This stuff is even more powerful.
In their struggle to provide organic experiences on social media, platforms like Instagram are doing their best to remove paid likes, followers and viewers. So we don't recommend this move at all.
Over to You
Instagram live positions your content at the top of user's feeds. These tips will help you find the right approach to master that Instagram live stream game and get more views.
The key is to keep audiences engaged and experiment as much as possible to find what works for you. Keep in mind Instagram live videos have a sense of urgency, so do it like there's no tomorrow.