Getting people to watch your videos is one thing, and getting them to click on your links is something else.
However, in order to take full advantage of video marketing and convert your viewers, you have to lead them to the next step of the funnel.
Video marketing is not a complex task if you know what you're doing, and that includes knowing how to add links to your videos.
Why Adding Links to Your Videos is Important
Your videos can serve many different purposes - from promotion to product tests to a simple awareness video. But the links in these videos only serve one purpose – turning viewers into prospects or leads.
These links can lead to other videos, your website, your blog, your product page, etc.
Each link has a unified purpose but achieves a unique goal. In this article, we'll discuss the different ways various platforms allow you to lead viewers from your videos to a targeted page.
How to Add Links to Your YouTube Video
YouTube is a massive search engine, second only to the giant it's owned by, Google. This makes it a go-to platform for video marketing.
In order to convert people and lead them to your desired landing page, YouTube provides you with two options to insert links in your videos.
Adding Links in Video Description
In the description of the video, simply add the full URL of the landing page you want people to visit. You can't hyperlink a specific keyword or use anchor text.
Also, keep in mind that you need to include 'https://' before a URL in order to make it a clickable link.
If your URL is too long, you can use URL shortening techniques, such as branded links, or simply use a tool, like Bitly.
Links in Videos (Cards & End Screen)
Cards are non-intrusive clickable shapes in the corner of your video which, when clicked, show some text that explains the purpose of the link. They can be used to link to your website, store, or other videos.
End screen links appear in the last 10-20 seconds of your video and can link to other videos or easily allow viewers to subscribe to your channel.
To add these in-video links, follow these steps:
Go to your YouTube page's 'Video Manager' and select the video you want to add the link to.
Click on the tab above and select 'Cards'
When you click on the 'Add Cards' button, it will show you the types of cards. Just click the 'Create' button on the one you want.
You'll have to accept the terms and conditions by selecting 'Enable' if you haven't done so already.
Enter the link you want people to be sent to.
You have the option to add an image to the card; either select one from the suggestions or upload it. Make sure the file is squared, under 5MB, and in an acceptable format (.jpg, .png, .gif).
Add the teaser text you want (30 characters), a CTA, and edit the title.
There is a timeline below the video where you can adjust the start time of the card.
Click on 'Create Card"
Done! If you want to edit the cards at any time, follow till step 2 (by going in the Cards tab) and click on the edit button.
Keep in mind that YouTube only lets you insert external links if you're part of their YouTube Partner Program.
How to Add a Link to a Facebook Video
If you've ever wondered how to use video in Facebook marketing, you're probably aware of the fact that Facebook video marketing has grown exponentially over the years.
Currently, there are two ways you can add links to Facebook videos.
Adding Links in Captions
Similar to how links in YouTube descriptions work, you can insert your links in the captions of your video posts.
Some people prefer sharing the link in the comments section as it appears with a thumbnail (a visually pleasing graphic can further encourage people to click).
Adding A CTA to Video Ads
You can put a call-to-action link in your video ads or your business live stream.
Just follow these steps:
Log in to Facebook and go to the Ads Manager.
Click on the '+ Create' button, choose your marketing objective and click on the continue button.
Choose the schedule, budget, placements, and most importantly, the audience for the ad - and continue.
Select your Facebook page. You can also select your Instagram account if you have them connected.
Choose 'Slideshow' or 'Single video' depending on what your content is.
Choose any of your existing videos or upload a new one.
Scroll down to the Links section and choose the Call to Action menu.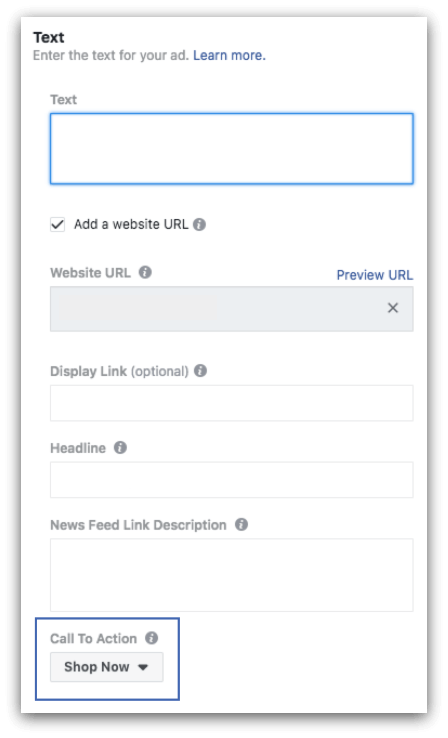 8. Choose your CTA option, check the preview, and confirm the ad.
How to Add a Link to an Instagram Video
On Instagram, you can easily redirect your followers from your story to a landing page of your choice with the fabled swipe up feature.
However, there's a catch – to get free access to the swipe up feature, you must have:
A business account
At least 10,000 followers
If you have less than 10K followers, you'll have to opt for Instagram ads (which are not free) and give you the option of adding links - using both the swipe up feature (for story ads) and CTA buttons (for feed ads).
Let's briefly discuss both options.
1. How to add links with the swipe up feature
To be more precise – let's discuss how to add link to an Instagram story. Follow these steps:
Click on the camera icon in the top-left corner.
Shoot and/or upload the video to your story (don't forget to embellish it with the stickers and filters of your choice). It's always recommended to add a CTA like "Swipe Up" using the text feature.
At the top, you'll see an icon that looks like a chain. Tap it.
You'll see two options under "Add Link." Tap on "+URL."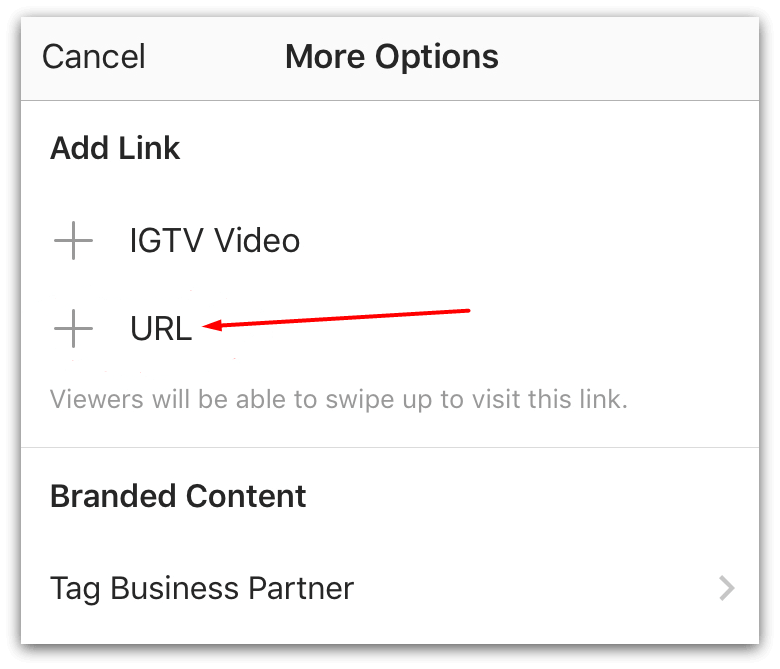 Paste the URL of the landing page you want your followers sent to.
Tap the "+Story" button when you publish.
2. How to add links without the swipe up feature
If you don't have 10K or more followers, follow these steps (remember – this is a paid option):
Go to the Ads Manager and create an ad.
Select your marketing objective and name your campaign.
Select your target audience.
Under the "Placements" section, click on "Edit Placements." Select the places where you want your ads to be shown (Stories, Feeds, etc.)
Set your budget and schedule.
Select the account and format of the ad (in this case, choose "Single Video" or "Slideshow").
Insert the URL of the landing page in the field under "Website URL." Select the CTA of your choice.
Type the text of the post, and voila – you just created your Instagram ad.
Bottom Line
In a world where video has become the norm, it is no longer an option but a necessity to add links in your videos.

Obaid is the Founder & Creative Director of Planet Content. His focus lies on content creation, 2D animation, and taking the boring & annoying out of marketing.