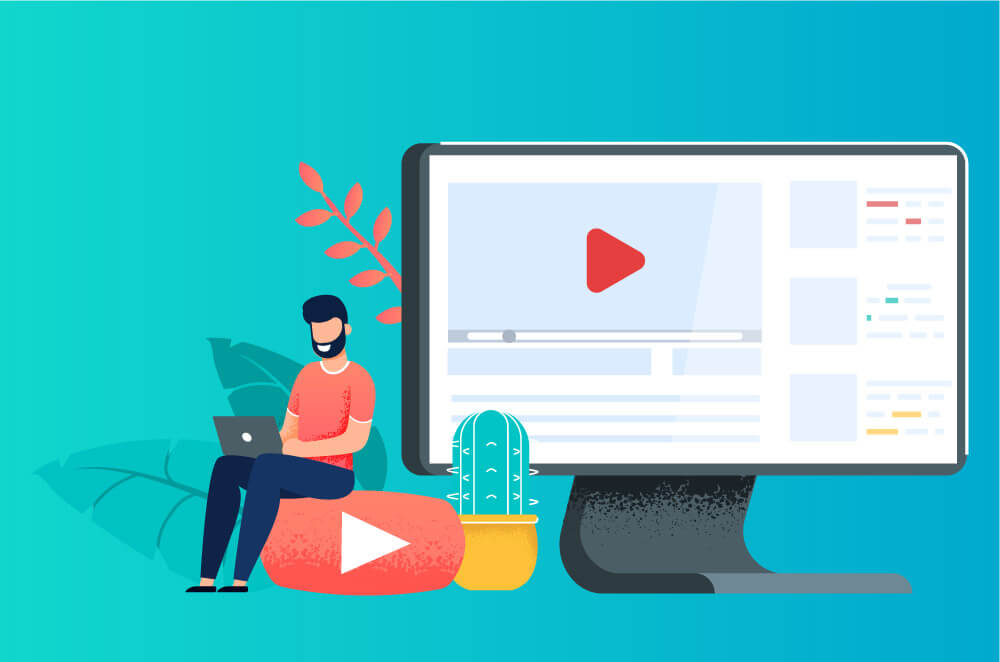 Are you ready to take on video marketing? If the answer is yes, this post is for you. Maybe you don't know much about this world but everything is possible if you adopt a learner's mindset. There are lots of people like you out there who have taken their sites and profiles to a whole new level without knowing a single thing about making videos.
The fact that you understand that video marketing is the present and future of digital marketing is already the most important step you can possibly take. Let's take a look at some statistics HubSpot published this year. This study clearly reflects how videos have taken over the digital marketing world and will continue to do so.
Impressive right?
As a blog developer, I've seen how these short videos that pop up everywhere continue to become more and more popular, and more importantly, people seem to enjoy them. According to HubSpot's research, more than 50% of consumers want to see videos from brands.
So, why not invest valuable time in designing the right video marketing strategy if you already know this is the most consumed type of marketing today?
That's right, this is the best course of action you can possibly take if you want to see your website or your profile at the top of search results or social media feeds. But, what is the best and most affordable way to do it? Below, I'll explain how to get started with video marketing step by step.
Is Video Marketing the Right Option for You?
Before we get started, there is an honest question you have to ask yourself – is video marketing the right option for me? In order to answer this question, there are a few things to take into consideration before launching this rocket into space without setting a destination first.
As I said before, setting a goal of what you want to achieve is the first and most crucial step of this journey. Without a clear goal, you are likely going to be in trouble as you continue to develop your content.
After setting a clear goal, the rest will be just engineering problems that you will easily sort around, as I am about to show you. So, what is every marketer's goal in this world? that people will watch and feel attracted to their content. This means you will have to set a clear video marketing strategy in order for this to happen.
The truth is that video marketing is one of the most valuable tools you can acquire today. Just on Facebook, organic engagement is higher when content includes videos, according to Locowise.
When we think of video marketing, Youtube might be the platform that comes to mind. YouTube is the largest video hosting platform and the second largest search engine platform after Google.
According to RenderForest, people watch five billion videos every single day. Let's take a look at the following graphic: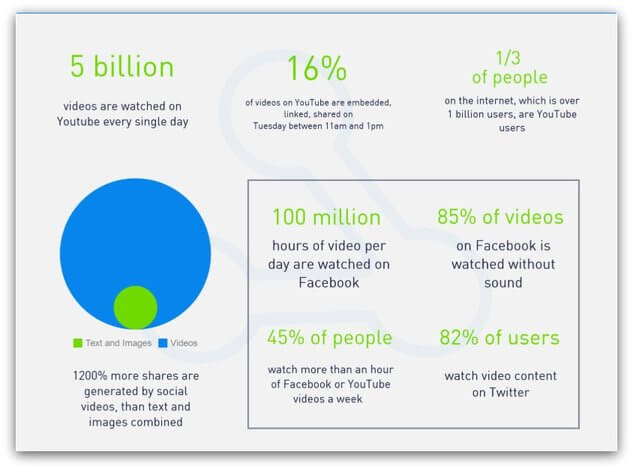 The question is, am I able to design a plan that has clear goals oriented to what I want to achieve? And am I able to set achievable, realistic goals that are possible to measure in order to learn from my wrongs and rights? – if the answer is yes, let's get to work and create the best video marketing out there.
How to Design a Solid Video Marketing Strategy
This is not just making a video online and praying for it to go viral so people get to know who you are or what your business or page is about. This is just unrealistic and it's the reason why many people fail to launch a good video marketing campaign.
The best way to design a real and professional video marketing strategy, on the other hand, is to write down your goals. Follow these points as a guide for your campaign:
Write down a specific goal. General goals such as "getting more views" won't work. Instead, go for something more specific such as "exploiting the memes trend by making entertaining and animated videos that people can follow so they discover my site".
Design an achievable goal. Something like "getting one million visits daily" won't work. You can try with something like "increasing traffic by 5% on a monthly basis". Nothing comes easily.
Set a budget for your video marketing strategy. Even though there are free apps and sites to make a video online, such as Lumen5,  it is important to have a budget. Naturally, you will want to pay for the best features eventually in order to exploit your videos and get the best result possible.
Consider publicity and sponsorship. Even though this is not mandatory, it is an extremely effective way to boost your results. Creating a great piece of video content is not enough, so being proactive is necessary, and considering paying for publicity might really make the difference.
Find influencers according to your budget. As I said in the previous point, sponsoring an influencer can help to boost your brand, site, app marketing efforts, or whatever you want people to discover. You can find affordable prices depending on the influencer and the outreach they have.
Money is something we always have to take into consideration, and sometimes we might not have any. If you really want to grow your business but simply don't have the money to pay for publicity or influencers, don't panic. As I previously said, having a publicity budget might make things easier, but it's not mandatory.
It is absolutely possible to grow your business successfully without investing in publicity. It might be a little harder, but nothing that dedication and patience can't solve. Here is a short video where Neil Patel, a well-known digital marketer, explains how to grow your business without spending on advertising.
The last part of creating a solid video marketing strategy is to decide on the best approach to use and the target audience you want to reach. One of the principles of marketing is exploiting what people are consuming at the moment, so you won't make a video about ice cubes when people are watching the super bowl, right?
Video Marketing Statistics 2019
Launching a big video marketing campaign will require a lot of resources such as time, effort, money and a lot of patience. So, it is only natural that you want to know a little bit more about some statistics for video marketing in 2019.
If you are wondering if it is really worth it to invest such resources in the video marketing world, take a look at the following statistics published by Oberlo this year.
85% of internet users in the united states consume content in the form of videos on a regular basis. The majority are people between 25 to 34 years old.
This is quite some interesting data since it proves how advantageous it is to make videos today.
The tendency of consuming video content is increasing throughout time.
According to the statistics, 54% of users want to see more videos about their favorite brands or business.
87% of successful marketers use video marketing as a very important tool for their campaigns. This consolidates the fact that video marketing is becoming a very important part of any kind of marketing today.
The number of hours of video watched on social media is increasing. 73% of consumers today claim that they have been influenced by video content when making purchasing decisions. Most of this content was posted on social media sites.
Over 80% of marketers as satisfied with the return of their investment. 88% of video marketers claim that they are happy with the ROI of their video marketing that was posted on social media sites. Later in this post, we'll talk about the best places where to post your content in 2019.
Email subject lines that include the word "video" help to increase open rates by 19% and click-through rates by 65%.
Video marketing increases the time visitors spend on your site. According to statistics, the average person spends 88% more time on a site with video content.
It is clear that video marketing has become the ideal tool to build up your business. Besides, it tends to give you results in a considerably shorter amount of time than other types of marketing. If you invest some time on video ads and SEO, this return will be even faster.
Social videos not only help you to increase brand awareness but also help you to increase traffic to your landing pages when combined with a powerful call to action.
Now, how can I create awesome videos if I have no idea how to make a video online? I have the answers you are looking for. Keep reading to find out.
Types of Video Marketing
If you really want to build a solid base for your video marketing strategy, you will have to get familiar with the different types of marketing videos there are. That's the way video marketing works; you aim for a particular target audience, decide the best type of video for that particular audience, but also a style that can present your product or brand in a suitable way.
Even though there are lots of different types of videos, most of them focus on five basic areas that will help us categorize them.
Educational videos
Inspirational videos
Entertaining videos
Animated videos
Brand videos
Educational Videos
This is a category that has become more and more popular over the last years. Not everything is about entertainment when it comes to videos online, educational videos are incredibly popular among young people, especially in Latin America. In this category, we can find
Tutorials
Online lessons
Educational tips
Customer testimonials
How-to's
This category is ideal to interact with your audience as you provide them with some useful knowledge to better understand the products and solutions you offer.
Explainer videos increase potential customers' confidence and can significantly increase conversions.
Here is an example. This is a Buzzfeed video where they teach you how to paint a room. It has over one million views. How is it possible to have more that one million views on a painting tutorial? – video marketing is the answer to that question.
Inspirational Videos
This is quite an emotional category as its name suggests. Many times, people will follow their emotions over rational thinking when making decisions, According to neuroscientist Antonio Damasio. This means inspirational videos can play a major role when it comes to reaching an audience and making whatever your product or site is popular.
Here is a great example of an inspirational video by Nike. That is a solid video marketing strategy right there.
Entertaining Videos
This is one of the all times favorite. Who doesn't like laughing at something or simply smiling and feeling identified by a casual and entertaining video?
Entertainment is the most popular strategy to reach people today. The point of this is making people feel curious about the brand or product behind such clever content.
Here is a clear example of a simple situation that can happen to anybody. Samsung takes this situation to make you feel identified as you probably smile and feel intrigued by the product they are offering.
Animated Videos
This is a category that has also gained popularity in the video marketing world over the last years. This type of videos is the best you can create if you wish to illustrate how your product works, or maybe if you want to express something that requires good visuals.
The best part of animated videos is that, contrary to popular belief, they can be really easy to produce. Let's take a look at the following tutorial on how to make a video online. That's right, you don't even have to download a non-user-friendly software that will give you nightmares.
Brand Videos
This is an excellent category if you are looking to promote your brand or company and you need to gain a lot of traffic. This is a great opportunity to show who you are and what your vision a mission is.

Something important to take into consideration is trying your video not to be annoying, so your brand doesn't end up being bullied on social media sites.
Here is a good example of a brand video. Here, the company explains what they do and how they do it.
Video Marketing Trends 2019
Everything is starting to take shape now. The path looks clearer since we now have a clear video marketing strategy and know the different types of videos we can make. But wait a minute, what kind of video should I be making if I want to succeed today, in 2019?
That is an excellent question. Remember that not only is it about having a goal and making a video. Every step has to be planned thoroughly and analyzing the audience's preferences today might be as important as all the steps I mentioned before.
Video marketing is the present and future of digital marketing, that's a fact. However, there are specific types of videos that are becoming more popular than others among people in 2019. So, if you need to make your product or brand public, it might be a good idea to go for one of these trends.
Optimize Your Video for No Sound
That's right. Most of the videos that people are watching online these days are on mobile devices. This means that many people are in a public place where they might not want their cell phones to blare out any ads.
The solution? Make a video that people can watch with no sound and that still conveys an awesome message they can understand and enjoy at the same time. For instance, you can use Lumen5 to convert any text into an animated video with the use of artificial intelligence.
Don't get me wrong, optimizing for No Sound does not mean not including sound or music in your video. You have to create a video that is enjoyable and easy to understand when that awesome piece of music you included is off.
Keep Your Video Short
One common mistake people who are new to the video marketing world make is wanting to create the best video that's ever existed, and for some reason, they tend to think the lengthier the better. This is not quite true, at least in 2019.
Most people will look into the length of the video before even considering wasting 10 minutes watching a video that might not be of their interest. So take this into consideration when making your new project.  Be sure to review our guide on choosing the right Instagram video length for your marketing efforts. 
Vertical Video
Let's take a look at the following study conducted by Zenith
As you can clearly see, most people spend time watching videos on mobile devices than those who don't, and this will only continue to increase in the future. So optimizing your video for vertical view is really important if you want to have a full outreach out there.
Keep it Authentic
Authenticity is one of the best allies you can have by your side today, especially if you don't have a big budget for your video marketing strategy. Those lavish, big commercials seem to have stayed behind. Nowadays, people prefer a short, authentic video any day.
Even the big ones seem to understand this concept and are now releasing more authentic ads to attract people to their sites or brands.
According to Forbes, authenticity is key in 2019. The audience prefers to see vulnerable, real or motivating videos more than ever. Through this, you can gain peoples' trust and loyalty.
How-to's and Tutorials
This is nothing new. Tutorials and educational videos have been really popular for some years now, and 2019 doesn't seem to be the exception.
A downside to this; however, is the number of other marketers out there who have been in this category for years.
Having said that, it is always a good option if you want to reach many people out there. You just have to play your cards right.
Live Videos
This kind of videos were not popular a few years ago, but with the improvements in cell phones and cameras, almost everybody can try this category to attract people to their pages. This category takes authenticity to a new level.
People really enjoy watching a live video because they feel they are almost having a conversation with the person. Remember, emotions are an ally when it comes to marketing in general, and video marketing is not the exception.
How to Create Video Marketing
So far, we have set a number of steps that every person who is new to video marketing should follow.
Determining if video marketing is the right option for you and your business.
Following a well-designed video marketing strategy.
Learning the different types of marketing videos.
Analyzing the trends in 2019.
So, what's next? –  now we have to learn how to make the best video possible so our video marketing campaign is successful. There is no point in following the previous steps if you don't really know how to create at least a basic video.
As the name suggests, we are going to be making videos. There are two ways you can do this; you can either download software or make videos online.
Online Video Marketing Software
The best way to make a video online is simply finding an online video maker. Of course, there are many different video makers out there, but I recommend using one of the following if you really want to make something serious out of video marketing.
1. Lumen5
The number one option on this list is Lumen5. Why? It's really simple. You don't have to know anything about video making to use it. You can create awesome pieces of content with this editor because it uses artificial intelligence to help you put your video together.
What makes lumen5 the most practical tool and why is it number 1 on this list? – well, the reason for Lumen5 to be in the first place is because it allows you to convert blog posts into fresh, cool videos within minutes; this is something that can definitely boost your video marketing strategy.
It is that simple. Choose a blog article, paste it into Lumen5's software and it will automatically turn it into a video that looks professional and appealing. If you want to boost your site but don't have technical knowledge on those non-user-friendly tools and programs, lumen5 is the best option for you.
You can make a professional video and then share it on the platform you wish, and the best part is that you can do it for free. Of course, the software does offer some other amazing features you might want to pay a little money for.
Here is a tutorial for you to watch and start making your own videos really quickly
2. Adobe Spark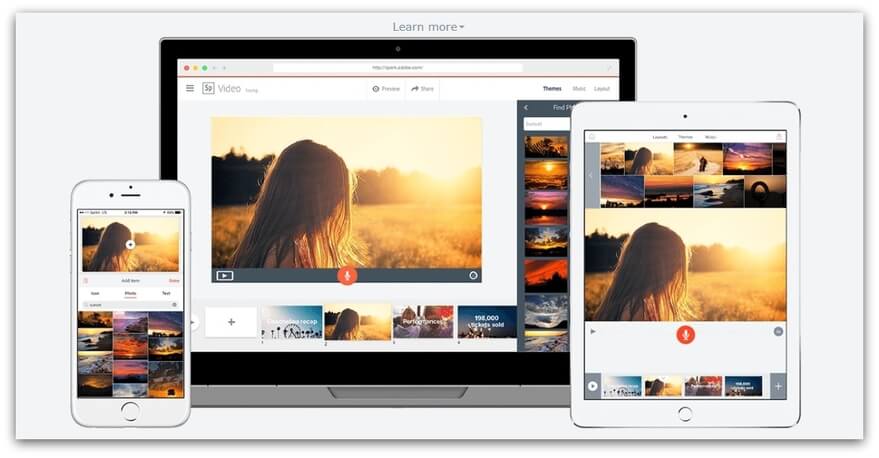 This is an online editor that will allow you to create interactive content such as graphics, web pages, and short videos. It is really user-friendly, which means you can create a video in a few minutes.
You can try with this editor if you want a preview of what a bigger project might look like. Of course, you are not going to have really professional results with it, but you can definitely have some videos that are worth watching.
3. YouTube Editor
This is a good option if you need a video editor that is free and easy to use. If you are aiming at youtube success, this might be a good editor to begin your journey. The downside to using this editor is that it lacks many features that other editors do give you.
So, your videos might look too simple or might lack that professional look you need. Also, It might not be the best editor if you want to launch your video marketing campaign on Facebook or Instagram.
4. Video Toolbox
This online video maker allows you to produce simple videos that can be used to boost your digital marketing. One big advantage is that it lets you store up to 300mb of video content in their file manager. It also gives you 700mb of data in their recent output files.
This is some good software, but it might be a little complicated to use in my opinion. Still, nothing that a little patience can't solve.
5. Movie Maker Online
This is a good online software that can also give you the opportunity to create your own videos easily. It is extremely user-friendly and you can add your favorite effects and songs. The only problem I find here is that it can be really difficult to make your videos look professional.
Other than that, there is no reason why you can't use this software to start with your video marketing strategy.  
Top 5 Best Editing Software for Video Marketing
1. Adobe Premiere Pro
Considered by many as the best video editor for video marketing and video making in general, Adobe Premiere Pro sets the bar when it comes to creating a high-quality video.
One of its best features is that it is compatible with almost all the formats, platforms, and devices out there. Its main disadvantage is that, as all these editing software, it is complicated to use.  I personally prefer online video makers.
2. Filmora
Even though it definitely takes more time to learn how to use this software, it's nothing that a good tutorial and some patience can't solve. If you do not have these two valuable resources at the moment, I strongly suggest you stay with an online editor such as Lumen5; it is easy to use and delivers great results.
3. iMovie
This is a great option for video editing if you don't have a big budget in the beginning. The best feature this software offers, in my opinion, is that it's free. That's right, you can download it for free and you can enjoy a number of filters, templates, effects, and styles. It's just a matter of learning how to use it.
4. DaVinci Resolve
This is a professional tool capable of producing high-quality videos. It allows for multi-user collaboration and it has a Responsive playback engine with GPU and CPU optimization. The main disadvantage is that it might be a little expensive and not so user-friendly. If you are starting with your project, I would not recommend using this particular video production software.
If you have more advanced knowledge, this might be a good option for you.
5. VideoPad
This is a good option if you are starting with your video marketing strategy. You can share videos quickly and export them to social media sites. It also offers some low-cost plans to protect your pocket. You can definitely use this software to produce some good video marketing. However, making your videos look professional might be a little complicated with this software.
Naturally, there are other tools out there that can help you with your video marketing strategy. Take a look at the following guide to expand your toolkit for video success.
Top 4 Best Video Marketing Platforms
You have made it this far. That really shows you are committed to making your brand or product popular in the video marketing world. You have a solid strategy, you are already making awesome videos but now you have no idea what the best places are to post your material.
As I said at the beginning, understanding your audience and what their preferences are is crucial for a successful video marketing campaign. Naturally, you have to know where people are consuming the most videos today. There is no point in having the best material if you post it on the incorrect site.
It all depends on the kind of video you are making and your target audience. It also depends on the country you live in, as preferences tend to vary from region to region.
Let's first discover the most popular platforms in 2019 for releasing your campaign. We are going to be analyzing data collected by HubSpot and we are going to take advantage of this to get the best possible results when posting our first videos.
1. YouTube
This is no surprise. YouTube has been on the top of this list for many years now, and it will continue to do so in the following years. It is responsible for promoting the idea of video marketing and more importantly, for making it reachable for everybody.
Does this mean that I have to launch all my campaign on this platform as the more popular the site the better? – Absolutely no. And that is another common mistake people make today.
If you want to get the best out of YouTube, you have to be making some specific type of video content. When people go to YouTube to watch videos of their interest, the last thing they want to see is an annoying ad. In fact, most people have ad blockers installed on their browsers, which means they won't even get to see your ad.
This in case your video marketing campaign is trying to sell a product or service. If that is your case, I would not recommend YouTube as your chosen site. Don't get me wrong, YouTube works for almost any type of marketing, it's just that you can use other platforms if you are looking to sell something.
If you want to make your channel or identity popular and make money out of publicity, then YouTube is indeed the place for you.
Remember that it all depends on what your campaign intends to do. YouTube is the most popular site in the world to watch videos, so if you play your cards right, you can get millions of views in the blink of an eye.
2. Facebook
Facebook has changed over the last few years. It has seen an incredible rise in the number of video hours consumed by people every day. This places it in second place on this list. As I mentioned before, it all will depend on your video marketing strategy.
If you are looking to sell products or services, Facebook can be a great ally. Keep your video short and interesting and people are likely to watch your video just for fun. Remember Facebook has this wonderful feature of playing the videos automatically as you scroll down, so this might catch people faster than you think if your first 5 seconds are interesting enough.
3. Instagram
It is clear that Instagram grows more and more popular every year. There's been an 80% increase in time spent watching Instagram videos. This makes it perfect for video marketing purposes. The good thing about this platform is that it is extremely flexible. People can be watching a funny video and laughing hard and then a sad video pops up. And people will watch it anyway.
Instagram is a great site to start with your video marketing campaign as the results are almost immediate. Recent studies show that people spend more than one hour a day on this app, so it is time to take advantage of that.
Something you have to take into consideration when working with Instagram is that your videos can't be more than one minute long. So, you have to be clever and creative when making videos for this platform.
4. LinkedIn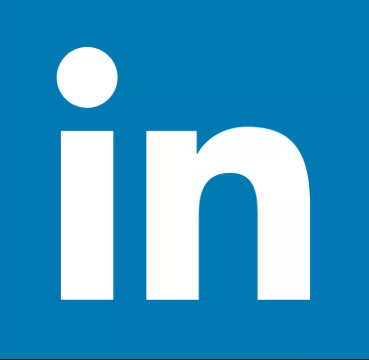 Another platform that has become incredibly popular in recent years is LinkedIn. According to Wyzowl, 51% of video marketers have used this platform at least once. 84% of those marketers claim they have found it useful.
A very important tool you could use when posting videos on any of the previously mentioned platforms is adding clickable links to your videos. Knowing how to do so takes you video marketing game up a notch.
Video Marketing Strategy According to the Region
We have come a long way.  As you can clearly see, creating a video marketing strategy is not easy and requires plenty of work. The good part is that you all the effort and resources invested in it will definitely be worth it.
So, we already have the steps to making a good video marketing campaign, but now there is also a step we have to take into consideration so our strategy is as solid as it can possibly be.
Before even starting with the previous steps, it is a good idea to do some research and learn people's preferences in the region we are planning to launch our campaign.
Of course, everything will depend on the type of video content you are making and on the product or service you want to offer through video marketing. However, it is a fact that peoples preferences can vary from region to region when it comes to video content.
Let's take a look at the following statistics
1. Entertaining Videos Is the Number One Category Worldwide
Latin America seems to be the best place to base a video marketing strategy on entertaining videos. According to the graphic, 80% of people prefer entertaining videos there. So if you are planning to base your strategy on entertainment, Latin America might be the best place to find your target audience.
On the other hand, Germany seems to be a little weak when it comes to entertaining videos. This is a tendency you might encounter across many European countries. So, if your target audience is in Europe, I would recommend you try with another category there.
2. Funny Videos Are a Fine Resource to Use Almost Anywhere in the World
That's right. As you can clearly see in the graphic, the preference for funny videos is almost even across the world. Of course, The U.S seems to be the best place to base a video marketing strategy solely on this, but the difference between the other regions is little.
So, I think funny videos might me this universal category that might work anywhere in the world.
3. Informative an Educational Videos Are a Boom in Latin America
I know, you might think that nobody wants to watch boring informative or educational videos out there. This is not quite true, though. There are many people who actually enjoy these videos, especially in Latin America.
So if you video marketing strategy is based on this kind of videos, Latin America is definitely the best place to find your target audience. Actually, a 79% of people said they like this type of content, this is almost as high as entertaining videos there.
With 90% of customers saying videos help them make buying decisions, let's not underestimate the power of informative or educational videos. Besides, this kind of content tends to give your brand or product a sense of professionalism and respect. This might be a great ally.
4. Inspiring Videos Might Be That Friend You Are Looking for in Latin America
As I mentioned in this post before, making people feel moved might be an incredibly powerful tool when it comes to video marketing and even marketing in general. Where do people most enjoy inspirational videos? – Latin America.
Many studies prove that human being reacts better and faster to emotions than rational thoughts.
This is absolute truth and we can see this behavior in almost every aspect of our lives. So, why not taking advantage of this in our campaign? A short piece of content in the form o a video that actually inspires people is a great tool.
This is why this category is preferred by giants such as Nike. They have been using inspiration in their marketing for several years now and they don't seem they are stopping any time soon. This can only mean that inspirational videos really pay off.
5. Animated Videos Are Still Powerful
Animated videos continue to prove popular almost everywhere. Latin America seems to be the best place for this kind of videos. The fact that Latin America is first in almost every category doesn't mean you can't try in other regions as well.
It's just that people in Latin America prefer their content in the form of videos over any other form of content.
Video Marketing Benefits
You have learned how to design a successful video marketing strategy and all the steps to make it work. Now it's just a matter of getting to work and see how all your time and effort pays off.
So, what are the real benefits of video content marketing? – there are many benefits when it comes to this incredibly popular world. Let's take a look at them.
1. More Than Half of Consumers Prefer Video Over Any Other Type of Content
This is already a big reason to make video marketing. If the majority of people prefer videos over anything else, what benefits can this bring to our brand? – Naturally, it will increase the traffic on your site.
Just using the word video in a post will increase the clickthrough rates up to 65%. 
2. Using Video Marketing Helps You Build an Emotional Connection and Loyalty
One of the main goals we aim to when creating video content is to build a lasting relationship with our clients. If you know how to do this effectively through a solid video marketing strategy, you can gain people's loyalty and they will prefer your brand or site over many others.
This is why inspirational videos are one of the most powerful tools in my opinion. This kind of videos creates a more solid bond with your audience. The result is amazing.
3. More Conversion Rates
A conversion is when a visitor completes a desired goal. If you are selling a product, you can say a visitor converts when he does what he is supposed to; read a description, understood the product, and ultimately bought that product.
According to Vidyard, 71% of marketers reported that video content helped them increase their conversion rates much better than other forms of marketing.
So, it is clear that if you want your audience to convert in your site, video marketing is the ideal option for you.
As I have shown you in this post, video marketing is here to stay. Remember, a successful video marketing campaign consists of many different steps put together so everything works well.
I know getting started with this might seem daunting, I won't dare deny it. It is not easy and trust me, you will make mistakes every now and then. The important thing here is to be constant and keep trying new strategies.
Never underestimate the numbers and statistics. It is a fact that video content is preferred over other forms of content. It is time to take advantage of that.
And remember the golden rule; successful video marketing is about understanding why a video worked with your audience and being able to replicate that as many times as you wish. However, it is also understanding why a video was a failure and learning from your mistakes.
If you can adopt a learner's mindset, then video marketing has unlimited potential to grow your brand, audience, and business. Good luck!