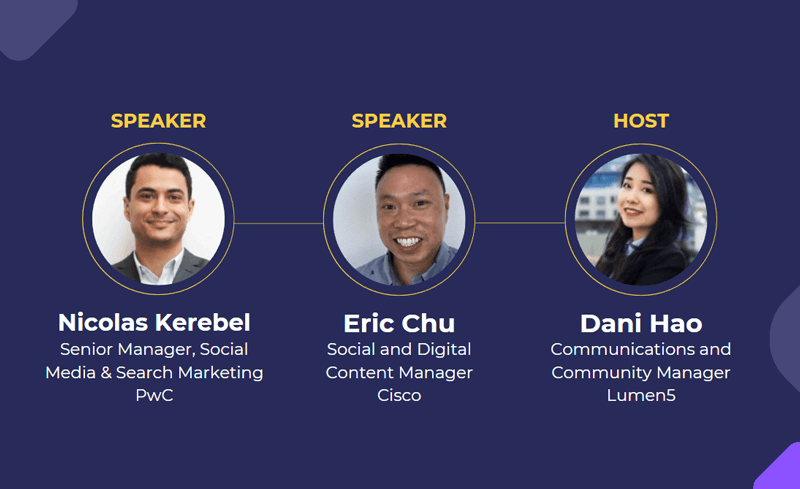 Thought leadership can open doors for your business. But becoming an authority in your niche doesn't happen overnight.
As part of our Enterprise Webinar Series, we hosted a panel discussion with Nicolas Kerebel from PwC Canada and Eric Chu from Cisco Systems to find out what goes into a successful enterprise thought leadership strategy.
Over the hour-long discussion, our panelists shared insights on how to:
Create content that adds value for your audience
Make content creation more efficient with the right tools
Generate more leads and sales with thought leadership content
Measure success and calculate ROI
Amplify content and reach more decision-makers
If you missed the live event or want a recap, you can find the key takeaways below.
1. How to Create Content That Adds Value for Your Audience
A winning thought leadership strategy is built on content that engages and adds value.
But too many companies think that simply increasing publishing frequency will automatically translate into more traffic and leads.
So how do you create content that adds value and that people really want to consume?
Nicolas Kerebel
We're trying to move away from the typical whitepaper and push content that is easily consumable, whether it's through podcasts, bite-sized content, or video.
You can have a whitepaper that is 100 pages, but if people don't read it, what is it worth to you or anyone?
Interactivity is great. There's so much content out there that is static. So if you can create content that's interactive, you're already better off.
Authentic testimonial videos are also really good. I think it's key to have someone else who has already gone through the process and used your products or services.
Eric Chu
We are lucky enough to have some very talented individuals to help us create videos and get the information out there. We also have roundtables to discuss topics, and our great PR team gets our executives into interviews with journalists to get our info out there on third-party sites.
It's also about having fun – it doesn't always have to be a straight post. For example, if you have user-generated content, you can turn that into a slideshow or a tips video.
There are many creative out-of-the-box ways – you have to look at what your resources are and find creative ways to utilize them.
2. How to Make Content Creation More Efficient with the Right Tools
Consistent content production helps to establish credibility, build your reputation, and boost trust. It can also impact your bottom line – brands that maintain consistent content creation report an average revenue increase of 23%.
But creating value-packed content is a significant challenge. With 64% of marketers stating that video is the most difficult type of content to create, how can you make the content creation process more efficient?
Nicolas Kerebel
My experience with tools like Lumen5 is that it makes creation easy. Obviously, we want quality content, but in a way where it's not overly time-consuming – that's often the case with video.
I also really like the native capabilities of platforms. I love integration and making things easy and seamless.
Eric Chu
Even with the resources we have, everyone's on a time crunch. But you have to challenge yourself and try to make it better.
It doesn't have to be a stock photo – it could be much better than that. You need to try and do something very eye-catching – that's where Lumen5 comes in.
3. How to Get More Leads and Sales with Thought Leadership Content
Brand awareness and engagement are important. But you need to be able to move beyond these metrics and generate results that have a tangible impact on the growth of your business.
Ultimately, leads and sales are what define the success or failure of your thought leadership strategy. So how can you move beyond vanity metrics and get more qualified leads with your thought leadership content?
Nicolas Kerebel
As an organization, the main thing you need to be is easy to find – that's the number one criteria.
Secondly, make sure the content you are pushing forward is authoritative, with really strong insight.
The third one, make sure that the content you are pushing is actionable or, at the very least, thought-provoking.
You need to think about creating a journey that overlays on top of the marketing funnel. Then, we try to build that journey, understand the stage we are at for each user, and try to push them down the funnel.
Eric Chu
You want to be the authoritative source with expert knowledge. That's what thought leadership content is about on social media – to be the place that people come to for solutions.
Salespeople also use social media. You put content out, and salespeople send it to customers on LinkedIn, Twitter, etc. Getting that information out there, almost as a sales tool for your salespeople, is so important.
4. How to Measure Success and Calculate ROI
Pressure to prove the impact of marketing initiatives is increasing. Nearly 60% of CMOs are under pressure from CEOs to demonstrate the impact of their marketing.
A recent Content Marketing Institute report revealed that improving content measurement is a top priority for 44% of marketers. But it can be harder to measure the increase in reputation, customer trust, and other soft metrics that thought leadership impacts.
So how can you measure the performance of your thought leadership strategy?
Nicolas Kerebel
Revenue and sales is the bottom line.
I have a big issue with clicks and CTR. I've seen many pieces of content that had a very high CTR but a very low conversion rate on the website. So you think it's performing great, with a high CTR, but ultimately it didn't meet your goals.
A disconnect can happen because you have social media people doing social media and website people doing the website. So I'd strongly recommend trying to connect those two pieces because they are absolutely linked.
You cannot just look at thought leadership content through a social media lens. You have to understand what happens afterward.
Eric Chu
There are many ways to go about this. For social media specifically, we measure engagement. We utilize a social media management tool that has great listening and metrics capabilities. We also measure share of voice and sentiment.
Those are all different gauges you can look at to see how successful those activations are. You have to set some benchmarks and goals and see how those positions move based on your social media output.
5. How to Amplify Content and Increase Reach
It's well known that most social media platforms have increasingly become pay-to-play channels for brands. You're not just competing with other connections and businesses for space on your prospect's feed. Paid ads take up much of the real estate across all social media platforms.
So how can you increase reach and get more engagement when you have authoritative content that you know your audience will want to see?
Nicolas Kerebel
It's about creating content that people are really going to consume. So if you have a very long video, make sure the content is really interesting. For traditional social media channels, bite-sized is better.
If you share something on your personal social media, you're 6-7x more likely to get interaction than if you share something through the corporate page. So I think that's key – to empower your execs, your internal influencers, to go out there and be able to share the content that you've got.
Eric Chu
The key is trying to get your executives to do social media. Having individuals, executives, and subject matter experts do social is key to getting your thought leadership content out there.
You have to find those individuals who are passionate about your products, your solutions, or your company and encourage them to talk about it on their channels to their own following.
Know your channel resources – who is your audience, and how do they consume information and content?
We research who our audience is, what hashtags they are using, and we try to involve those in our social copy when possible. If there's a trending conversation out there, see if you can get into the conversation when it's appropriate.
How You Can Make Thought Leadership Work for You
If you want to build a thought leadership campaign that gets results, make sure you get your free copy of our insights-packed ebook, Key Ingredients to High Impact Thought Leadership.
We analyzed the data of over 800,000 Lumen5 users to reveal the three primary ingredients that all successful thought leadership strategies share.
Get your free download today to see what your strategy is missing and start leveling up your thought leadership content.