As a real estate marketer, you probably know that video is king. No wonder why the brightest minds in real estate are already embracing the power of real estate video marketing.
It took me some trial and error experiences to figure out the best tools to achieve video marketing success. That's why I'm glad to share them with you.
Did you know that real estate listings that include video receive five times more inquiries than those listings without video?
As Zuckerberg predicted several years ago, videos became the most powerful form of marketing. This fact is especially important to the real estate industry because of its visual appeal.
Real estate video marketing checks all the boxes of the major underlying forces that drive clients decisions.

Why?
Because it allows realtors to take advantage of the property's visual appeal and to build trust with prospective clients. Most importantly, it empowers realtors to offer value while adapting to the on-the-go lifestyle.
Not convinced yet that real estate marketing is the way to go? Let me share some stats with you:
Real Estate Marketing (Video) By the Numbers
These are all good news.
But you know what?
There is even better news: Not many realtors are taking advantage of real estate video marketing yet. In fact, only 9% of agencies are making videos a part of their marketing strategy.
If I were you, I would not wait to get in the game.
And if you're already stressing about all the resources you'll need to create content and produce an engaging real estate video, remember:
If you want it to be simple, it can be simple.
I'm here to give all the resources you need to select which real estate video marketing tool is best for your unique needs.
There are numerous tools out there available for you to use.
Some of them are cheaper and practical, and others require further investment in terms of time, effort, and money.
You can choose to get your first video done today – maybe during your coffee or lunch break – it's that easy. And I promise you will still have plenty of time to eat your lunch or enjoy your coffee. Yes — it can be as fast and straightforward as that.
Or, if you feel the necessity, you can take the time and resources to invest in a more sophisticated video production. This decision will depend on your business' particular needs.
Let's explore the best tools for real estate video marketing:
Get Your Real Estate Marketing Media Ready in Minutes
There are multiple all-in-one video tools that allow you to collect footage, edit the scenes, and share your real estate video marketing media with just a few clicks. Best of all, with a high-quality output.
These tools make it possible to get every step of the video production process done in one place — which is super helpful.
Let's explore my favorite all-in-one video marketing tools:
Have you ever felt like your blog posts or articles were not giving the return they deserved?
I've been there. And that's when I started using Lumen5. Since it automatically converts the blogs into social videos, the extra effort is minimal (and the return maximum).
My favorite part about Lumen5 is that it allows us, content creators, to produce cutting-edge videos with just a few clicks. It uses artificial intelligence to combine simplicity and customization. This means a super high ROI.
Once you have the articles or blog posts ready, it is just a matter of copying and pasting. You add your real estate blog post link, and Lumen5 takes over from there.
If you want to maximize ROI, I highly recommend converting your articles into real estate video marketing media.
I'm not the fastest content creator, and I've personally created more than five videos with Lumen5 in less than an hour — you can probably do more.
To that end, it's important to highlight that Lumen5 allows us to play with the style to adjust branding to match our company's style guides. You can also add and delete text and images once artificial intelligence puts together the real estate video for you.
It's the go-to option for realtors looking to quickly implement viral real estate video with text overlay.
Best for: Blog post recap, listing, neighborhood tour, general brand promotion.
Category: User-Friendly; Blog-to-social
Price: Free with upgrade option from $49/month
Device: Desktop
Have you ever seen those TV commercials that make you want to buy their product by making you emotional?
That's how Magisto rules.
It uses Emotion Sense Technology to evoke the intended sort of emotional response. That's something unique about this tool.
Once you are done recording short clips and gathering images, you simply upload the footage to give the directions on the emotional tone. In addition to visual footage, you also need to select a song that fits your real estate video marketing goals. Then Magisto's algorithm will work on creating your real estate video.
You can create videos for free, however, the cheapest version does not offer branding customization. If you want to add your logo and own text along with professional editing styles, you will have to go for the professional version ($19.99/month) or the business version ($69.99/month).
I would recommend Magisto for realtors who want to inspire their clients with storytelling. This platform is easy to leverage to show success stories and enjoyable experience — for example, homeowners being interviewed at their new homes, or realtors working with clients to find the home of their dreams.
Best for: Listing, neighborhood tour, testimonial, interview, real estate agent profile, general brand promotion.
Category: Inspirational
Price: From $9/month
Device: Desktop & Mobile
If you want to focus on what you do best — selling — and just make a quick real estate video, Rocketium might be the right tool for you.
The free version is somewhat limited since it doesn't give many branding customization options, and offers only three videos per month. I don't have the paid version, so I just use Rocketium as an additional tool — and works fine for me.
Rocketium has stock images providers integrated into its platform. Of course, this doesn't mean you won't need your own video footage from the properties you are trying to sell. But you can always add images from their library to increment your real estate video.
Furthermore, this tool allows us to clone videos. Once you have your first video ready — with your branding style — you can clone it and just add the new footage.
I like Rocketium for open house videos. It offers some real estate video marketing templates, which saves a lot of editing time.
Best for: Listing, open house tour, real estate agent profile.
Category: Edit from templates
Price: Free with upgrade version starting at $49/month.
Device: Desktop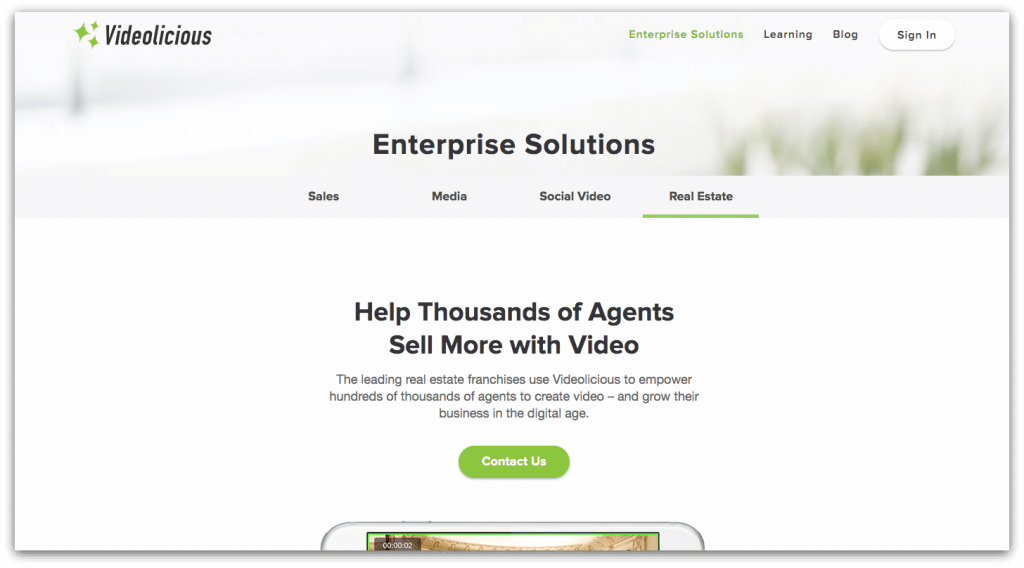 This is the tool for realtors looking for a practical on-the-go option.
What is unique about Videolicious is that it makes a sophisticated video by instantly weaving together your video footage with your voice.
You can record important details of a property (or neighborhood) on your phone, then organize them in the desired order, and record your voice on the top of the videos as you tap to transition scenes. It might sound complicated, but I promise you it is super simple.
I would recommend Videolicious mainly for neighborhood tours and listing videos. You can certainly offer some value to your clients by recording the main restaurants, schools, and attractions in the area.
This is a powerful way to apply real estate video marketing by showing your expertise while benefiting your audience.
Best for: Listing, neighborhood tour, testimonial, interview, open house live tour, real estate agent profile.
Category: On-the-go
Price: Must submit an enterprise pricing request by phone, email, or web form.
Device: Mobile
In some situations, it is just better to express yourself by speaking, than by writing.
That's the purpose of Covideo. Instead of emailing your prospect homebuyers with plain text, you can just email a video.
That's better for both sides. You get to make that initial connection you need, and homebuyers have a more enjoyable experience. It works — emails that include video have higher open rates and higher click-through rates.
Covideo is the ideal tool for real estate agents profile videos.
I love the idea of doing your profile through video because you can show your expertise and passion. In addition, people tend to retain more information when watching a video then when reading plain text.
You can create your real estate video marketing media with Covideo's mobile app, on the web, screen capture, or Chrome extension. They also offer technical support from 9AM to 6PM, which I consider a special aspect.
If you already use an email automation platform, like MailChimp, then you have a strong reason to consider Covideo. You can definitely achieve great results by using these two tools combined.
Try to record your real estate agent profile video, and send out to your leads list. Then come back to tell me what you got. 😉
Best for: Real estate agent profile, testimonial, interview, lead generation.
Category: Oral communication
Price: $69/month
Device: Desktop & Mobile
Have you picked your video marketing tool yet?
Let's be real. With that many options of real estate video marketing tools, you have no excuse not to start today.
You'll probably spend more time choosing one of these tools than you will spend actually creating your first video.
These tools make it possible for you to go from a camera-shy beginner to a real estate video marketing pro within a few minutes. You can get professional videos with little effort.
Now, if you feel like you want to go a step further, we got you covered too.
If you are like my younger brother — old school — and like to "enjoy the process" (aka do things the long way), I got you covered too.
Producing real estate video marketing media involves three basic stages:
creating, or collecting, the footage you will use;
gathering the footage and editing the video;
and distributing your videos across the web.
Let's explore.
Here's How To Use Footage for Real Estate Video Marketing Media
First of all: collecting or creating? That's something you will answer based on the type of real estate video you need — listing, agent profile, homeowner interview, general ad, neighborhood tour, etc.
Recording high-quality videos require expensive equipment and trained people to handle it. This includes not only the video camera, but also a tripod, an external microphone, a foreground lighting, a gimbal, and a lavalier mic.
This type of equipment is becoming more affordable as the years go by, but this investment is still something to be taken into consideration. And more important than evaluating the financial investment, is evaluating if you have the skills to deal with it.
Creating video content consistently is tough. It's not only expensive but it's also time-consuming.
That's why we are grateful for stock video tools (and the generous content creators that provide the material).
If you don't absolutely need specific footage, then I would suggest going with stock material for the win.
So, before you get a camera and set up a tripod, let's go through some of my favorites stock video tools: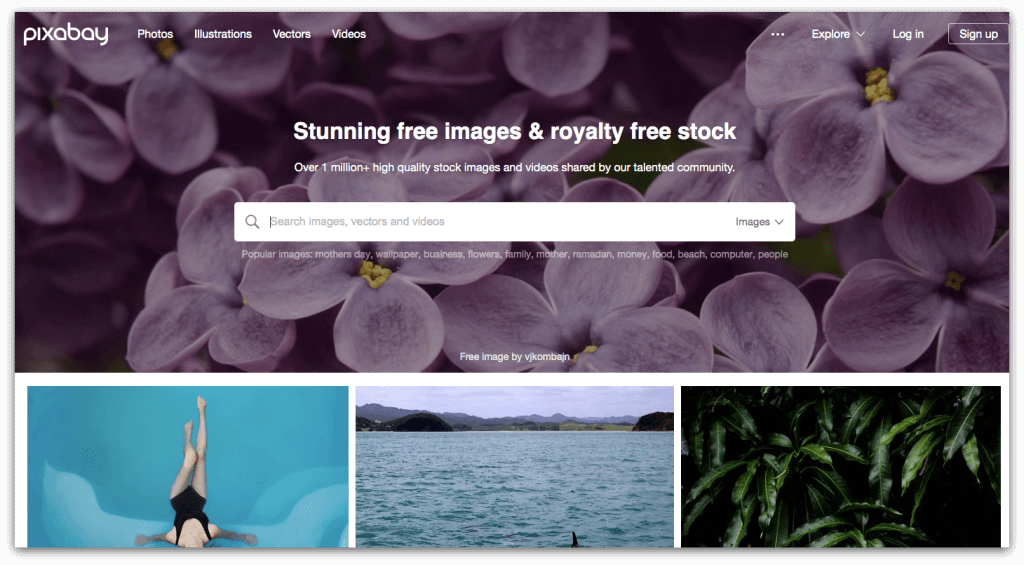 Pixabay has a massive library of photos and videos formatted as MP4s. To be specific, more than 1.5 million.
The videos are usually under a minute long. This is not a problem because we don't want our final product to be more than 2 minutes long.
One positive point about Pixabay, it that all the content from the website is free for use. This means that you can use — and modify — every single material you see there, and it is 100% risk-free.
If you are looking for general abstract images, such as landscapes, Pixabay might be your best option.
Time-lapse videos are my favorite thing about Pexels. There are plenty of great-quality videos in this category. I also like their GoPro video options.
Moreover, Pexels offers "mockup" video footage displaying devices with the green screen that can be replaced by anything you need.
Just like Pixabay, Pexels offers short videos, usually with less than a minute long. Furthermore, you are free to use all the material with no author accreditation needed.
As Pexels offers some niche footage, it might be extra helpful for your real estate video marketing footage collection.
Cool. Let's go to the next stage of our real estate video marketing producing process.
Here's How To Edit Real Estate Video Marketing Media
This can be a long step of the video producing process if you are a brand new editor.
So, to help you make the editing process flow smoother, here are some hints:
Invest in a fast storage drive (SSD);
Make sure your computer's memory (RAM) has at least 8GB;
Organize your footage and projects in files and folders to maintain an efficient workflow;
Focus on telling a story by invoking the right emotions;
Choose the best editing software based on your editing style.
I can help you with this last one. Let's go over my favorite editing tools:
Filmora is Wondershare's simple and standard, while high-quality, video editor. This tool offers valuable features such as transitions, motion elements, filters, and overlays.
Furthermore, FilmoraPro has automatic audio sync and audio noise reduction features. These are two important features if you are editing your own footage. Noise on the back can be distracting for your audience.
Wondershare also offers FilmoraGo, for mobile, and FilmoraScrn, for screen recording.
If you are a beginner on video edition, Filmora has a helpful tool: the "easy mode". The platform guides you through the process. You just have to basically drag and drop.
If you are #teamApple and already have familiarity with iMovie, then this is an exceptional tool for you to put up your real estate video marketing strategy. It plays nice with other Apple products.
Airdrop makes it easy for you to export footage if you are shooting with your iPhone.
I like iMovie because of its intuitive interface. Once you get the basics, it becomes easy to flow.
Also, you can find many tutorials online on how to use iMovie. I learned the basics by watching YouTube videos and just playing with the software. If you want to learn, I'm sure this won't be an issue.
iMovie is free for real estate agents who have access to a Mac.
I consider this to be the most complete editing software around. One of its special features is the multi-cam, which allows you to work with an unlimited number of camera angles.
Adobe Premiere Pro offers the ability to work collaboratively with others on your team. Moreover, it offers a massive assortment of audio and video filters for you to apply on your real estate video marketing media.
With Adobe Premiere Pro you can also start editing your videos before they finish importing. This feature can save you some time depending on the size of your video footage.
It might not be the best option if you are making your first video editing. It can be somewhat overwhelming for new users. However, if you are looking for a premiere (literally) real estate video editing tool, then this is the go-to option.
Once you got your video footage organized and edited, it is time to release it into the wild.
It is finally time to exhibit your real estate video and stack up some leads.
Here's How to Distribute Real Estate Video Marketing Media
This is the fastest, yet the most important stage of the process.
Maximizing the number of eyeballs that see your real estate videos is key. Just like you look for the best spot on your client's yard to put a "For Sale" signage, you should do you with your videos.
Having your real estate videos on the main distribution channels is as important as having your selling houses listed in the Multiple Listing Service — highly important.
Let's go over these distribution channels.
It is a no-brainer to have your real estate videos flowing over Youtube.
Over 1 billion users are on Youtube every month, and these users watch over 6 billion hours of video — this represents a possibility of massive reach for your videos.
Youtube is the second largest search engine (staying only behind Google). I personally see it as the new TV.
Considering that people prefer looking at videos when selecting their new homes, Youtube is probably going to be the first place they go. And you should be ready, with your Youtube channel filled with professional and click-worthy real estate videos.
Facebook ads is a fast and cheap way to put your real estate videos in front of your ideal homebuyers. It lets you choose your target demographics by age, behavior, location, and interests.
This means that you can display your video specifically to a person that has been searching for homes in the past weeks, and lives in the area you are targeting.
In addition, Facebook has incredibly high traffic. I'm on Facebook, you're on Facebook, your little cousin is on Facebook, and your mother is probably on Facebook too.
Facebook has over 2 billion users, who check their page multiple times per day.
You surely want Facebook Ads as part of your real estate video marketing strategy.
Bonus Resource: Facebook Live is also a valuable tool for you to engage with leads. You can live stream events, or do open house tours for example. Moreover, you can answer questions about the property and get an idea of what are the main interests of prospective home buyers — all in real-time.
Automated workflow email is the new version of cold calling. Except for the fact that workflow email campaigns work, and cold calling doesn't.
You might be already using Mailchimp, or some equivalent, as part of your marketing strategy. Now you must ensure to include your real estate video marketing there.
Why?
Emails that include a video have 96% higher click-through-rate.
Your Website
Driving traffic to your website is the first step in converting your leads. You must offer valuable resources on your website — such as listing videos — to achieve your selling goals.
Also…
Do you know what is the average conversion rate for websites that don't use videos?
And what about the average conversion rate for websites that use videos?
Enough said.
Hootsuite is the most complete social media management tool, and it will facilitate your real estate video marketing distribution.
With Hootsuite, you can schedule your videos to be posted on the platforms you desire and then, measure their impact.
Besides Youtube and Facebook, you should post your videos on Instagram, Pinterest, LinkedIn, and Twitter. These are all visually-driven platforms that will maximize the reach of your videos.
When I started using Hootsuite I noticed that it significantly decreased the time I had to dedicate to social media management, while increasing the positive results.
In short, Hootsuite efficiency will definitely contribute to your real estate video marketing effectiveness.
Feel Ready to Rock n' Roll?
You got tools to collect, or create, footage, to edit, and to optimize the distribution of your video. And of course, you got what I call the all-in-one tools.
As we saw, there are multiple manners to expand your toolkit for video success. Understanding your needs and setting your goals and priorities is the first step in deciding the best tool for your business.
With these tools under your belt, I guarantee you can implement exceptional real estate video marketing strategies and boost your sales.
I know that with so many options available, selecting the ideal real estate video marketing tool for your business might be overwhelming.
So here is a hint:
Answer these questions to help you weigh your priorities and select the best tool for you and your business.
1. What type of real estate video do I need?
Blog post recap, listing, neighborhood tour, testimonial, interview, open house live tour, real estate agent profile, or just general brand promotion?
There are many real estate video marketing categories you can explore. Don't be afraid to mix and match.
2. What is the frequency I will have to produce new videos?
If you are creating listing videos, for example, the frequency of your video producing in your marketing calendar is going to be high. So, you should be spending less time on the production of these videos.
The same applies to blog post recap videos, neighborhood tour videos, and all the types of real estate video marketing that are not "evergreen" — videos that will have its value decreased as time goes by.
Now, if you are just making your real estate agent profile, or general brand promotion, it makes sense to spend more time and money on it.
3. What is my real estate video marketing budget?
That is a key question to base your decision about which tool to use.
Good thing that there are options for you, doesn't matter what your answer to this question is.
If that was too much information and you are still unsure about which tool to use, I would start with one of the tools under the "get practical" section:
Remember, you can communicate your message in a simple while engaging and professional way. Producing outstanding real estate video marketing media can be easy and fun.
Keep in mind, real estate video is the most powerful tool to generate, nurture, and convert leads. And you cannot afford to ignore it.
All these tools have their pros and cons, but one thing is certain: you have all the video marketing resources necessary to set your business up for success.
Take your pick, and make it yours.