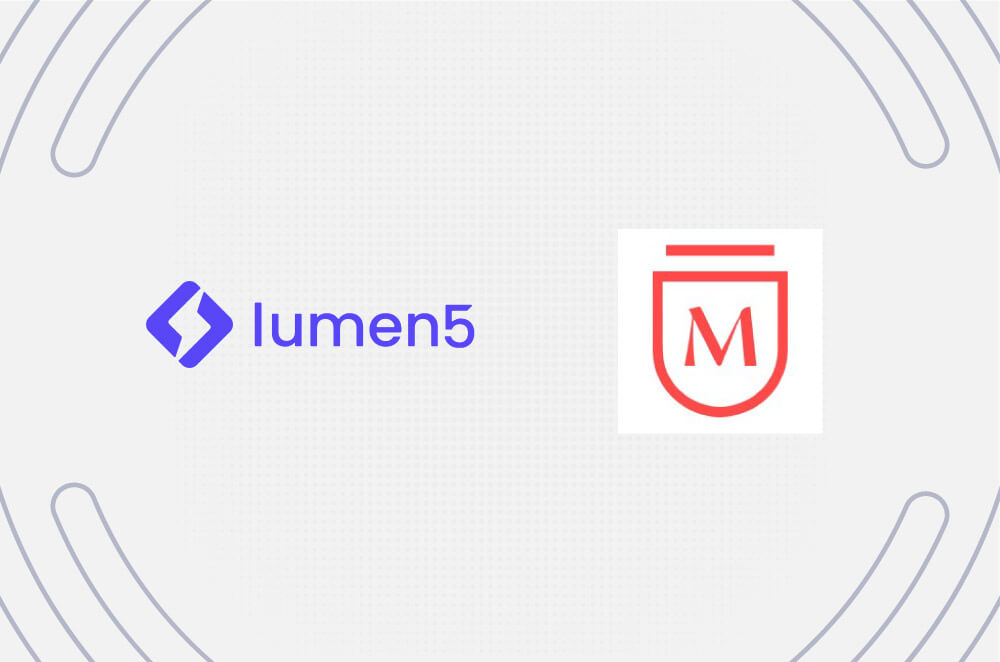 Lumen5 is partnering with GenM to create a practical course on video marketing to help students prepare for marketing apprenticeships and businesses get more things done.
Video has become a crucial part of our lives. The following stats speak for themselves:
According to Hubspot, "2018 transformed video from a singular marketing tactic to an entire business strategy," while 2019 has been "the year for video as a holistic business approach."
Now that 2020 is just around the corner, it's important that businesses keep leveraging video marketing and that people have access to free educational tools. Lumen5 has gotten together with GenM to provide the best learning experience for anyone interested in building a successful career in video marketing.
With our partnership, Lumen5 users get a $25 discount to work with a marketing apprentice for the first month.

Get access to this offer here.
Before we share more details about the course, let us explain why we chose Genm.co as our trusted partner.
How GenM Makes eLearning A Better Place
Nowadays, online learning is one of the fastest-growing industries—and many argue it's the future of education.
Studies show eLearning is good for the environment. Designing and providing online courses consumes around 90% less energy and produces 85% fewer CO2 emissions per student than traditional classes.
GenM.co is an online training platform on a mission to free education and provide value to students and businesses alike.
How GenM works: businesses sponsor the student's experience by paying a small fee to get access to the talent pool and workflow support. Students get matched with a business that mentors them while receiving constructive feedback.
A win-win situation.
Why Students Love GenM
Students coming out of college need work experience to land a job. Finding the right business and mentor is the first step to get ahead of a career. GenM offers free courses created by industry experts and digital marketing apprenticeships designed to provide a stepping stone for students.
What's in it for them:
Students gain in-demand skills and career-related work experience by working 1-on-1 with industry professionals.
Instead of traveling to an internship, they get the knowledge they need to kick-start their marketing career within the comfort of their home.
Stay up to date with information on the latest marketing trends and tactics.
Why Businesses Love GenM
At GenM, businesses get matched with students ready to apply their marketing knowledge and help them grow. By mentoring and assisting students to polish their skills, companies get more tasks done.
What's in it for them:
Save up to $1000 per month.
After three months, either hire the apprentice or get placed with another.
Work with multiple apprentices to form a small marketing team and scale your business. GenM provides the tools and resources to manage tasks, projects, and communication.
Give back: your help goes a long way to get students the experience they need to land a future job.
What about Lumen5?
There's a science to video marketing, and we've been in the laboratory. Actually, we own the lab.
Where Lumen5 Comes In
You can always count on Lumen5 to create videos that attract, convert, and retain new customers.
With the help of AI, Lumen5 turns text into video marketing content in no time. You enter a blog post or RSS feed and Lumen5 will help you summarize your content while matching each scene with relevant videos and photos.
Lumen5 Features:
Turn text into video
Automated workflows with A.I
Media library with music, images, and videos
Branding options such as logos and watermarks
Custom fonts
Video Resolution up to 1080p
Letterbox style
Aspect ratio of 16:9 (landscape), 1:1 (square) and 9:16 (vertical)
How To Use Lumen5:
You create an account here.
You enter a URL of an existing post, and Lumen5 will automatically create a storyboard.
We'll recommend media you'll love and help you make great design decisions. You can edit the text and pick photos from Lumen5's massive library, as well as choose music to go along with the slideshow.
You save your video or share it on social media.
According to G2, what makes Lumen5 stand out is its straightforward features and great video quality. Users love its simplicity and the fact that its automatic features do most of the heavy work for you. After all, saving time is a valuable resource when it comes to digital marketing.
The Bottom Line
Video has been transforming the way businesses market and consumers shop, so it's fair to say brands that aren't creating video content are falling behind.
By partnering with GenM, Lumen5 is looking to educate students on how to use video marketing to tell stories that hook visitors and help businesses build authentic relationships with customers.
The course takes 10 hours a week for three months, which means it can work just fine alongside your school or full-time job. You'll learn about the principles of video marketing and how to create high-quality videos that win hearts—all within the comforts of your home.