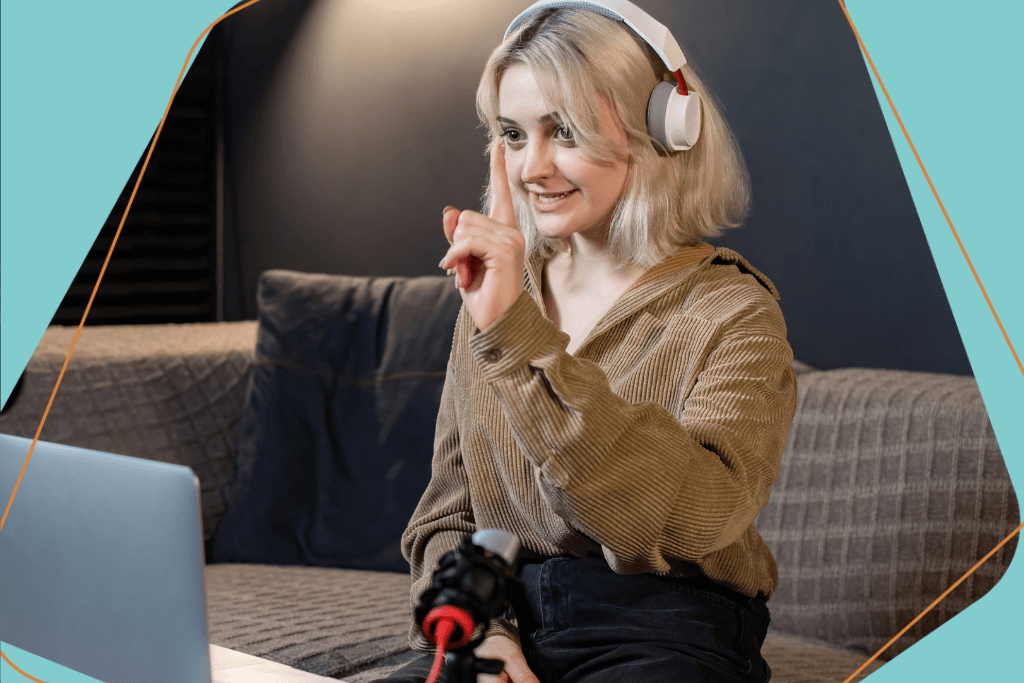 What makes a recorded video "good"? It's true that you don't need a fancy camera or the most expensive mic to get the results you need. And with tools like Lumen5, their in-app recording capability is a feature that makes the video creation process that much easier! All you need are two things: 1) a camera to record your video and 2) a mic that can pick up your audio. Mike here just uses his iPhone and a mic from Amazon – look how amazing his videos are!
But IF you want to take your video recordings to the next level, there are some small tweaks you can easily make or consider.

Let's get you "lights, camera…action!" ready! 📷
---
How to Set Up your Webcam for Video Recording: Framing, Lighting, Background
First things first: your filming set up! This is not the cake itself – that's your content. But think of it more as the frosting in between the cake layers. Setting up your recording station in an area with soft lighting and a minimal background are ideal and can help with managing lighting. Minimal backgrounds are easier when manipulating lighting, such as a simple change of exposure levels when recording or using additional lighting equipment.
For example, if it's a sunny day, a lighter background might reflect too much backlight and leave you in the dark. But that can easily be fixed by adjusting your webcam exposure levels without changing the background. Or if you're in Vancouver, a classic winter cloudy day causes shadows to cast on your face. No great lighting? Use a ring light!
Lighting can impact your video quality significantly, along with viewer engagement and the entire experience. By humanizing your videos, like adding a talking head clip to your video marketing strategy, this can significantly influence purchasing decisions by double – from 16% to almost 33%!
Finding the perfect balance and video recording spot might be a pain the first time, but after that – you're good to go! Mike sets his up for convenience with a plug and go system that works for him! This can easily be accomplished with your webcam, laptop, and choice of mic.
How to Video Record Yourself: Distance, Body Language, Facial Expressions
But most importantly, before you hit that record button, positioning and distancing yourself far enough from the camera is crucial. Trust me, your future self will thank you later!
Imagine the camera lens as someone you're speaking to. Put yourself in the view/perspective you want your audience to perceive you! (And don't know 'bout you, but I prefer to talk to someone with a bit of distance between us. I personally don't have the most flattering angles from above or below or even up-close 🫣) Luckily, Lumen5 lets creators record video using their in-app recording feature which features a video preview! (Say hi to yourself!)
And with that extra bit of distance or padding around, not only are the awkward angles avoided, but viewers are able to see body language, facial expressions, and other non-verbal cues. According to research, 93 percent of human communication relies on body language, facial expressions, and other nonverbal factors. And tying this back to the impact lighting has, a bad downcast, backlighting, or dim lighting while recording your video can cause viewers to miss facial expressions, such as furled brows or eyes widening from excitement. Oh no!
Adding more distance and recording your video farther away also gives you more creative freedom when editing. For example, zoom-ins when incorporating scene designs such as split screens or placing callouts. The extra room leaves extra room for creativity!! 🧚🏼✨ Here's an example:
How to Record your Video Script: Intonations, Pauses, Speed
Recording yourself can be scary, especially when you stumble on a few words or go off onto an unexpected tangent. It's okay, it happens sometimes. But that's why I recommend writing a script or at least the main points to hit! At the end of the day, it's not your video quality or lighting, but the content – the cake.
A video script should be genuine yet succinct – especially for explainer videos. Creating the intentional pauses, natural speaking cadences, and speed can make or break a video's impact! Who wants to watch a video and feel bored by the robotic cadence and delivery? Not I! Or even worse, feel more confused after. 😵‍💫 Video content can impact branding – for B2C and B2B. Bad content can decrease the probability of a sale by 40% and deter consumers from your content altogether. But if done correctly, your video marketing efforts can have an audience reach of over 90%!
---
Say hello to Lumen5's new teleprompter and goodbye to robotic responses and awkward silences! 🗣️
Using a teleprompter while recording can help with a genuine delivery while keeping the message concise! Lumen5 incorporates a text overlay on the video preview screen that is available to all users (Free & Enterprise, so give it a shot!), allowing users to keep an eye on how they look while reading their script. Lumen5's new teleprompter can be set to match your speaking style and automatically scrolls while you record – talk about a hands free and hassle free experience!
And as the recording is being captured, the timer at the top will keep track of how long your recording is. This is perfect for videos that have a time constraint! The maximum video recording length is 10 minutes, which is plenty of time to educate, engage, or entertain. However according to Hubspot, short-form videos have the highest ROI at 70%.
Users can also press "pause" at any time to take a break, grab a glass of water, or even answer the phone to buzz in that Amazon package you'd been waiting for!
Companies rely on video creation software like Lumen5 as the one-stop video shop that enables anyone to record, edit, beautify, and download their videos all within one software. The biggest video marketing challenges companies continue to face are: 1) the lack of in-house skill (43%) and 2) the lack of budget dedicated to creating videos (40%). But Lumen5 does all the heavy lifting! Don't believe me? Anne will walk you through it:
But remember this: the content is the cake. 🎂 And everything else is just extra icing on the cake, which makes the cake prettier by adding a bit of creativity spice. 🌶️ Need help with the creative spice? Or want to increase your video marketing efforts? Lumen5 offers in-app recording, editing, and downloading all for free – and all within our tool. Sign up for a free account and try out our cool new features!
---