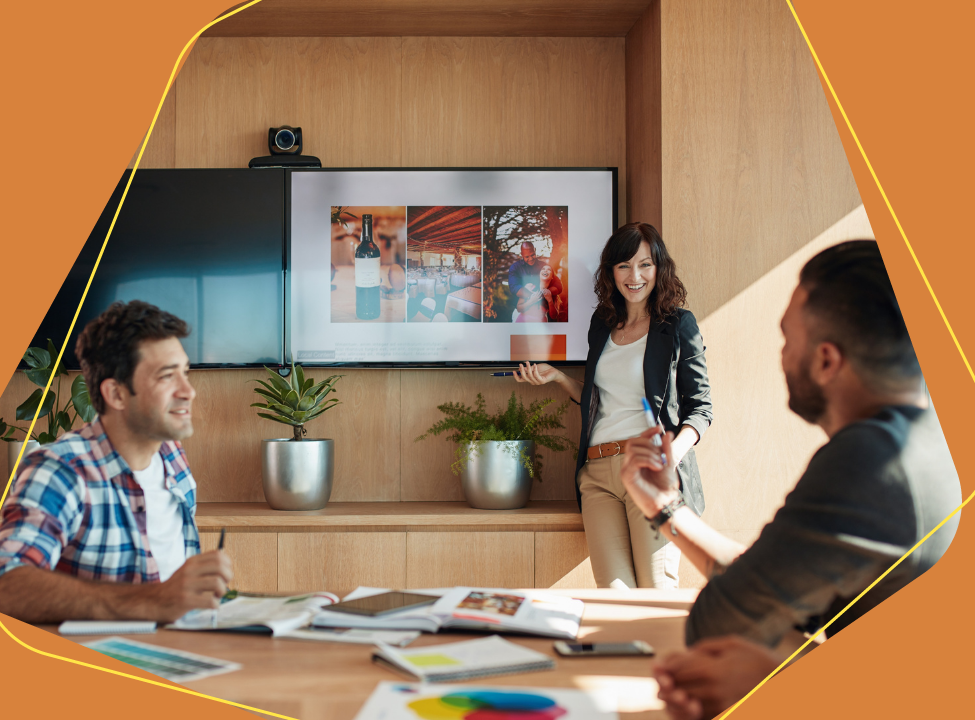 Marketing teams are facing a dilemma. They know they need high-quality, professional videos for their campaigns to help drive growth and maximize audience engagement. Still, when the inevitable "how much will this cost?" question comes from the CMO, the video marketing goal can start to fade. If you're lucky enough to get a nod of CMO approval, there are three roads you can go down to implement video marketing in your business. 
1. Hire a video production agency
It's time to bring in the pros! Hiring a video production agency is a surefire way to ensure that your video gets the time and attention it needs. Typically, an agency will support the following video production stages: pre-production, shooting, and post-production. Within each step, there's a range of services that are generally available, including concept planning, audience research, script development, directing the video shoot, interview transcribing, editing, graphic and text creation, and rendering. Quite a lot going on, isn't there? 
Depending on your video needs, there can be a wide range of prices involved. Research by Wyzowl found that, on average, a one-minute animation video will cost $7,972, with studios charging anything from $2,000 to $20,000 per video. Our friends over at Hubspot found that for an explainer video, prices on the lower end of the scale start at $700 and can quickly rise to $72,000. 

Hiring an agency to produce videos is costly and can be time-consuming — especially if you need to produce videos at scale. 
2. Hire an in-house videographer
If you decide to onboard a videographer as an employee, you'll need to consider two areas: salary and the upfront cost of purchasing video equipment. On average, the salary for an experienced videographer can range from $19,626 to $69,615. At the very top end, you could look at paying $146,250 plus benefits and company perks — all before you've purchased video equipment. 
Camera Equipment
Of course, you could get away with shooting video content on your iPhone, but if you're looking for professional video marketing, you'll need to purchase a good-quality video camera. An entry-level professional DSLR ranges from $400-$3500. The main benefit of a DSLR is that the equipment can shoot stills as well as video and its small size makes it highly portable. If you want to take your camera equipment to the next level and produce broadcast-quality videos, you'll need to budget for a spend of between $3,500 and $20,000.
Tripod
This isn't the Blair Witch Project, so shaky-cam is certainly not permitted in your marketing video. You'll need a solid tripod to stabilize the shot. These range from a modest $20 up to $600 for a professional model. 
Microphone
Depending on what precisely you're planning on shooting, a microphone will be essential to creating a high-quality video. If you'll be conducting a lot of interviews, a lapel mic is vital. A shotgun mic will be handy for shooting any action scenes or scenes that require conversation outside. You can pick up a good-quality lapel mic for between $50-$500 and shotgun mics can range from $200-$2500.
Lighting
Lighting is one of, if not the most essential part of any good video production rig. Without a proper lighting system, your footage will be too dark and unviewable. Depending on your needs and budget, you can buy a lighting kit from $150-$300.

Editing software
iMovie comes free with every Apple Mac and iPhone but isn't really cut out for creating high-quality, professional edits. To really make the most out of your video footage, you'll need to invest in Final Cut Pro ($399) or Adobe Premiere ($479.88) video editing software. Don't forget that your in-house videographer should come fully trained on either platform, or you could end up having to pay for a freelance professional video editor.
Hiring an in-house videographer and purchasing equipment can quickly add up and eat into your overall budget. Luckily, there's a third, less expensive option. 
3. Use an online video editor
An online video editor is the easiest way to quickly produce videos at scale. They're simple to learn with no video editing or creative experience required. Depending on what type of video you need to make, there's often a wide variety of presets. For example, if you're looking for a professional explainer video that's going to be shared on Facebook, there will be a template and theme ready to get you started. Online video makers also give you access to photo and video libraries, for example, Shutterstock.
In terms of cost, an online video maker generally starts at $149 for a business plan that will enable you to make twenty videos per month. Certainly feels more cost-effective than the other two options, doesn't it? 
For creating high-quality video marketing campaigns quickly, easily, and within your budget, it pays to invest in an online video maker. Sign up to Lumen5 to get started.