When done well, B2B marketing will build a relationship with a potential customer (typically representing another business) and generate engagement for your company across the different stages of the marketing funnel.
B2B marketing should serve your audience content that solves a pain point or provides a solution to an issue. The messaging behind these B2B marketing campaigns should be directed to a specific user or vertical and will be more successful than blasting your target audience with non-stop ads and messages. 
To see results from a B2B marketing campaign, you need to add value to your audience's day-to-day life, hoping that they see value in your product or service and become a customer — but how? Establish, build, and maintain trust with your prospect. You can do this by following these five strategies to help increase your B2B marketing engagement and effectiveness.
1. Leverage thought leadership
Savvy B2B marketers understand the importance of thought leadership, also known as industry expert content. Doubling down on a thought leadership strategy will put your business in the position of sharing valuable, authoritative content written by a leader in your industry or business — usually a CEO, CMO, or CTO. Then, you distribute the thought leadership assets to increase the writer's profile and give them a platform to showcase their expertise, knowledge, and authority on a subject. 
The best part? Thought leadership as a B2B marketing strategy gets results. A study by LinkedIn found that:
48% of B2B decision-makers spend an hour or more engaging with thought leadership content per week. 

89% of the B2B decision-making cohort mentioned above stated that thought leadership had previously enhanced their perceptions of an organization.

49% of the cohort said that thought leadership influences their purchasing decisions.
Engaging thought leadership content will drive your audience further down the marketing funnel and help to not only influence conversions but improve your brand's authority in the space by providing actionable insights.
2. Humanize your brand
As the old saying goes, "people buy from people," which means that your brand needs to be as human as possible if you want to increase your B2B engagement rates. Focus on being true to yourself and your company's core values — don't focus on what everyone else is doing; concentrate on your brand. Audience's value authenticity. 
Share content that's relatable to your audience, ask questions, engage with them, and communicate like a human, not a business. Your audience will see that you're not about pushing a sale; you genuinely care about their pain points and want to understand how you can help provide a solution.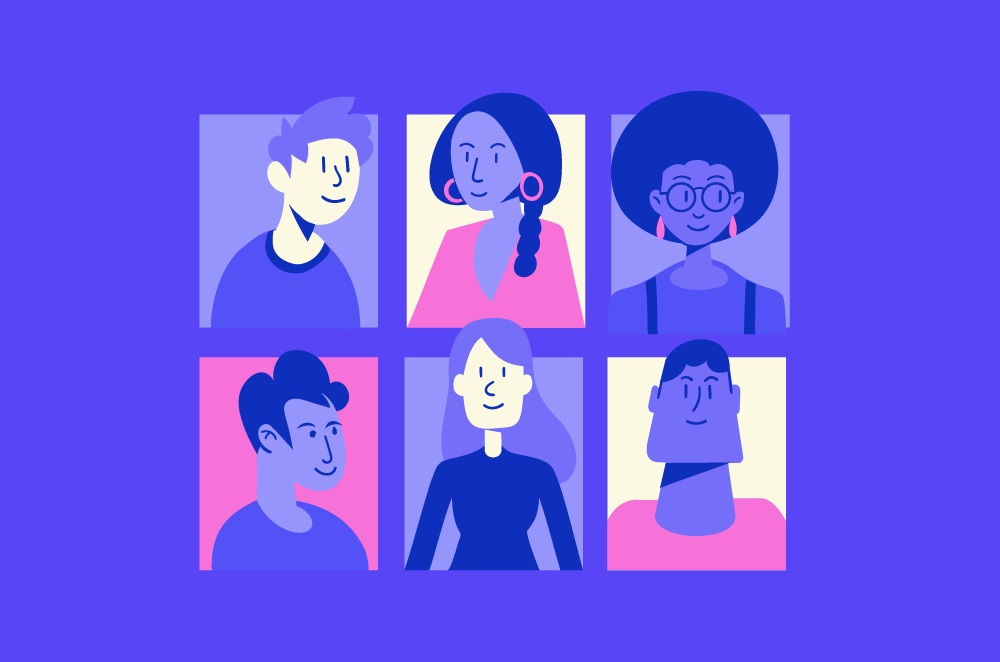 Implementing humanization factors into B2B marketing campaigns will help your audience feel more like they're conducting business with humans rather than a computer. Use a CRM platform to build a detailed profile of your customer and allow yourself to craft personalized messaging that'll add a human touch to your campaigns. 
Every B2B business should have an about page. Use actual employees rather than stock imagery and showcase the human side of your company. Your audience will feel more connected to your business by seeing the people who work there, and this strategy will also help improve brand credibility. 
3. Repurpose old content
Repurposing content is a fantastic way to get more eyes on your brand and reinforce a message. Content repurposing doesn't have to be tricky or time-consuming — the strategy actually centers around saving you time, money, and resources because getting more mileage out of your current content means spending less on new asset creation in the long term. 
Let's say you've crafted a compelling whitepaper or long-form blog post that's getting a ton of engagement, traffic, or both. You can leverage this success by repurposing the content into different styles or formats to help drive further engagement with your business. The thought behind this strategy is that you already know that the original asset performs well — why not take it a step further and test to see if you can drive more engagement by breaking it down even further and repurposing it? 
For example, you could whittle the content down into smaller chunks and create stand-alone, shorter blog assets that backlink to the original content, therefore increasing its search value.  You could also create a video from your original asset to leverage across your social channels and drive further engagement.
Repurposing content aims to make the same message feel fresh and appealing to your audience. Give a new lease on life to your old but high-performing content, and watch your B2B marketing engagement rates soar.

4. Invest in email marketing
83% of B2B companies use email marketing as a strategic way to engage with their audiences. Investing time and resources into B2B email marketing is a powerful way to share your content and resonate with specific audiences.
Email segmentation for your campaigns is a must-do. You don't want the same content going to your middle-of-funnel leads and bottom-of-funnel leads because their needs will be wildly different. One cohort may be considering your product, whereas another could be further down the marketing funnel and more inclined to become a customer. 
A great tactic to measure B2B email marketing performance is to implement A/B testing across your campaigns. Doing so will give you valuable insights into your campaigns' performance and what works best with your audience. For example, you could A/B test subject lines, email copy length, or email tone to see what truly resonates with each segmentation and — most importantly — what drives the most clicks to your CTA. You could even embed a video to drive further engagement with your email and call-to-action.
5. Use video
We recently conducted a study into the landscape of video marketing. Our survey found that 85.5% of marketers plan on using video in their business strategies, and 93.4% of people said that video marketing is very or somewhat important to their businesses. Both of these statistics signal that companies understand and see the value of a video marketing strategy. 
Video marketing is a rich, multi-media format that appeals to many audiences and communicates various messages. There are many benefits to video marketing, including increasing engagement rates across social media, improved conversion rates, and directly impacting search rankings. 
Video creation for B2B marketing doesn't need to be expensive or take hours in time and resources. Using an online video maker can help you create impactful, engaging video content in minutes. Sign up for a free trial to Lumen5 and start seamless video creation today.