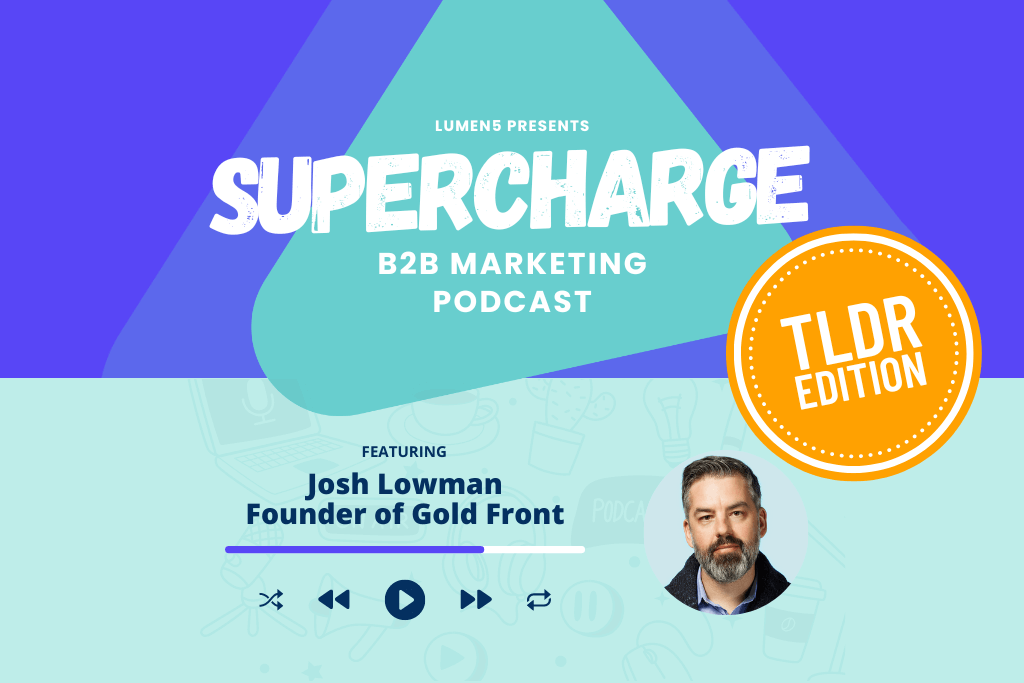 Welcome to the TLDR Series: for those who don't have enough time in the day – because who tf actually has time these days?
About Josh Lowman
CEO and Founder of Gold Front, a San Francisco based cateogry design studio,Josh Lowman has worked with over 40 C-suite executives and their teams to create new categories and market them to their customers. He believes that the answer to cutting through the noise lies in category design and creation.
The TLDR
In a world where every startup is using innovative technology to disrupt the status quo, how can you ensure that your idea stands above the rest?
According to Josh, category design goes beyond product positioning; it's a North Star that executives can lean on "to animate and lead their entire company." It's the core DNA of the business and requires company-wide support — from product to marketing to sales — in order to succeed.
Listen to this episode to learn the three questions that every category creator must answer, how to weave your category story into your brand strategy and how creating a category helps win over customers.
What will you learn:
How to create a category in 3 easy steps
3 key questions you need to ask when creating your category
How to market your category and convert customers
Common mistakes to avoid when creating a category
Why does category creation not equal product positioning?
How do you weave your category story into your brand strategy?
Why should you care?
To be truly innovative, emerging technology companies must create their own categories.
Companies may be leaving critical opportunities (and dollars) on the table.
New categories can solve unique customer needs – you could pave the way and take market share.
Getting clear on your category story translates to a stronger marketing strategy, generating better leads and conversions
A category POV is a great narrative story that includes all of the key strategic ideas and all of the messaging ideas in that story
---
This episode of the Supercharge Marketing podcast is available to listen to on all main streaming platforms including Spotify, Apple Podcasts, Google Podcasts, Amazon Music and more. Listen here.
Enjoyed this conversation? New episode every 3 weeks!
Hit subscribe and follow Lumen5 on LinkedIn for future updates! #SuperchargePodcast