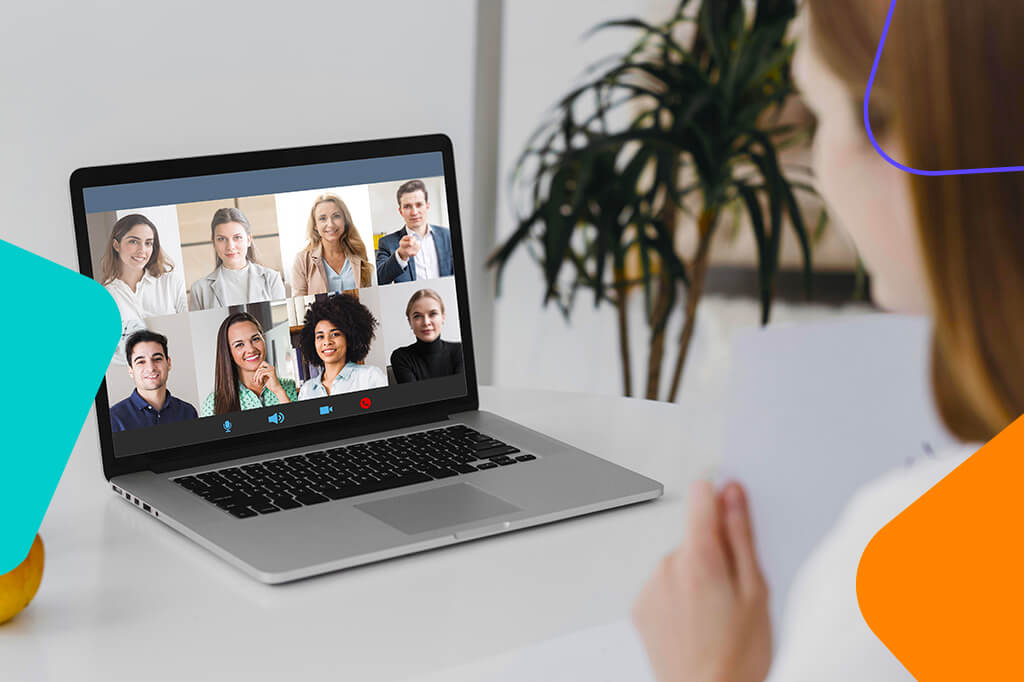 Here are two top phrases you've probably heard while being on a zoom call: the classic "You're on mute" or "We should probably record this" — the latter is our favorite. Why you ask? Because with the rise of online meetings and virtual webinars, companies are creating a treasure trove of valuable communication that can be repurposed as content.
Every Zoom call creates opportunities for high-quality thought leadership content (or TLC as we endearingly call it) that you can share on social media or internally as well. According to a HubSpot survey, 85% of businesses are using video for marketing! Think Zoom calls turned into influencer videos or dynamic company updates that are both engaging and entertaining for your audiences.
Ever leave a team Zoom call like maybe a company All Hands or a Product Roadmap presentation feeling super amped about what was just presented? We have — and our first thoughts are always "I need to tell more people about this! How can we share this out with the world?!"
In the HubSpot State of Video Marketing report, it states that marketers created videos based on these reasons:
Explainer Videos at 74%
Social Media Videos at 68%
Presentation Videos at 50%
A Zoom call from an All Hands or Quarterly Planning presentation has the opportunity to become repurposed for those same reasons.
Things to consider when finding those perfect clips:
Will our audience find the company update worthwhile?
Does this leader share an opinion that others will appreciate?
Is there a funny or relatable moment that our audience will resonate with?
Some common traits always make our marketing spidey senses tingle when these perfect moments arise. In the moment, we realize that:
Our audiences would find the company updates relevant and impactful
Our leaders or team members are sharing an opinion that others would appreciate
There's a funny or relatable moment that our audiences would resonate with
Basically, ask yourself, "Will this get people listening? Even more so, talking?" If so, grab that clip, plop it into a video editor, and mix in these 4 creative elements to make it social media ready:
Automatically add captions
Fun fact: a recent study, by PLYMedia, saw a 40 percent increase in views of captioned videos versus uncaptioned. So, captions play a huge role in getting people to stop scrolling for a minute or two when they come across your video.
They also make videos more accessible in numerous ways — letting people watch in sound-sensitive environments, accessibility for deaf or hard of hearing individuals, and providing digestible tidbits that are easier to remember.
Introduce the speaker with lower thirds
Lower thirds give your audience information that they aren't getting from anywhere else, in a visual way. They're an identifying marker, so that means adding in names and titles of your speaker on screen.
In Lumen5, you also have the opportunity to add in quote scenes for added emphasis or added flare on a point you're trying to make. We'll match it to your brand colors so that it fits seamlessly.
Use our zoom function to feature the speaker
You're probably thinking, "But all my Zoom calls have that grid of users. I only want to show the person speaking." With Lumen5, you can now zoom into images and videos when you crop them to get the focus you want: putting your speaker front and center.
Add background music and adjust the volume so everyone is heard
This will add flair to your videos so that it doesn't seem as corporate. A perk is background music adds a nice touch to set the mood of your video. Sharing a more uplifting video? Throw in some upbeat music so that it matches your speaker's message.
Here are how each feature works and can be used in Lumen5:
Not convinced that this is the strategy for you? Here are five companies repurposing their Zoom calls or virtual webinars as a video marketing tactic:
The videos weren't created in Lumen5, but after today they can be! Some may say repurposing Zoom calls is uncreative. But in our eyes, it's the smart way to engage your audiences without having to spend hours creating fresh content. As the saying goes, work smarter not harder — let Lumen5 do the hard work for you.
Get started on repurposing those recordings and create an account on Lumen5 today to use our automatic captions.