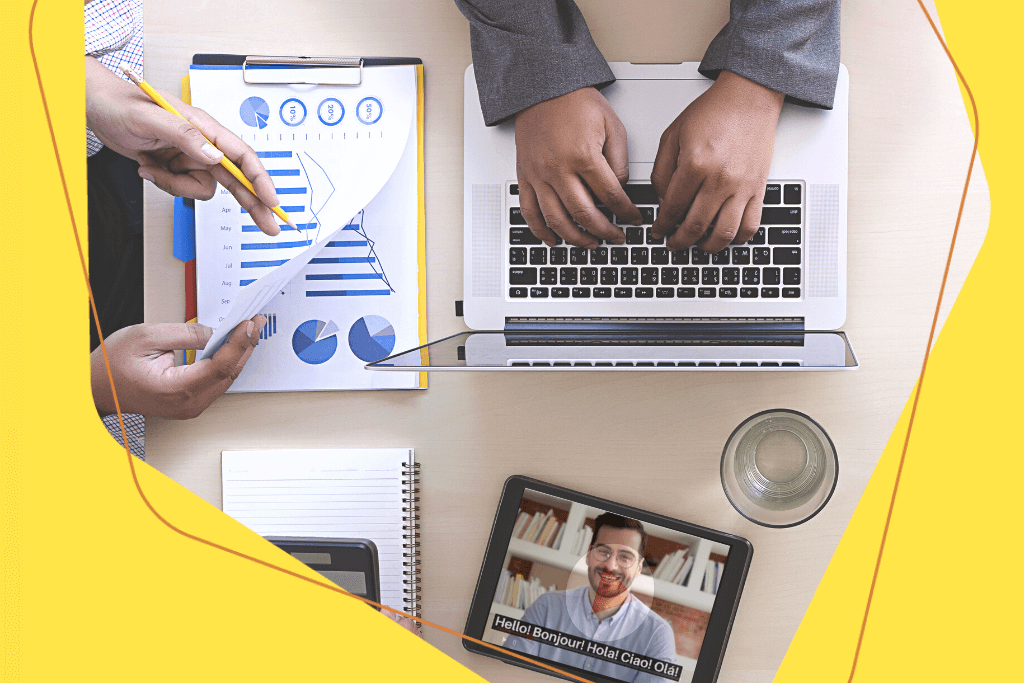 Video content is key when it comes to marketing business to business (B2B) aligned brands. If a picture is worth a thousand words, then a video is worth a million. It's no secret that video is one of the best ways to deliver a message.
Over 90% of marketers say that video is essential in a B2B content marketing strategy and its ROI value increases significantly each year.
Whether you're ready to churn out a B2B marketing video yourself, or maybe you already have one ready and want to promote it on a massive scale – here are 3 great insights and tips that will surely help you maximize your mileage out of your current material:

Tip #1: Turn your videos into blog content (and vice versa!)
One of the most prominent B2B marketing tactics is turning your video content into blog content.
In other words, you can transcribe your videos and turn them into a text format, like a blog or an article. By repurposing and uploading the content, this can help gain valuable website traffic or capture your audience's eyes – old and new.
The reason why this is so effective is because it saves you from starting from scratch. 60% of marketers find it difficult to produce content consistently. Repurposing existing material allows marketers to produce new content quickly and reaffirm your brand's position as a thought leader – yes, you can have your cake AND eat it too! 🎂
This doesn't mean that you won't have to do some writing and optimizations yourself, BUT a large chunk of the content will be ready for you.
And if you haven't created any videos yet, turning your blog content into video is a great starting point! 23% of non-video marketers don't use video for marketing as they lack time, however 79% of non-video marketers say they want to incorporate it into their strategy. So why not recycle blog posts that are older, but still full of valuable information, and share their main points as short, engaging videos?
Tip #2: Turn your video content into engaging infographics
Did you know that 65% of brands use infographics for marketing purposes? We can't blame them.
They're highly shareable and highlight key points in a concise manner (not to mention that they're super aesthetically pleasing), which can be very important for SEO reasons and can bring in more traffic. Over 40% of marketers say infographics are the most effective for achieving their marketing strategy goals.
For instance, look at the following infographic by HubSpot explaining inbound marketing:
It summarizes valuable information in one image, accompanied by visual elements which help people digest information more easily. Something similar can be done by taking information from a video and summarizing it into an infographic.
The results can be outstanding!
Tip #3: Circulate your B2B marketing videos across all your social media platforms
Social media content can't be forgotten! It's one of the most important ways that video content can be repurposed, as it offers a wide variety of benefits and is shared easily. People are twice as likely to share video content with their friends than any other type of content.
For instance, you can promote your B2B videos for your audience to see and engage.
One good example is Instagram where, according to Hootsuite, 9 out of 10 users watch videos on a weekly basis. Moreover, users spend 80% of their time watching videos, something which is expected to significantly grow in the future.
If you're producing B2B marketing videos, another platform we recommend to you is LinkedIn. However, be cognizant when repurposing a video from platform to platform. Each platform attracts a different group of target users. Be sure to take into consideration key factors, such as video length and format or what content will resonate more with your intended audience on Instagram vs. Linkedin – adjust as needed.
With the plethora of businesses and professionals on the network, LinkedIn videos can really help you in terms of engagement. 62% of marketers consider video engagement the top metric, while plays and views were a close second.
Companies like HubSpot have already leveraged such platforms for their video content.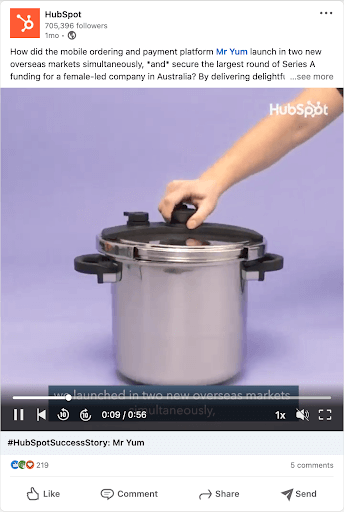 To sum up, video content is a must nowadays for B2B marketing strategies to deliver their message efficiently. It's true that factors like creativity, production, and picking the right video hosting platform aren't a piece of cake, but if executed the right way, B2B videos can work wonders for a brand! Not just at the awareness stage, but all throughout all stages of your marketing funnel.
Need help with video creation? We've got you covered. At Lumen5, our video creation software and AI can help you easily transform your written content into 5 minute videos (or less!) We provide public structured templates that are equipped with stock media, colour palettes, and scene and text animations, which captivate any audience's eyes. All you need to do is input your text and we do the rest. Your B2B video content is just a click away. 🙂