Reading Time:
8
minutes
Have you been playing with video marketing without seeing any noticeable results?
You are not alone.
Video creation is often time consuming and it's hard to generate a solid number of views and engagement on a continuous basis.
This can be very discouraging.
If you've tried all the tactics you could find and you are now at the edge of giving up, here are five fresh ideas for you:
1. Optimize Video Context
This is the most boring, yet the most fundamental step. Video marketing is no different from general content marketing in this respect. Ensuring its organic search visibility is key to the video's ongoing success.
Google still relies heavily on text content surrounding your video, so make sure there's enough of it on the page.
When it comes to optimizing the Youtube page hosting your video, the SEO task involves:
Coming up with a searchable keyword that you hope the video will rank for. I did a detailed keyword research guide to help you out
Including your keyword in the video title and description
Writing up detailed video description
Coming up with at least tags and hashtags as the additional video context
Here's a checklist to help you get all the important elements in order:
Youtube video page is easy to get ranked in Google if you follow the above steps and also link to your video from your site.
Bonus tip: Phrase video title in the question format!
Question research has lots of possible applications including product development and competitive analysis. But the real power in niche question research is boosting your content marketing performance, especially when it comes to improving your content engagement.
The thing is, human beings tend to make a pause and start looking for an answer any time they are faced with a question. This phenomenon of a human brain is referred to as "" in psychology, and it is being very well used in advertising where ever other radio or TV commercial starts with a question.
Well, in content - as well as video - marketing, this works the same way. In our overwhelming era of content over-production and over-consumption, asking a good question can make all the difference: It will help you get more of your audience curious enough for them to start watching a video in search for an answer.
Text Optimizer Content Ideas section is one of the easiest ways to find popular questions on any topic. The tool uses semantic analysis to extract related concepts and questions from Google search results pages helping you create more targeted content:
It is a good idea to find a popular question to include in your video title. You can also repeat it in the video description followed by a concise answer. This way your video will have a good chance of capturing a featured snippet opportunity.
2. Utilize Live Videos
Live videos are incredibly engaging. Your audience can type questions and communicate with you in real time right while you are broadcasting your videos.
There are various ways to include live videos into your current video marketing:
You can broadcast events you are going to
You can do live interviews with influencers
Another idea is to set up live parties announcing or celebrating your new projects or video series
You can use live videos for product demonstrations and promotions
The two most effective platforms for video streaming are:
The good news is, there's a tool making live streaming on either of the platform easier. Click Meeting has a nice feature allowing you to stream your video to Facebook or Youtube. You can use the platform to broadcast your webinars in real time and then use the recorded version in your library.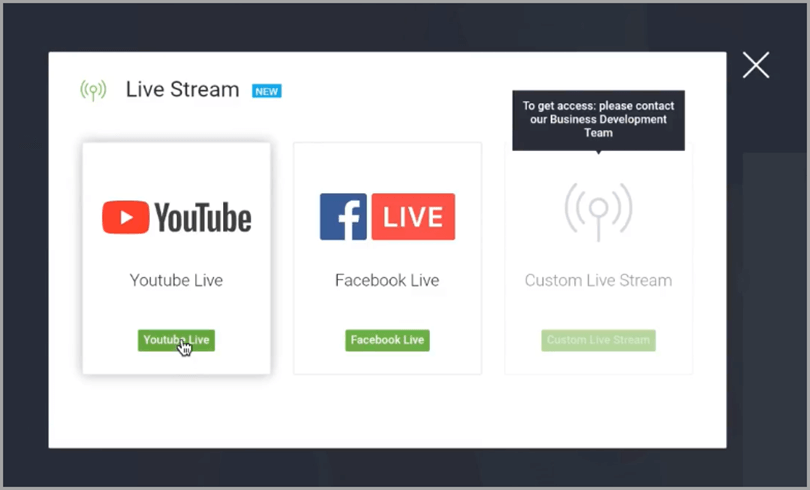 3. Get Your Whole Team Promote Your Videos
Marketing collaboration is by far the most powerful marketing strategy, especially when it comes to content marketing where standing out has become so difficult. Collaboration brings creativity, ingenuity, and higher employee morale.
Marketing collaboration can help on every step of video marketing strategy:
Get your whole team engage with your brand-owned video content (e.g. like, comment on Youtube, embed video in newsletter) as well as share it on social media. Coschedule is the perfect solution for that providing a collaborative space for your whole team to work on making the most of each video promotion:
Connect multiple social media channels to promote your video content across all of them
Add multiple users for all of them to be able to contribute to all or any of your personal and brand assets
Streamline the whole process using checklists keeping your whole team aware of the steps they need to take to promote each video
Your team members can exchange comments, as well as create campaigns to keep everyone informed of when a new video is coming and what its marketing goals look like.
I use ContentCal for cross-channel collaborative social media marketing. With it, all team members can contribute social media updates and the managers can approve them (or modify) before spreading across the calendar.
You can also use ContentCal's "Campaigns" feature to note all mini tasks associated with video promotion. Here are the tasks I usually have there:
Create custom images to promote the video on Instagram, Pinterest, Twitter, Facebook using Canva or Wave
Post to brand Facebook page
Publish to to brand Instagram channel using at least 10 related hashtags
Post to brand Twitter account using 1 related hashtag
Schedule more Tweets alternating hashtags and (when applies) tagging people and brands mentioned in the video
Add video URL to Viral Content Bee
Share the video URL to your personal accounts (Those you added to Coschedule)
Share the video URL to our private Facebook and Skype groups and request likes and comments
Post a video comment from your personal Youtube account
Curate a video using our brand Flipboard magazine
4. Create Video Trailers for Instagram Stories!
Steal this idea: Create a video trailer and upload it as an Instagram story linking to the full Youtube video from there.
Instagram stories get a ton of exposure because your followers will see them on top of their Instagram home pages. It's also the only place on Instagram where you can currently put clickable links.
Note: You can add clickable links inside Instagram stories only if you have at least 10K followers or have your Instagram profile verified - which is pretty doable.
If your Instagram account complies with one of the above criteria, here's what to do:
Tap the link icon

Copy- paste your Youtube link in the field provided

Tap "Done"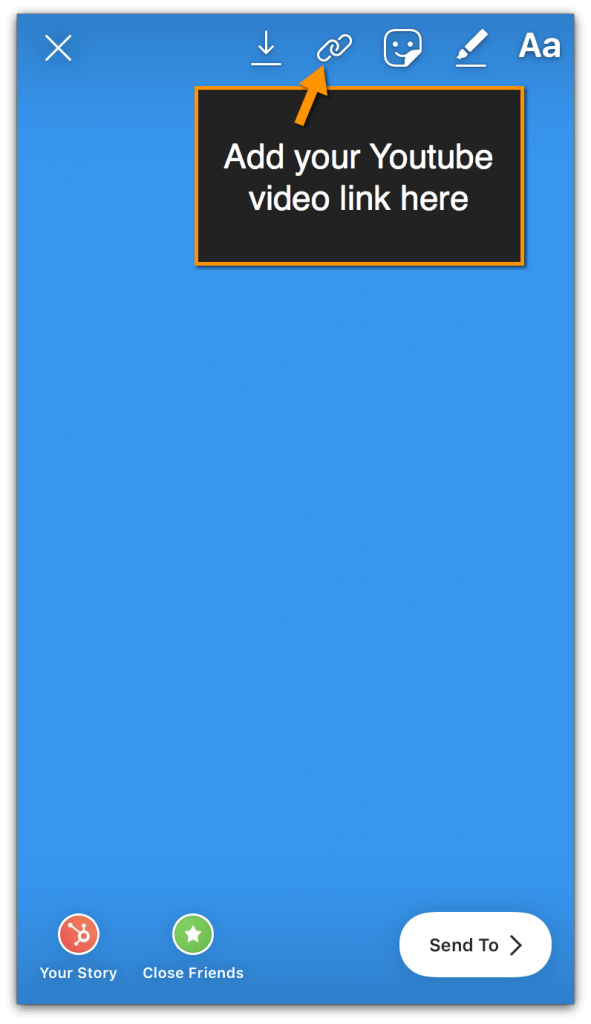 Apart from getting clicks to individual Youtube videos, this is also good Instagram material that will hopefully grow your following and engagement there.
The easiest ways to create effective and professionally looking video teasers is using tools like Lumen5.
Then you can create a story from your Camera Roll using this video. You can also use Google to find images and videos that you can legally re-use to create your video trailers.
5. Take Advantage of Artificial Intelligence
You cannot be with your site readers 24/7 pointing them to your important CTAs and suggesting what they need to do next to find more answers or solve their problems. Smart algorithms can though.
Artificial Intelligence (AI) is quickly making its way into digital marketing helping companies to better serve their customers in real time.
Alter is by far the easiest way to create a AI-powered self-improving marketing bot for your site that will always be there to point your customers to site sections and video content they need at every moment of their browsing journey throughout your site.
Alter is 100% automated: All you need is to install their code on your site and let the bot learn your customer behavior to be able to help them when they seem to need help: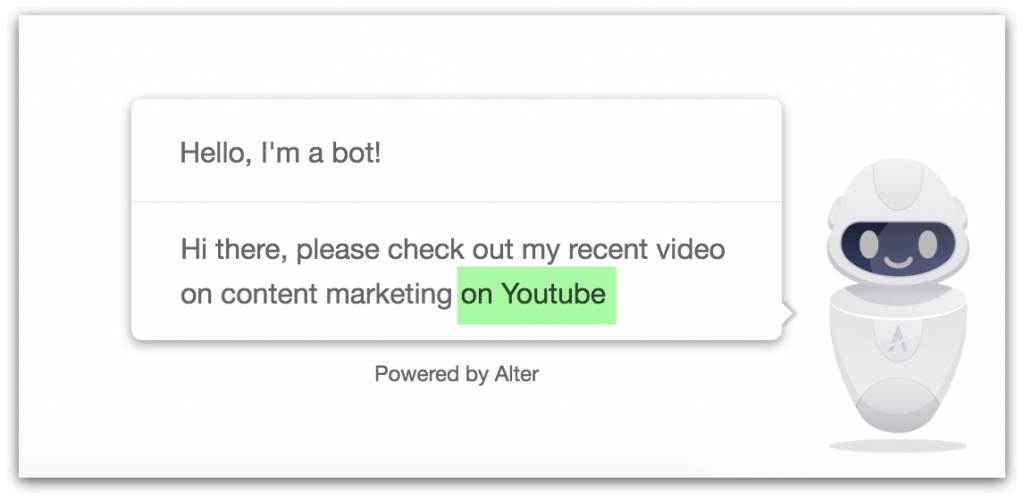 You can customize Alter to show your video URL to returning users only. This way you are not going to distract your new visitors and drive them away and only target people who already know your brand and are likely to engage with your video.
You can set these up inside your Alter dashboard by going Sites -> Bot Messages. There you can edit any message to promote your video. You can also use multiple variables to adjust when you want that message to appear. I usually prefer it to show up for the most website visitors to see. These users tend to still remember who I am and they are likely to be very interested in me since they chose to come back so soon. It's a good audience to engage in promoting my videos: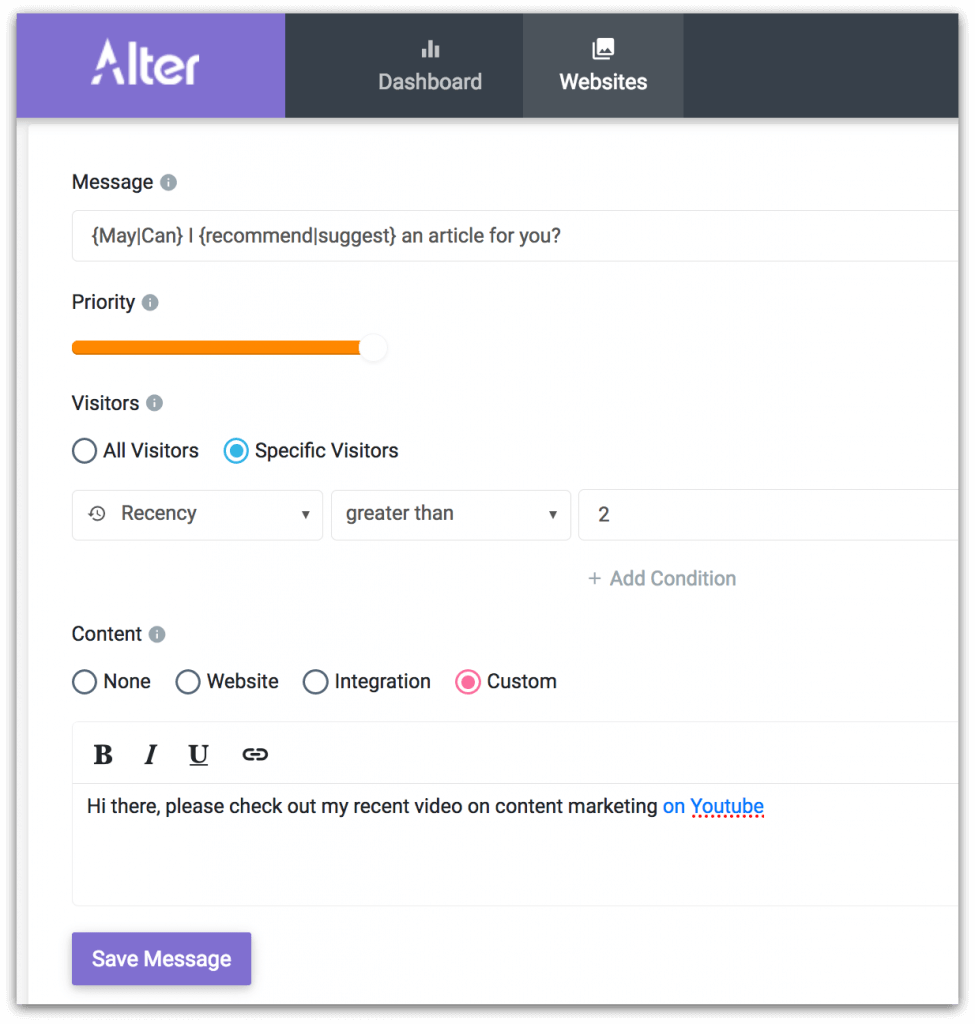 Furthermore, Alter integrates with major email marketing platforms (currently: Mailchimp, Constant Contact, AWeber, Hubspot, Campaign Monitor, and GetResponse) giving you full flexibility to engage your customers further.
Alter is an effective on-page engagement boosting tool, including engaging your site visitors with your video content.
Bonus: Use Finteza to Promote Your Videos on Your Site
Sharing your video content on your site is the most effective way to engage your loyal community in helping you promote it.
Finteza is the free web analytics platform that has "Marketing Campaigns" feature that can be used to scale on-site video promotion:
The first step is to identify "zones" where you want to promote your videos. Once identified, your video promotions will appear there according to your schedule.
Next specify time period you want it to run. This is helpful for seasonal or well-timed video content
It is also a good idea to use re-targeting option to serve your video promotions to your return visitors. This way you won't distract your new visitors. Instead you'll engage your loyal readers who chose to return to your site
Create banners inviting people to check out and help you promote your video.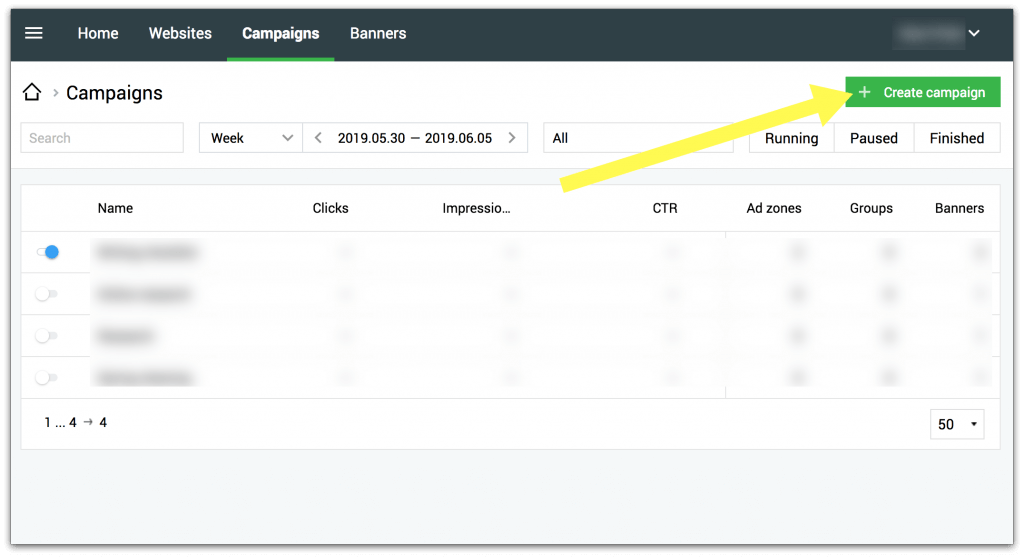 After that, all you need is to do is to login to Finteza and schedule out more campaigns to promote your videos. If you do a lot of videos a week, it is a good idea to set up a separate mini site optimized for showcasing your Youtube activity.
Takeaways: How to Scale Your Video Promotion Routine
Use basic search engine optimization to ensure organic search visibility: Create keyword-focused video title and a detailed video description
Utilize Live videos to announce new video series and promote your channel
Use question research to word your video titles in question format (also use question research for video content ideation too)
Utilize collaborative social media marketing to get your whole team promote your videos (as well as engage with them)
Use Instagram stories to post video teasers and link to your Youtube videos
Use AI-powered marketing bots to suggest your site visitors your video content exactly when they are ready to engage
Bonus: Use Finteza to create on-site advertising campaigns to promote your new or old videos
Are you using video marketing to engage your audience?
Please share your ideas!