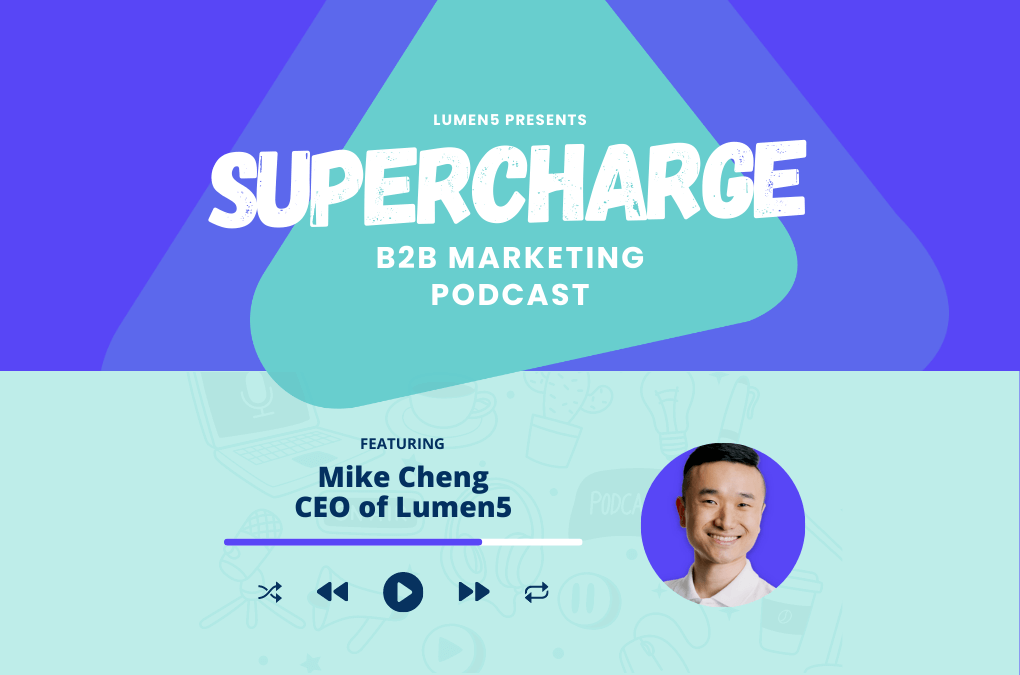 The way we consume content is rapidly evolving and brands looking to get an edge over the competition must master video. 
Mike Cheng, CEO, and Co-founder of Lumen5, believes snappy, shareable content formats like bite-sized video snippets are sounding the death knell to the traditional blog. 
"It can be very daunting to think about how to build a successful video brand — that could take years — but it's one video at a time, and that's the answer to how you build a video content empire," says Mike. 
Video is replacing the traditional blog. Even big brands have made the shift to platforms like TikTok and YouTube Shorts — because they've realized the value of capturing even a few seconds of audience attention in fun and creative ways. 
Is your brand doing all it can with video?
"The hub of your brand, the hub of your commerce, your digital storefront, has evolved away from your website and your blog and onto social network profiles," says Mike Cheng, CEO and Co-founder of Lumen5.
To best maximize your social media presence and foray into this new content frontier, Mike suggests researching your target audience and aiming to understand the types of content they prefer and find most engaging.
You don't need to start from scratch with this shift away from written content, Mike explains to Dani Hao on the podcast. Repurposing high-performing blog posts and ebooks can help you not only increase the longevity of your messaging but also reach a wider audience across multiple channels. 
"You're probably already putting out great, valuable content that people once upon a time really enjoyed reading," he says. Why not give your audience other ways to consume your brand's important ideas?
Listen to this episode of Supercharge Marketing to learn how to effectively engage with your target audience on social media using video. 
Key Takeaways 
Pull content format ideas directly from your customers.  
Rather than guessing about what your audience will respond to, Mike suggests conducting customer research. "A lot of times, the conversations from a market-facing side are missing," he says. 
You may want to try short social polls or email surveys. Every time you have a chance to pick your customers' brains, find out what type of content they're tapped into. If you discover they're listening to podcasts, think about recording some audiograms (even if you're not ready to dive into producing a podcast). If they prefer TikTok over other social networks, you can use an easy video maker like Lumen5 to jump on a fun trend and give your brand a personality they'll want to interact with.
Shares are the most important social media content performance metric — more so than likes or comments. 
While likes and comments provide important engagement information, Mike recommends paying special attention to shares, as these are "where you're building brand ambassadors." Through these brand ambassadors, you can reach an exponentially larger network of potential followers and quickly build your base. 
One way to up your shares is to break your long-form content down into smaller snippets. With the majority of customers engaging with brands on their mobile devices, Mike says opting for mobile-friendly formats like video can help get your content in front of more people. Another way to boost shares is to post regularly to stay at the top of your followers' feeds. 
Don't be afraid to try a new medium like video, even if your production quality isn't the best out there.  
Creating video content has historically been time- and resource-consuming, and it's easy to be intimidated by it. The rise of social media, however, has opened the door to video novices by valuing authenticity over production quality. Social media "has normalized imperfection," says Mike, and shorter formats like Instagram Reels, Tik Toks, and LinkedIn Lives have lowered the barrier to entry for inexperienced creators.
Another boon for video beginners is technology. Businesses like Lumen5 are revolutionizing video creation by providing easy, templatized ways to consistently produce multimedia content. By taking advantage of technology, creators can repurpose their high-performing content into engaging videos and distribute them across multiple channels.
Episode Highlights 
💡 The blog is losing power because consumers prefer two-way brand interactions.
[5:42] "The blog doesn't hold the same prominence as it once used to, where our primary method of connecting with a brand was through their domain and their website. And we subscribed to their blog to get information. That's changed a lot, to these two-way conversations on social media. And we're finding these days that it's not only what a brand puts out there on their blog. A lot of consumers are looking to make purchasing decisions based on how a brand conducts itself or how it interacts with its customers in these two-way conversations on social media."
💡 You don't need to create entirely new ideas for different content formats — repurpose what you already have.
[11:37] "What I've seen a lot of these successful brands do is repurpose their content. The key message doesn't change: You're still coming up with your key points, your key thought leadership, your key insights that you're putting out there in the world. But instead of just communicating that through written texts and a blog format, you can repurpose that concept into an infographic, you can turn it into a series of graphics, an ebook, or a short novel, a series of PDFs. You can even get it out in print if you want." 
💡 Consumers now opt for bite-sized content that they can quickly absorb and share.
[17:28] "One of the trends we've seen in recent years is what is often called 'bite-sized content.' People are on the go, they're on the phone, and they're looking for these short one- to two-minute pieces. They're looking for short, snappy ways to learn, not necessarily long-form, 7,000-word blog posts. When you have this bite-sized content and it's really impactful, precise, and concise, oftentimes we find that people are more than happy to share these bite-sized learnings."
💡 Video is the next frontier for content creators.
[23:29] "2020 to 2030 is this race towards brands figuring out how to thrive in this multimedia world. And I think the brands that figure it out are going to be the big players when 2030 comes around. This is a foundation-setting time, the turn of the decade where every brand is going through a bit of a gold rush to figure out who's going to win this content landscape. And video in particular is one that all marketers across industries agree on. It is so powerful and so impactful."
💡 Technology can help organizations create quality video content at scale.
[37:55]  "One way to look at embracing technology in the world of building a marketing organization is decentralizing that content creation. So you're not depending on one team that is swamped and overworked and overloaded. You start to put video content creation into the hands of marketing professionals around the world at all of these offices, as opposed to flooding bottleneck headquarters. What I hear often is that it's a win-win situation when that gets figured out."
Bonus Advice for Supercharging Your B2B Marketing
🚀Your brand's presence starts with your employees.
Companies that understand how they can leverage their employees' social presence to boost their brand can drastically increase their customer base.
According to Mike, the best way to create employee brand advocates is to provide your workforce with shareable messaging and thought leadership they can use to start conversations of their own. By relying on your employees, you can reach deeper into their extended networks and build your brand organically. 
About Mike Cheng
💥 What he does: A serial entrepreneur, Mike is the CEO and Co-founder of Lumen5, a revolutionary online video creation platform with over 1M users. Built upon the goal of democratizing video, Lumen5 has scaled rapidly and has been named one of Canada's top 100 fastest-growing companies.
💻 Lumen5 on the web: Website | Twitter | LinkedIn | Facebook
🔗 Mike on the web: LinkedIn | Twitter
🧠 Mike's big idea: "The easiest way to ease into a new strategy is to work your way through one thing at a time. It can be very daunting to think about: How do you build a successful video brand? That could take years, but it's one video at a time. And that's the answer to how you build a video content empire."
Listen Now
This episode of the Supercharge Marketing podcast is available to listen to on all main streaming platforms including Spotify, Apple Podcasts, Google Podcasts, Amazon Music and more. Listen here.
Enjoyed this conversation? New episodes every 2 weeks! Hit subscribe so you never miss an episode, and follow Lumen5 on LinkedIn for future updates! #SuperchargePodcast