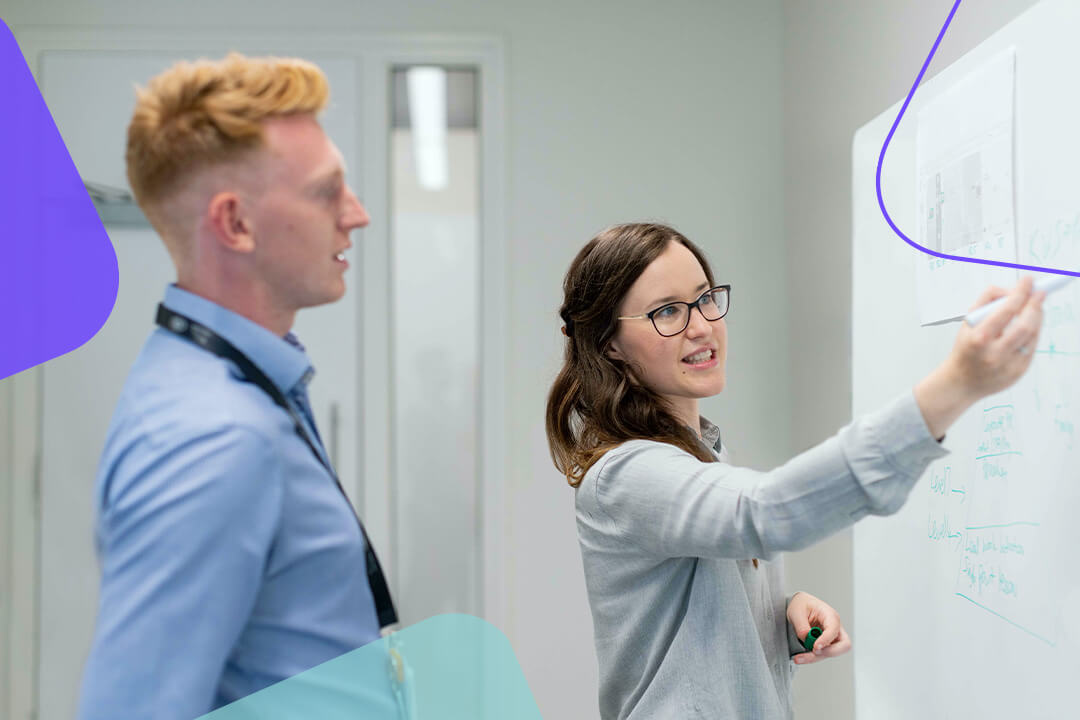 If you were to analyze every sale your company made in the last year, you'd find one consistent ingredient for success:
Trust.
People only buy from your business when they trust you. 
One of the best ways to build trust is publishing thought leadership content. 
In this guide, we'll define what thought leadership is and the steps you can take to create a winning B2B content strategy that demonstrates your credibility and expertise. 
Let's get started. 
What Is a Thought Leadership Strategy?
A thought leadership strategy is a defined plan to produce and distribute content that establishes you as an expert in your industry.
By sharing unique and valuable insights into your experiences and broader industry trends, you can become a trusted and credible source of information.
Why Is Thought Leadership Important?
Becoming a thought leader can make a huge impact on the success of your marketing efforts and the growth of your business.
Buyers consume thought leadership content at every stage of the buyer's journey, from awareness to the decision stage.
"The way businesses buy is very different. B2C is more emotional, while B2B is more research-heavy and logical. It is often a high-stakes decision that is more of a partnership rather than a purchase transaction. The way that B2B buyers behave is through a lot of research and content consumption. The more you show up in their research and the buyer's journey, the more you seem like an expert in the space."

Mike Cheng, CEO, and co-founder of Lumen5
According to the 2020 Edelman-LinkedIn B2B Thought Leadership Impact Study, 48% of decision-makers spend an hour or more per week consuming thought leadership content. And nearly half of decision-makers say that thought leadership content impacts their purchasing decisions. 
Ultimately, thought leadership leads to improved brand visibility and can increase conversions and customer loyalty. 
How To Create a Thought Leadership Strategy
Before you start brainstorming topics for content, it's important to take a step back and think about your overall strategy. 
Who is your audience? What do you want to achieve? How will you know if you've been successful?
The following five steps will help you see the bigger picture and build your content marketing strategy on a solid foundation. 
1. Define Your Thought Leadership Strategy Goals
You should link your strategy to your commercial objectives. Your goals will impact the types of content you produce and the distribution channels you use to promote it. 
Many companies use thought leadership to:
Increase brand awareness
Drive website traffic
Support lead generation
Increase sales
Boost customer retention
Thought leadership content often contributes to all of the above and more.
While your commercial goals should be a consideration, it's important not to focus too much on your company and products. Thought leadership isn't the place to sell. 
It's a way to contribute value, share insights, and help your audience. You want people to see you as a thought leader first, not a salesman. 
"Thought leadership is created not to sell your service but to create a bias. When you create a bias, you will be more trusted in the space, and you will be top-of-mind for prospective buyers. Bias also allows you to charge a higher price because the brand has built up trust and authority. You are bringing value to them even before they come to you as a customer."

Mike Cheng, CEO, and co-founder of Lumen5
2. Identify Your Target Audience
Your thought leadership content will be more impactful if you create it with a specific audience in mind.
B2B purchasing decisions typically involve six to 10 decision-makers, and they all have different goals, pain points, and interests. You need to think about which of these stakeholders you are targeting with each piece of thought leadership content.
Some topics and content formats will be more suitable for some audience segments than others. For example, the C-suite often has a significant influence on the choice of a vendor. But executives are busy people, and creating content that will resonate with a C-suite audience can be challenging.
One of the most effective ways to get your content noticed is to publish super-concise, value-packed pieces of content like short blog posts and shareable multimedia content. 
In a Forbes survey, 75% of executives said they watch work-related videos on business-related websites at least once per week.
If you factor in time spent on LinkedIn and other social media channels, executives spend a lot of time watching video content. 
Stakeholders at a lower departmental level also have an influential role in decision-making and usually have more time to research vendors and potential solutions. For these audiences, there is room for more expansive and in-depth thought leadership content that starts to position your products and services as a solution to a pain point. 
Before you think about topics and formats, know your audience and what will resonate best with them.
3. Choose Your Distribution Channels
Where will you distribute your thought leadership content so that it reaches the target audience?
Distribution should be a key consideration before you start creating content – not an afterthought.
Choosing distribution channels early in the process helps you to focus your energy and resources. Rather than limiting your options, it helps you narrow in on the right formats and topics for your content. 
Content Marketing Institute's 2020 report shows that LinkedIn is the go-to content distribution channel for almost all B2B marketers:
The report also revealed that LinkedIn is considered the best platform for generating content marketing results. It's easy to see why, as the platform is home to 61 million senior-level influencers and 65 million decision-makers.
Video marketing on LinkedIn is a great way to boost engagement and get more eyeballs on your thought leadership content. You can create short video explainers about a trending topic in your niche, conduct short informational interviews, share your experiences, or vlog about topics you know your buyer personas will find interesting. 
Nicholas Thompson, CEO of The Atlantic, is a great example of how you can use short videos for thought leadership content.
In his weekly #mostinterestingthingintech LinkedIn video series, Nicholas shares his thoughts on trending topics and how they relate to the tech industry.  
You're not limited to LinkedIn. Social media, email marketing, and on-site content can all help you stay top-of-mind and build your reputation as a thought leader.
4. Use the Right Content Format
Whichever channels you choose to distribute your content, it needs to be easy to digest and highly shareable. 
Most people associate white papers, ebooks, and long-form content with thought leadership content. These formats can still be effective, but there are lots of other more eye-catching content formats. 
Podcasts, live streaming, and video content are all seeing an increase in popularity among audiences and thought leaders. 
Even before the Covid-19 pandemic, there was a move towards more engaging and interactive digital experiences:

Image Source
Video content is great for targeting top-of-the-funnel audiences. You can demonstrate your expertise, generate engagement, and build brand awareness with dynamic multimedia content. 
You can create more in-depth and expansive thought leadership content related to your product or service for bottom-of-the-funnel audiences. 
One of the biggest challenges with multimedia content is the time it takes to produce.
But with the right tools, you can speed up the production process and put out professional quality content consistently and affordably. 
Using Lumen5, the international law firm CMS was able to scale up its multimedia production. Publishing almost one video per day, CMS increased its number of LinkedIn followers by 47% and achieved a 14% increase in leads generated.
5. Set Key Performance Indicators (KPIs)
Thought leadership needs to be measured like any other marketing initiative. The problem is that it can be hard to measure soft metrics like share of voice and positive sentiment.
However, there are lots of ways you can track and measure the performance of your thought leadership campaigns. The exact metrics will vary according to your channels and goals but can include:
Social Media Engagement
Did the content receive comments, likes, and shares? 
It's unlikely that your content will go viral, but you can expect to see incremental growth over time as you gain more followers and increase your reach. 
Measuring your thought leadership content against the average engagement of your other posts can be an excellent way to see if it is resonating with your audience. 
Website Traffic
Did you experience a bump in traffic?
As you build your brand and establish yourself as a thought leader, the number of prospects visiting your website to learn more about your company should increase. This should have a knock-on effect on the number of leads you generate and the number of sales you make.
Branded Queries 
Successful thought leadership pieces can result in a lift in branded queries. 
Branded queries are searches containing your name, brand, or topics you discuss in your content. For example, if you create a thought leadership video discussing how AI will impact accounting, you can use tools like Ahrefs to see if there is an increase in search volume on the topic in the days and weeks after your video is published.
Getting Started with B2B Thought Leadership
You can boost your credibility and inspire people to seek out your business by positioning yourself as a thought leader. 
When your prospects see you as a trusted source of information, it makes it much easier for them to take the next step and become a customer. 
It requires time and consistency, but putting in the effort to become a thought leader can be a catalyst for your company's growth.
Are you ready to level up your B2B thought leadership campaigns with video marketing?
Sign up to Lumen5 for free and start creating professional video content in minutes.