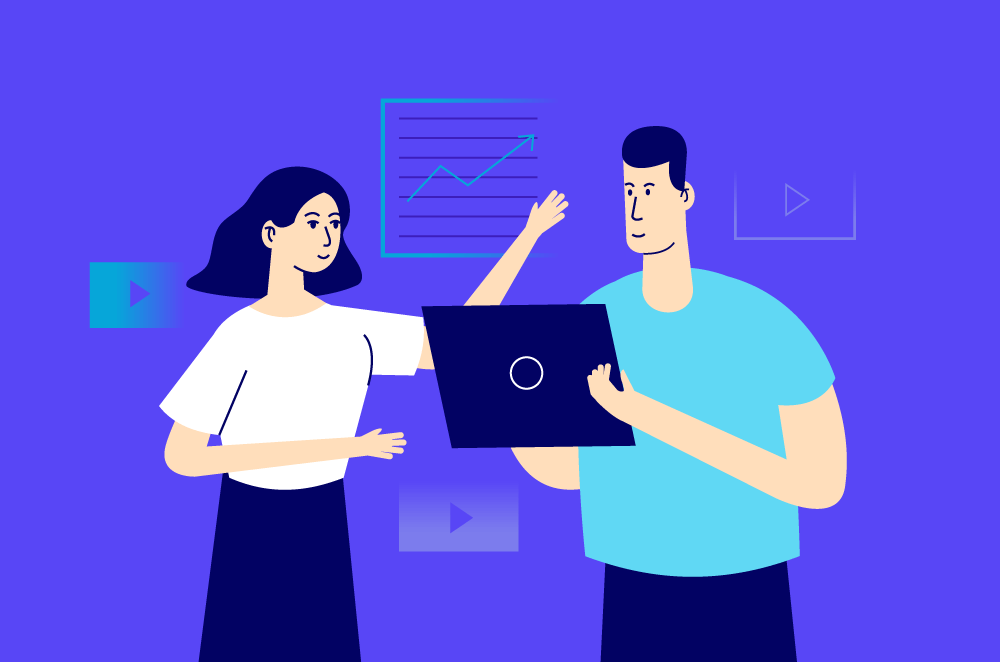 Video is a visually rich communication tool that can be tailored to suit any audience and share any message. Whether your goal is to drive more traffic, increase leads, educate a buyer into making a purchase decision, or improve conversion rates, video is one of the fastest and easiest ways to communicate with your audience.
No matter the industry, video's benefits for business owners make a compelling case for implementing video marketing for your business.
Cisco has predicted that by

2022 online videos

will make up more than 82% of all consumer internet traffic.




Viewers retain

95% of a message

when they watch it in a video, compared to 10% when reading it in text.




83% of marketers

would increase their reliance on video as a marketing strategy if there were no obstacles like time, resources, and budget.
Read on to explore five powerful benefits of using video marketing in your business. 
Engage customers on social media 
Whether you're on Facebook, LinkedIn, Twitter, Instagram, Snapchat, or TikTok, sharing your message through video is easy, quick, and a no-brainer when it comes to successfully marketing your business to your target audience.
Increase conversions and improve sales
If you're not converting your audience to become leads or sales, your business won't last long in the market. Conversions are ultimately what can make or break a business. Luckily, video is here to help. 
Video can help you

increase conversions by 80%

when implemented on a landing page.




64% of customers say that they buy a product online after watching a video about it.




Customers are up to

84% more likely

to purchase after watching a product video.
Bolster organic search rankings
Video and organic rankings go hand in hand. After all, YouTube is owned by Google whose search engine performs 3.5 billion searches per day. 
Video on landing pages improves dwell time. This metric is an indicator of website quality and relevance, so search engines use it as a ranking factor. Embed a video, improve your dwell time, and improve your rankings. Simple.




Pages that contain rich media such as video have been shown to increase

3X more backlinks

than a plain post.
Build consumer trust
Video can help to build the bridge of trust between a business and a consumer. For example, creating product videos that shows how your business offering works or video customer testimonials that show the depth and breadth of your best brand advocates.
90% of customers

say that video helps influence them into making purchase decisions.
Get your brand noticed
Improve brand awareness and install your business at the top stage of the buyer's journey by using video. Position yourself as a thought leader or tell your brand's story using short, snackable video content.
LinkedIn found that videos

under 30 seconds

saw a 200% lift in view completion rates. 
Access the C-Suite
Video isn't just about building your brand, converting leads into sales, and influencing a purchase. Video is a fantastic medium that will get your content in front of the eyes of the real decision-makers: The C-Suite.

75% of business executives

watch work-related videos weekly.

59% of senior executives prefer to watch a video over reading text.

54% of senior executives regularly share work-related video content with coworkers.
If you're ready to start unlocking the benefits of video for business, join Lumen5 — an online video maker that helps you create polished, professional video marketing content in minutes.