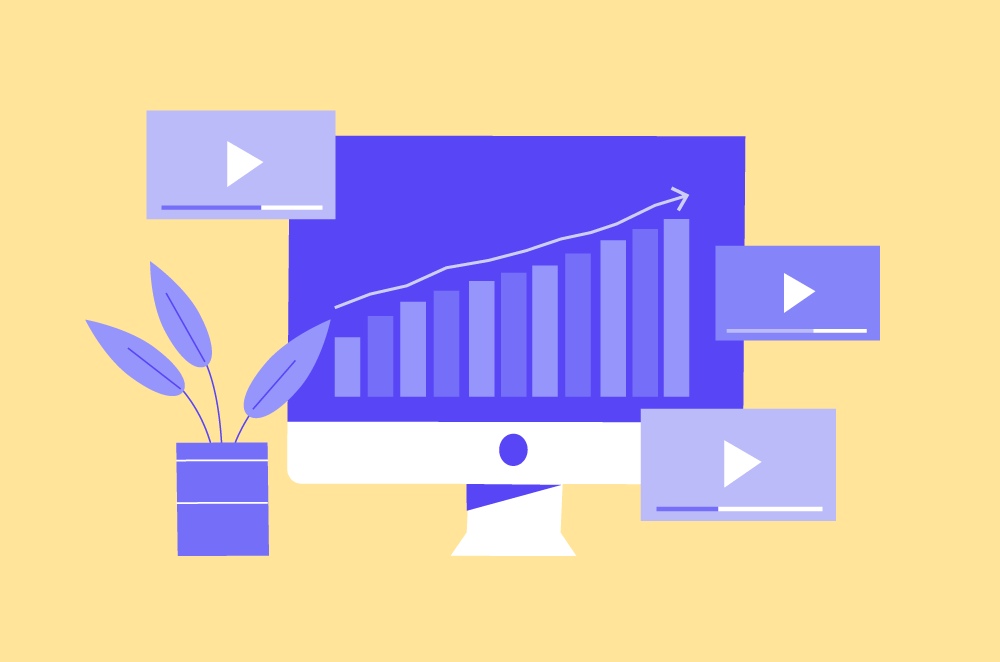 Congratulations! You've started your own small business and entered the world of self-employment. And you're not alone — the number of people who started their own business has skyrocketed over the last few years. In 2020, the US registered over 800,000 new startups — an increase of almost 20% when compared to 2000. The country also boasts over 30.7 million small businesses, with 89% having fewer than 20 employees. 
Of course, one of the biggest aims of any new venture is to grow. Whether you have lofty goals of achieving venture backing or whether you're more than happy to see growth in small increments, it pays to understand the tactics and strategies that can help you achieve your goals.
With so many companies vying for audience attention, you need to stand out from the crowd and cut through the noise by using video as part of your marketing strategy. A recent study by Lumen5 found 85.5% of marketers plan on using video in their business strategy in 2021, and nine out of ten respondents said that video saw a positive return on their video marketing investment. 
Video marketing is a tactic used by businesses (no matter how big or small) to expand their reach, increase brand awareness, and improve conversion rates. Video is a multisensory way for customers to consume content whilst also grabbing their attention — making it a brilliant format to share with your audience.
If you're unfamiliar with using video marketing as a strategy, these three tips for small business will help you get started.
1. Say hello with an explainer video
Video is a fantastic format for conveying a lot of information in a short amount of time, making it the ideal medium for sharing what your small business does and communicating its value proposition to your audience. 
Add short, snappy videos explaining what you do, the problem you can help your audience solve, and how you're different from the competition. Adding these videos to high traffic pages, such as your small business's homepage, will help to increase conversion rates. These videos are commonly known as explainer videos. Keep your videos short, snappy, and to the point — aim for around the 60-90 second mark in length, and don't forget to include a call-to-action to help guide your audience to where you want them to go next. 
A huge benefit of adding explainer videos to your landing pages is their ability to convince and convert customers. While they're now known for being a cloud-storage powerhouse, Dropbox once started a small business — just like you. After adding an explainer video to their homepage, Dropbox saw a 10% increase in conversions that helped them drive $48,000,000 of revenue over the next couple of years. 
Videos also keep your audience engaged for longer, therefore actively increasing your time on page metric. This metric is crawled by search engines, such as Google, which will help with your organic search rankings and help get more eyeballs on your business's website. 
2. Unlock the real power of social media
Whether you're chilling with Gen Z on TikTok or conversing politely with Gen X on LinkedIn, including video as part of your social media strategy is a no-brainer. The average person spends 144 minutes per day scrolling through their social media feeds, and it's up to you to grab their attention. This is where video can help. 
A study by Buffer found that 81% of businesses share video content on Facebook — signaling a huge opportunity for brands that aren't using video as a strategy to catch up with the masses. Hubspot also found that videos on Instagram get 21.2% more interactions compared to images. 

People need instant gratification on social media, so this isn't a time to create your next long-form video. Keep your social media videos succinct and to the point. Remember to think about how the content you're sharing will represent your brand and whether it aligns with your target audience.
Video content not only stands out from the monotony of scrolling past static posts but encourages people to engage with your brand, therefore increasing your brand's visibility.
Creating videos for social media doesn't have to be a long, laborious process. Using an online video editor can help you to craft short, snappy, and succinct videos for your channels in minutes — meaning you have more time to focus on other areas of your business.
3. Create incentives to drive growth
Work with your business advocates and loyalists to create video testimonials. These videos will act as significant trust signals to your target audience and help your business achieve its growth goals.
You'll need to prime your advocates that they'll need to share a bit about themselves, what their problems or needs were, and how you've helped them. Remember that you'll want these videos to be organic — don't script or prep your advocates too hard; it'll come across as too stiff and insincere. Authenticity is important. If you don't have a budget to incentivize your brand loyalists, you could always offer them a free month's usage of your product or a similar equivalent. 
When your other marketing strategies are flatlining, injecting video into your audience's veins will help bring your campaigns back to life and help your business achieve its growth goals. Video creation doesn't need to be difficult — use Lumen5 to create thumb-stopping video marketing for your brand or business.