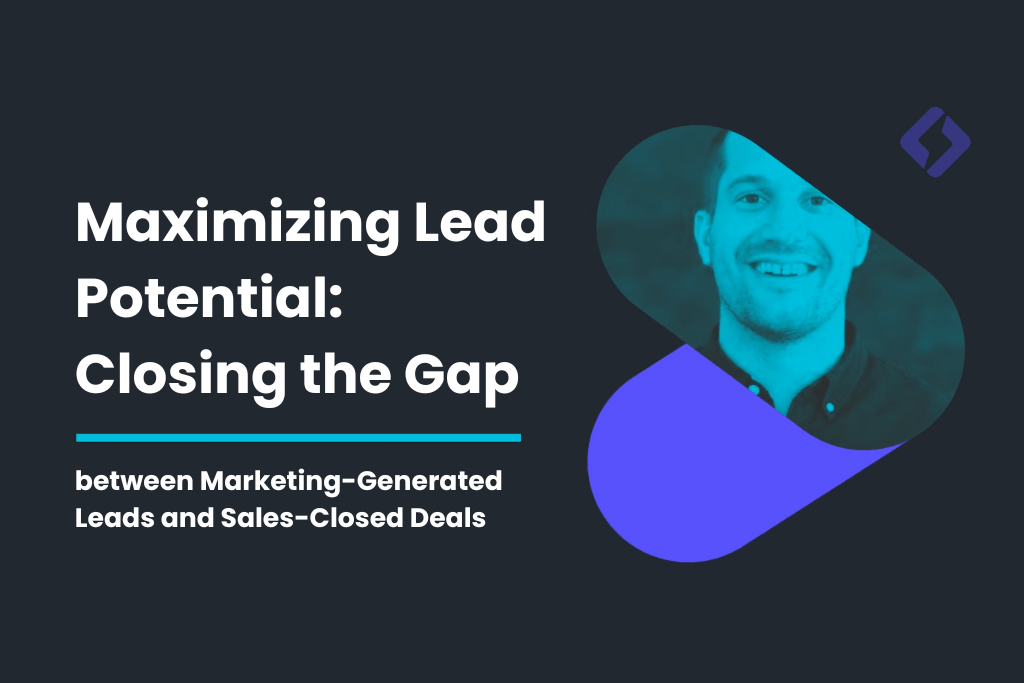 "How do we put ourselves in their journey, imagine it, and align ourselves to buyers is something that we constantly need to remind and train the team on."

Thomas Klinger, Sales Manager at Lumen5
Thinking about and aligning to the customer is the first step. But what follows is where Sales holds their true power.
---
Taking Buyers' One Step Further: Strategies to Manage Expectations
From Thomas' experience in B2B SaaS, he knows that customization is everything – especially when it comes to custom solution packages and pricing for global teams and enterprise-level companies. And these options are not always the easiest or best communicated through generic information online.
This can lead to buyers having different expectations of: a) the product or solution, b) the results, or c) the features or promised benefits. To provide a seamless transition from Marketing to Sales – the first human interaction beyond the screen,
Thomas shares some strategies he implements during the initial call to help manage buyer expectations:
The most important strategy of all? To dive deeper and understand the root of the problem by asking the right questions. And from there, assess what can or can't be done.
Thomas explains how to dive deep with buyers:
---
The Feedback Loop: Marketing-led, Sales-closed, Sales-fuelled
During the discovery calls, Sales can also help Marketing by digging into and sharing the buyer's experience of their journey, which in turn, helps themselves in the long-run as well: by closing the infamous customer feedback loop between the buyer and brand.
This information is so crucial – especially in this marketing-led buyer's journey. What makes the feedback loop important in B2B is the strategic insight provided to marketing teams by those Sales-led conversations. As marketing produces more content and sales enablement collateral, understanding where to put their efforts towards or what resonates can drive more leads into the buyer's journey. For example, multiple buyers are telling Sales they first stumbled upon a video on social media which then linked to a blog post. Hearing it first-hand, Sales tells Marketing and Marketing then decides to double down on a video marketing strategy.
Thomas discusses how Sales can fuel and optimize Marketing's efforts:
And part of discovering valuable insights is by having thoughtful conversations beyond only those who "meet us at the call". Thomas' advice? Don't focus solely on booking calls but having meaningful conversations through nurturing.
---
Nurturing Leads Beyond The Sales Outreach
Nurturing leads has become more and more important – right next to shifting from a selling to helping mindset. (For more on this mindset change, read part 1)
Before outreach sales strategies consisted of focusing purely on the percentage that interacted with Sales team. But Thomas and his team have shifted to a whole 'notha strategy: nurturing leads with the right content that resonates.
"Our mindset has moved beyond the selling and booking calls, but focused on providing the right content to the potential buyer for their current stage."
Thomas explains further on the importance of nurturing and focusing on potential buyers who may not be ready:
And he's right! Although buyers may not be ready now, they may be ready in the future. And when they're ready to make a purchase, brands who have offered helpful content will have already established a trust-based relationship. And ultimately, this will help sales close the buyer's journey with a win, as over 80% of buyers consider trust a major deciding factor when making buying decisions and 46% say they would pay more for a brand they trust.
Success in B2B sales requires understanding the buyer's journey and aligning with buyers by customizing solutions and managing expectations. Dig deep to understand the root of the buyer's problem and maintain a strong feedback loop between Marketing and Sales. Embrace a helpful mindset and remember – even the 93% who don't respond have major potential with a bit of nurturing.