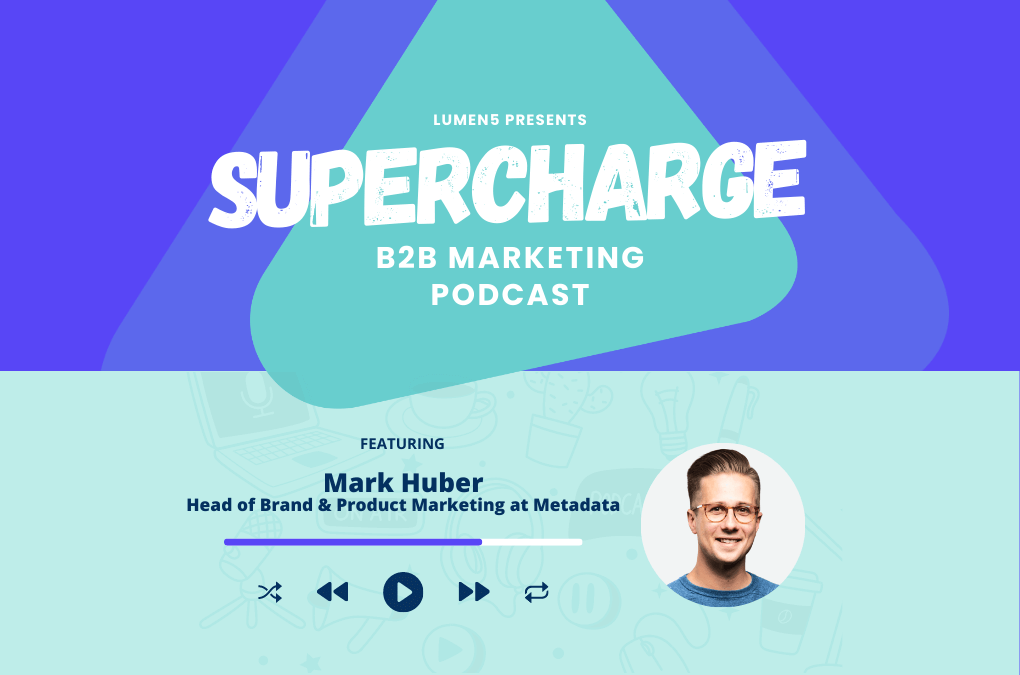 Fresh out of DEMAND 2021, Mark Huber, Director of Growth at demand gen platform Metadata, joins the Supercharge Marketing podcast to share how he and his team created a standout virtual event that inspired 40% of registrants to actually attend. 
Instead of asking for speakers to suggest topics, Mark and his team came up with a theme and topics first and then proceeded to search for great speakers who could bring an innovative perspective. The team took the approach of creating an event they'd actually be interested in attending. 
By reaching out to contacts they'd already established relationships with, they landed some of the biggest names in B2B marketing as headliners and started marketing the event before all the details were finalized. But driving attendance wasn't all smooth sailing. 
Ten days out, they were still 1,000 short of their goal of 4,000 registrants. That's when Mark decided to use Instagram giveaways to drive the remaining registrations. It worked and by the time Metadata held its first virtual event in October 2021, almost 4,500 people had registered. 
And the value didn't end when the event was over. 
The event continues to help Metadata acquire new customers and the team is actively creating a solid library of content from the speakers' presentations. 
While many B2B marketers are on a hamster wheel of short-term goals, Mark says focusing on long-term, strategic plans will compound and "drive serious results." 
"We looked at this as an enormous opportunity for us to create a bunch of content and truly differentiate," he tells Lumen5's Dani Hao on this episode of Supercharge Marketing. 
Tune in to get a behind-the-scenes look at what it takes to create a successful virtual event in the age of Zoom fatigue. 
Key Takeaways 
Choosing speakers you're already connected to can lead to priceless organic promotion.
In the planning stages, the Metadata team found speakers by asking people they'd developed relationships with over the past six to 12 months. 
Since they'd previously been featured in Metadata's online content, the individuals were happy to give back. Many of them posted about the event on their social profiles, initiating a wave of organic promotion across an ideal target audience. 
In B2B marketing, don't be afraid to take a page from the B2C playbook. 
About 10 days before DEMAND 2021, around 3,000 people had registered — 1,000 people short of the team's goal. Mark launched a contest on Instagram asking people to write which session they were most excited about and tag Metadata to be eligible to win $500 Airbnb gift cards. Though most B2B brands don't focus heavily on Instagram, it worked well for Metadata: more than 100 people entered the contest, which means that DEMAND 2021 was visible to all their networks.  
Big vision drives serious results over time. 
DEMAND 2021 ended up being much more than a one-time event. It's a visionary project that sparked the growth of a community. Mark hopes to nurture this community and turn some of these people into future Metadata customers. 
He also found ways to repurpose the original content that was recorded during the event. If you only ever focus on short-term projects, you'll get trapped on the proverbial hamster wheel, unable to reach big, long-term goals.
Episode Highlights  
💡 The DEMAND 2021 planning process began with a topic and theme brainstorm — instead of a speaker search.
[3:28] "I would say we came up with the idea over the summer, and we wanted to do some sort of virtual event. We didn't know what we truly wanted to do. But we wanted it to not be a day-long, what we call, pitch-slap: when you attend something, and you're just listening to a sales presentation for the entire day. I hate going to those. We're the type of marketers where we only want to do marketing that we would respond well to. So as we started to think through what would be a good idea, our theme was the notion of
getting closer to revenue
."
💡Metadata dared to take a page from the B2C playbook.
[10:14] "About 10 or so days out, we were about 1,000 short of our 4,000 goal. And I was pretty nervous if we're being totally honest. I was thinking to myself,
This is the first event that I've ever done. How in the hell are we going to get 1,000 registrants in 10 days when it's taken us almost three months to get 3000 registrants?
I'm a sucker for Instagram contests, typically from brands that I like. And it's as simple as following a page, doing whatever they say in the description, and trying to enter in a contest with some sort of giveaway for you. I borrowed that idea from the last contest I entered in the B2C world. You had to be following our company page, you had to register for the events, and then if you shared which session you were most excited about after you had registered and tagged Metadata, you were entered to win one of three $500 Airbnb gift cards. And that worked really well for us."
💡 Boost chat participation by using internal resources.
[15:03] "We have a really good relationship with our sales team, and everyone at the company, because they're very aware that marketing is not just marketing's job. So they get excited when they can help play a role in marketing Metadata. We sent out a couple of announcements internally and said,
We need volunteers to monitor chat, to help moderate Q&A, to help lead some of the networking rooms,
and broke it up into a few different shifts. And everybody was excited to play a role — no matter how big or small the role was. And I think the chat itself was really, really fun and was a differentiator for the event too."
💡 In B2B, authenticity is the way to hold your audience's attention.
[19:43] "I'm big on self-deprecation. I love using LinkedIn as a platform to get in front of our audience. But I also love shitting on myself and showing that I'm by no means a perfect marketer. I make mistakes all the time. Some of them are fairly big mistakes. And I think that lends itself well, not just for me personally, but for our marketing. For example, when we announced this event in mid-August, we didn't have everything finalized yet. And I was very, very open about that in the follow-up email that was sent out about an hour or so after people had registered. … I was kind of blown away at how many people responded to that automated HubSpot email saying it made them even more pumped that we were being that transparent and that it wasn't all finished. And we had to start promoting it before it was finished."
💡 Choosing prominent speakers early will help your event make a splash.
[23:48] "When you receive an outbound sales email, if you see company names in there that you either aspire to be like or big, recognizable names, the same goes for speakers in an event email. So when you can promote the social proof that you have, it's like,
Well, I've never heard of Metadata,
or,
This is their first event, but they've got these people? That's crazy. Of course, I want to be a part of it.
"
💡 A long-term vision is like rocket fuel for your numbers. 
[31:59] "You can't only do short-term marketing activities. I mean, you can, but I wouldn't recommend doing it because then you're constantly on this hamster wheel. You're never thinking longer-term or tackling some of those bigger, strategic, vision projects. And if you are only doing short-term stuff, you won't ever get there. The longer-term, or strategic, visionary projects — those are the things that compound over time. It can drive serious results."
Bonus Advice for Supercharging Your B2B Marketing 
🚀 Written content isn't the only kind of content. 
There's more to content marketing than just blog posts. Even experienced B2B marketers forget that content doesn't just mean written content. Events like DEMAND 2021 can inspire your team to produce and share new forms of content. Mark says his team's whole mindset has changed as a result of the videos they've been able to repurpose. 
"We looked at this event, not just from a brand perspective or from an event perspective, but from just as much a content perspective, too."
About Mark Huber
💥 What he does: Director of Growth at Metadata, demand generation platform for B2B marketing
💻 Metadata on the web: Twitter | LinkedIn | DEMAND 2021 
🔗 Mark on the web: LinkedIn 
🧠 Mark's big idea: "We started with the topics first for the event. I think many people tend to start with the speakers first. We tried to figure out what people would be most interested in from a content perspective."
Listen Now
This episode of the Supercharge Marketing podcast is available to listen to on all main streaming platforms including Spotify, Apple Podcasts, Google Podcasts, Amazon Music and more. Listen here.
Enjoyed this conversation? New episodes every 2 weeks! Hit subscribe so you never miss an episode, and follow Lumen5 on LinkedIn for future updates! #SuperchargePodcast