At times, while scrolling through your feed, you come across a Facebook video that catches your eye. You immediately hit share, tag a buddy or two, and wish you could download it to your device. For that, you're going to need a Facebook video downloader.
There could be many reasons why someone would want to download videos from Facebook.
One might need it for their video marketing efforts, or they might want to share it with their friends and family over a different platform.
Or they might just want to save it on their device to watch it later without needing an internet connection.
Whatever the reason, you need a Facebook video downloader to keep the videos.
However, with so many options out there, how do you know which one is safe?
To that end, I've compiled a list of the best free Facebook video downloaders to try out in 2020.
Do note that a good few of them are completely identical in terms of what they can do. However, it's always good to have some backup in case one of them doesn't work.
With that out of the way, let's jump right in.
Best Facebook Video Downloaders to Try This Year
Depending on your requirements, you can use any of the following tools to download Facebook videos:
1. fbdownloader

Let's start the list off with the simplest (and perhaps the most popular) tool.
Rocking a self-explanatory name, fbdownloader is a reliable platform to download Facebook videos.
This ready-to-go Facebook video downloader doesn't require you to download any additional files on your device.
Simply copy-and-paste the video URL into the field, click on the "Go" button, and download your favorite FB videos (in MP4 format).
The tool lets you download videos in both SD and HD quality. It also has a separate feature for downloading private videos.
Additionally, it lets you convert Facebook videos into MP3 files.
All in all, it's a solid tool that gets the job done in a few, simple steps.
2. 4K Video Downloader

Created by 4K Download, a company specializing in free video grabber tools, 4K Video Downloader deserves the second spot.
As of now, the tool is compatible with Windows, Mac, and Ubuntu.
In addition to downloading videos from Facebook, the tool also works as a YouTube downloader, and can even get video files from Vimeo.
Apart from standard clips, this tool can also download 3D and 360 videos.
3. FBDOWN.net

FBDOWN.net is another simple Facebook video downloader that doesn't require you to download any additional files.
Similar to fbdownloader, all you need is the video link, and you're good to go.
You may use FBDOWN.net through the website or download the Chrome extension.
If you're using Chrome on Android or Windows, the overall process should be fairly simple.
However, if you're on another browser, you may have to right click on the download button and click on "save as" to download the video.
4. GetfVid

GetfVid is yet another plug-and-play tool to download Facebook videos on-the-go.
However, this particular tool doesn't let you download private videos. For that, you're going to have to use the private video downloader, which you can access by clicking here.
The rest of the features are pretty much the same as before.
You can use the tool on any browser. There's also a Chrome extension that makes downloading more convenient.
5. BitDownloader's Free Facebook Downloader

A fast and user-friendly Facebook video downloader, BitDownloader is next on the list.
Besides Facebook, the tool supports over 800 different websites, some of which include YouTube, Vimeo, Instagram, Coub, and V Live.
The tool has an intuitive interface and works like most online downloaders.
6. KeepVid

KeepVid is a tool by iTubeGo (a video downloader by itself, with an extensive list of features).
In addition to Facebook videos, KeepVid also allows you to download videos off Instagram, Dailymotion, YouTube, and over 1,000 other websites.
The website is SSL secured and there are no limitations to how many videos you can download.
As of now, there are no browser extensions for KeepVid. However, there is a free trial for the desktop version available for download.
7. ClipGrab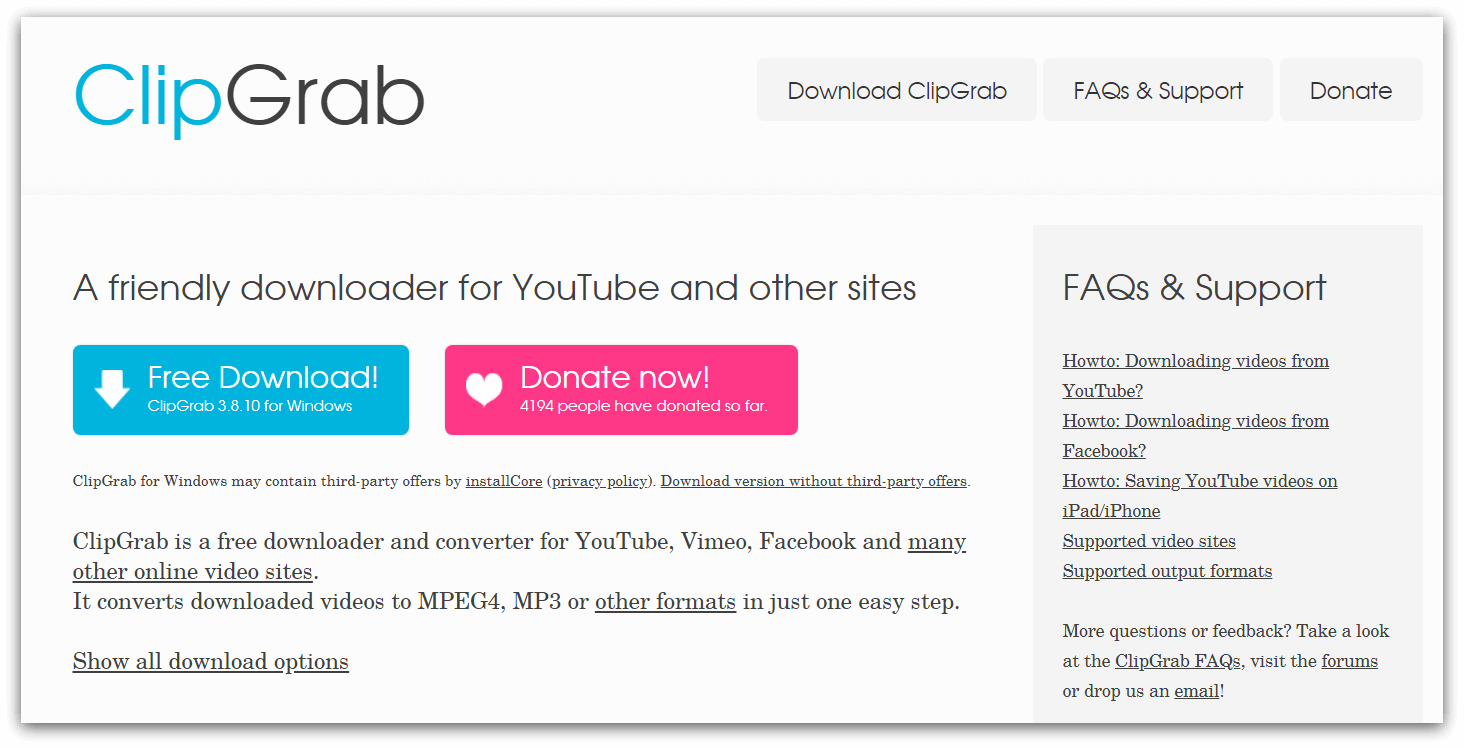 ClipGrab is primarily known as a YouTube downloader.
However, it also lets you download Facebook videos (in addition to videos from several other websites).
The tool supports various formats, including MP4, MP3, FLV, etc.
It can also be used to convert downloaded videos into the formats of your choice.
ClipGrab is available for Windows, Mac, and Linux. Unfortunately, there aren't any applications for iPhone/iPad that let you download videos directly to your Apple mobile devices.
8. Savefrom.net

Next on the list is Savefrom.net – another website (and extension) that allows you to save and download videos online.
The Facebook downloader works like any other platform.
It also has a browser extension, known as "Savefrom.net Helper." It's compatible with almost all of the major browsers, including Chrome, Firefox, Safari, and Opera.
Furthermore, the tool supports all levels of video quality.
Need help creating engaging Facebook videos? Sign up to Lumen5 and produce thumb-stopping social videos in minutes.
9. iTube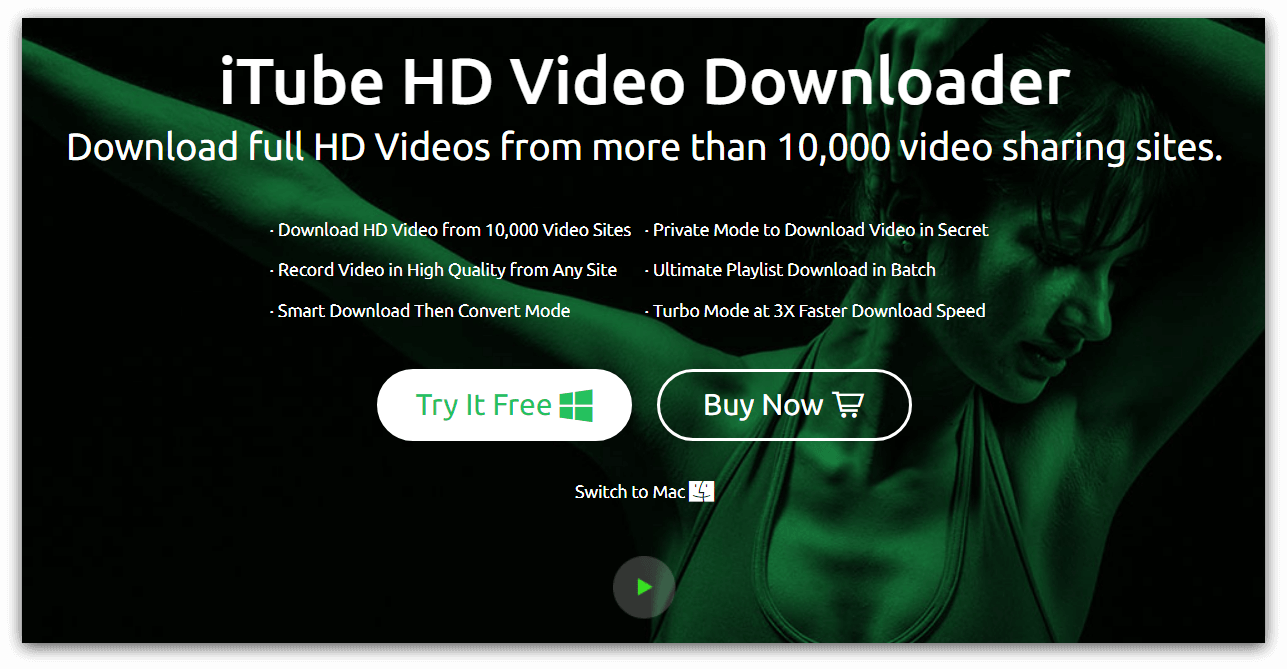 iTube (by Aimersoft) is a heavy-duty video downloader.
The company claims that it can download content from over 10,000 websites (including Facebook, of course).
The tool isn't 100% free, per se. However, you can use the free trial version to download videos from Facebook.
Apart from downloading videos, iTube is also capable of recording, converting, and transferring videos to devices.
It's available for both Windows and Mac.
10. FB Video Saver

The FB Video Saver is another fast and reliable online Facebook video downloader.
Like a few of the tools discussed earlier, FB Video Saver also allows you to download private videos from Facebook.
All you need is the source code of the page and you'll be good to go.
You can also use it to download live Facebook videos (obviously, you'll have to wait until the stream of the live video ends before you can download it).
11. SaveAs.CO

In case any of the above-mentioned online Facebook downloaders are down, you can use SaveAs.CO.
The online tool allows you to download high quality Facebook videos with just their URLs. There's no need to download and install any additional software.
SaveAs.CO is accessible from all devices, including desktop computers, mobile phones, and tablets.
12. iDownloader

iDownloader lets you download Facebook videos in HD quality.
Just paste the URL of the video, click on the "Go" button, and the tool will start processing your file.
It works on both desktop (Windows, Mac, and Linux) and mobile (Android and Apple) devices.
iDownloader only provides files in the MP4 format. If that's not what you want, try using one of the other tools on this list to convert videos into your preferred format.
13. FileVid
FileVid – the last plug-and-play Facebook video downloader on our list – is another useful online tool.
It works just like any other tool – copy and paste the URL, click the download button, and that's it.
In addition, the tool allows you to download the files in the quality of your choice.
However, it can only convert videos to MP4s (like iDownloader). If you want your videos in FLV, MKV, or any other format, I suggest using another tool.
14. Social Video Downloader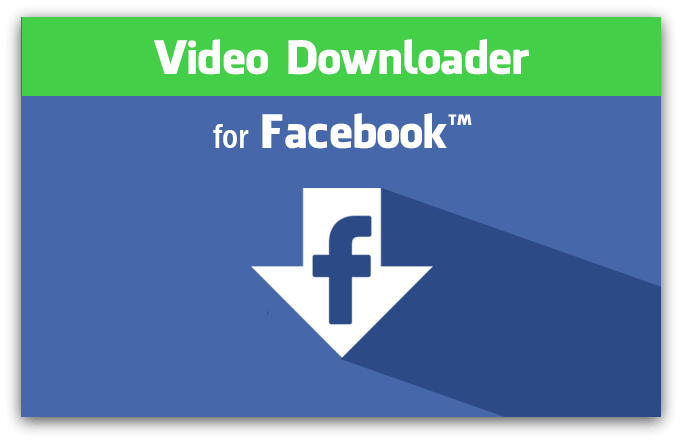 The Social Video Downloader is an extension for Google Chrome that lets you download Facebook videos on-the-go.
With just a single click, you can acquire the videos that you fancy in either standard or high quality.
Social Video Downloader is completely safe, lightweight, and doesn't interfere with the browsing experience.
15. Facebook Video Downloader (for Firefox)

If you're a Firefox user, you can use the Facebook Video Downloader for Firefox extension (or "add-on", if you will) to download your favorite videos from Facebook.
To download, simply open the video on your browser and click on the download button in the toolbar.
Is it Alright to Download Facebook Videos?
Generally speaking, it's not advised to download videos from Facebook, unless:
You receive explicit permission from the owner to use it
The video is your own property
It is a royalty-free video that's available to everyone
Just make sure that you don't get yourself involved in any sort of copyright infringement.
That's a Wrap
By using any of the aforementioned tools, you can easily download Facebook videos with a few simple clicks.
With your favorite videos at your disposal, you can now use Lumen5 to create stunning assets for your brand.

Obaid is the Founder & Creative Director of Planet Content. His focus lies on content creation, 2D animation, and taking the boring & annoying out of marketing.